30×30 Health Systems Initiative
---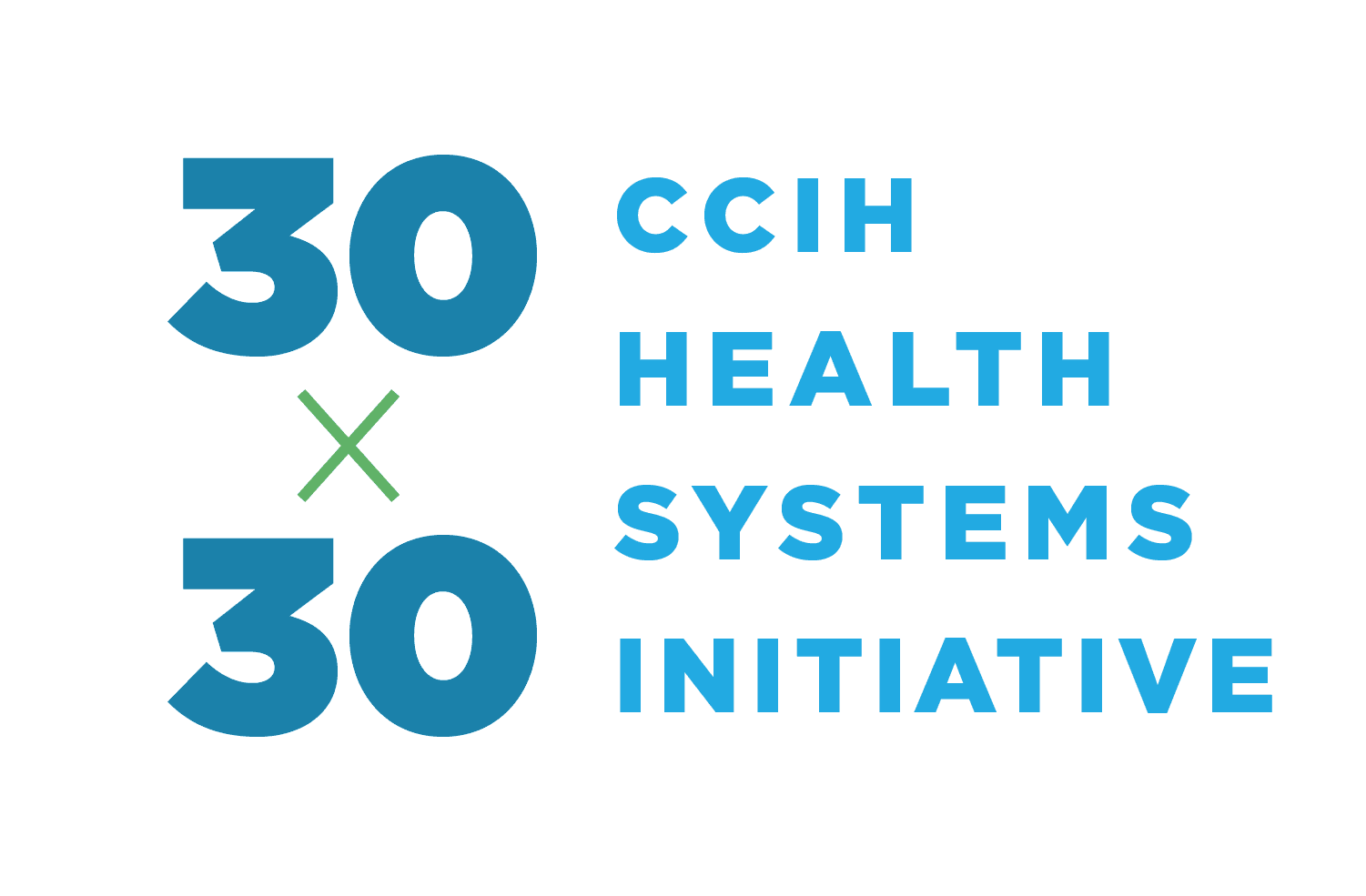 The 30×30 Health Systems Initiative is a CCIH effort to strengthen 30 health systems in which faith-based health services operate, by 2030.
The foundation of 30×30 is the "health systems commitment" in which members, affiliates and other organizations commit to work in one or more health systems to improve such things as leadership, finance, workforce, supply chain, health information and services.
Commitments
CCIH released the first round of commitments in April 2020 and updated those commitments in October 2020 and May 2021. CCIH will harness lessons and foster learning among organizations that made commitments and promote what will be called the "ABCs of health system strengthening."
See the 30×30 Commitments document.
Français
Le CCIH a publié la première série d'engagements en avril 2020 et a révisé ces engagements en octobre 2020 et mai 2021. Le CCIH rassemblera des leçons et encouragera l'apprentissage parmi les organisations qui ont pris des engagements et fera la promotion de ce qui sera appelé « l'ABC du renforcement du système de santé ».
Voir le document Engagements 30×30.
---
More Resources About 30×30
Launch Webinar
Watch the webinar held April 23, 2020 featuring three faith-based organizations that made commitments to strengthen health systems through a variety of innovations. Sharing their organizations commitments were Josh Guenther, Uganda Country Director, LifeNet International; Perry Jansen, Vice President, African Mission Healthcare; and Nancy TenBroek, Senior Program Consultant, World Renew.
Goals of 30×30 Health Systems Initiative:
Increase global attention to the work of FB health services.
Work alongside FB health services to increase funding and improve policies.
Gather evidence of stronger health systems for FBOs.
If your organization was not part of the first round of commitments, you can submit your commitment for the next round. Here's what you need to know to make your commitment:
What is a Commitment?
A commitment is a public statement to work together to strengthen a health system in which FBOs operate. Please include what your organization plans to do to strengthen the health system(s), including which of the following components will be affected and how: services, workforce, financing, supply chain, data, leadership/governance.  Emphasize how this commitment will affect two or more organizations and how it will lead to better access, utilization and/or quality of services.
Benefits of making a Commitment
Raise visibility for your work with decision makers.
Help CCIH advocate for your work.
Help others know what you are trying to do so they can help.
Help CCIH analyze gaps in resources and services.
Who can make a Commitment?
Any organization, whether it is a CCIH member or not, can make a commitment in the 30×30 Health Systems Initiative.
What Information Will You Need To Make a Commitment?
Countries or regions in which your organization operates
Operational setting
Number of facilities or programs you operate
Populations or conditions targeted
Areas of health systems strengthening you are seeking to improve. (health services, supply chain, finance, workforce, leadership, data)
Identify Any Partners
Timeline (planned or ongoing)
Needs/requests
Here is a document listing the questions you will need to answer in the commitment form. We suggest you use this to prepare your answers, and share them with any team members before filling out the form. It is not possible to save the form to complete later, so we recommend having your answers prepared before you start filling out the form.
For more information on the 30×30 Health Systems Initiative, see this brief summary flyer or this more in-depth Slide Deck.
Contact Us: Please email 30×30 (at) ccih.org with questions.
---