Dr. Anne Peterson Evaluates Faith-based Ebola Response
---
The following is an account of CCIH Board President Dr. Anne Peterson's trip to Liberia and Sierra Leone to evaluate FBOs and the Ebola outbreak on behalf of World Vision in October 2014.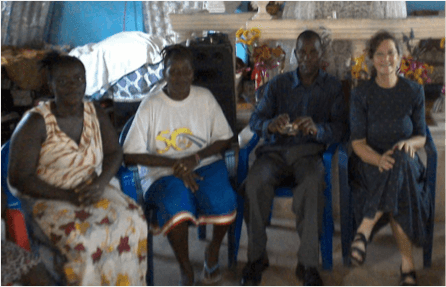 When CCIH Board President Anne Peterson stood in a church in Liberia in late October surrounded by children, she had to resist the urge to touch their hands in greeting, which she found difficult.
Peterson was in Liberia and Sierra Leone conducting an assessment for World Vision of faith-based organizations: what were they doing, what could they be doing and how could they be better integrated with the U.S. government Ebola response?
As of the beginning of December, there have been more than 17,200 Ebola cases in Guinea, Liberia and Sierra Leone, with more than 6,100 deaths. "The Ebola virus has drastically changed life for those living in Liberia and Sierra Leone. We have witnessed huge behavior change in a very short period," explained Peterson. "Everyday life is profoundly different, with no greetings or touching. Businesses are closed, school is not in session and half of children are kept at home without school or social outlet. The usual gregarious and joyful African spirit I have experienced here in the past is not gone but is dampened by the ever present specter of Ebola."
Peterson also observed more rigorous anti-infection controls practiced on a broad scale in Liberia, but saw less coordination among the faith community. The reverse was true in Sierra Leone, where she observed fewer community level infection control practices but witnessed more action and greater coordination among the faith community. The Inter-religious council led by the United Methodist Church which was instrumental in bringing peace during the civil war in Sierra Leone in the 1990s is reactivating to fight Ebola.
World Vision was taking on unusual leadership roles in addressing Ebola. It is leading coalitions of faith groups in Sierra Leone taking on a variety of issues, such as safe and dignified burials, training pastors and imams and addressing indirect consequences of Ebola, including food insecurity, livelihoods, care of orphans and survivors, and educating children while they are out of school. "Perhaps up to seventy percent of Ebola transmission may be happening during funerals," said Peterson. "If burials meet cultural and spiritual needs, people are more likely to comply with infection control procedures. The World Vision coalition, with Catholics and Muslims, has taken on managing, training and paying burial teams in 12 of the 14 districts. As burials become "dignified" and faithful to spiritual traditions it is hoped that families will no longer conduct the high-risk secret burials of Ebola deaths that are occurring now. Support and reassurance from the faith leaders is essential to make these safe and dignified burials acceptable.
The church, as has been true in past epidemics like AIDS, has been mixed in its response. Peterson witnessed examples of churches being helpful, and others that need improvement if they are going to help control the spread of infection and discourage stigma. "Many churches still do not have identified training on Ebola for faith leaders but some have welcomed scientists from the CDC to their services to learn about Ebola." she said. "Most churches have stopped the practice of 'laying on of hands' and many churches now have chlorine and hand-washing stations set up before people enter the church and people are spaced apart in the pews to avoid transmission. Some churches were beginning to go out from their church buildings, conducting services right outside the doors of Ebola treatment units so patients can hear that others are praying for them."
As the epidemic has spread, the reality of Ebola has become starkly clear and the desire for reliable information has grown. In addition to information from the government and CDC, World Vision is leading another consortium, working with Catholic Relief Services (CRS) and the Muslim organization Focus 1000 on the production of a toolkit on Ebola messaging to be disseminated through the leaders of each faith group. World Vision is then combining the scientific training on Ebola with the faith-oriented toolkit into a reflective and action-oriented training for a wide array of faith leaders through its Channels of Hope program.
"Faith leaders are trusted in their communities, and correct information in their hands can overcome widespread mistrust of the government and encourage people to respond more appropriately to Ebola. They can reduce negative messages and enhance positive ones, such as that reporting in to Ebola centers as soon as the disease is suspected protects their families from harm. Rather than preaching fear, faith leaders can affirm the message God does not abandon people and that the church is His instrument for caring for the sick, widows and orphans. For Christians the reminder of Jesus' care for the lepers and outcasts can be particularly helpful in reducing stigma faced by survivors," said Peterson. "FBOs play a unique role is consolidating the external science with the cultural and faith issues so that faith leaders and communities become an active part of the Ebola solution and not just victims of a devastating epidemic.
But the impact of Ebola and the opportunities for faith leaders and FBOs to mitigate its impact goes far beyond stopping Ebola infections. Food insecurity is increasing as prices rise and farmers are not planting crops. Attention is also diverted from other health issues. "Most deaths in Ebola-affected countries are not Ebola deaths. The even larger epidemic of deaths is from pneumonia, childbirth, malaria and diarrhea due to the Ebola epidemic's impact on the health care system, lack of preventive services and broken societal and economic structures. Addressing these issues cannot wait for the end of the Ebola outbreak and the global health community, FBOs and faith leaders know how to prevent these deaths. They just need encouragement and resources, our usual type of work just more urgently needed because of the impact of Ebola on these countries," said Peterson.
---