Reports from the 2014 Faith-based Ebola Response
---
Faith-based organizations were on the front lines responding to the Ebola outbreak in 2014 from its early days, providing care to patients, working to prevent the spread of the virus and partnering with churches to educate pastors and communities about the disease and dispel myths.
Below is a sample of Reporting from the 2014 West Africa Ebola outbreak
Afro-Medical Community Health and Welfare Service, Report from Patience Flomo, CEO
Afro-Medical Community Health and Welfare Service runs three community health clinics in Liberia and our facilities are mainly addressing non-Ebola health cases, such as malaria, delivering babies, treating typhoid and more. We are also engaged in identifying Ebola orphans, quarantined families, survivors and linking them with other NGOs and the government to provide supplementary feeding. In just two days recently we identified 31 people in these categories needing help. The need is rising and we need to provide food and other basic supplies to these families. When they are quarantined they have no means of finding food. They are stigmatized. We are seeking help to improve infection control at our facilities to enable us to address primary health cases.
American Leprosy Missions
Providing protective equipment is American Leprosy Missions which teamed up with longtime partner MAP International to send nearly 6,000 PPE suits and $1.5 million of essential medicines and supplies to Liberia to aid the Ebola response.
Christian Health Association of Liberia and IMA World Health
Organizational CCIH members have forged strong partnerships to respond to the Ebola outbreak. For example, the Christian Health Association of Liberia (CHAL) is partnering with U.S.-based IMA World Health to train health care professionals, community health volunteers, and religious and traditional leaders on the transmission, symptoms, treatment and prevention of Ebola. CHAL is also involved in procuring personal protective equipment (PPE) for health workers to prevent infection, which is critical to keeping healthcare centers operating. Many government hospitals in Liberia have closed due to the lack of equipment. CHAL is distributing PPE at 18 health care facilities in three counties: Lofa, Bong, and Nimba, and has trained health workers at the Foya Borma Hospital in Lofa County, the first area in Liberia to report cases of Ebola.
In Country Partner Helps Address Cultural Practices Fueling Outbreak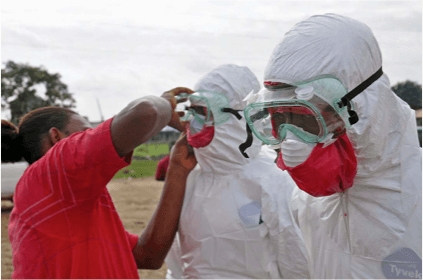 Since the Ebola outbreak began in March of this year, there have been more than 4,290 cases and at least 2,296 deaths either confirmed or suspected from the virus in Guinea, Liberia, Nigeria, Senegal and Sierra Leone. Faith-based organizations, including a number of CCIH members, have been quick to respond to the outbreak, treating patients, providing much-needed supplies and educating the at-risk public about the virus.
The world followed the stories this summer of Dr. Kent Brantly of Samaritan's Purse and Nancy Writebol of SIM USA, two missionaries serving in Liberia who contracted the disease, were flown to the U.S. for treatment and recovered. Sadly, another CCIH member, Augustine Aiyadurai, was unable to get the treatment he needed when he contracted malaria in late July serving as a missionary at a Lutheran hospital near the border of Liberia and Guinea. Many in the CCIH network will remember Mr. Aiyadurai, who presented at the CCIH Conference in 2011. He went to Liberia in 2013 on sabbatical from his position as a hospital administrator in Tamil Nadu, India. According to his family, and as reported in the Wall Street Journal, Mr. Aiyadurai stayed in Liberia after many had left the country because he wanted to help, and he knew others would be afraid. When he began to show symptoms of malaria, he was unable to receive treatment from hospitals overwhelmed with Ebola patients and he died on August 2.
Medical Teams International (MTI)
Making sure health facilities have the right systems in place to treat patients and prevent the spread of Ebola is critical to stopping the disease. According to Roger Sandberg, Director for Emergency Relief and Global Security for Medical Teams International (MTI), the organization is helping supervise 240 health clinics in Montserrado County in Liberia, where Infection Prevention and Control Teams conduct regular monitoring visits to county health centers, clinics, and hospitals to ensure that waste is disposed of properly, infection prevention precautions are undertaken and patients are triaged and isolated to prevent infection.
In addition, MTI is training health workers in Ebola prevention, identification and awareness in Montserrado, Grand Cape Mount, Lofa and Bomi County in Liberia and ensuring that health facilities are adequately supplied with medicines and supplies.
Samaritan's Purse, Report from Ken Isaacs, Vice President for Programs and Government Relations
Samaritan's Purse has been working on home-based care in Liberia for the last month. We have prepared a curriculum and a kit to help people providing care. People must be trained to protect themselves and take care of their loved ones. We have 345 local staff in Liberia and we have trained thousands of people, including pastors, but more is needed. A 70 percent isolation rate is only going to happen when people go to the Ebola Care Center or start staying home if they do not have access to community care.
Samaritan's Purse uses community structures, such as churches, for awareness training and infection control training. We place posters throughout communities telling people what the disease is. We are sending supplies and are trying to make sure people have what they need to prevent infection, take loved ones to care centers, and if necessary safely take care of people at home.
See more about Samaritan's Purse multifaceted approach, including a recent shipment of 100 tons of equipment, establishing Community Care Centers and providing public health education.
SIM USA, Report from Bob Blees, Vice President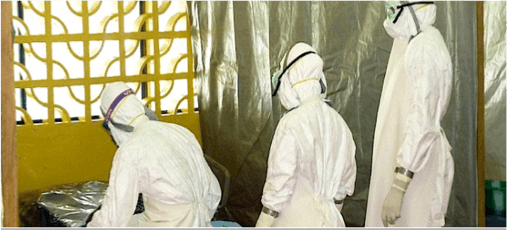 The SIM campus, ELWA in Monrovia, Liberia, is the main center for Ebola patients in the capital city area. In April 2014, the first containment center was set up in the chapel of the ELWA hospital. It had about eight beds, but after the first patients arrived it soon was evident more was needed. The ELWA2 Ebola containment center was set up in one of the new hospital buildings and holds approximately 50 patients. Now they have 80.
ELWA2 is running with participation of the Ministry of Health and ELWA hospital staff. This center also soon became full and more was needed. Medecins Sans Frontiers (MSF) set up what they are calling the ELWA3 containment center, which began with a series of tents on the ELWA campus, with each tent holding 40 patients. Their goal was to accommodate up to 400 patients. From the beginning, all the centers have been overrun with patients, with the need far outstripping the supply of manpower and facilities. ELWA1, ELWA2 or ELWA3 refers to three different containment centers established on the ELWA campus, which has been the SIM ministry center in Liberia since the early 1950's. (The ELWA name was originally Eternal Love Winning Africa.)
With all this activity, and the intensity of the care for this many patients, you can imagine the number of medical workers necessary, as well as the infrastructure. Since the government does not supply power or water to the ELWA campus, the entire operation relies on the facilities established by SIM and maintained by our faithful Liberian workers. We continue to struggle with supply chain issues for the basic materials our staff need in order to remain safe. We are also working to assist in strengthening the infrastructure.
Women of Hope International: Report from Kim Kargbo, President & CEO, Women of Hope International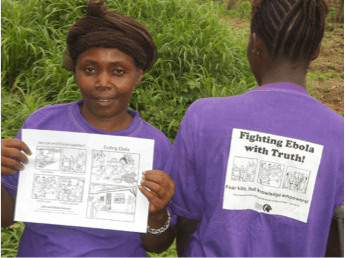 Women of Hope International is helping in the Ebola response through community health education. We have produced materials that have been distributed to hundreds of organizations and ministries throughout West Africa and have been translated into dozens of languages.
The health lesson is available to download in French and English from our website, along with a picture booklet that accompanies the lesson and was designed specifically for low literacy level people. We also developed a lesson on a Biblical response to Ebola, which is available in English.
I spent two weeks recently in Sierra Leone, and it was most discouraging to see the deep levels of misinformation that exist with regard to Ebola, particularly regarding the transmission of the virus, and the extensively broken systems that are keeping this epidemic from being contained.
As the health crisis continues and worsens in Sierra Leone, it is being closely followed by a growing humanitarian crisis. Food security in quarantined areas is becoming an issue, and the economy is collapsing. The women we serve are all affected by disability, causing them to be among the most vulnerable. We are working on a relief effort that will sustain them through the crisis, along with continuing the efforts of educating the broader community on how to prevent and contain the virus.
---