La Beca Augustine – En Español  |  La Bourse d'Augustine – En Français
The Augustine Fellowship for Non-Medical Personnel Working at Health Institutions
In honor of Augustine Aiyadurai, American Leprosy Missions and CCIH have established the Augustine Fellowship. Each year at least one experienced, service-minded Christian from the developing world will be awarded a fellowship grant. The fellow, who works in a non-medical capacity in a health institution, NGO or mission will be placed into a similar role in another country for a temporary period (up to six months). Applicants may apply for service at an NGO, mission or hospital in their own country of service provided compelling reasons are cited and all other criteria are met.
Identification of Applicant/Recipient 
The applicant may identify and contact an appropriate recipient or a recipient organization may identify an appropriate candidate. The goal is that the recipient organization would gain encouragement, knowledge, skills and practices from the fellow, and be enabled to serve their clients better. 
Fellow Profile
The Augustine Fellowship is open to men and women of any ethnic background.  Selected candidates will be expected to:
Have already identified an organization in another developing country and contacted that organization to arrange placement.
Come from a non-medical professional background, ranging from chaplains to accountants; from footwear specialists to lab technicians; and, from IT experts to facility managers.
Have solid scientific and technical credentials and the endorsement of three references.
Show a commitment to service.
Exhibit good communication skills, both verbally and in writing.
Demonstrate integrity, problem-solving ability, good judgment, flexibility, and leadership qualities.
Desire to work cooperatively with the host organization.
Endorse American Leprosy Missions' Statement of Faith and CCIH's Mission & Vision.
Eligibility Criteria
To be eligiable, the applicant must:
Work in a local or international NGO, mission or hospital in the developing world.
Have at least ten years' full-time experience in her/his field.
Possess relevant professional qualifications such as a university diploma or degree. (A combination of relevant academic background and relevant professional experience in a related area may be accepted in lieu of a university diploma or degree.)
Secure temporary release by the NGO, mission or hospital where the she/he is currently serving.
Have experience and skills relevant to and requested by the host organization.
Be physically and emotionally able to endure conditions associated with living in a cross-cultural setting for an extended period of time.
Commit to 90–180 days with the recipient organization.
NOTE: The Augustine Fellowship does not sponsor employment-based visas
Fellowship Grant – Budget & Stipend
American Leprosy Missions will underwrite, via the fellowship grant, costs not to exceed USD 9,000. These calculations include round-trip economy-class airfare, health insurance, and estimated costs for lodging and daily incidentals. Recipient organizations will arrange local travel and accommodations for a safe life/work experience.
Application Process
CCIH will manage the application process and in cooperation with American Leprosy Missions select the each year's fellowship recipient(s).
Part A – From the Applicant
Up-to-date CV with relevant education and experience.
Cover letter describing your interest in a specific fellowship posting and ability to undertake the work.
Three letters of recommendation (these should not be from your current employer nor the recipient organization). 
Part B – From the Recipient Organization
A letter outlining:
Its interest in receiving and hosting you
Terms of reference for your work, including capacity-building needs and expected outcomes / deliverables
Provision of the necessary oversight, accommodation and safe life/work experience 
Part C – From the Releasing Organization
Letter of release granting you time away for the fellowship and confirming your position will await your return upon completion of the fellowship. 
Application Instructions and Deadlines
Electronic versions of all application materials should be sent directly (Part A by the applicant, Part B by the releasing organization and Part C the receiving organization) to augustinefellowship [at] ccih.org
NOTE: Applications are accepted on a rolling basis.
Award Terms and Conditions
Fellows are expected to agree to the terms and conditions of the Augustine Fellowship and sign an award letter. Some of the conditions stipulated in the letter include:
Fellows are expected to share lessons learnt and experiences gained with a wider audience through platforms provided by American Leprosy Missions, CCIH,  the recipient organization and/or the releasing organization.
Fellows are expected to capture their experiences in a narrative report.
Fellows will be invited to CCIH's annual conference in the United States.
About Augustine Aiyadurai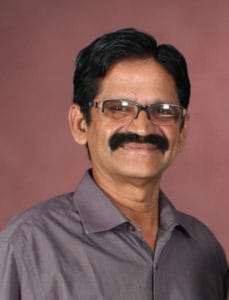 Augustine P. Aiyadurai was the senior administrator and chief financial officer for a large Christian hospital in India. In that role he supervised a number of projects funded by or through American Leprosy Missions, demonstrating a strong commitment to the people being served and a high level of integrity in financial management.
Augustine also served as the honorary treasurer of the Christian Medical Association of India. He took a period of sabbatical leave in 2014 to serve at the Curran Lutheran Hospital (Zorzor, Lofa County, Liberia) during the 2014- 2015 Ebola crisis. Tragically, he passed away while serving in Liberia. This program is dedicated to his memory and strengthening the skills of non-medical professionals serving in developing nations.