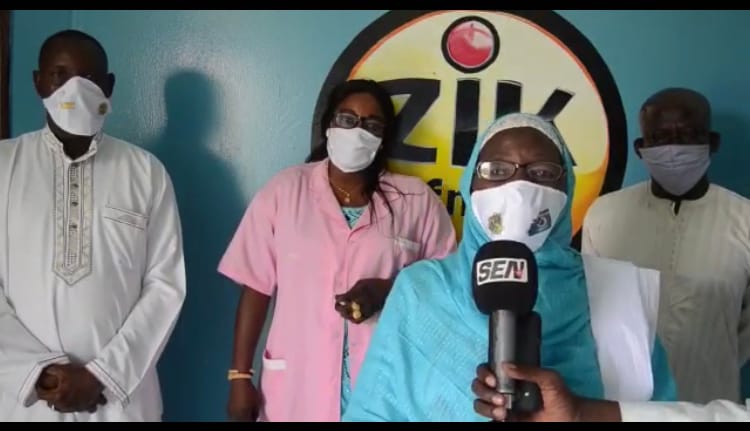 Adapting Family Planning Activities in the time of COVID-19: CRSD, a case in Senegal
December 21, 2021
---
by Wilma Mui, MPH, Program Manager, World Faiths Development Dialogue
| The COVID-19 pandemic has posed challenge after challenge. The development world has had to change and adapt their project approaches, requiring flexibility, patience, and innovation. The Cadre des Religieux pour la Santé et le Développement (CRSD), a Senegal-based NGO, was able to continue, with some modifications, their activities and advocacy that has been centered on dispelling the common, religiously linked misconceptions about family planning that persist and pose significant obstacles to family planning uptake. But it has also taken on new responsibilities with much dedication and creativity to support COVID-19 needs.
CRSD is comprised of religious leaders representing the different confréries (Sufi Brotherhoods) and Islamic associations, as well as the Catholic and Lutheran churches of Senegal. Initially established as an association in 2014 centered on dialogue and collaboration, CRSD has grown into a registered NGO, establishing partnerships with UNFPA, the Ministry of Health and Social Action, and international NGOs, all working to improve maternal and child health in Senegal, specifically addressing family planning.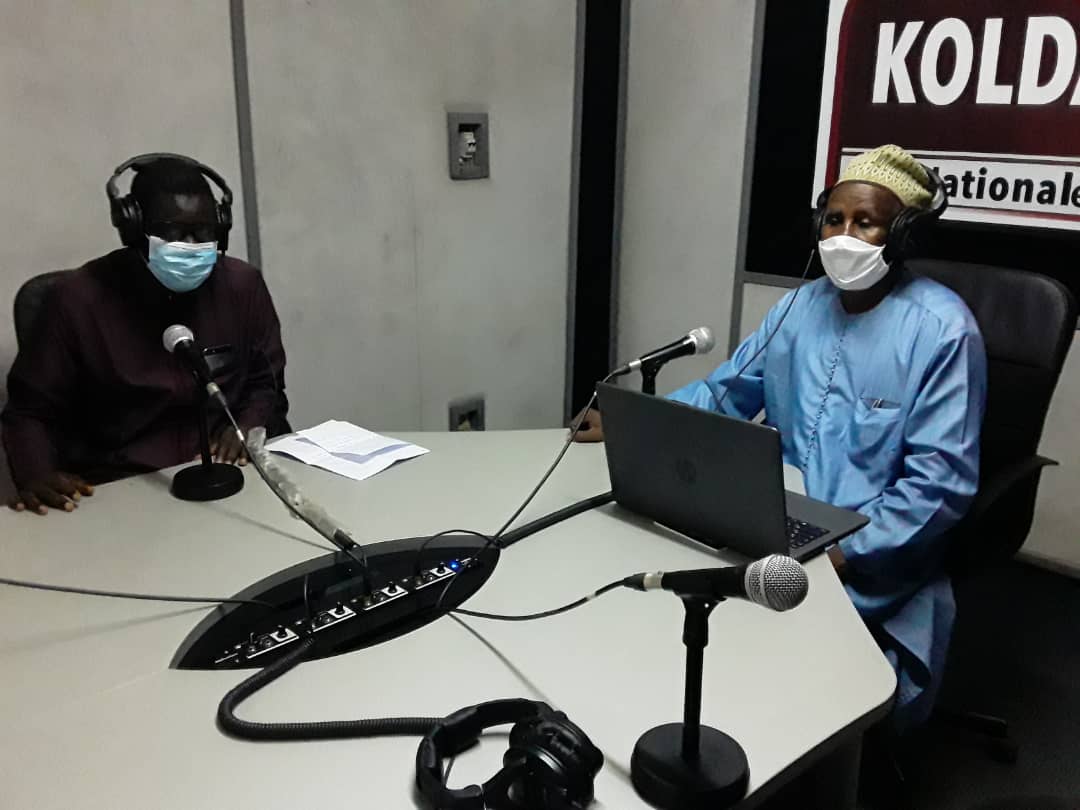 As the COVID-19 pandemic changed the landscape in March 2020, CRSD pivoted their approach, adhering to the guidelines and restrictions set in place to keep the population safe. In conjunction with the Ministry of Health and their COVID-19 plan, CRSD integrated messaging about the virus into their outputs, either separately or in association with their family planning messaging. CRSD shifted a significant portion of their outreach to media (with restrictions on in-person programs). Between March and September, CRSD:
Produced 2 videos on COVID-19
Produced 4 videos on religion, COVID-19, pregnancy, and family planning
Aired 39 television spots
Participated in or aired 96 radio broadcasts
Appeared in 7 television shows on religion, COVID-19, and reproductive health.
The content was often in Wolof and Arabic in order to reach a broader audience. Encouraging pregnant women to seek antenatal care was emphasized in the messaging. In the photo at the top, Arame Seck provides COVID-19 and family planning information in Wolof on a radio show. (Photo Credit: CRSD)
"Religion can play a key role in changing people's behavior. The messages disseminated by the members of the CRSD in the various media have undoubtedly greatly mitigated the impact of COVID-19 on the population, especially women." -Sheikh Saliou Mbacké, CRSD President
With the uncertainty surrounding COVID-19 in the early months, as well as the memory of the Ebola outbreak in neighboring countries lingering, women and families were hesitant to visit health facilities. Working in conjunction with health officials, CRSD provided fact-based information to alleviate fears and misconceptions. As precautionary regulations loosened and travel was allowed, CRSD resumed in person trainings and activities with religious leaders, health care providers, and bajenou gox (respected women community health workers). Each of these activities incorporated media follow up, including engaging local journalists and social media campaigns.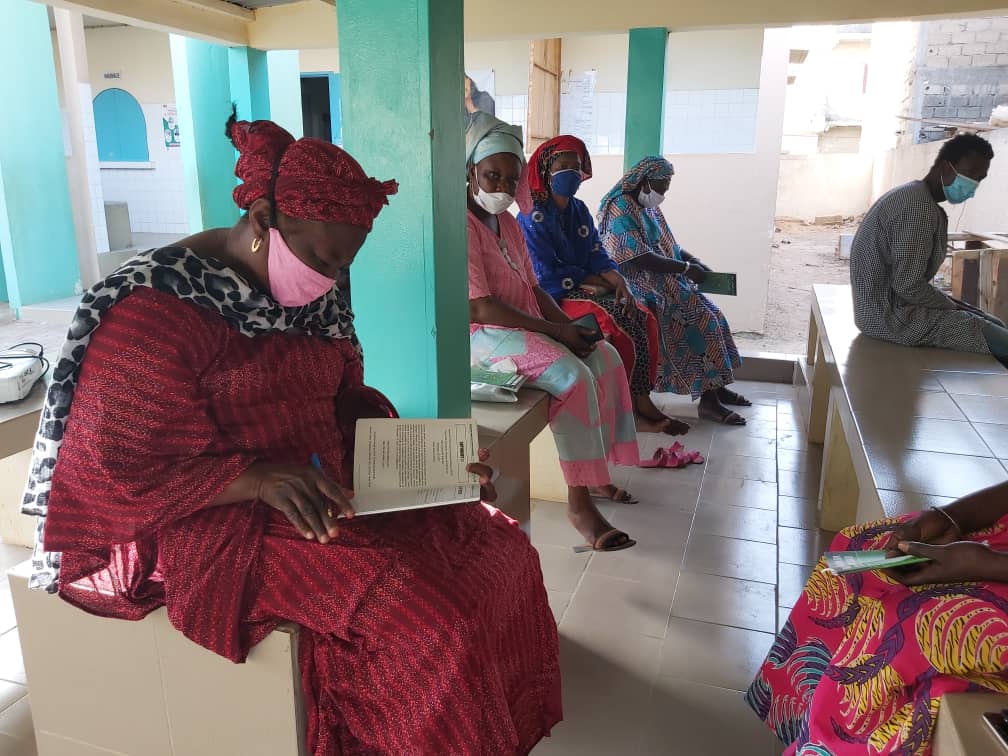 As Sheikh Saliou Mbacké, CRSD President and a Muslim religious leader said, "Religion can play a key role in changing people's behavior. The messages disseminated by the members of the CRSD in the various media have undoubtedly greatly mitigated the impact of COVID-19 on the population, especially women."
CRSD was thus able to alter their action plan to take into account both new imperatives and broader and continuing uncertainties. The firm foundation established over the past six years allowed them to be flexible while continuing to reach out to communities about family planning.
The feedback from religious leaders has been very positive. Here are some quotes from courtesy visits organized by CRSD, UNIFEM (the United Nations Development Fund for Women), and DSME (Directeur de la Santé de la Mère et de l'Enfant) to sensitize faith leaders in the context of COVID-19:
"Really, we congratulate you on this initiative and we support you and we will integrate this new dimension of the use of dispensaries by women in the current context of COVID-19 in our khoutbas and other appropriate occasions that we will lead." -Serigne Mansour Ka (Muslim religious leader)
"All revealed religions are useful for societies. We thank you for this trip which goes in the direction of helping our populations. We are very happy and encourage you. We will talk more to the disciples. May God bless you." -Abbé Jacques Seck: (Christian religious leader)
Looking forward, CRSD is developing an argumentaire focused on adolescent health, addressing a wide range of issues that impact youth, including mental health, violence, nutrition, sexually transmitted diseases, teenage pregnancy, and menstrual health. As a partner of CRSD, the World Faiths Development Dialogue is proud of the growth and ability of CRSD to adapt. As the world continues to adjust to constantly changing realities, CRSD is well placed to continue its family planning advocacy and addressing broader public health challenges.
About the Author: Wilma Mui, MPH is a Program Manager at World Faiths Development Dialogue (WFDD) and primarily supports WFDD's project on maternal and child health in West Africa. She served as a Peace Corps volunteer in southern Senegal from 2010 to 2013, working with local communities on a variety of health topics. Before joining the WFDD team, Wilma worked with the Grandmother Project in Senegal as a community health and development consultant. She has an MPH in Global Health from Emory University.
---