Immunization
---
Christians and Immunization: Christians and other faith communities are important drivers of immunization uptake. All major religions encourage health-seeking behavior and despite myths and misunderstandings, it is extremely rare for a religion to discourage protecting children and others with vaccination.
CCIH makes up MOMENTUM's Faith Engagement Team which is leading a multiyear activity exploring the dynamics of faith engagement in immunization. Many of the following resources are the result of this partnership.
CCIH Webinars
Strategic Engagement of Religious Leaders in COVID-19 Vaccination
October 12, 2021 | In this webinar co-hosted by World Vision and CCIH, we explored how faith leaders influence vaccination uptake and how we can engage them for even greater impact.
The panel included:
Ellyn W. Ogden, MPH, COVID-19 Vaccine Access and Delivery Unit – EOC Leader, USAID
Tom Davis, MPH, Global Sector Lead for Sustainable Health, World Vision International (WVI) who shared about a recent Barrier Analysis WVI conducted in DRC, Bangladesh and Sierra Leone.
Sara Melillo, MPH, Global Health Consultant, who shared preliminary findings from a new qualitative research activity exploring promising practices for engaging local faith actors to promote uptake of COVID-19 vaccination in Ghana, Sierra Leone, Uganda and Indonesia, supported by the USAID's Momentum Country and Global Leadership.
Rt. Reverend Dr. Fred Sheldon Mwesigwa, Bishop of Ankole, Church of Uganda, who discussed his efforts to encourage vaccination and equip a cadre of informed religious leaders to urge communities to accept the COVID-19 vaccine.
The discussion was moderated by Susan Otchere, MSc, RN, Senior Director, Health-International Programs, World Vision US with introductions from Mike Odera, Vice President, Resource  Development, World Vision, and Doug Fountain CCIH Executive Director.
Please see the webinar recording on CCIH's YouTube Channel to access links shared in the webinar. You may access the Slide Deck  from the webinar, which include a slide of sample Church of Uganda social media posts about the COVID-19 vaccine. 
The Church and COVID-19 Response: A Discussion with Global and Country Health Leaders
April 28, 2021 | Churches and faith communities have a very large role to play in informing and influencing communities on matters of health. This webinar featured speakers sharing their experiences with faith communities responding to COVID-19 and how they engage communities and faith leaders in education, support and response. The webinar featured:
-Jean Nyandwi, MA, Country Director for World Relief DRC.
-Dr. Monde Mqhayi, Member of the Methodist Church of Southern Africa Women's Manyano Wellness Committee
The conversation was moderated by Ruth Kayima, RDN, MPH, Health and Gender Coordinator for East Africa, World Renew. She is also co-chair of the CCIH Community-Based Prevention and Care Working Group.
Vaccine Hesitancy Among Faith Communities: A Landscape Analysis and Roadmap for the Future
April 29, 2021 | This CCIH webinar explored a recent landscape analysis on COVID-19 vaccine hesitancy and uptake in faith communities, supported by the USAID-funded project, MOMENTUM Country and Global Leadership.
Sara Melillo, Lead Researcher in the Vaccine Hesitancy Landscape Analysis, MOMENTUM Country and Global Leadership and Dr. Chizoba Wonodi, Immunization Director, MOMENTUM Country and Global Leadership discussed:
-How how we can better engage faith communities in immunization; sharing some key findings from a literature review and interviews with key informants in seven countries and with a number of international organizations.
-Evidence-based approaches to improve vaccine uptake in faith communities.
The session was moderated by Mark Chataway, Co-Owner and Founder of Hyderus/ Baird's Communication Management Consultant.
---
Vaccine Hesitancy Reports and Peer-Reviewed Journal Articles
Effects of local faith-actor engagement in the uptake and coverage of immunization in low- and middle-income countries: A literature review 
This landscape review from the USAID-funded MOMENTUM Country and Global Leadership, published in the Christian Journal for Global Health, in May 2022, found extensive evidence supporting the value of religious engagement for immunization promotion and acceptance in lower- and middle-income countries (LMICs). Yet rigorous evidence and specific approaches for engaging local faith actors to strengthen immunization uptake in LMICs are limited. As countries urgently work to expand access to COVID-19 vaccinations, this study advances understanding of how to more effectively engage local faith actors in promoting immunization campaigns and addressing vaccine hesitancy. The review was conducted by Sara Melillo, Global Health Consultant; Rebecca Strachan, CCIH Intern; Carolyn J O'Brien, CCIH Program Advisor; Chizoba Wonodi, Johns Hopkins Bloomberg School of Public Health, International Vaccine Access Center; Mona Bormet, CCIH Program Director; and Doug Fountain, CCIH Executive Director.
Promising Practices for Engaging Local Faith Actors to Promote Uptake of COVID-19 Vaccination: Lessons Learned from Four Countries
CCIH helped develop a report, "Promising Practices for Engaging Local Faith Actors to Promote Uptake of COVID-19 Vaccination: Lessons Learned from Four Countries," through USAID's MOMENTUM Country & Global Leadership Program. The report, released in December 2021, summarizes evidence about engaging local faith actors to promote uptake of COVID-19 vaccination. It is a special investigation into lessons learned from four countries: Ghana, Indonesia, Sierra Leone, and Uganda. The report explores 15 promising practices for increasing vaccine uptake through strategic engagement of faith actors. There is an accompanying Policy Brief that provides an 8-page synopsis of the lessons outlined in the report.
Effects of Faith Actor Engagement on the Uptake and Coverage of Immunization in Low- and Middle-Income Countries
This report supported by the USAID-funded MOMENTUM Country and Global Leadership was released in July 2021 and summarizes evidence about vaccine hesitancy trends in faith communities. It is a special investigation including key informant interviews with global leaders and a literature review into the role of faith actors on immunization uptake with emphasis on USAID priority countries for maternal, newborn, and child health and family planning/reproductive health. The report explores common themes in vaccine hesitancy relating to faith. The evidence concludes that vaccine hesitancy among faith communities threatens routine immunization coverage but also demonstrates the potential of engaging faith actors as partners to increase vaccine uptake.
Christian Journal for Global Health: Issue on Vaccines, the faith community, and the common good
June 2022 | This special issue from the Christian Journal for Global Health is a diverse volume including a literature review on the key role of faith actors in addressing vaccine hesitancy, a commentary on collaboration of FBOs with NGOs for the common good, bio-psycho-social-spiritual models of health promotion, analysis of cross-cultural healthcare worker attrition, and several original scientific research articles from LMICs, as well as poetic reflections for those in pain and the value of Scripture to sustain nursing service.
Religious affiliation and immunization coverage in 15 countries in Sub-Saharan Africa
This article appeared in Science Direct in January 2020.  Although religious affiliation has been identified as a potential barrier to immunization in some African countries, there are no systematic multi-country analyses, including within-country variability, on this issue. The authors investigated whether immunization varied according to religious affiliation and sex of the child in sub-Saharan African (SSA) countries.
---
Faith Groups and Immunization
World Council of Churches Answers Your Questions about Vaccines | April 26, 2021 | A Q&A with Dr. Mwai Makoka, Programme Executive for World Council of Churches on the history of vaccines, the role of the church and faith-based organizations, and why children and others are vulnerable if they don't receive vaccines.
JLI Immunization Learning Hub Joint Learning Initiative on Local and Faith Communities has compiled resources on Immunization. They drew together diverse materials (after assessment for quality and relevance) – particularly focused on lower and middle income country (LMIC) settings.
Christians and Immunization: Exploring Religious Objections | 2014 | This video features Dr. Richard Lane, MD, MPH. At the time of the video, Dr. Lane was Director of the Department of Public and Community Health at Liberty University. In the video he addresses reports of religious objections to vaccination and explores the reasons behind these and how faith communities can help educate and allay fears regarding vaccines.
Christians Reaching the Unreached with Vaccines in Nigeria | 2014 | This video features Dr. Daniel Gobgab, MD, MPH, at the time of the interview was the Secretary General of the Christian Health Association of Nigeria. Dr. Gobgab describes how CHAN members reach people, especially in hard-to-reach areas, with vaccines. He also addresses how CHAN works through religious leaders to allay fears and counter misperceptions of vaccination.


Evangelical Church in Ethiopia Is Key Partner in Reducing Child Deaths with Vaccination
The Church and its partners, the Ministry of Health, Gavi, the Vaccine Alliance and CORE Group Ethiopia have contributed to dramatically raised immunization coverage in Gambella Regional State.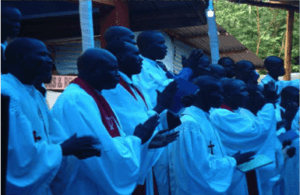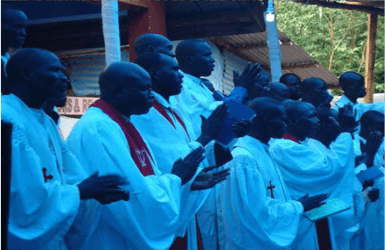 Religious leaders can be extremely helpful in encouraging healthy behaviors and reaching communities with information, especially in hard-to-reach areas in developing nations. With this in mind, the social services arm of the Ethiopian Evangelical Church Mekane Yesus (EECMY) turned to pastors and church leaders to help educate communities about immunization, and the effort paid off. "Trained pastors and church leaders played an important role in sharing key messages about the benefits of immunization, especially in inaccessible and remote areas. This created behavioral change in the community and helped create demand for vaccines in the Gambella Regional state," said Dr. Tilahun Dafurso, Health and HIV/AIDS Program Director of EECMY's Development and Social Services Commission (DASSC).
EECMY-DASSC has been implementing diversified development interventions all over the country. Programs include livelihood development, health and HIV/AIDS, education, child and youth, gender and development and special programs such as reaching out to indigenous vulnerable groups like pastoralists and other traditional socioeconomic and cultural groups. Under Health and HIV/AIDS program EECMY-DASSC has an Expanded Program of Immunization (EPI)/vaccination.
EECMY-DASSC works with the Ethiopian Ministry of Health and regional and district government health offices to provide vaccinations in 19 districts with support from Gavi, the Vaccine Alliance and the CORE Group Ethiopia. Thanks to the work of the church and its partners, immunization coverage in the Gambella Regional state rose from 25 to 60 percent on average in the last three years and decreases were seen in the rates of Whooping Cough (pertussis), diphtheria, tetanus, measles and polio in the area, according to administrative reports from the Gambella Region which have not yet been published. No cases of polio have been detected in the Gambella Regional State since 2008 due to continuous vaccination interventions and active surveillance of EECMY-DASSC in the area.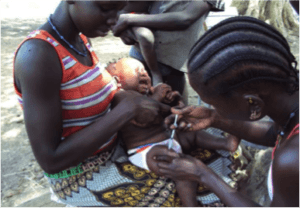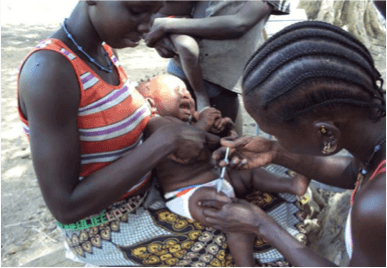 The church organization has been providing vaccinations for more than 20 years in some of its facilities. To ensure health workers and community volunteers fully understand the immunization process, EECMY-DASSC trains government staff, community health workers and volunteers, church leaders, as well as its own staff on quality assurance and vaccine management practices, such as keeping vaccines cold so they remain effective. To empower advocates to encourage vaccinations, the organization provides social mobilization and advocacy strategy training in cooperation with pertinent government offices. Community and health extension workers also receive community-based surveillance training.
"Even though we have seen dramatic improvement in immunization service, we still face a number of challenges, explains Dr. Dafurso. "There is a high number of children who have not received vaccinations, and the poor infrastructure in some areas affects our ability to transport vaccines which we get from the government. We also face a high rate of turnover among health professionals. In addition, we would like to improve the quality of reporting to help us make more informed decisions." Despite these challenges, the tremendous increase in immunization coverage in recent years has gone a long way in helping Ethiopia reach the goal of giving every child the chance for a healthy start in life and to celebrate a fifth birthday and beyond.
---
Opinion Pieces and Stories from CCIH
Christian Organization Delivers Life-Saving Vaccines | 2014 | A piece on the work of the Bishop Masereka Christian Foundation to provide vaccines to children and mothers in Uganda appeared on the website of the Christian publication Sojourners.
Christians' Long Support for Vaccines | 2014 | This opinion piece by CCIH Executive Director Emeritus and CCIH member Sambe Duale about support among Christians for vaccines and collaboration among Christians and Gavi, the Vaccine Alliance to reach children with lifesaving vaccines appeared in the blog section of the Christian Century.
---
Other Resources on Immunizations and FBOs
Faith & Immunization: Past, Present and Potential Roles of Faith-Inspired Organizations | 2012 | World Faiths Development Dialogue | Lynn Aylward | This paper examines the links between faith and immunization with the goal of stimulating brainstorming as to how faith-inspired organizations (FIO), many of which are already very much involved with immunization in poor countries, could help to introduce the new vaccines. It represents a joint effort of Gavi, the Vaccine Alliance, the UN Foundation's Shot @ Life campaign, and the World Faiths Development Dialogue. The paper reviews how FIOs are involved in direct immunization services in low-income countries and in advocacy and financing.
For more information about the COVID-19 Vaccine, please see the COVID-19 Resource Page.
---