International Conference on Family Planning and Faith Involvement
---
2021 ICFP #NotWithoutFP Digital Forum, February 2-3, 2021
Due to the COVID-19 pandemic, the in-person ICFP in Thailand was postponed. ICFP held a Digital Forum February 2-3, 2021 featuring a number of panels and side events. The Faith Subcommittee organized a session on Faith Actors & FP During COVID-19.
Faith leaders and representatives from FBOs discussed how they support family planning for healthy communities, and how faith-based organizations are working to deliver family planning and address issues, such as sexual and gender-based violence, which have increased during the COVID-19 pandemic. The panel included:
Tamara Tutnjevic, Senior Policy Adviser, World Vision International
Sheikh Saliou Mbacke, Le Cadre des Religieux pour la Santé et le Développement in Senegal
Martha Saidi, Program Manager, SCOPE, World Relief Malawi
Nicholas Odhiambo, Seventh Day Adventist Church Oyani Dispensary in Migori County, Kenya
CCIH Program Director Mona Bormet moderated the session.
High-Level Overview of Key Points
CCIH Intern and MPH Candidate Cassady Mecate wrote a high-level overview of the session, pulling out key points from the session. See How Faith-based Organizations Meet Community Need for Family Planning During COVID-19
The session also featured a video of  Christian and Islamic faith leaders and faith-based organization representatives in India, Kenya and Uganda discussing how COVID-19 has affected their communities and the ability of women to access family planning services, and the role faith leaders can play in improving access and uptake of FP, including:
Suman Panday, Community Health Worker with World Vision India
Bishop Samuel Kairu Njuguna, Pentecostal Evangelical Fellowship of Africa (PEFA) Church in Kiambu County, Kenya
Sheikh Ibrahim Lethome Asmani, Supreme Council of Kenya Muslims
Reverend Canon Grace Kaiso, Anglican Church, Uganda
To see more about all the faith session speakers, including the faith representatives who spoke in the introductory video, visit the Faith Session page on the ICFP NotWithoutFP Forum site.
Faith Community Recommendations To Advance FP Access and Uptake During COVID-19
Faith communities and faith leaders play crucial gate keeping and influencing roles in the success of advancing health in many countries. The influence of faith communities and faith leaders have been an essential component of efforts to address early marriage, combat harmful traditional practices, establish equitable treatment for women and girls, and overcome the stigma around male involvement in RMNCH. Now, with the global COVID-19 pandemic, it is even more important to engage faith leaders and faith communities in sharing accurate information about health.
As part of the Digital Forum, the Faith Subcommittee developed recommendations on how faith leaders and communities can work with national governments to advance FP access and encourage FP uptake in communities. See the ICFP Faith, Family Planning and COVID-19 Recommendations
2018 ICFP Conference November 12-15, 2018
The faith community presence at ICFP was significant for the 2018 conference in Kigali Rwanda, with 22 poster presentations, four lunch discussion tables, at least six panel sessions, Faith and Family Planning exhibit booth, a Facebook Live session and coordinated social media campaign.
CCIH coordinated one Facebook Live session, Straight Talk on Religion and Family Planning, which featured Mr. Yoram Siame, Director of Advocacy Planning and Development at the Churches Health Association of Zambia (CHAZ), Ms. Bicbic Chua, Executive Director of Catholics for Reproductive Health, and Mr. Mohammed Bun Bida, Executive Director of Muslim Family Counselling Services.
A highlight was the commitment statement developed by faith leaders during the conference and presented in the closing plenary session. A statement of support and lessons learned at ICFP 2018 was presented by Reverend Dr. Lydia Mwaniki, Director, Theology, Family Life and Gender Justice, All Africa Conference of Churches (AACC), and Sheikh Musa Sindayigaya, Rwanda Interfaith Council for Health. The statement is below followed by a French translation.See more coverage of the activities here.
CCIH developed an interactive map showing faith actors' advocacy achievements since the 2016 ICFP. The map is not exhaustive but provides a sample of family planning work by faith-based organizations.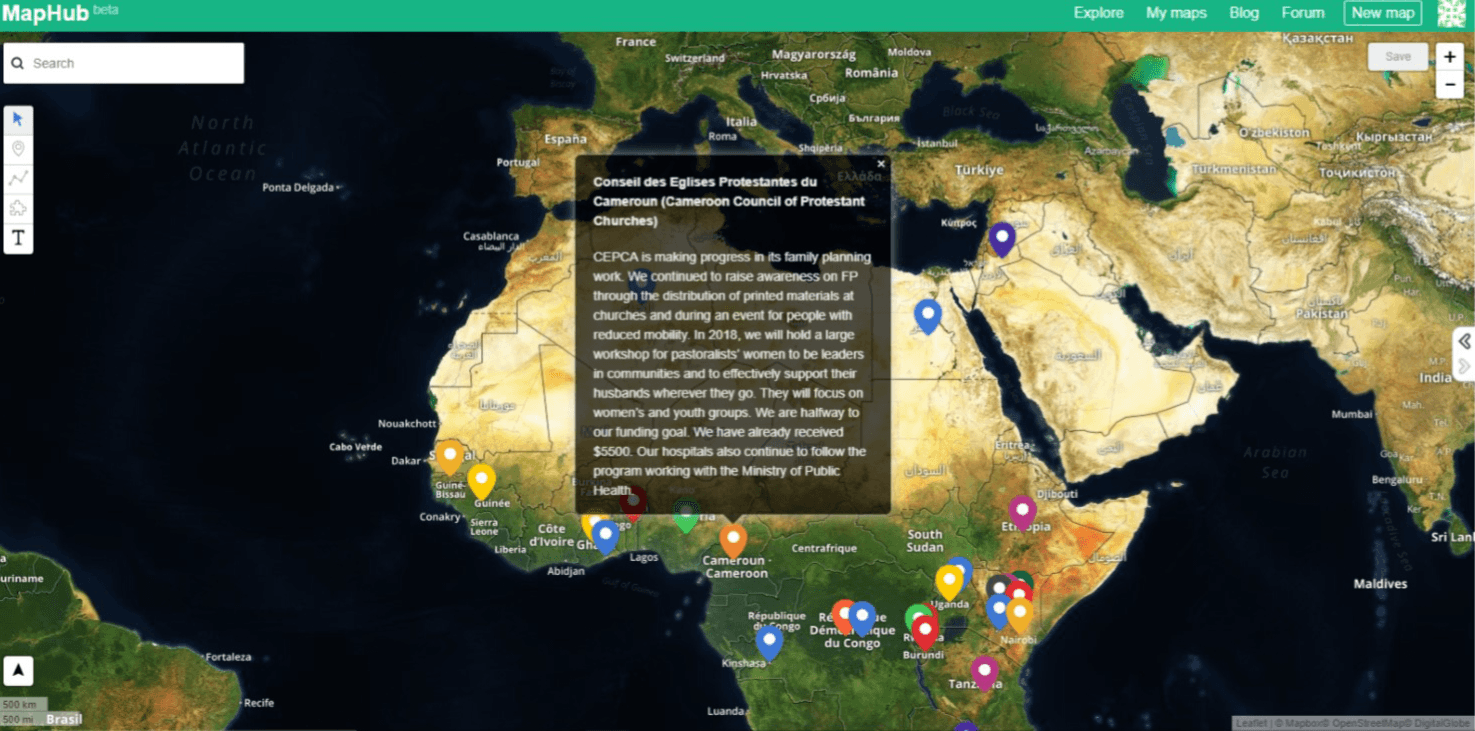 2016 International Conference on Family Planning
The faith community made historic progress at ICFP in 2016 when 85 faith leaders from 26 nations came together for the first-ever Faith Pre-conference. They discussed best practices in faith-based involvement in family planning and committed to scaling up services to help families with healthy timing and spacing of pregnancies.  See coverage of the faith community's involvement, including media coverage and a Statement of Commitment from FBO leaders.
---