Unprecedented Faith Involvement in International Conference on Family Planning
---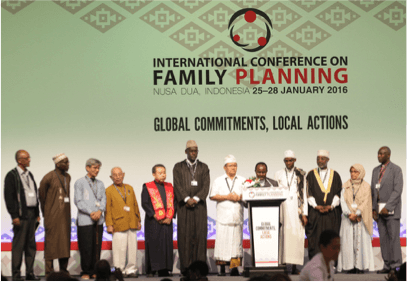 Eighty-five faith leaders from 26 nations came together at the fourth International Conference on Family Planning (ICFP) in the first-ever Faith Pre-conference to ICFP January 24-25 in Indonesia. The delegates met to discuss best practices in faith-based involvement in family planning and commit to scaling up services to help families with healthy timing and spacing of pregnancies.
ICFP is organized by the Bill and Melinda Gates Institute for Population and Reproductive Health at the Johns Hopkins Bloomberg School of Public Health. This year's conference attracted more than 3000 people from more than 70 countries. The faith leaders, representing the Buddhist, Christian, Confucian, Hindu, Jewish and Muslim faiths, were brought together to become active participants in implementing the post-2015 Sustainable Development Goals family planning agenda at both national and international levels. CCIH served as a Co-Chair, along with the Faith to Action Network and Muhammadiyah of the Faith Subcommittee that organized the Pre-Conference.
Report from the Faith Pre-conference
See the ICFP 2016 Faith Pre-conference Report which includes recommendations developed at the pre-conference, along with photos and summaries of presentations and discussions.
Myth Debunking through Media Outreach
The Faith Subcommittee and other ICFP partners reached out to media outlets across the globe to take this opportunity to debunk myths that faith communities and leaders do not support family planning. As a result of this outreach, an opinion piece by Reverend Canon Grace Kaiso, General Secretary of the Council of Anglican Provinces of Africa and Chair of the Faith to Action Network and Dr. Ahmed RA Ragab, Professor of Reproductive Health at Al-Azhar University and Vice Chairman of the Faith to Action Network about support among religious leaders appeared in the Guardian. The piece, Why Religious Leaders Have a Moral Duty to Promote Family Planning, featured the work of the Christian Health Association of Kenya to involve religious leaders in scaling up family planning use in two communities. A version of the original opinion piece including the work of the Zimbabwe Association of Church-related Hospitals also appeared in publications in Nigeria, Tanzania, Zimbabwe,Malawi, Uganda and Ghana.
An article in All Africa featured comments by Dr. Tonny Tumwesigye of the Uganda Protestant Medical Bureau about faith and family planning and why healthy timing and spacing of pregnancies is consistent with Christian values. Articles featuring interviews with CCIH's Mona Bormet (Leap for Faith), Dr. Henry Mosley of Johns Hopkins University (Having Faith in Family Planning), and Grand Mufti Sheikh Mangala Luaba of the Democratic Republic of the Congo (Faith and Family Planning: A Q&A with Sheikh Mangala Luaba) appeared in Global Health Now. Sheikh Luaba explained that family planning is supported by the Qu'ran and means giving good health to the mother and good growth, development and health to the child, while also giving time for the father to provide financially for the family.
CCIH Program Director Mona Bormet was quoted along with CCIH members Susan Otchere of World Vision and Katherine Marshall of World Faiths Development Dialogue in this Los Angeles Times article by Noam Levey on support among faith leaders for family planning. The article also includes the work of the Christian Health Association of Kenya.
Faith Community Statement  
The FBO representatives developed a statement of commitments supporting family planning to protect the health of women and children during the pre-conference. Reverend Canon Grace Kaiso read the following statement during the closing plenary session. (Statement begins 15:00 minutes into the video)
This video and more from ICFP can be seen on the Gates Institute You Tube Channel.
Statement of Faith and Religious Leaders Attending 2016 Faith and Family Planning Pre-Conference in Indonesia
We, the 85 faith representatives from 26 countries representing Buddhist, Christian, Confucian, Hindu, Jewish, and Muslim faiths, came together to strategize on advancing family planning from a faith perspective during the International Conference on Famiy Planning Pre-Conference 2016. We, the faith community, believe in the sacredness of life and affirm our responsibility to the thriving of the human family. We recognize the importance of global initiatives such as the Sustainable Development Goals and FP2020, and commit to support their implementation for the holistic achievement of these goals.
The faith community provides enormous opportunities for progress in meeting unmet need for family planning and we have made the following three commitments:
We re-affirm our commitment to continuing to inform and educate our communities on family planning especially youth and faith leaders, as is consistent with our faith values as it protects the lives and health of mothers and children and families.
We re-affirm our commitment to continuing to provide and support quality family planning service delivery, referrals, and products to all communities. We therefore welcome our governments and the international community to partner with us in ensuring access to quality services.
We re-affirm our commitment to continuing to advocate internally within our faith communities to mainstream family planning in our services. We will continue to advocate externally with our own national and local governments, NGOs, and others to partner with faith communities. 
Thank you for this opportunity to share our commitments with you,  our international partners in helping all our communities survive and thrive.
See the statement in French | Indonesian
Faith Community Presentations
See the Powerpoint presentations of representatives of the faith community at ICFP 2016.
Advance Family Planning SMART Advocacy | A presentation on the SMART method to achieve quick wins in family planning advocacy. The method involves setting objectives that are Specific, Measurable, Attainable, Relevant and Time-bound. | Presentation
Dr. Tri Hastuti Nur Rochimah of the Aisyiyah National Board in Indonesia discusses the organization's partnerships with the government and faith leaders to scale up family planning. | Presentation
Dr. Ahmed Ragab, Professor of Reproductive Health, Al Azhar University on the Caravan experience and how Al Azhar University is influencing Islamic leaders on family planning, reproductive health and gender issues. | Presentation
Karen Sichinga, Chair, African Christian Health Associations Platform and Executive Director, Churches Health Association of Zambia on the role of faith-based organizations in family planning in Africa | Presentation
Lauren Van Enk, Institute for Reproductive Health, Georgetown University on the involvement of faith-based organizations in family planning and results of a study on FBOs. | Presentation
Geertje van Mensvoort, Cordaid on the organization's work in reproductive health in fragile states and its efforts to involve faith leaders. | Presentation
Summary of Media Coverage
Opinion Piece in the Guardian
Why Religious Leaders Have a Moral Duty to Promote Family Planning appeared in the Guardian
A version of the Guardian piece appeared in publications in Nigeria, Tanzania, Zimbabwe, Malawi, Uganda and Ghana
Additional Coverage
Africa: God and Condoms: Perspective on Family Planning and Faith in All Africa
Kenyan Clergy Push for Family Planning at Global Health Forum in Indonesia in the Daily Nation (Kenya) also cross posted in All Africa
Clerics-Family Link Stressed in The Citizen (Tanzania)
Family planning: women and young people need access and choice, by Key Correspondents: Reporting for Action on HIV. Cross-posed in All Africa
On Family Planning, Financing and Fine Lines: Recapping ICFP 2016 in Global Health Policy Blog (Center for Global Development)
Jokowi says family planning key to ensuring global peace in Jakarta Globe (brief mention of Faith Pre-Conference)
Religious leaders successful programs helps family planning, in Republika, (in Indonesian)
Finding Common Ground in the Star (Malaysia)
Mutual Respect Needed in the Star (Malaysia)
Pope Francis Isn't the Only Religious Leader to Give a Surprising Boost to Contraception in the Los Angeles Times
---