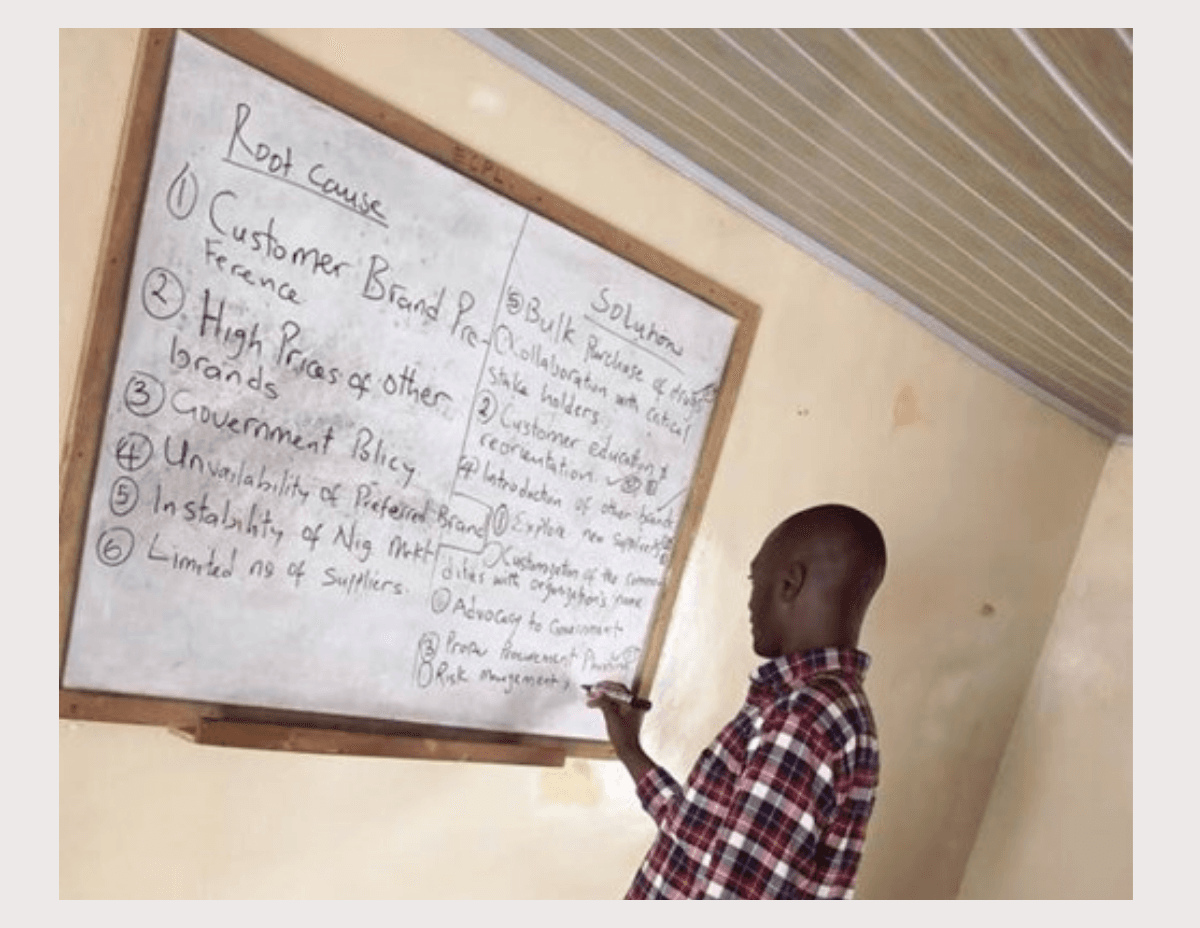 Connector Articles, Health Systems Strengthening
Faith-Based Drug Supply Organizations Increase their Supply Chain Management Capacity
November 8, 2021
---
by Carolyn J. O'Brien, CCIH Program Coordinator and Faith Engagement Team, MOMENTUM Country and Global Leadership
| In Africa, faith-based organizations and their internal drug supply chain systems or partner drug supply organizations may play a critical role in providing family planning (FP) and maternal, newborn, and child health (MNCH) medications to communities across urban and rural locations. They do this through a range of health facilities. Faith-based drug supply organizations (DSOs) vary in size and face several significant challenges in their supply chains, which hinder sustainable and reliable access to much-needed commodities. USAID's MOMENTUM Country and Global Leadership aims to build the resiliency of up to eight DSOs in five countries, including through mapping supply chains and assessing strengths and weaknesses of the DSOs through a national supply chain assessment (NSCA) and providing technical capacity development assistance (TCDA) to address gaps.
During year 1 (2020) of implementation, eight DSOs from five countries participated in the NSCA. Participating DSOs included Cameroon Baptist Convention Central Pharmacy, Central Pharmacy Presbyterian Church (PCC) [Cameroon], National Catholic Health Service (Catholic drug centre) [Ghana], Ghana Adventist Health Services (GAHS), Mission for Essential Drugs and Supplies (MEDS) [Kenya], Christian Health Association of Nigeria (CHAN) Medi-Pharm, Evangelical Church Winning All (ECWA) Central Pharmacy Limited (ECPL) [Nigeria], and Joint Medical Stores (JMS) [Uganda].
In the photo above, DSO staff at Evangelical Church Winning All (ECWA) Central Pharmacy Limited in Nigeria go through a root cause exercise as part of an in-field supply chain capacity building activity.
National Supply Chain Assessment Tool
The NSCA is a tool developed by USAID and generally implemented at the country level. For this project, an adapted version was implemented accounting for virtual assessment (due to COVID) and a shortened timeline. The revised NSCA tool comprises three key areas of assessment, which together evaluate the functionality and performance of an organization's supply chain by tracking the movement of five tracer commodities at a sample of facilities from central and warehousing levels, to hospitals and service delivery points (SDPs). The three assessment areas are:
1) Supply Chain Mapping, which develops a visual representation of how an organization's supply chain operates;
2) Capability Maturity Model (CMM) Assessment, which measures the supply chain's capability across 11 functional modules;
3) Key Performance Indicators which assess the supply chain performance (shown in image below).
Participants from the DSOs described the NCSA as "an end-to-end assessment – from the national level to the service provider level," and "the first such comprehensive assessment of the supply chain," which helped identify gaps in the supply chain that needed attention.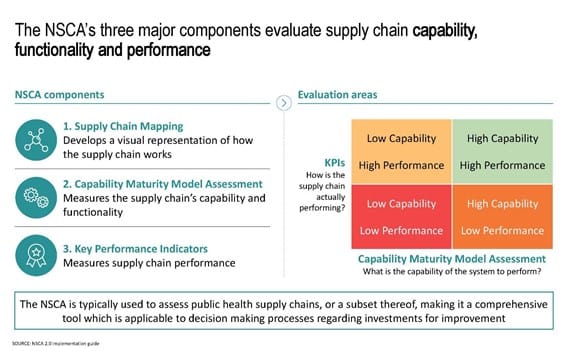 Overall, the NSCA showed that all DSOs exhibited challenges in six key supply chain functions:
Forecasting and Supply Planning (FSP)
Distribution
Warehousing and Storage (WS)
Financial Stability
Quality
Human Resources
Given the level of effort and expected impact, DSOs were encouraged to consider prioritizing three areas for performance improvement:
1. Central warehouse process maturity (Smaller DSOs) and performance gaps (both larger and smaller DSOs), especially within forecasting, distribution and quality;
2. Cross-cutting data and financing issues throughout the full supply chain;
3. Functional processes and staff capabilities at hospitals and SDPs, starting with establishing standard operating procedures (SOPs) where these do not exist today.
When participants were asked about addressing gaps identified in the NSCA, one year after its implementation, some noted some successes, but most said they have a way to go, again highlighting the need for resources. "We have done five percent. Mostly what remains is at the health facility level. But we need funding to do this." One respondent noted an increase in satisfaction among health facilities "from 70 percent to 90 percent," while others noted reductions in stockouts of commodities, including FP commodities.
Supply Chain Leadership Development
Year two (2021) of project implementation built on the NSCA self-assessment findings to strengthen the capacity of faith-based DSOs and integration with national supply chain systems through a virtual training called the Supply Chain Leadership Development Program (SCLDP). The SCLDP was adapted to the faith-based DSO audience as a self-guided 10-part e-learning series (shown in image below) and covered all major supply chain management topics.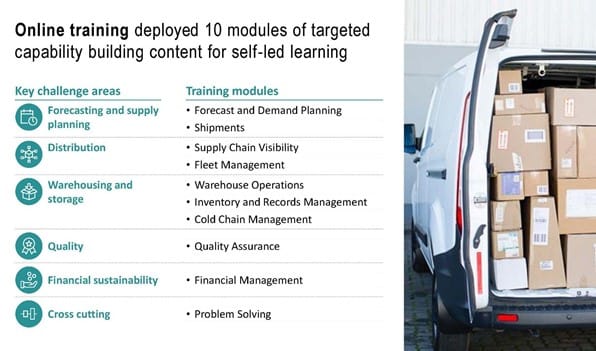 In addition, DSOs had to organize a one-day in-field training session in their central warehouse that brought all trainees of their organization together to apply their learnings in addressing a supply chain challenge the DSO was currently experiencing. This group session focused on developing solutions to the supply chain challenge.
Six of the eight DSOs that participated in the NSCA were able to complete the SCLDP in year two. Participants appreciated the SCLDP, sharing feedback such as "I was not familiar with supply chain concepts. The online modules were a great introduction to the key themes and concepts," and "I got familiar with all the best practices related to supply chain." Participants seemed to especially enjoy the in-field session. One participant noted, "From the in-field session, l learnt how to prioritize the most important problem my organization is facing amidst other problems and how to solve it to obtain a successful outcome."
Participants Share Feedback
The MOMENTUM Country and Global Leadership Faith Engagement Team (FET) recently conducted key informant interviews to help learn from this process and capture the impact of the activity. The FET also asked questions about what it means to be a faith-based drug supply organization. Most interviewees were unified in describing faith-based DSOs as:
Rooted in the tenants of faith. This faith-orientation infuses the culture of the DSOs. "We have a mandate to further the healing ministry in the Gospel." "We have, value, uphold and respect standards….and keep our eyes on honoring Christ."
Service orientation. Serving the poor and people in remote areas, often where government services do not reach. "Our mandate is to reach the unreached/hard to reach with essential medicines, with good quality drugs and good services that people need."
Not-for-profit. "Faith-based DSOs are not-for-profit. We put money back into our system. We are particular about expiration of our commodities. We can't go against our Christian faith – no cutting corners."
Trustworthy. Trusted by the community and trustworthy in maintaining high standards with quality drugs and reliable service.
Well managed. Able to function more efficiently than government services.
Members of networks. "We have a network across the world of like-minded agencies who we can collaborate with."
We are looking forward to seeing the continued fruits of this project as the DSOs implement the learnings from the recent SCLDP. We are grateful to work with fantastic partners like the faith-based DSOs that engaged with MOMENTUM Country and Global Leadership over the past two years.
---