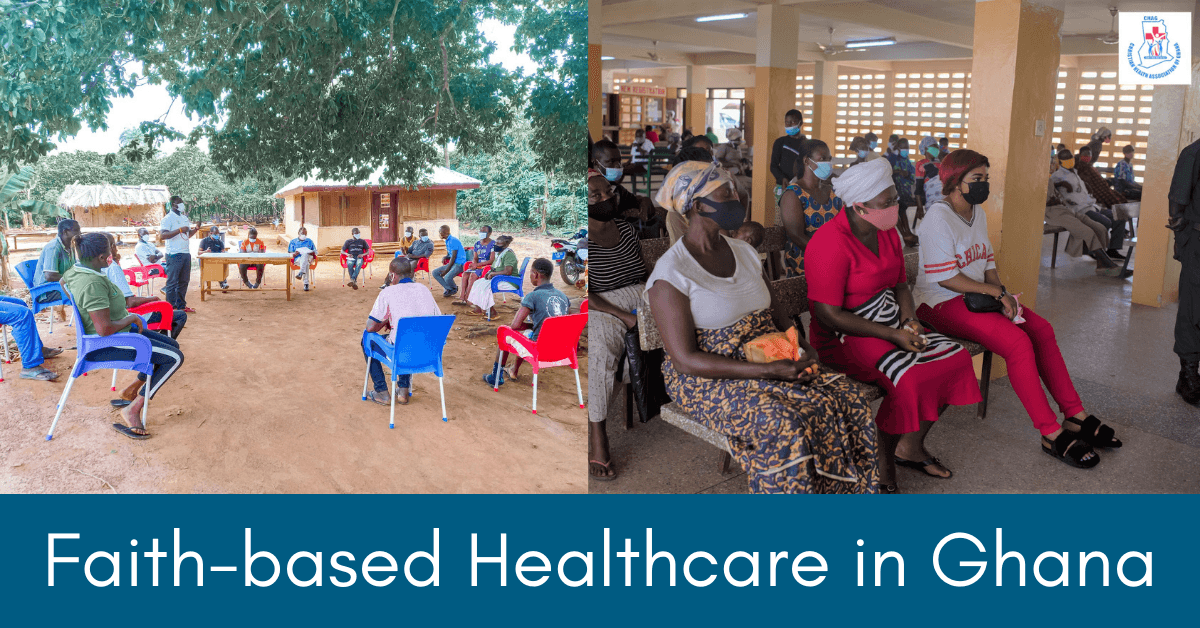 Country Spotlight Series, Health Systems Strengthening
Faith-Based Organizations in Health Service Delivery in Ghana
June 25, 2021
---
American Leprosy Missions (ALM) and the Christian Health Association of Ghana (CHAG) are faith-based organizations working in maternal and child health, family planning, nutrition, immunization, water and sanitation, and overall health systems strengthening in Ghana. This spotlight provides an overview of their work and includes some health indicators for Ghana.
GHANA COUNTRY PROFILE
Maternal Mortality Ratio
308 deaths per 100,000 live births World Bank
Under Five Child Survival
Under-5 mortality ranges from 42 deaths per 1,000 live births in Greater Accra region to 78 deaths per 1,000 live births in Upper West region
1 in 27 children die before celebrating their first birthday, while 1 in 19 children die before reaching age 5. (2017 DHS Ghana Maternal Health Survey)
Antenatal Care and Skilled Attendance at Birth
Approximately 79% of births attended by a skilled provider (2017 DHS Ghana Maternal Health Survey)
Child Stunting and Nutrition
17.5% of children under the age of 5 are stunted World Bank
Background
**
The Christian Health Association of Ghana (CHAG) is a network of 326 health facilities and 20 health training and teaching institutions owned by 34 different Christian Church denominations. CHAG provides health services to low-resource populations in all 16 regions of Ghana, particularly in remote areas. CHAG delivers 30% to 40% of health services within Ghana and is recognized by the Ghanaian government as an implementing partner of the Ministry of Health and works within its policies, guidelines, and strategies. Each year, approximately 7 million Ghanaians benefit from CHAG's health services.
American Leprosy Missions (ALM) is a global organization serving Christ by curing and caring for people suffering from leprosy and related diseases, and by working to end these terrible diseases in our time. American Leprosy Missions collaborates with more than 50 organizations on policy development, program coordination, research, advocacy, technical training, community development and more to serve people affected by leprosy and related diseases.
The Contributions of FBOs
**
Integrating Ghana's National Health Insurance into CHAG's Health System
In the 1990s, CHAG pioneered and piloted Mutual Health Insurance (MHI) in Nkoranza and 40 other districts in the Brong Ahafo region. In the early 2000s, seeing the success of the pilot MHI, the government nationalized it. Consequently, National Health Insurance was established by the Ghanaian government in 2003-2004, with the following goals:
provide equity in health care coverage
promote access by the poor to health care services
provide protection of the poor and vulnerable against financial risk
Currently, about 84 to 90% of clients who access health services from CHAG health facility members are National Health Insurance Card bearers. The main challenge of the NHI scheme is that CHAG must wait 6 to 12 months for claims submitted to be reimbursed for health services delivered. This challenge can render CHAG unable to purchase more medicines to restock its health facilities. To ensure early claims submission, CHAG created a program called Claim-IT, a digital software used to submit electronic insurance claims to the National Health Insurance Authority. Thanks to this, CHAG facilities are able to submit claims on time every month.
Digital Supply Chain Project (Med4All): Improving the Management of Medicine Supply Chains at CHAG Facilities
CHAG, along with PharmAccess, a nonprofit organization that utilizes a digital platform to improve healthcare in Africa, launched the Medicines for All (Med4All) initiative in 2019. Med4All is a digital supply chain platform that connects trusted Ghanaian pharmaceutical companies and importers to healthcare providers to supply affordable and good quality medicines. The goal of Med4All is to address quality, access, and cost issues associated with CHAG's supply chain system and solve funding gaps by making medicines affordable.
Furthermore, the Med4All digital platform has the capability of forecasting medicine use, which helps prevent stockouts at health facilities. Med4All was piloted at 30 CHAG health facilities with plans to expand to all 326 CHAG facilities.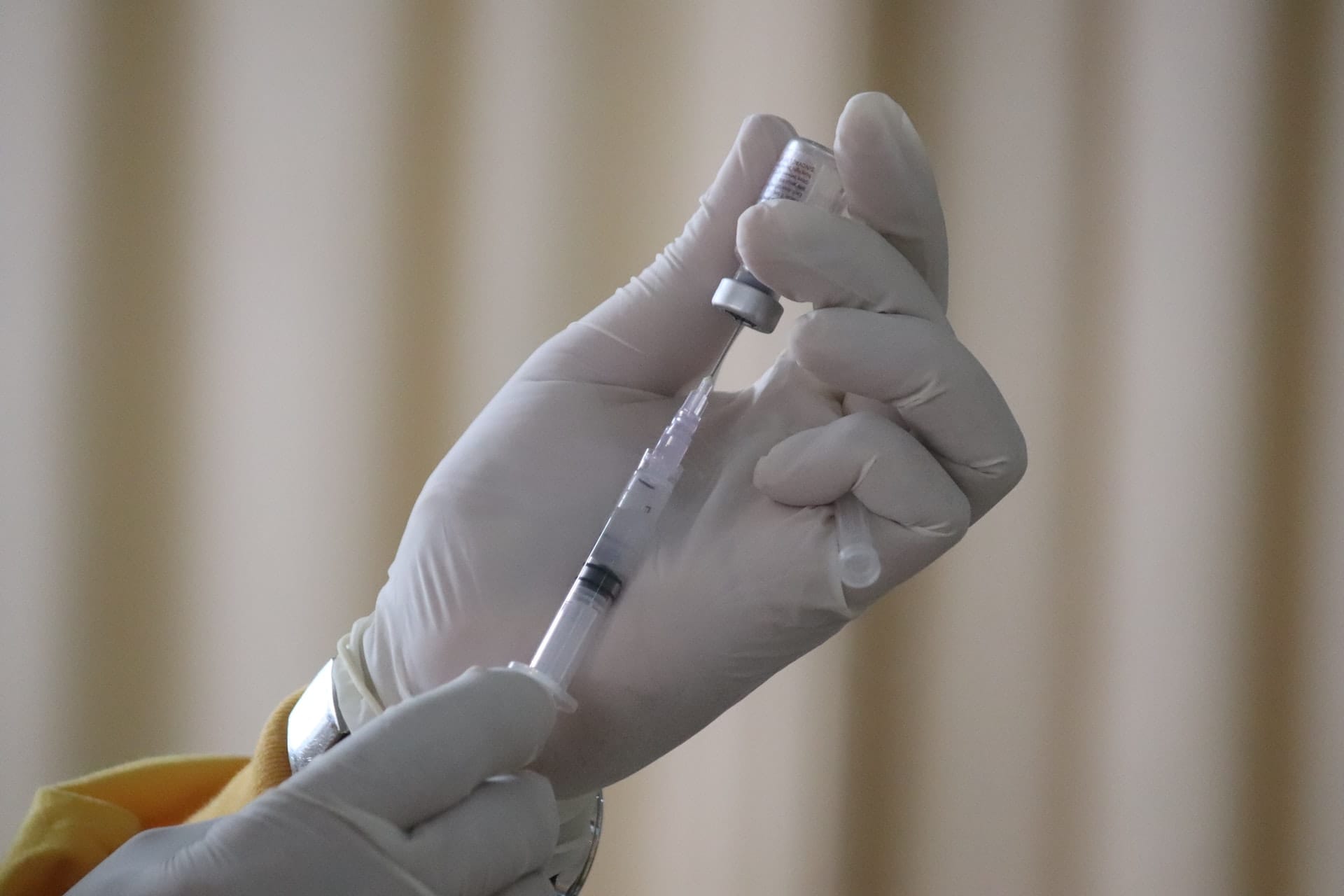 In addition, CHAG designed an inventory management program to train pharmacists and clinic personnel on proper management of medicine inventory at its health facilities. The platform allows CHAG to test the quality of medicines that are traded on the platform using a device called TruScan (a spectrophotometric device).
Technical Working Group Participation and Using Data for Advocacy
CHAG belongs to the Ministry of Health Sector Working Group that meets every month to discuss public health challenges with development partners, regulators, and local and governmental leadership. Each year, CHAG collects clinical and project data from its institutions and produces a comprehensive report, which it uses to advocate for more resources such as professional staff, salary compensation, and equipment from the government.
CHAG also contributes its health data to the Ghana District Health Information System (DHIS) of the Ghana Health Services. Although CHAG currently uses its data for project planning and advocacy, its future goal is to create an improved data management system for data storage.
Family Planning (FP)
Overall, the use of modern family planning methods for women aged 15-49 years has quadrupled in the past 25 years in Ghana, rising from 5% in 1988 to 31% in 2017 (Demographic Health Survey (DHS) Maternal Health Survey, 2017). Government health providers in Ghana provide 76% of family planning services while private health providers provide 21%. Unmet need for FP is 31% in rural areas and 29% in urban areas, according to the 2014 DHS.
CHAG's Work in Family Planning
In 2018, CHAG partnered with the Churches Health Association of Zambia (CHAZ) to train staff on high-impact advocacy on family planning. Currently, CHAG's work on FP focuses on training midwives to provide FP services. For example, midwives are trained to provide FP counseling to women and properly insert implants. Recently, CHAG received funding from the West African Health Organization (WAHO) to train faith leaders to promote FP and train midwives to provide FP services, including implant insertion and removal and Fertility Awareness Methods.
How CHAG Engages Faith Leaders in Family Planning Projects
With support from WAHO and the Ghana Health Service, CHAG trained and provided religious leaders with education on family planning, including health benefits. CHAG also created a Family Planning Committee within its network of religious denominations that oversees family planning initiatives, advocacy efforts, and the recruitment of religious leaders to champion family planning use. In addition, CHAG distributes educational family planning pamphlets to religious leaders and churches.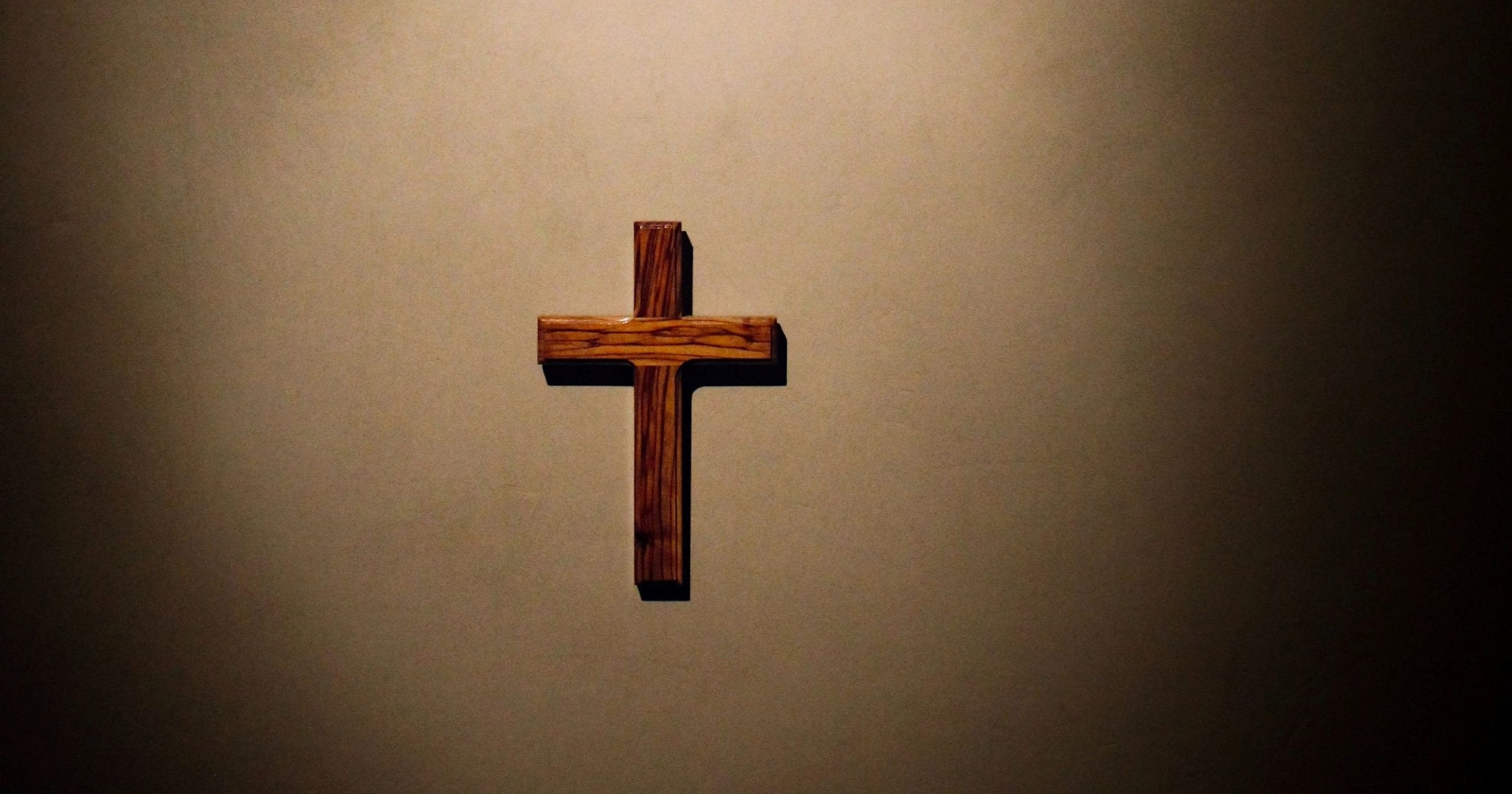 Challenges in Family Planning
The biggest challenge to CHAG's family planning work is that some health providers in the CHAG network hold religious beliefs against FP and therefore hinder them from accepting and promoting it. As a result, some health providers and institutions who work under a denomination that prohibits modern methods of family planning are reluctant to provide services such as tubal ligation.
While health workers want to provide FP services to the people they serve, they are hesitant to go against the rules of the church denomination. According to Dr. James Duah, Deputy Director for CHAG, although many Catholic churches within its network accept natural family planning, much dialogue is still needed to address differences in beliefs concerning family planning use and acceptance, and there is no active plan to promote natural FP within these churches or health facilities. The second challenge is limited funding for family planning services and chronic stockouts of FP commodities.
Immunization Coverage
Ghana has a strong national program for immunization. Through child welfare clinics, CHAG supports the government's existing immunization program to increase vaccine demand and coverage, particularly in remote areas. The DHS 2014 indicates that 58% of children in Ghana have received all age-appropriate vaccinations and 78% have received all basic vaccinations. However, only 52% of children in rural areas have received age-appropriate vaccinations.
Vaccine Challenges: Ghana's Lower Middle-Income Status and Constant Stockouts
Ghana was designated as a lower middle-income country by the World Bank in 2011. As a result of this status, many NGOs are ending projects and permanently exiting the country. For instance, Gavi, the Vaccine Alliance,  an organization that has provided funding for vaccines, has withdrawn from Ghana.
Working to End Neglected Tropical Diseases in Ghana
Neglected tropical diseases (NTDs), including leprosy and lymphatic filariasis, affect the poorest and most neglected people and can lead to profound pain and suffering, malnutrition, lifelong disabilities, increased poverty, stigma and isolation.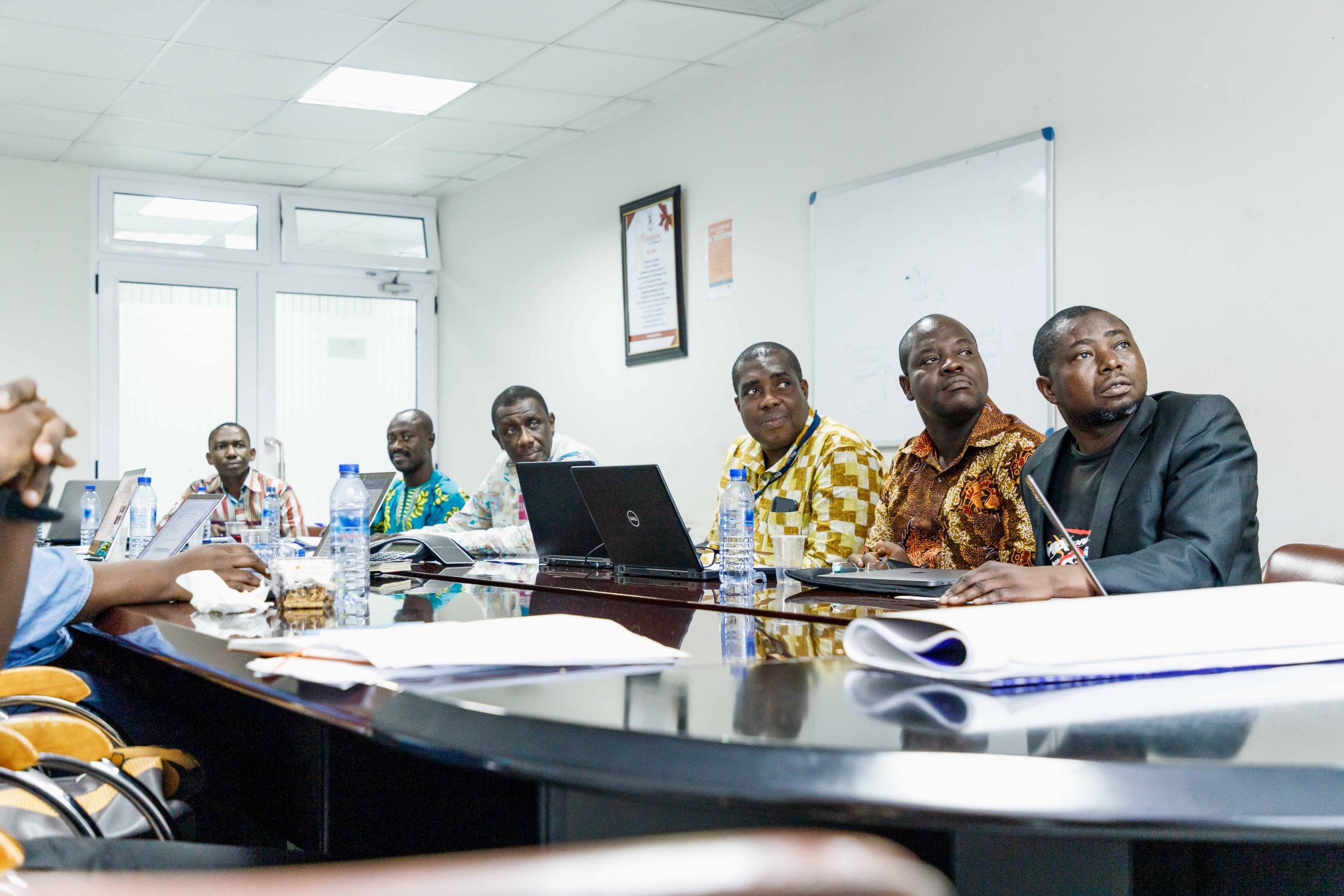 American Leprosy Missions partnered with World Vision to implement a NTD awareness program in Ghana, with the goal of increasing knowledge and education on NTDs in rural communities. Village savings and loan associations were used as platforms for health education and knowledge dissemination with the goal of increasing NTD awareness, detection, diagnosis and treatment.
The program also incorporates water, sanitation and hygiene (WASH). Proper sanitation and hygiene practices are essential for protecting people from infectious diseases, including NTDs like leprosy. According to Stefanie Weiland, Executive Vice President of Programs for American Leprosy Missions, the WASH component is important for disabling diseases like leprosy, lymphatic filariasis and yaws because it can help with managing and preventing the worsening of the disease.
ALM also works with the Ghanaian Ministry of Health to develop training materials on skin-related NTDs like leprosy and lymphatic filariasis, which include WASH components. In addition, ALM, through a program called the AIM Initiative, develops national data systems for disease burden estimation and mapping; trains health workers on data management, validation, and interpretation for decision making; facilitates national NTD care delivery strategic planning; and conducts capacity assessments of clinics to assess their ability to provide care for people affected by NTDs.
ALM also participates in the USAID-funded Act to End NTDs | West program which is focused on improving NTD morbidity management systems in 11 countries in West Africa. As part of this program, ALM is working with the Ghanaian Ministry of Health to provide critical disease data, promote collaboration and help develop a national strategic plan to tackle NTDs. This will help the government extend limited resources by targeting areas of greatest need and highest risk, and ultimately improve people's ability to access quality care.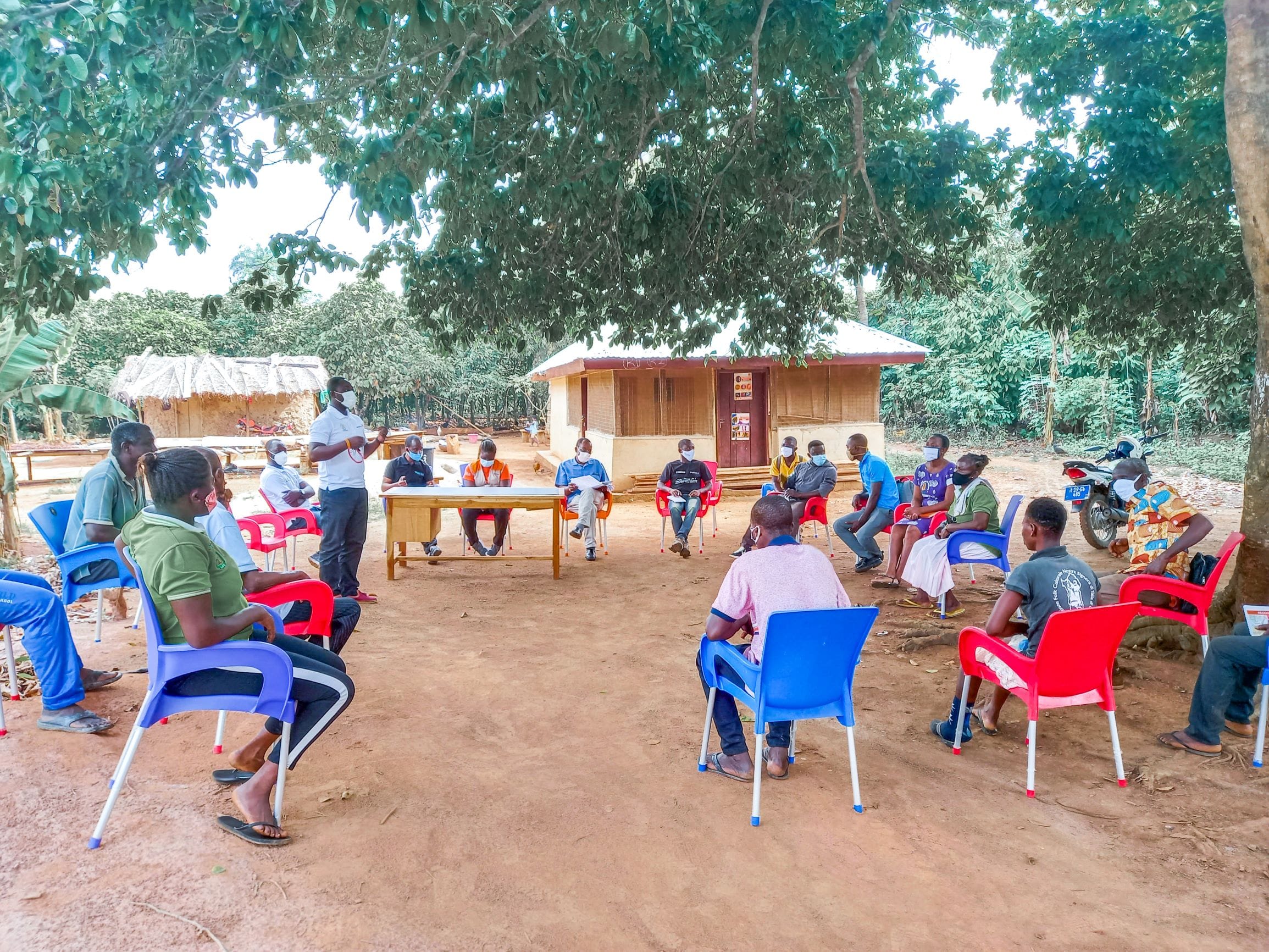 CHAG WASH Assessment and Improvement
In 2019, CHAG conducted a WASH assessment of its health facilities. According to the results, approximately 12% of health facilities were compliant with proper WASH standards. To address this issue, CHAG partnered with Global Water 2020 and the Africa Christian Health Associations Platform (ACHAP) to install water taps, conduct water quality testing, and install water storage facilities.
Mental Health Project: Scaling up Mental Health Services to Ghanaians
According to Ghana's Mental Health Authority (MHA), in 2012 only 2% of Ghanaians had access to mental health services. With funding from UKAID, CHAG implemented a project to improve the lives of people living with mental illness.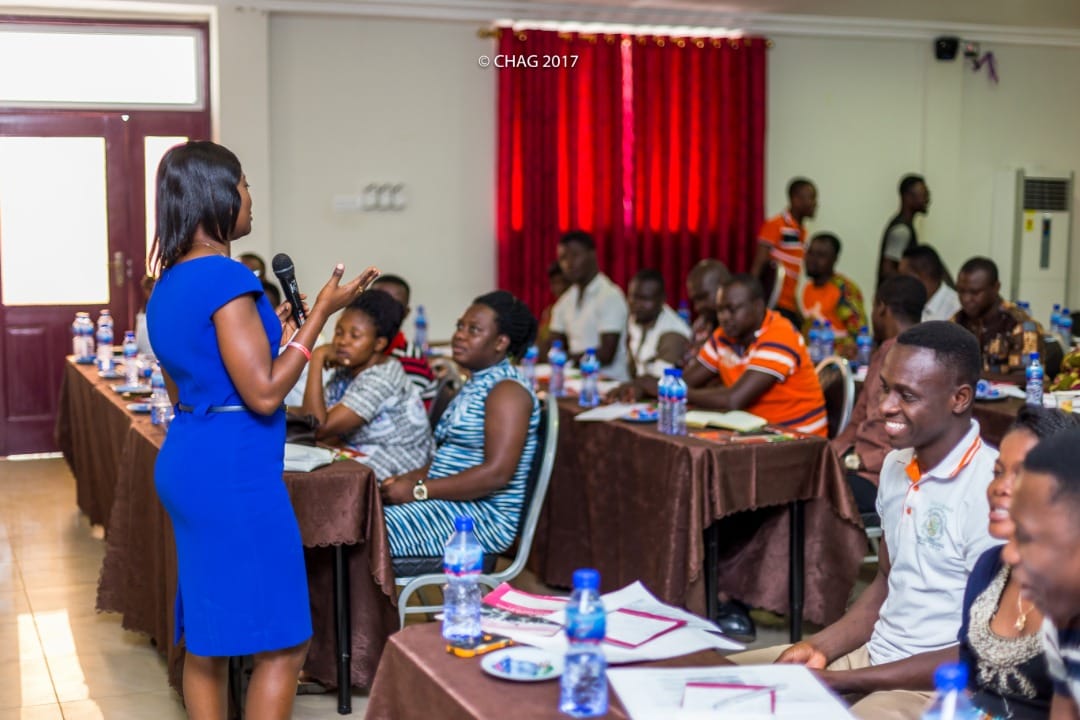 The objectives of the project were to improve access to mental health services, reduce stigma and discrimination, and reintegrate people who have been treated back into the community.
CHAG contributed to reducing the gap in access to mental health services from 98% to 75%.
During the life of the project, CHAG created mental health units in 180 facilities in several districts and trained mid-level clinical staff to provide appropriate mental health services to those in need. CHAG also trained mental health volunteers to provide mental health services in various communities. Through this project CHAG, along with MHA and other players in the sector, contributed to reducing the gap in access to mental health services from 98% to 75%. More about CHAG's mental health work
COVID-19: How is CHAG Responding?
The COVID-19 pandemic has affected CHAG's delivery of maternal and child health services. The attendance rate for pregnant and breastfeeding women at antenatal clinics has significantly decreased due to fear of the pandemic. As a result, CHAG has designed a health messaging COVID-19 program that aims to reach 50,000 households with COVID-19 health messages.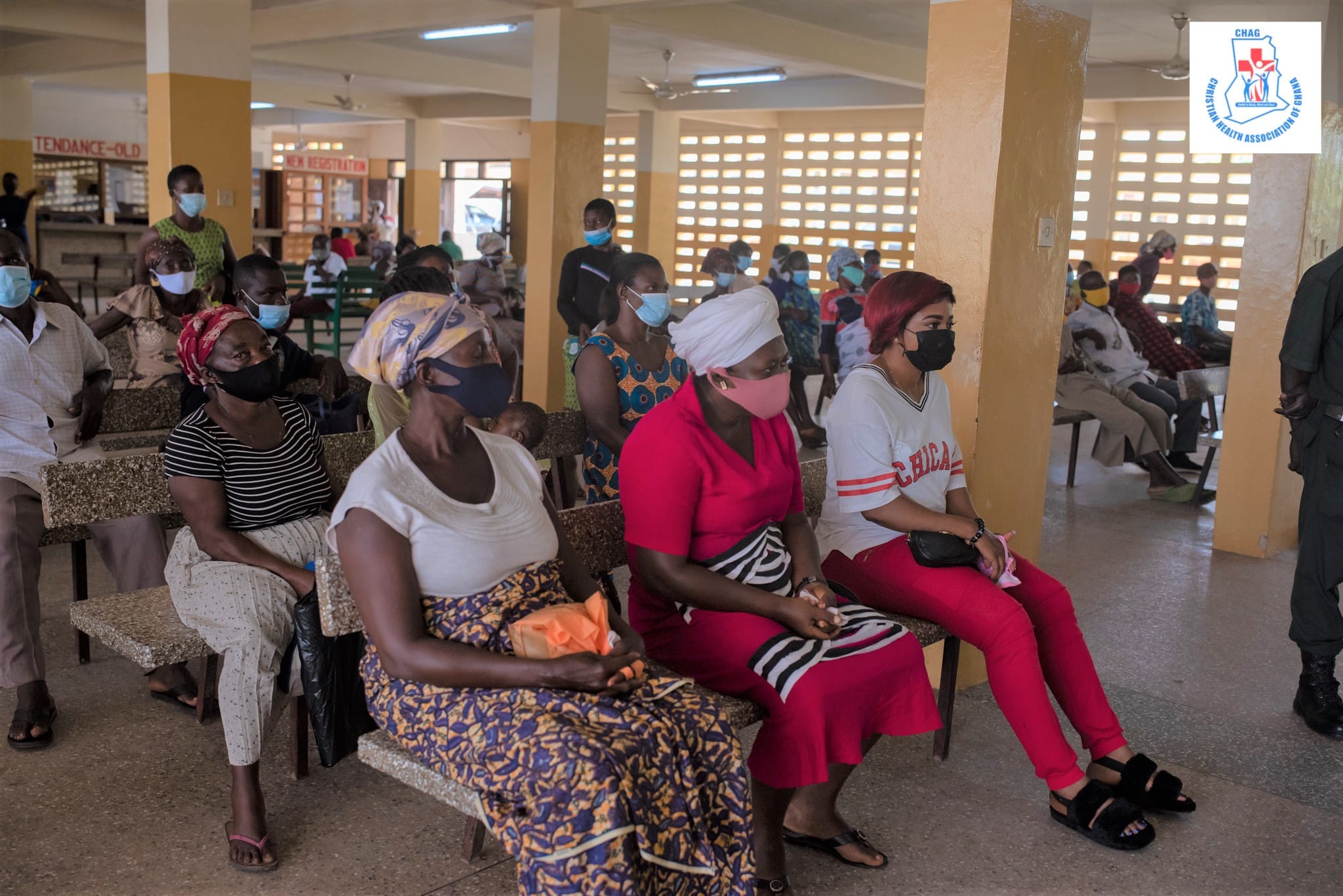 The goal of this activity is to educate communities about COVID-19, its spread and prevention, combat disinformation about the pandemic and address stigma and discrimination. The project is also training health workers on infection prevention and control (IPC). CHAG is also building the capacity of its institutions to ensure that basic and essential health services are provided at all times. The health messages on COVID-19 are delivered by health volunteers through village-to-village meetings.
The Unique Identity of a Faith-Based Organization (FBO)
According to Dr. James Duah, CHAG provides capacity building to community and faith leaders and health workers with the goal of improving health care delivery in Ghana. One of the ways CHAG has built the capacity of community members is by identifying community champions who can help with various health tasks to improve the delivery of health services to those in need. In addition, CHAG's health services are known for providing compassionate care and a friendly health environment. CHAG is also committed to providing health services in remote areas, where many resources are scarce.
"Our work is more than providing healing but also showing people the love of Christ." -Stefanie Weiland, American Leprosy Missions
"We care about providing healing to people living with leprosy and related diseases as much as we care about ensuring that they are thriving and well-integrated into their community," said Stefanie Weiland of American Leprosy Missions. Community integration for people living with NTDs is challenging, particularly due to stigma. "Our work is more than providing healing but also showing people the love of Christ," said Ms. Weiland.
The work of American Leprosy Missions and the Christian Health Association of Ghana demonstrate the diverse approaches that faith-based organizations use to address the different needs of their target population. Both organizations take a holistic approach to improving the health and lives of their target population. Although they focus on different health areas, ALM and CHAG share a similar goal, which is to improve the quality of life for the people they serve.
The CCIH Country Spotlight Series features Christian health services in a number of countries, including those provided through facilities, communities and churches. The aim is to help identify Christian health organizations and highlight key partnerships and initiatives that improve health for those in need. These publications are illustrative and will not represent or reflect the entirety of important Christian contributions to the design and delivery of health services.
CCIH Intern Patience Mhlanga, MPH conducted research and writing for this report.
---