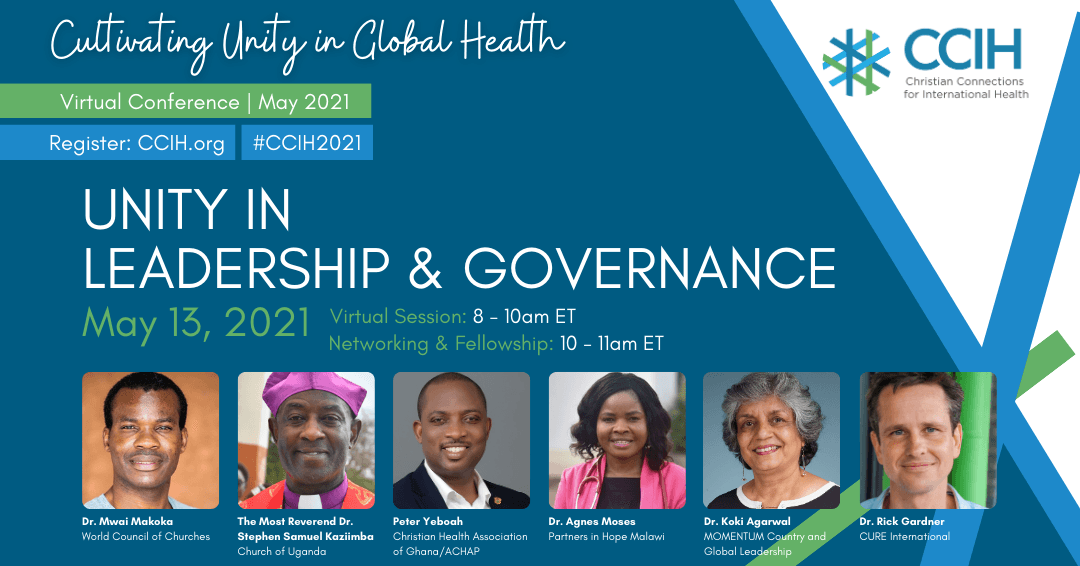 Speaker Bios: CCIH 2021 Session 2
April 27, 2021
---
Session 2:


Unity In Leadership and Governance
May 13, 2021 from 8 – 11am ET

Speaker Bios
Dr. Mwai Makoka, MBBS is Programme Executive for Health and Healing at the World Council of Churches in Geneva. Dr. Makoka also serves on the boards of the Africa Christian Health Associations' Platform and the Ecumenical Pharmaceutical Network. He qualified as a doctor of medicine in Malawi in 2002, and received further training in public health microbiology and infectious diseases in the U.S. Besides clinical practice, Dr. Makoka previously worked in the national HIV programme and in academia and was previously Executive Director of the Christian Health Association of Malawi.
The Most Reverend Dr. Stephen Samuel Kaziimba is the Archbishop of the Church of Uganda. He oversees the work and ministry of the 37 Dioceses that make up the 13-million member Church of Uganda. He also serves as the Chancellor of Uganda Christian University (UCU). Archbishop Kaziimba received his Bachelor of Divinity from UCU and his Master of Divinity and Doctor of Ministry from Western Theological Seminary in Michigan (USA). He has served as the Chair of the Committee for HIV and Public Health for the Interreligious Council of Uganda. He is the author of "Empowering the Laity," published in 2015.
Peter Yeboah, MPH, MSc is Executive Director of the Christian Health Association of Ghana, which is the largest private not-for profit and non-state provider of health services in Ghana. Peter is also the Chairman of the Africa Christian Health Associations Platform (ACHAP), a member network organization representing over 41 Christian Health Associations (CHAs) and health network organizations throughout sub-Saharan Africa. He holds a joint Master of Science in Health Policy, Planning & Financing from the London School of Economics and the London School of Hygiene & Tropical Medicine, and an ICHD/MPH from the Royal Tropical Institute (KIT)-Amsterdam in The Netherlands.
Dr. Agnes Moses is the Executive Director of Partners in Hope (PIH) Malawi. In addition to strategic leadership for the organization and PEPFAR and USAID funded programs, she provides direct clinics leadership and care at PIH's medical center. She has board experience
in Public Health, Clinical Practice, Clinical research, and Health Care Leadership. She studied in Malawi, South Africa, and Australia and has participated in several National Health Technical Working groups and is an Independent Reviewer of the Malawi Medical Journal. She is a certified trainer and educator for both undergraduate and postgraduate medical students.

Dr. Koki Agarwal is Project Director of USAID's MOMENTUM Country and Global Leadership. Dr. Agarwal is an internationally recognized expert in safe motherhood, reproductive health, and family planning policies and programs, as well as promoting policy dialogue and advocacy for policy reform. She has more than 25 years of service delivery experience in reproductive health, family planning, and maternal health, and for over two decades has led, managed, and implemented large-scale USAID-funded global health projects. Dr. Agarwal is also the Vice President of DC Operations for Jhpiego.

Twitter: @Koki_Agarwal

Dr. Rick Gardner serves as the Chief Medical Officer (CMO) for CURE International and the Medical Director at CURE Ethiopia. As CMO, Dr. Gardner engages regularly with the Medical Directors of each CURE hospital and is an active participant on the CURE Executive Leadership Team. He completed his surgical training in the UK and spent his fellowship at the Hospital for Sick Children, in Toronto, Canada. He has served at CURE Ethiopia since September 2013, both as a Consultant Orthopedic Surgeon and as the Medical Director.

---