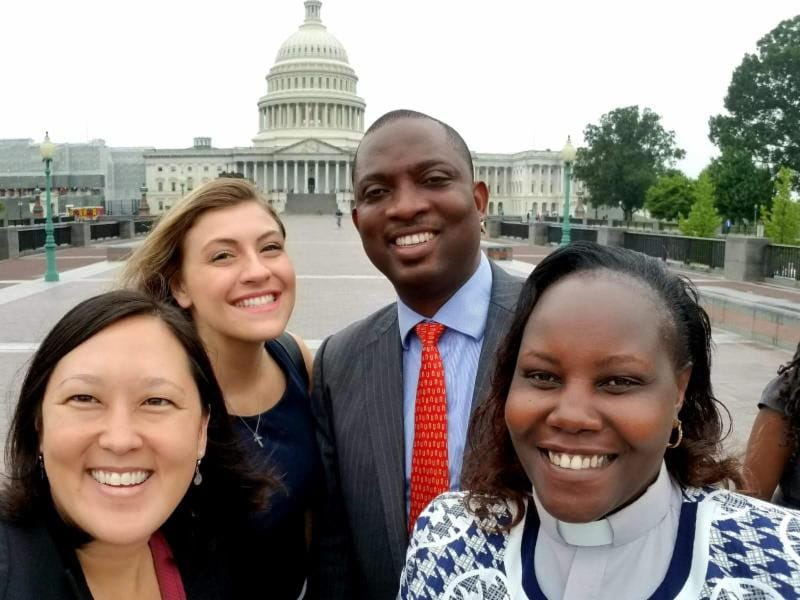 Advocacy Stories, Connector Articles
CCIH Advocacy Teams Share Faith-based Work in Global Health
July 8, 2019
---
On June 10th, 2019 CCIH hosted its annual Advocacy Day. This year, we had 10 CCIH members from Ghana, Lesotho, Kenya, Malawi, Uganda, Zaire, and Zimbabwe, as well as six CCIH members based in Maryland, Massachusetts, and Michigan. The teams met with 15 Congressional Offices (14 in the Senate and 1 in the House of Representatives).
The Senate offices CCIH visited include Senator Tammy Baldwin (D-WI), Senator John Boozman (R-AR), Senator Ben Cardin (D-MD), Senator Chris Coons (D-DE), Senator Dick Durbin (D-IL), Senator Cory Gardner (R-CO), Senator Lindsey Graham (R-SC), Senator James Inhofe (R-OK), Senator Rob Portman (R-OH), Senator Jim Risch (R-ID), Senator Marco Rubio (R-FL), Senator Jeanne Shaheen (D-NH), Senator Mark Warner (D-VA) and Senator Roger Wicker (R-MS). In the House of Representatives CCIH met with the office of Rep. Adam Smith (D-WA).
Advocacy Day provided a platform for CCIH members to highlight how their organizations are implementing global health programs funded by the U.S. Government. By meeting with Members of Congress, who ultimately determine the level of funding global health programs receive, CCIH partners can demonstrate the importance of continuing to support these life-saving global health programs in their local communities. These meetings also provide motivation for Congress to continue to promote the involvement of faith-based organizations, especially those located in country, to lead global health initiatives.
Above Photo: CCIH's Mona Bormet, Intern Sydney Sauter, Peter Yeboah of CHAG, and Reverend Caroline Kaberia of the Methodist Church in Maua, Kenya.
---