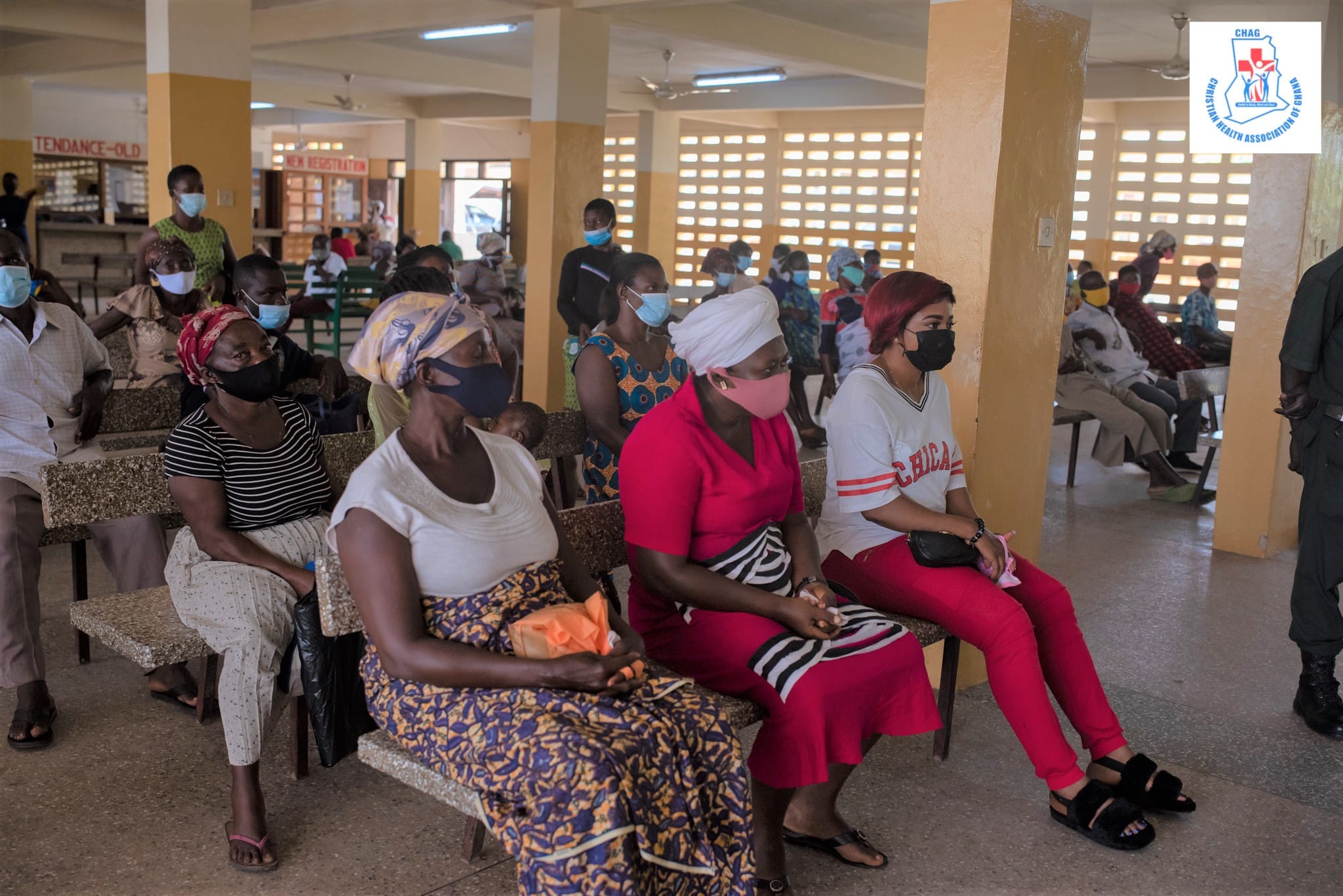 Christian Health Association of Ghana Engages Faith Community in Vaccine Outreach
April 26, 2021
---
An interview with Dr. James Duah, a Public Health Physician from the Christian Health Association of Ghana (CHAG) about how CHAG provides and encourages vaccination services, by Cassady Mecate, Baylor University MPH Candidate and CCIH Communications and Advocacy Intern.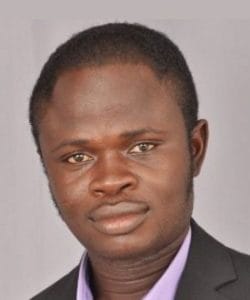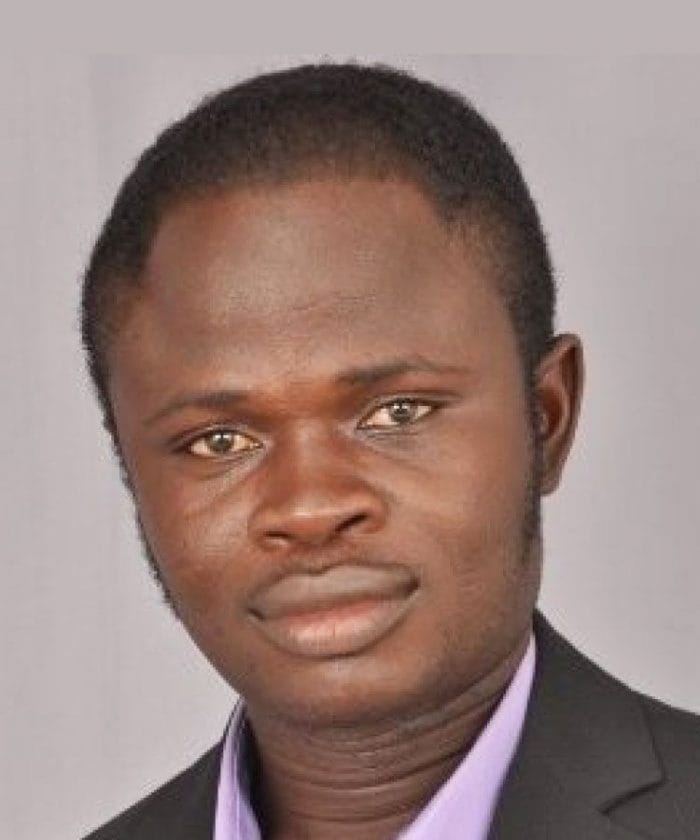 Dr. James Duah is the Deputy Executive Director at CHAG. In addition to an MBChB (Bachelor in Medicine and Surgery), Dr. Duah holds an EMBA from the Ghana Institute of Management and Public Administration and an MPH from Tulane University. He has served within the CHAG network for the past 15 years. His work at CHAG focuses on providing leadership for healthcare services to people in rural areas of Ghana and contributing to policy planning, monitoring, and evaluation for the health sector in Ghana.
What is CHAG currently doing to improve immunization coverage for COVID-19 within vulnerable populations?
At the moment, the government is rolling out the first consignment of immunization in 43 districts. These districts – the national capital and two other regions – were epicenters at the peak of the COVID pandemic. CHAG is also contributing within these districts by using its existing immunization structures and personnel to vaccinate the population. On the implementation level, some CHAG facilities will be centers for vaccination in the Ashanti and Greater Accra regions where the vaccine is being rolled out.
At the national level, CHAG has two seats within the National Technical Coordinating Committee for COVID. CHAG contributes to the discussions and national plans for vaccinating the population. Aside from the COVID-19 vaccination program, CHAG works closely with 188 districts in Ghana to immunize children in these districts. The District Health Administrations in these 188 districts store vaccines and release them to the facilities on a weekly basis for routine vaccinations. In 93 CHAG hospitals, which have cold storage facilities, vaccines are stored and used on a daily basis for children who need them. CHAG has a unique outreach programs and Child Welfare Clinics which are organized solely for immunizing children in unreached populations.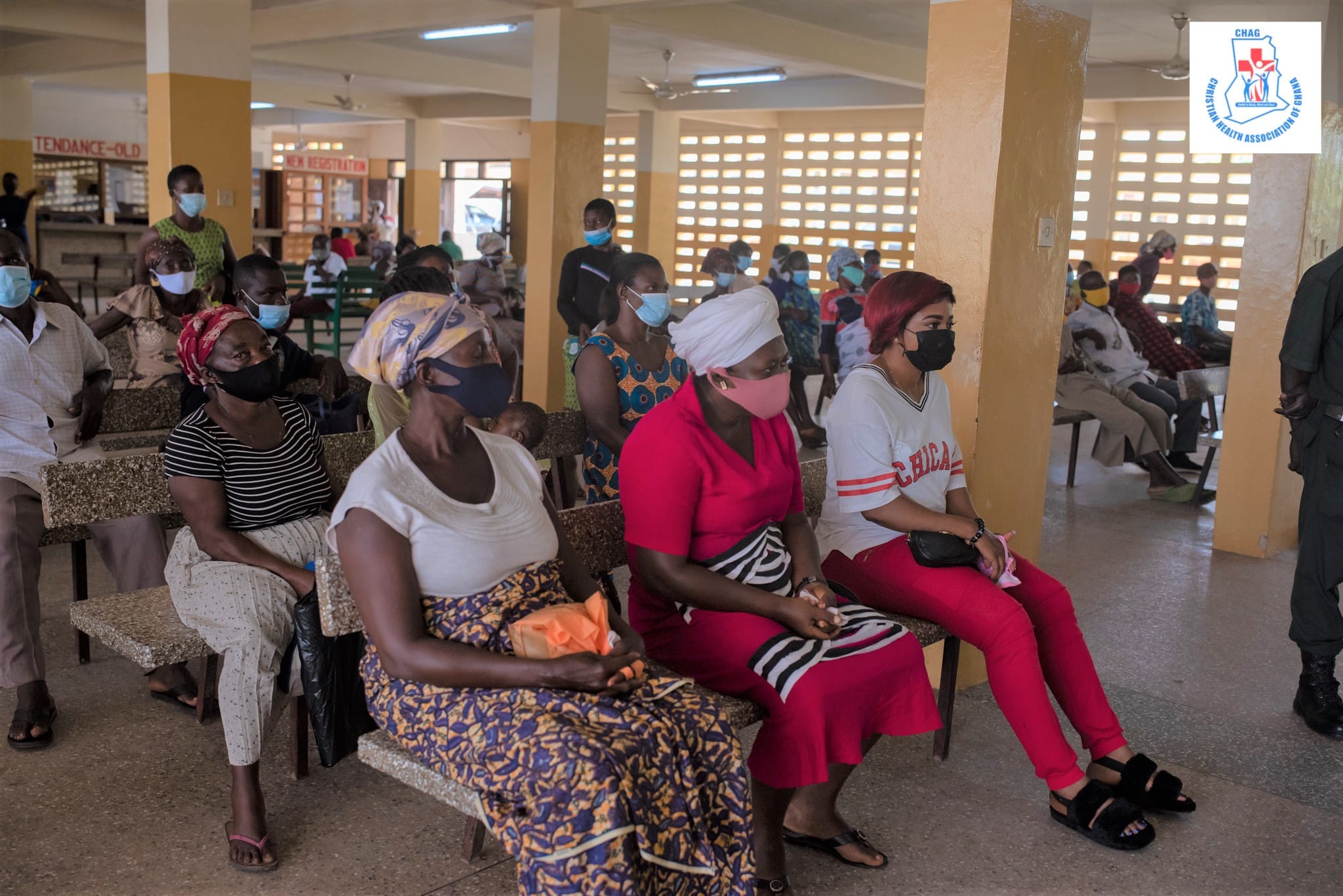 Engaging Churches in Vaccine Education and Acceptance
We are also rolling out projects in 40 districts in response to COVID-19, complementing the government's response and building institutional capacity, which will allow institutions to continuously provide basic and essential health services. With the roll out of the COVID vaccine, we are going to leverage some of the activities we are doing in the COVID projects because some of them are activities that include community mobilization and engagement of religious leaders.
We will adapt our education activities to include conversations about the COVID vaccine. On the national platform, we are engaged in the Church State Committee, which seeks the opinion and support of churches on important health matters. On that committee, CHAG provides technical information about COVID and the vaccine. From there, church leaders take the information to their congregations and talk about it with them.
Educating the Community Through Market Queens
We recently developed a proposal on what we want to do in rural communities where the government's information about the vaccine is not readily available. We want to engage "market queens." In rural areas in Ghana, we have big open markets where people bring their items for sale. Each of those markets has leaders, usually women. We call them market queens. They have control over all the women and people who sell within those spaces. They are very, very influential people. We want to engage those people to use their structures to educate their market women on the vaccine and encourage them to take the vaccine. The proposal also includes engagement of religious leaders, clergies, and traditional healers and Muslim clerics to influence the community in their health decisions.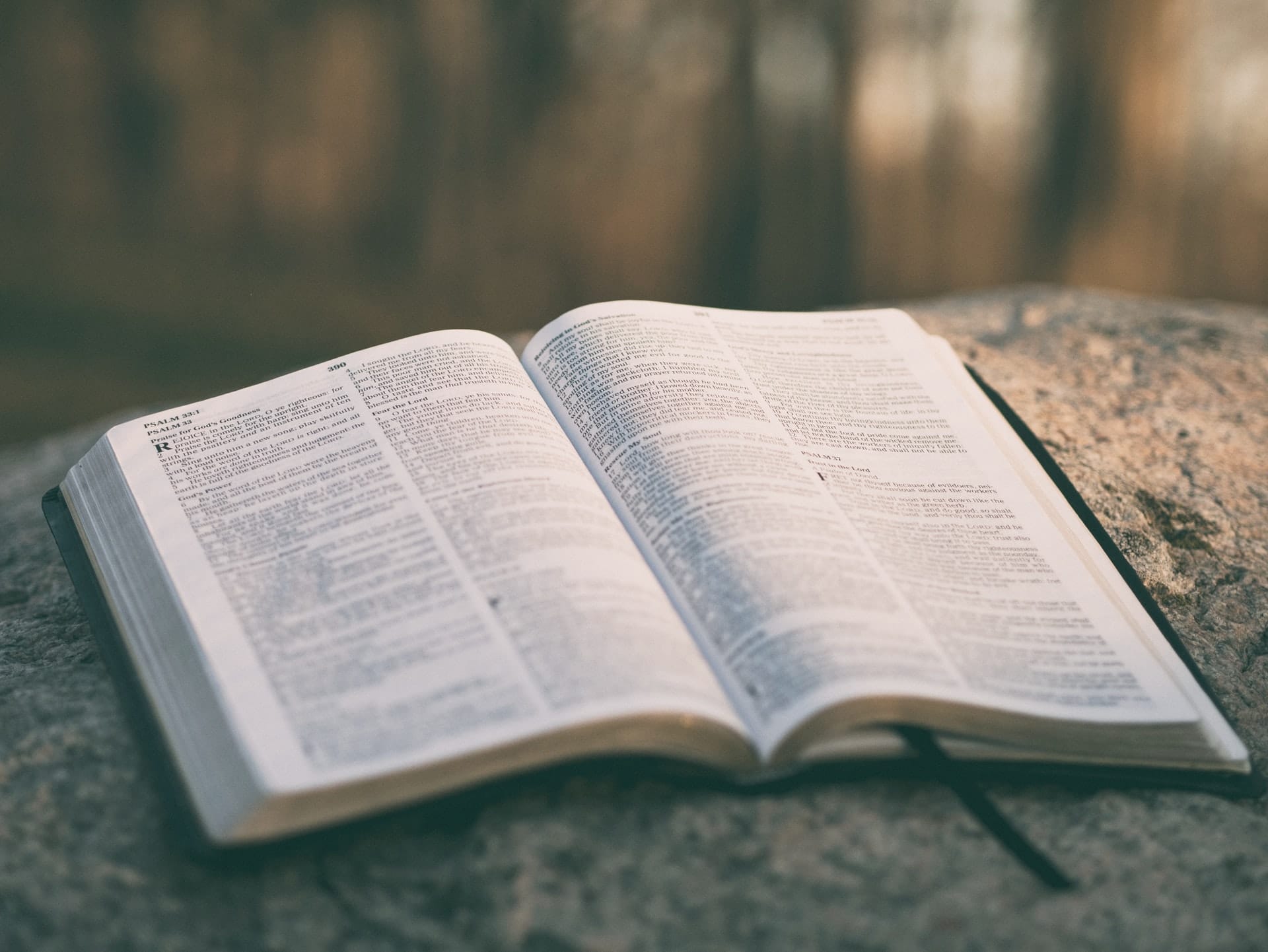 Why would you recommend engaging faith leaders in health promotion strategies?
Faith leaders have more influence than the health professionals. I say this because the majority of people express their faith in the open. In Ghana, about 71 percent of the population are of the Christian faith, and about 13 to 15 percent are Muslim. About 5 percent of the population belong to other religions. If you add all of them together, that's close to 90 percent of the population. So, every week most people in Ghana are in the churches and mosques.
Our faith leaders have unquestioned authority, and they have a captive audience. Their congregations see them as delivering messages directly from God, so people do not usually question them. When we use them for advocacy and campaigns to talk about vaccines, it is effective. It is also helpful that they have large congregations. If CHAG wants to engage communities and collaborate with Christian faith leaders, potentially in every community, we will be reaching out to 71 percent of the population. If we collaborate with Muslim and other religious leaders as well, we will be close to reaching 90 percent of the population.
Faith leaders are, in many cases about health matters, the first port of call for people. For most health issues, people will go to their pastor to pray or go to traditional healing centers before they go to health facilities. This makes faith leaders great influencers in the community, and we want to leverage this influence in our programs.
How do you establish connections and engage with communities and faith leaders?
CHAG is a network of 34 different denominations. Each of those 34 denominations has health facilities we can coordinate with to directly reach the communities they serve. We develop platforms of influential people to gain access to communities. We work through the National Catholic Services to connect to the Catholic Bishops and through the Presby and Methodist Health Services to get to the Presby and Methodist Bishops, respectively.
Aside from this, we have facilities within the community that are connected to churches. We have long-standing relationships with churches, and we have used them in several other projects like mental health and maternal health. So, it is easier to establish connections with them. All districts have a Director of Health Services who is the leader responsible for all health services in the district that can connect to communities. District Chief Executives are also political figures and have say with the government. We coordinate with these influential people from the communities; it could be an assemblyman or a queen mother, who can institute rules and regulations within communities.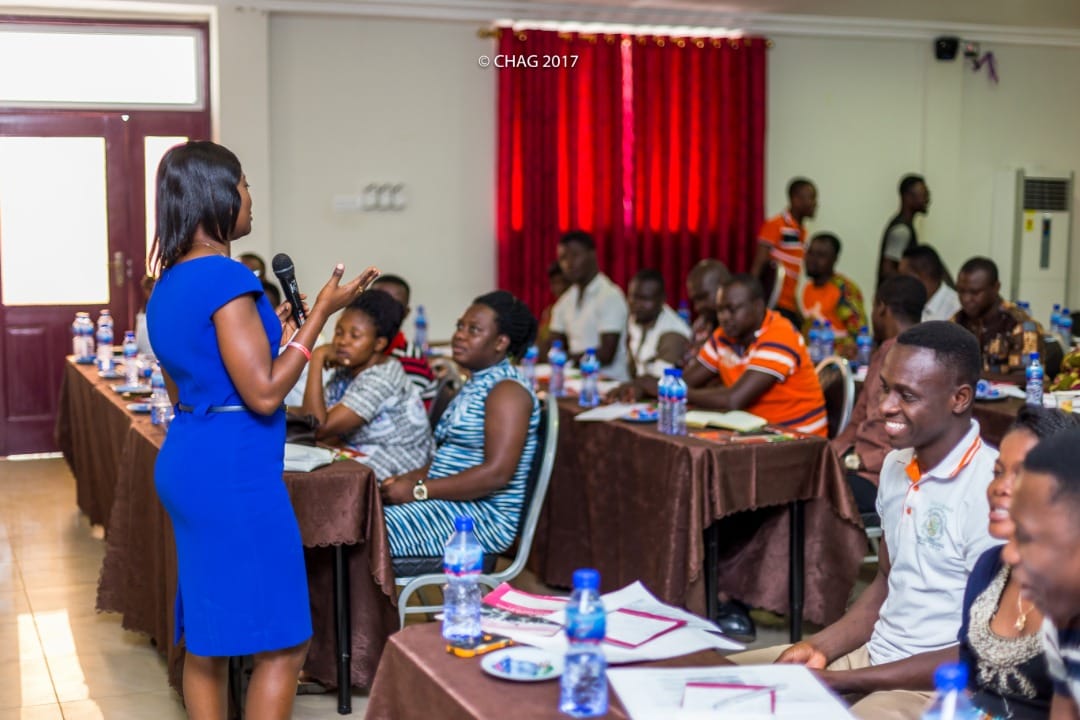 We have hospital staff, Hospital Administrators, and people from Disease Control Units who are brought together on a single platform to make decisions monthly on COVID. They also help us to deal with other important health issues.
How have your experiences regarding community acceptance of the COVID-19 vaccine been different from those of other immunizations?
There are other vaccination programs such as for yellow fever, polio, hepatitis and measles. We have a schedule that tells people to get the vaccine at specific places at certain times. As soon as a baby is born, the schedule is given to the parents. People in the community have accepted the schedule as something that they have to follow given vaccines' impact on mortality among children. Aside from these, some vaccines are nationally required such as the yellow fever vaccine, which is required by many countries if you are traveling to those countries.
For the COVID vaccine, there are a lot of stories running around that are inaccurate. People are saying COVID is not an emergency and for that matter should not cause any panic. They think it was something that was manufactured in China as a ploy for business. There are so many non-factual stories that are circulating on social media. Additionally, if you look at Ghana, the mortality rate from COVID is not as high as in other countries. All these things are giving way to people not seeing the real need for why they should be vaccinated. There are rumors involving the 5G network and that there is a microchip inside the vaccine that will allow tracking of the people who take the vaccine. These are all some of the factors that are leading to "vaccine hesitancy". It is quite different from the usual vaccines.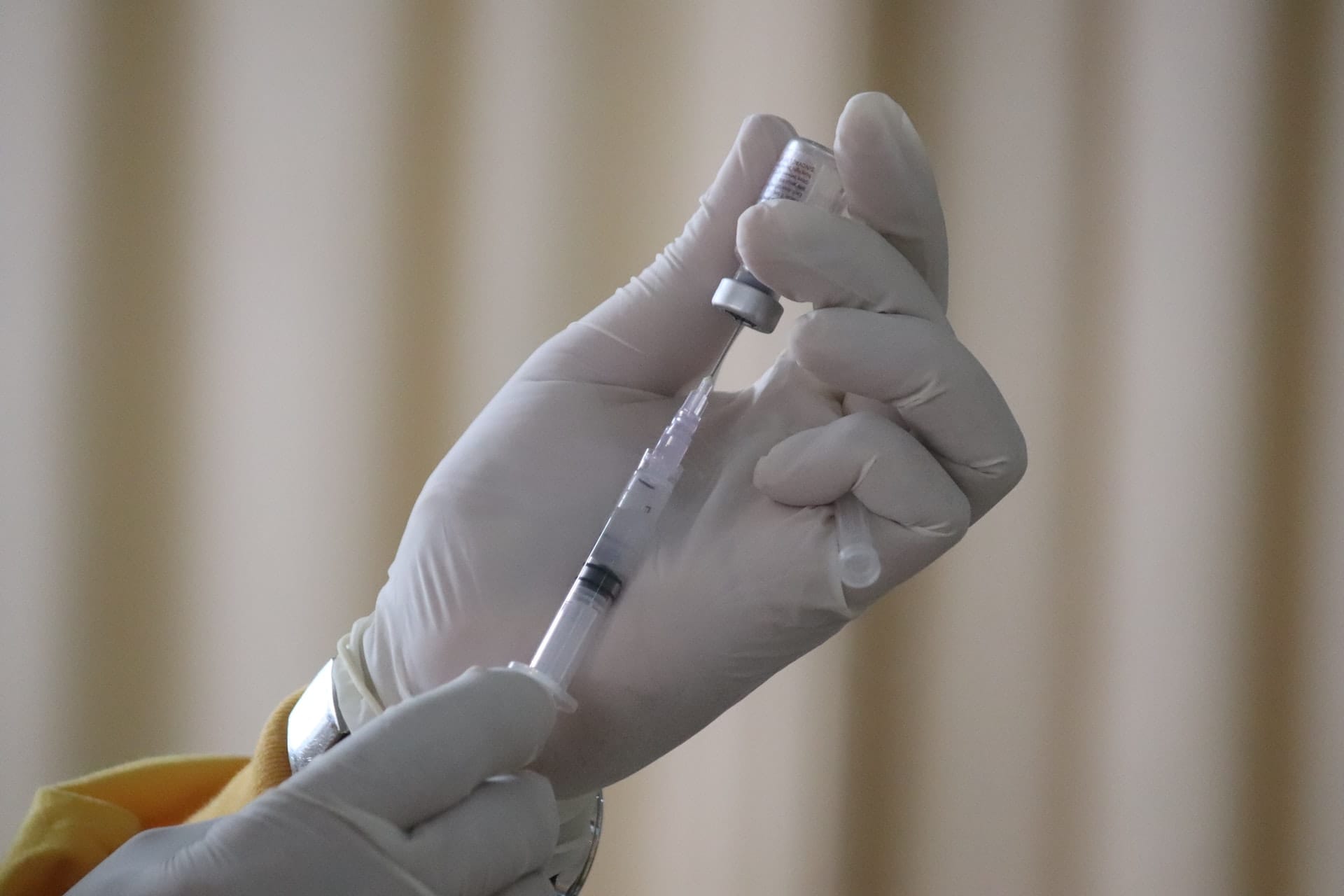 How are you addressing the fears and misconceptions of both the COVID-19 and other vaccinations within the community?
CHAG is the second largest provider of health services in Ghana. We provide education to the community and serve their health, water and sanitation needs. We have taken on board the responsibility to let people understand the importance of the COVID vaccine. We have constituted committees in 40 districts with influential people to address the misinformation about COVID and the vaccine. Some churches constituted committees that help to organize vaccination programs.
In one church, the committee has come out with a press release that said that people should not fear the vaccine. Aside these committees, the heads and members of the churches take the vaccine and share messages and videos on social media. This demonstration of leadership involvement and participation encourages other people to take the vaccines. One common strategy of outreach is using a video which says 'I have gotten the vaccine. I have faith, that is why I took the vaccine.' The videos circulate on social media and help to allay people's fears and anxiety about the vaccine.
Here is an example of a Video of Archbishop Nicholas Duncan-Williams of the Action Chapel International Ministry in Accra, Ghana as he talks to his congregation about why he got the COVID vaccine.
See more about COVID-19, vaccines and faith communities.
About the Author: MPH Candidate 2021, Cassady Mecate is completing an MPH with a focus on Community Health at Baylor University. She plans on pursuing a career in advocacy and policy development to build resilient health systems that can better combat the spread of infectious disease.
---