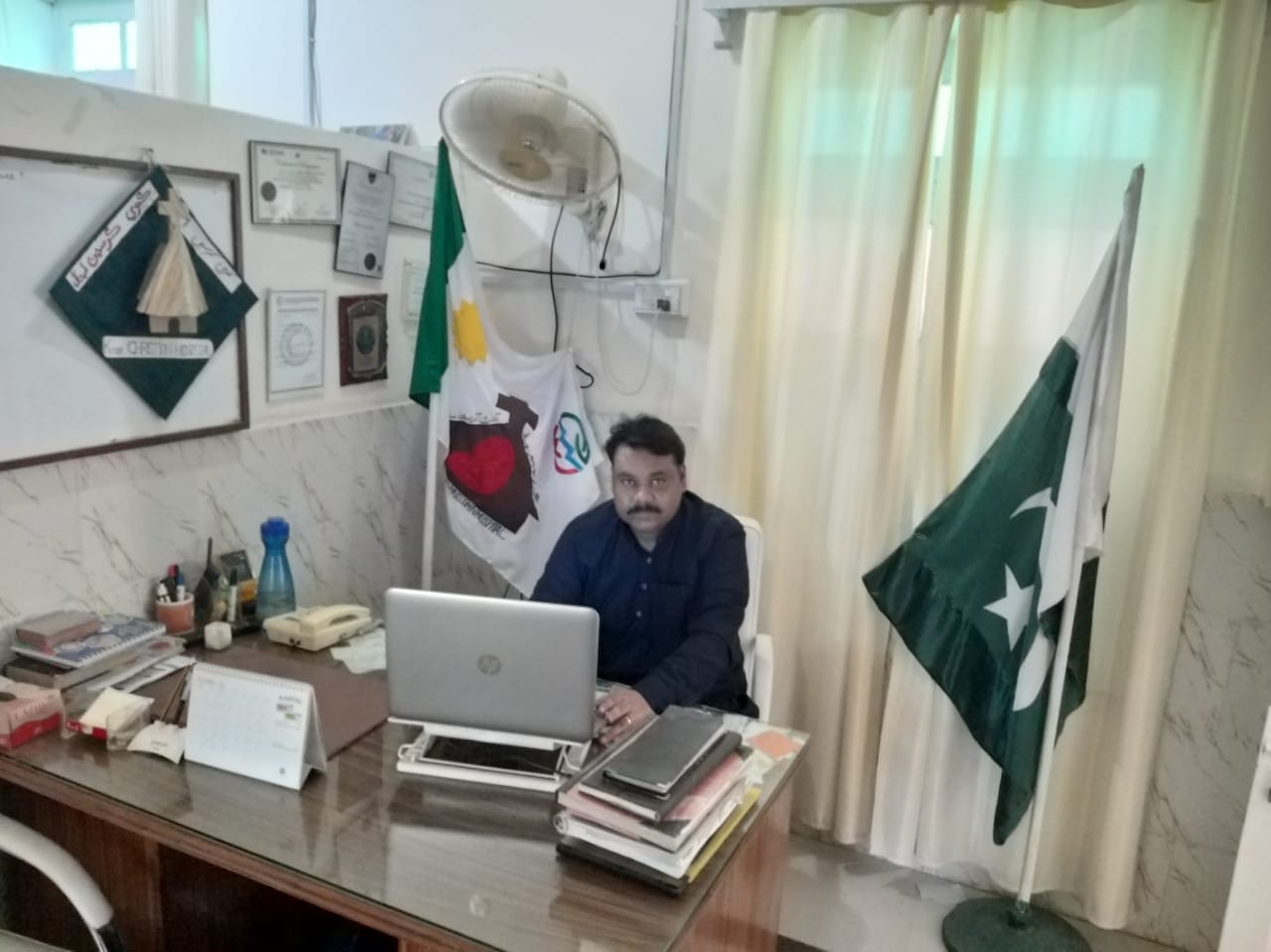 Close Up: Naveed Khurram of Kunri Christian Hospital
October 19, 2019
---
Naveed Khurram, Administrator of the Kunri Christian Hospital in Pakistan shares what keeps him going as a leader, the challenges he faces in the rural desert region where the hospital operates and what makes Pakistani Christians resilient.
Please tell us about the Kunri Christian Hospital, how it came into existence and what you do there.
I am the Administrator of Kunri Christian Hospital in Pakistan (KCH). In 1960, the Reverend Chando Roy (Bishop of the Church of Pakistan's Karachi Diocese) felt called to respond to the considerable, unmet medical needs of the people in Pakistan's rural Thar Desert region. With financial backing from the Girl Guides Foundation (UK) and a donation of land and a building from the Roman Catholic Church, he established KCH in 1962, originally as a mobile clinic. Today, the hospital's health care work is jointly supported by the Church of Pakistan and the Roman Catholic Church and exemplifies the inter-denominational commitment of Pakistani Christians to care for the poor and vulnerable with the love of Jesus Christ. The first medical superintendent was an eye surgeon and the hospital became known for eye health. Many blind patients had their vision restored after eye surgeries. The hospital also provided obstetrics and general medicine in the early days, delivering many children through normal deliveries and cesarean-sections and saving many lives.
Who does the hospital serve?
We serve the total population of the Districts of Umerkot and Mithi, which is 1,073,146 and 1,500,000 respectively. The majority of the population earns their livelihood through growing crops, brickklin (baking bricks in a furnace) and rearing livestock. Sixty percent of the population belongs to ethnic Hindu communities.
What services does the hospital provide?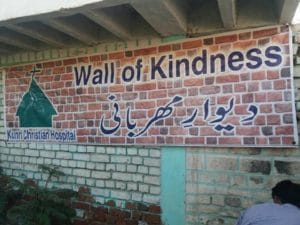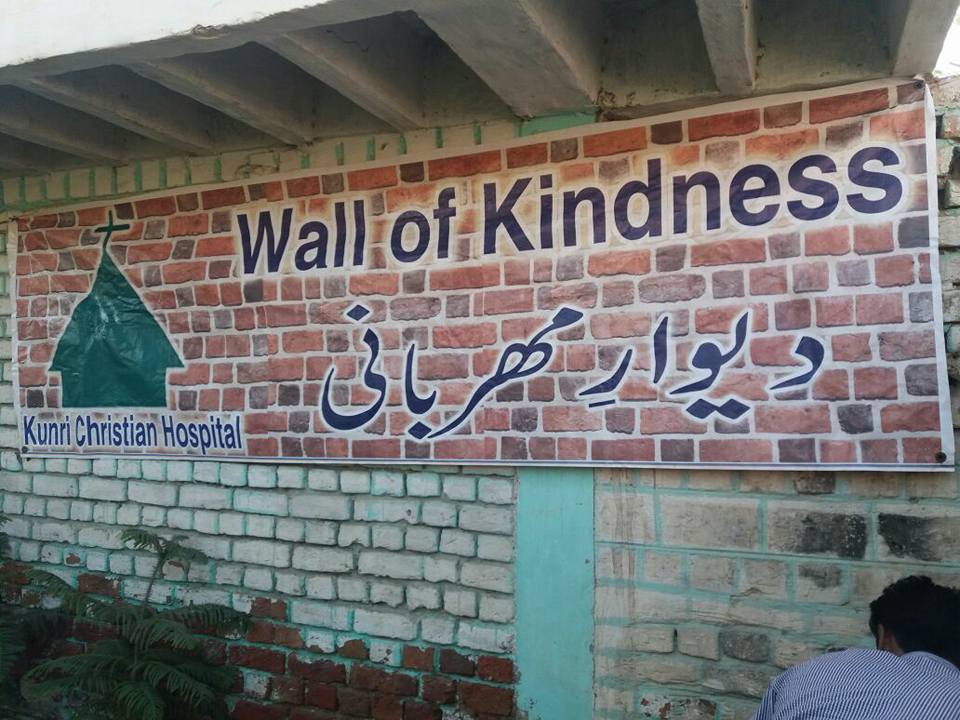 We have a gynecology, obstetrics and pediatric department; a nurse's aid training program; a community midwifery school; a community-based health program; Wall of Kindness effort; and a Health and Environment Link initiative. We also provide vaccines in collaboration with the Government of Pakistan Expanded Program for Immunization. The community-based health program strengthens the community so they can resolve minor health and well-being issues on their own. We hold free medical camps and awareness-raising events where we educate people about disease prevention and control, maternal and child health care including family planning, immunization, and safe water and sanitation. We have installed more than 1000 water hand pumps and pit latrines.
The Wall of Kindness is a phenomenal charity work that happens the last Saturday of every month. We hang clothes and unused items on racks near a wall with a large sign. This encourages people to donate useful things such as clothes, shoes, pots, food items, etc. The idea was introduced by a great Iranian person who wanted to remain anonymous. The motto of the movement is two sentences which appear on the Wall of Kindness: "Leave if you do not need" and "Take if you need."
Health and environment go hand in hand and climate change is affecting every country on every continent, disrupting national economies. The hospital initiated an effort to plant trees and track their progress on social media, specifically Facebook and WhatsApp to raise awareness of the importance of trees.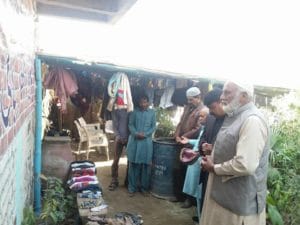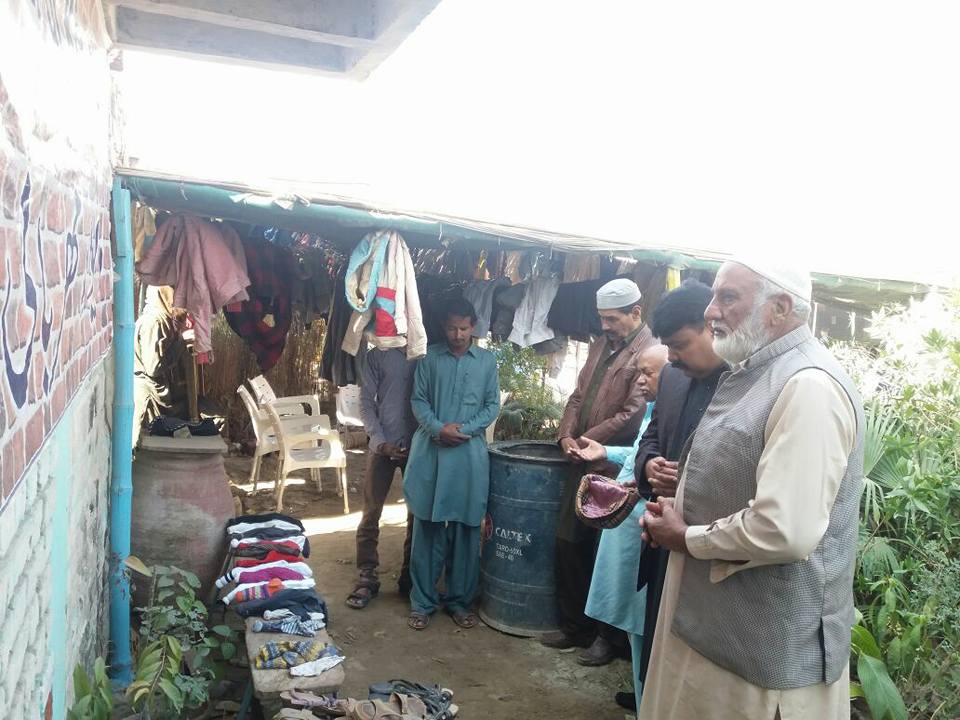 How does your Christian faith inspire your work? And do you have a favorite Bible verse that helps you during challenging times as a leader?
The Christian faith stands on three pillars: love, peace and forgiveness. My faith gives me strength. I am inspired by the holy cross that shines at the main building and gate of the hospital, and by saving the lives of mothers and children and seeing their happy faces.
During the last five years, 2,626 mothers delivered babies at the hospital. Only one mother died while delivering a child and 116 children died. I wish that no mother and child should die. This is only possible by strengthening the preventive and curative arm of the hospital.
The verse that inspires me is Mark 12:31: "The second is this: 'Love your neighbor as yourself.' There is no commandment greater than these."
Did you envision you would be in this role years ago? How did your career path lead you to where you are?
I started working for KCH in November 2007. I didn't have experience in managing hospitals but have grown and developed skills through courses, workshops, conferences and training. Some of the most important training I had were the Commonwealth Professional Fellowship Scheme for Health Administrators, and a postgraduate certificate in Human Resources for Health Management and Governance and Leadership skills. I am thankful to the Anglican Alliance, Church of Scotland and Diocese of Hyderabad. I am also inspired by my wife (a physician at the hospital). Sometimes I think that this tower of healing needs God's people and I am lucky that God has chosen me for his work in a hard-to-reach area of the country.
What are the most satisfying and the most challenging parts of your job?
Seeing a patient going happily on his own two feet after being discharged from the hospital gives me immense pleasure. Sometimes a doctor may declare a case hopeless, but I think that hope always rises from ashes and I thank God and appreciate my team members for saving lives. Sometimes a patient comes to us at the eleventh hour and when we are unable to save that patient, it hurts. This is quite challenging for me.
Unfortunately, after the tragic incident of September 11, 2001, the hospital started to suffer from lack of human and financial resources. Missionaries no longer came and we received much less financial support and have struggled to continue to provide services at the level we once did.
But I am hopeful. We are eager to exchange ideas and examples of good work to achieve SDG (Sustainable Development Goal) No. 3, "Ensure and promote good health and well being for all at all ages." The management is determined that through hard labor, prayers and guidance of others we would be able to achieve this desired goal and KCH will again provide state of the art health services to the less privileged people of area.
What is the status of Christians in Pakistan? What would you like the rest of the Christian community to know about Pakistan they may not know?
Pakistan is a land of variety, having dry desert, rainy areas, mountains, fertile land, ethnic groups and adherents of various religions. The majority of Pakistani Christians are descendants of untouchables converted to Christianity in the late nineteenth century. The Pakistani Christians have become resilient. They are contributing, especially in their niche areas in the education and health sector. The Christians are very loyal and patriotic and love this land. They always keep Pakistan first. Unfortunately, because of their background they were neglected in the mainstream educational institutions, decent government jobs, politics, etc. This is the reason that they are socially, economically, and politically weak.
Do you have a story or thought about how partnerships you have developed through CCIH has helped you and the hospital?
The partnership with CCIH began in 2015. I am extremely thankful to CCIH for giving me and my wife an opportunity to attend the conference in 2015 and 2018. I have learned a lot and developed contacts with international health professionals. The CCIH staff members are trying their level best to support KCH by developing connections with other faith-based organization. I am hopeful that with the passage of time bonds will become stronger and KCH will strengthen and save more mothers and children of the rural desert area of Pakistan.
DATA POINTS |

Kunri Christian Hospital has treated

6,680

people at free medical camps and performed blood lab work for

81,953

people in the last 5 years.
---