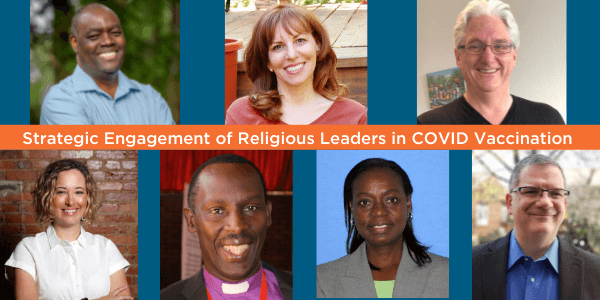 Strategic Engagement of Religious Leaders in COVID Vaccination
October 12, 2021
---
Co-sponsored by World Vision and Christian Connections for International Health
This webinar held October 12, 2021 explored how we can leverage the enormous potential for faith leaders to help overcome fears, mistrust and misinformation and greatly increase vaccine uptake. Please see the webinar recording on CCIH's YouTube Channel to access links shared in the webinar.
Why Engage Faith Leaders?
World Vision carried out studies in rural communities in Bangladesh and found that 100% of those surveyed who intend to get a COVID-19 vaccine agreed with the statement: "Most of my community leaders and religious leaders would want me to get a COVID-19 vaccine." By contrast only 38% of those who intend to refuse the vaccine agreed with that statement. The influence of faith leaders is powerful. How can we engage them to help end the global COVID-19 pandemic?
ABOUT THE SPEAKERS AND MODERATOR
Mike Odera is the Vice President for Resource Development in the International Programs Groups of World Vision-US (WVUS). With over 25 years of experience in the international development sector, Mike has held numerous leadership positions focused on new business assessment, acquisition, and risk mitigation, requiring close collaboration with a broad spectrum of donors including government entities, private corporations and foundations, and churches. He has experience in fragile, post-war emergency relief environments, and in managing large multi-sectoral development programs.
Ellyn W. Ogden, MPH has been the Worldwide Polio Eradication Coordinator and Technical Director for USAID, and a Senior Technical Advisor for Health and Child Survival since 1997. She is responsible for USAID's polio eradication effort and supports disease surveillance, communications, and civil society engagement in over 25 countries. She is a graduate of Tulane University (B.A. International Relations) and the Tulane School of Public Health and Tropical Medicine (MPH International Health with a focus in Epidemiology and Infectious Disease Control), and has over 30 years of international public health experience.
Tom Davis, MPH is the Global Sector Lead for Sustainable Health for World Vision International. He has more than 35 years of domestic and international field experience in planning, implementing, and evaluating MCHN and education programs, and SBC activities. He was the 2018 recipient of the Dory Storms Child Survival Recognition Award. Tom was the original developer of the Barrier Analysis methodology and the Education Cascade Group model.
Sara Melillo, MPH brings 15 years' experience as a global health technical and program development professional, including three years based in Kenya. She is an independent global health technical consultant supporting program design, assessments, technical writing, and proposal development in maternal and child health, family planning, nutrition, and HIV. Sara maintains a strong interest in faith leader engagement, and has worked at or consulted for a number of faith-based organizations.
Rt. Reverend Dr. Fred Sheldon Mwesigwa is the Bishop of Ankole, Church of Uganda. He is Chancellor of Bishop Stuart University, and former Dean of the Faculty of Education and Arts at Uganda Christian University. He is the focal point for the Anglican Church in Uganda for vaccination and leads on equipping Ugandan bishops with evidence-based information on immunization. He has a Masters and PhD in Education from the University of Leeds and a Bachelor of Divinity from the Association of Theological Institutions in Eastern Africa.
Susan Otchere, MSc, RN is Senior Director, Health-International Programs at World Vision US. She has served as Project Director for World Vision's Birth Spacing and Advocacy projects across five countries. Before joining World Vision, Susan was a Technical Director of Health at Cardno Emerging Markets USA. She has also served as a Maternal and Newborn Health Advisor with Save the Children and a Maternal/Child Health and Family Planning Advisor with the Ministry of Health in Ghana.
Doug Fountain, MPA is Executive Director of CCIH Executive Director and previously has worked at Medical Teams International (MTI) and Uganda Christian University, where he began in 2004 as the head of the Department of Health Sciences and later served as Deputy Vice Chancellor for Development and External Relations. He helped establish the Christian Journal for Global Health to promote evidence-based practice. Doug has been a member of CCIH since 2006 and served on the board for four years.
You may access the Slide Deck  from the webinar, which include a slide of sample Church of Uganda social media posts about the COVID-19 vaccine. 
---