2021 CCIH Conference
May 28, 2021
---
We are grateful for our speakers, sponsors, volunteers and participants who made the CCIH 2021 Conference a success. The conference was held over six days in May from 8:00 to 11:00 am EDT each day, attracting over 500 attendees from more than 50 countries. Our theme was Cultivating Unity in Global Health. See links to more information and recordings by opening up the block for each day below.
Featured Speakers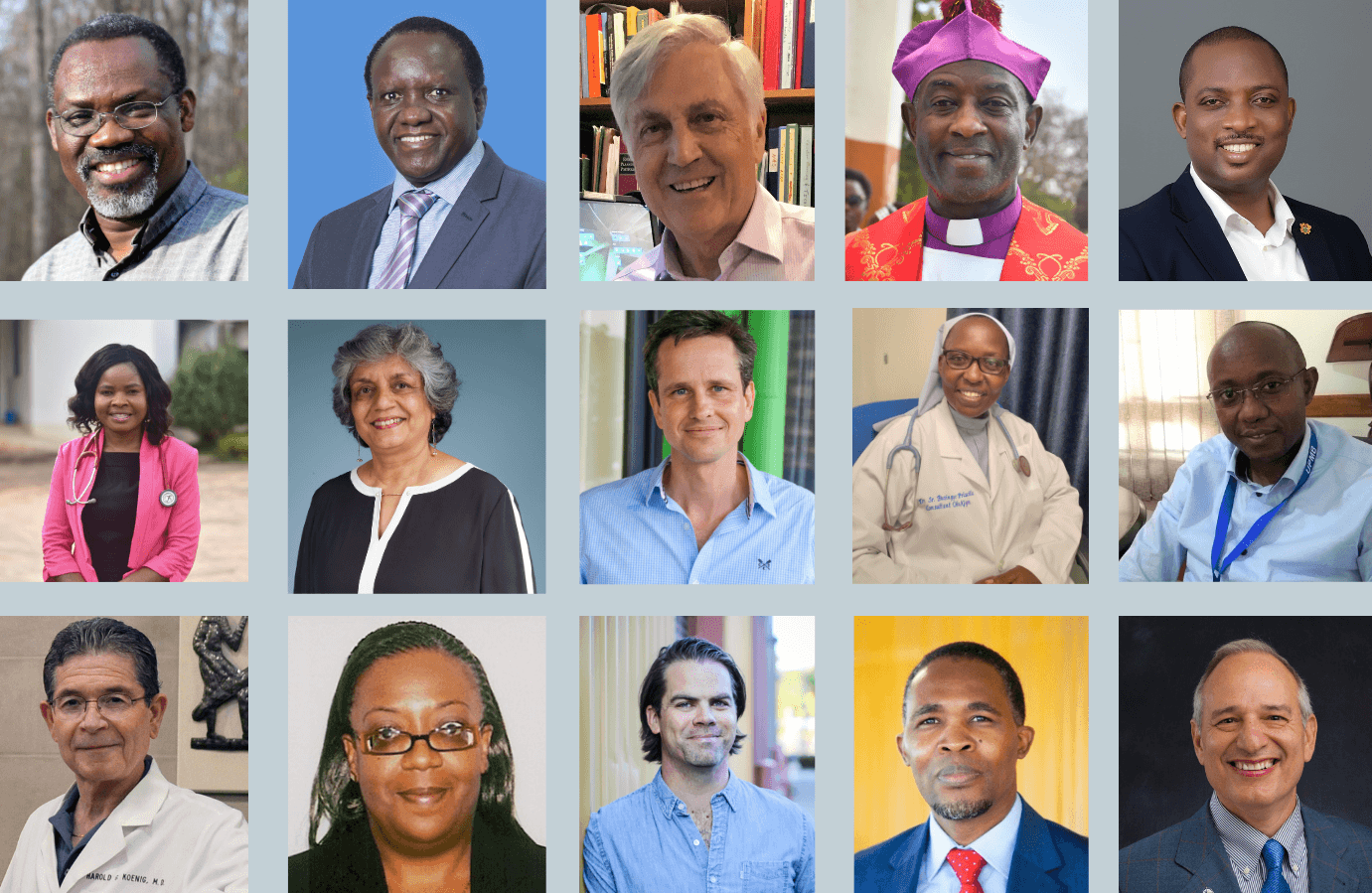 Joshua Bogunjoko, MD, SIM International Director on the opening day May 11, focusing on Unity in Global Health.
Samuel Mwenda, MD, General Secretary, Christian Health Association of Kenya on May 11
Jonathan Quick, MD, Managing Director for Pandemic Response, Preparedness, and Prevention at The Rockefeller Foundation and author of The End of Epidemics: The Looming Threat to Humanity and How to Stop It, on May 11.
An Interview with Archbishop Stephen Kaziimba, Primate of the Anglican Church of Uganda and Archbishop of Uganda on May 13.
Peter Yeboah, MPH, ACHAP Board Chair and Executive Director of the Christian Health Association of Ghana and Agnes Moses, MD, Executive Director, Partners in Hope Malawi discuss the leadership skills that have helped them succeed, what situations have tested them and strengthened their leadership, and what they see as the biggest needs for growth in leadership skills and practices in healthcare today on May 13.
Koki Agarwal, MD, Project Director, USAID's MOMENTUM Country and Global Leadership on May 13.
Rick Gardner, MD, Chief Medical Officer, CURE International on A Shared Governance Model: When Spiritual Health is Equal to Administration and Physical Health on May 13.
Sister Priscilla Busingye, MD, President of the Association of Obstetricians and Gynecologists of Uganda and 2020 winner of the African Mission Healthcare's annual L'Chaim Prize by Tonny Tumwesigye, MD of the Uganda Protestant Medical Bureau (UMPB) on May 18 as we explore Community Ownership and Co-Creation.
Harold Koenig, MD, Director of the Center for Spirituality, Theology and Health, at the Duke University Medical Center and expert on the positive influence of religious involvement on public health, on May 20.
Lydia Dsane-Selby, MD, Chief Executive Officer of Ghana's National Health Insurance Scheme on May 25.
Adam Nicholas Phillips, Director of USAID's Center for Faith-Based and Neighborhood Partnerships and the recently established Local, Faith, and Transformative Partnership Hub at USAID on May 25.
An Interview with Thabani Maphosa, MPhil, Managing Director of Country Programmes, Gavi, the Vaccine Alliance conducted by Rick Santos, MBA, MTS, President and CEO, Church World Service on May 27.
See the full program below. Expand each day for the link to speaker bios for that day as well as links to recordings.
Our guiding verse was "Be completely humble and gentle; be patient, bearing with one another in love. Make every effort to keep the unity of the Spirit through the bond of peace. There is one body and one Spirit." Ephesians 4:2-4
Program
Sponsors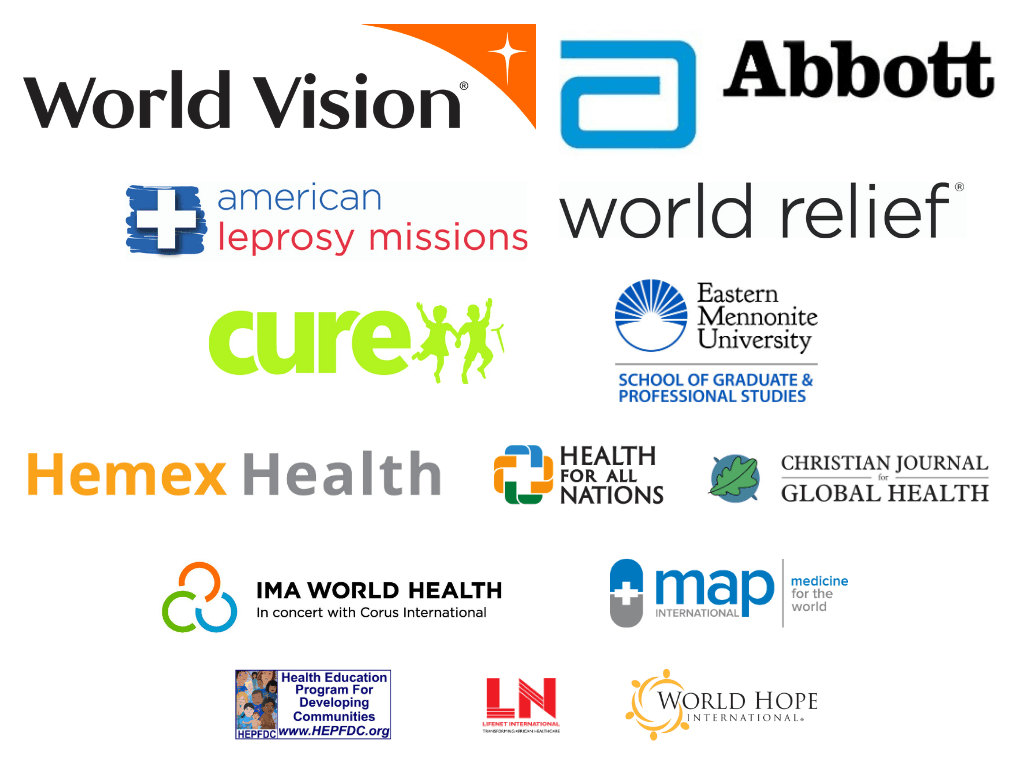 More About Our Sponsors
PLATINUM
World Vision Sponsor Page
Abbott | See our Blog about Bringing Quality Care Closer to Home
GOLD
American Leprosy Missions Sponsor Page | See our Blog about Technology in Global Health: An Instrument of Impact
CURE International Sponsor Page | See our Blog about CURE International: Investing in Surgical Training to Reach More Children in Need
Eastern Mennonite University Sponsor Page | See our Blog about Nurses Cultivating Health at EMU
Health For All Nations and the Christian Journal for Global Health Sponsor Page | See our Blog about Cultivating Unity in Global Health
Hemex Health Sponsor Page | See our Blog on Sickle Cell Disease: New Solutions for Diagnosis and Management
SILVER
IMA World Health Sponsor Page | See our Blog on how the IMA World Health and ACHAP Partnership Enabled Rapid Response to COVID-19
MAP International Sponsor Page | See our Blog on MAP International: Bringing Health and Hope to a World in Need of Both
---