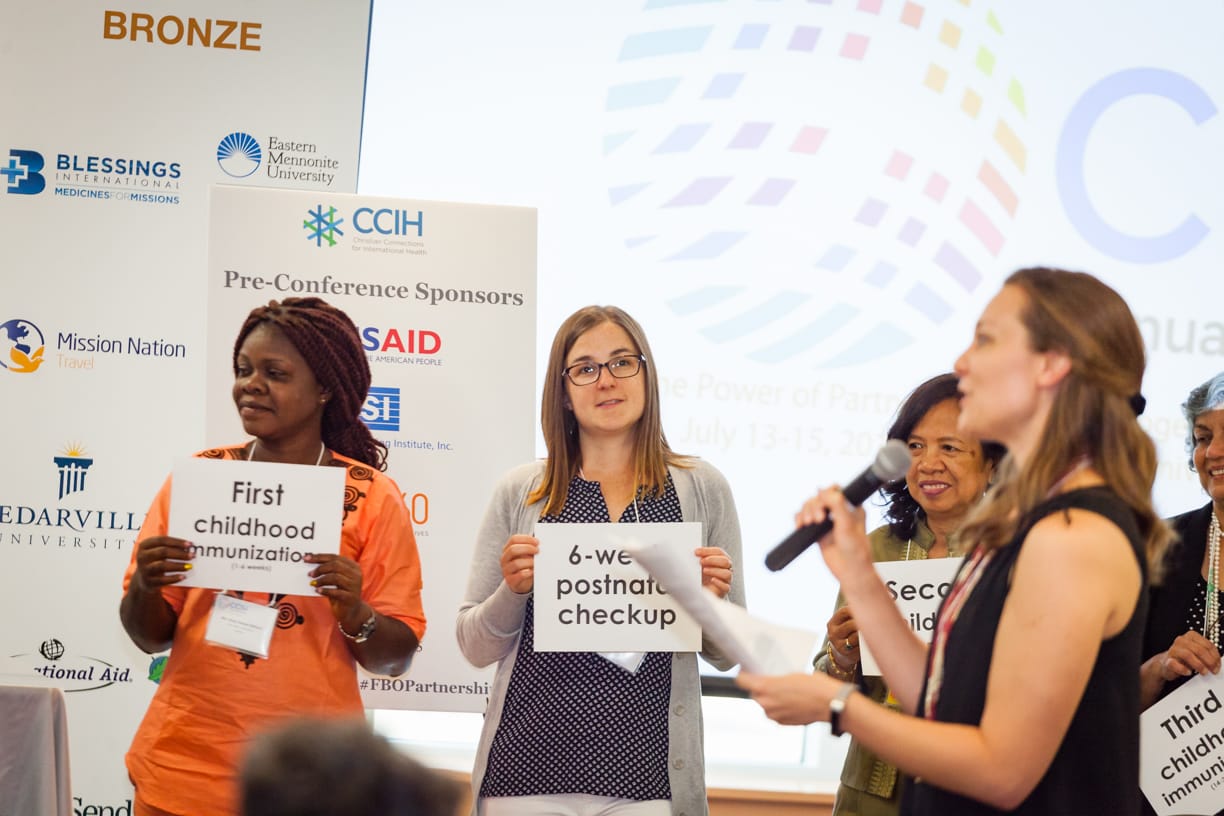 Connector Articles, Family Planning, Featured
Integrating Services in the First 1000 Days
August 20, 2018
---
Making sure children get the healthiest start possible in those first 1000 days from conception through the first two years of life is crucial to their future development. CCIH held a pre-conference July 13, 2018 to help Christian organizations have the latest information and best practices for integrating antenatal care, family planning, immunization, nutrition, and prevention of mother-to-child transmission (PMTCT) of HIV to strengthen the quality of their programs and care. The pre-conference was sponsored by Advancing Partners & Communities (APC), a five-year project funded and managed by USAID's Office of Population and Reproductive Health and implemented by JSI Research & Training Institute, Inc., in partnership with FHI 360.
Where Do We Fit in the MNCH Continuum of Care?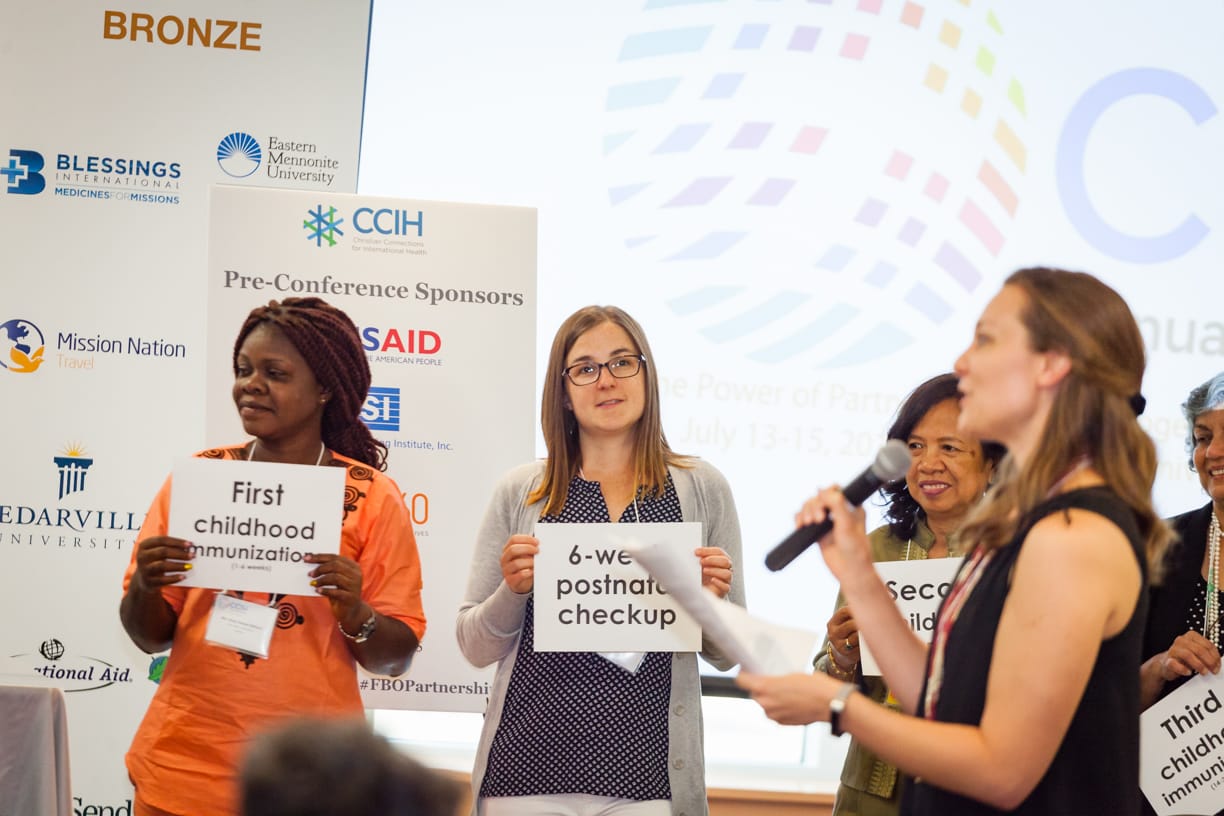 The session was kicked off with an interactive exercise led by Lauren VanEnk, MPH, Program Officer, Institute for Reproductive Health at Georgetown University exploring the "Continuum of Care for MNCH." (shown at left) The participants held signs indicating a stage of MNCH care and were instructed to put themselves in the order these activities should occur, which helped bring home the message that family planning counseling is important in multiple stages across the continuum.
Picking up on this point, Dr. Koki Agarwal, Director of the Maternal Child Survival Program (MCSP) at Jhpiego and keynote speaker at the pre-conference said, "I want to look at the missed opportunities to offer family planning and I love the way the earlier exercise had family planning counseling running through the entire continuum of care, which is exactly how we feel it should be. We are trying to integrate family planning wherever possible and where it makes the most sense."
Addressing Dangers in the First 1000 Days
In her talk, Dr. Agarwal shared how MCSP seeks to scale up high-impact interventions to maximize maternal and child survival. She identified the leading causes of maternal, newborn and child deaths. For the mother, hemorrhage at delivery is the leading cause of death, but indirect causes such as HIV/AIDS and chronic diseases are increasing. A woman's risk of contracting HIV is three times higher during pregnancy and four times higher during the postpartum phase so Jhpiego is working with Ministries of Health to provide Pre-Exposure Prophylaxis (PrEP) to protect women during these times. For children, the greatest risks are preterm birth complications; pneumonia, diarrhoea, and malaria; malnutrition; and unsafe water, sanitation and hygiene.
Resources to Help Practitioners Integrate HTSP with Other Services
Dr. Agarwal shared resources to assist practitioners in helping women time and space pregnancies so they can avoid times that are dangerous for themselves and their children. For example, a K4Health Family Planning and Immunization Integration Toolkit helps practitioners learn how to integrate family planning services with vaccination for their children; while a Maternal, Infant, Young Child Nutrition (MIYCN) Family Planning Toolkit helps them integrate FP services with nutrition support for both mother and child.
Empowering Health Workers to Offer Postpartum Family Planning
MCSP is including postpartum family planning (PPFP) in services in 20 countries and recently launched a program in Rwanda to determine how health workers can be empowered to offer PPFP. The program trained health workers and providers in FP methods and examined how FP counseling can be included in a pre-discharge checklist. The project also had a strong emphasis on quality improvement and mentorship of health workers. They have already seen benefits and an analysis revealed 45 percent of postpartum women were discharged with a family planning method.
Positive Results from Group-based ANC
Dr. Agarwal also shared how a group-based approach to ANC can help provide patient-centered care. A cohort of women in the same stage of pregnancy are put in a group to learn warning signs, how to take blood pressure and talk about what they are experiencing. When this approach was tested in Kenya and Nigeria, increases in the number of women seeking four antenatal care visits and delivery in a facility were found. A larger follow up study is being conducted in Rwanda to see how this approach can be scaled up.
Role of Faith Community in Providing Care and Safeguarding Gaps
Dr. Agarwal explained that MCSP is working with faith-based facilities in countries, such as Nigeria, to train their workforce in labor and delivery. She stated the faith community provides a large percentage of the health care in Africa and "comes through when there is a problem, such as a government health worker strike or conflict in a country." However she recognized challenges faith-based facilities face, such as not receiving the same level of supplies and commodities as government facilities.
Roundtables on Five Key Points in the Continuum of Care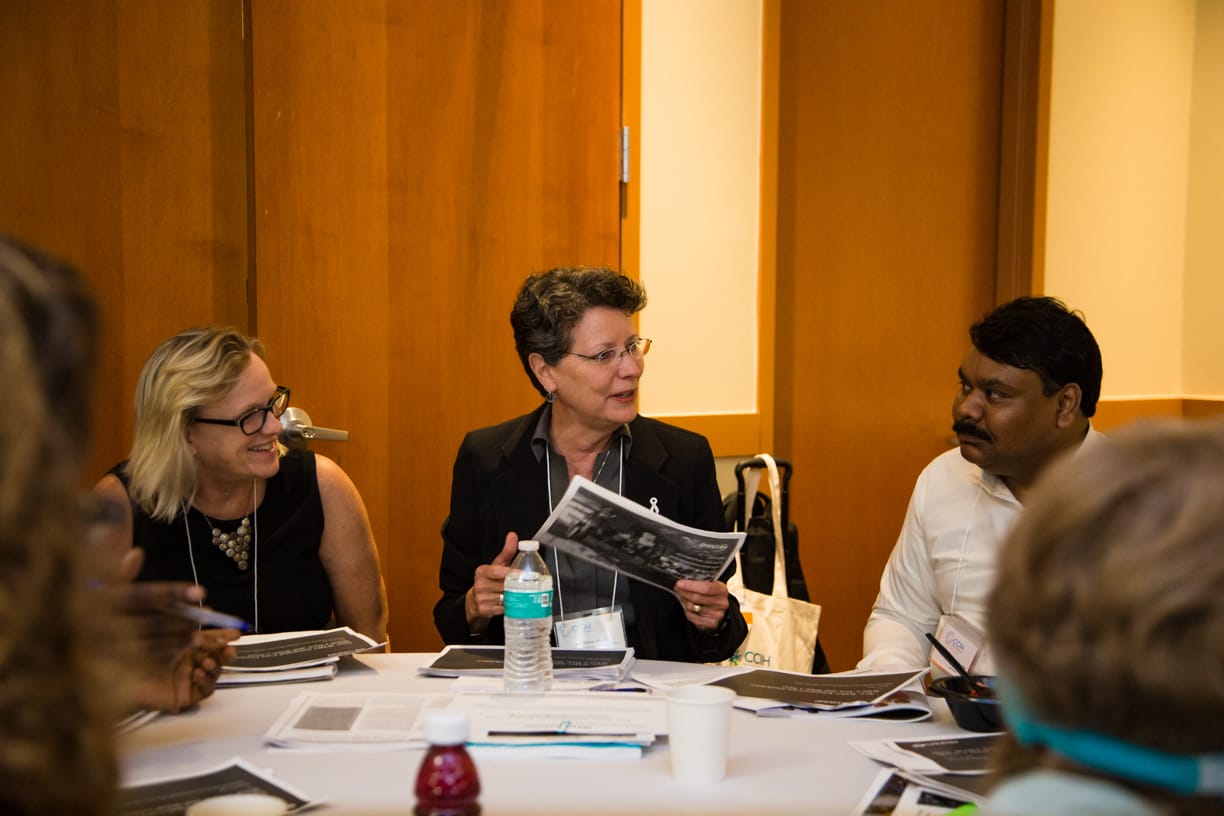 Following Dr. Agarwal's presentation, roundtables focused on five health interventions that provide opportunities to integrate services. Discussion Highlights from the table discussions include:
Antenatal Care led by Theresa Shaver, Senior Maternal Health Advisor, Maternal and Newborn Health Division, Office of Maternal and Child Health and Nutrition, USAID Bureau for Global Health.
Challenge of meeting the WHO recommendation for 8 antenatal care visits. All visits do not need to happen at facilities, they could occur in the home and involve community health workers.
Early ultrasound to more accurately predict delivery date and detect abnormalities, and conduct monitoring for preeclampsia and eclampsia. Challenge of proper training of workers and maintaining equipment.
Low dose high frequency approach to training health workers which means workers receive smaller amounts of information more frequently to improve retention.
PMTCT and caring for children with HIV led by Dr. Perry Jansen, Vice President of Strategic Partnerships, MedSend and Dr. Anouk Amzel, Medical Officer, Pediatric Maternal Branch, Prevention, Care and Treatment Division, Office of HIV/AIDS, USAID.
There are good medical interventions that can extend lives of people with HIV and dramatically reduce the chance that women transmit HIV to their babies, but it is very complicated to ensure that all women are tested, and put on treatment and followup.
Need to make sure we are not working only at health facilities so we do not miss people in the communities who need HIV services. Need to find people where they are.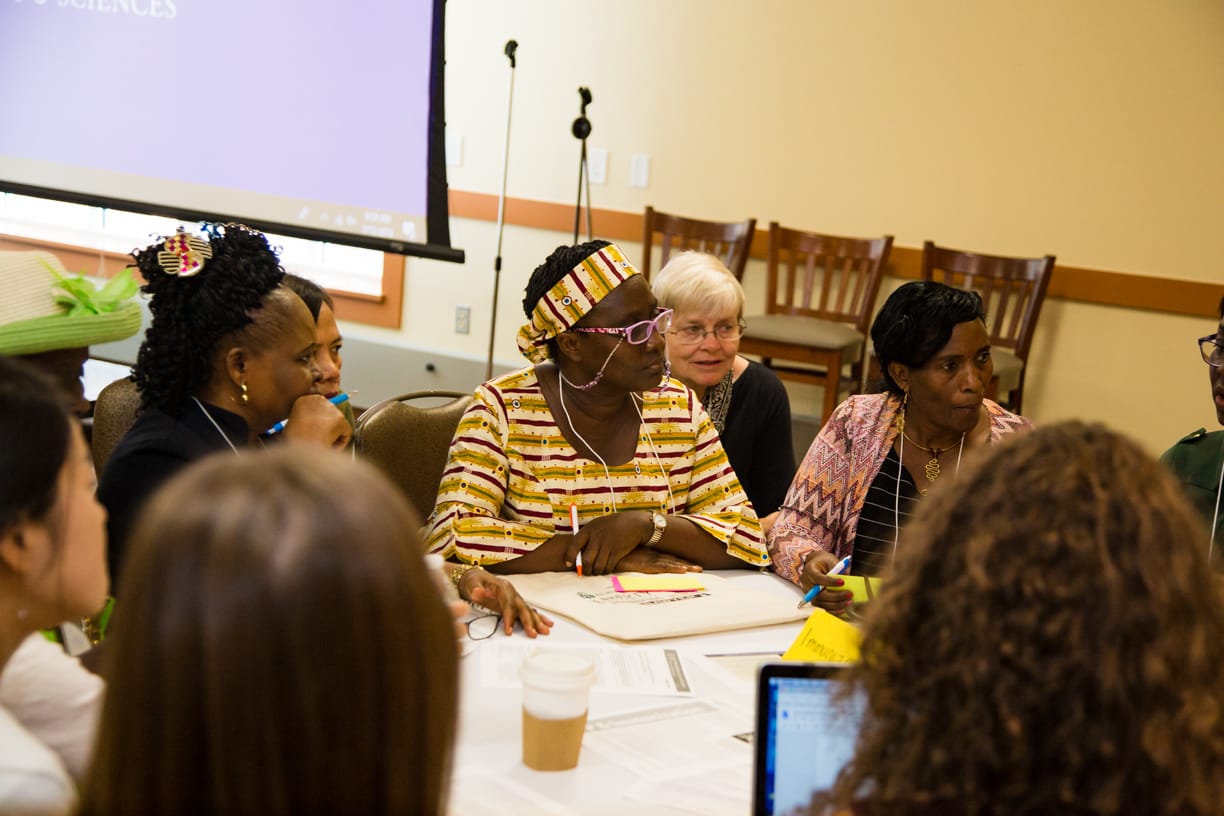 Immunization, a vital point of contact for multiple services led by Susan Otchere, Project Director, World Vision US.
There are many opportunities during pregnancy, preconception and postpartum to provide immunization and counsel on FP.
Breast milk is the first immunization and breastfeeding should be encouraged wherever possible.
There are many misconceptions currently that immunization is not important or is harmful and those need to be addressed. Research shows it is an effective defense against many infectious diseases.
Nutrition of mothers and children led by Allison Flynn, Program Advisor, Nutrition, World Relief.
Malnutrition is responsible for almost half of all deaths for children under five.
How can we use the church to encourage both healthy nutrition and families and include family planning as part of that?
Changing patterns of family planning led by Dr. Douglas Huber, CCIH and Marta Pirzadeh, Senior Technical Officer for the Research Utilization Unit, FHI360
New family planning methods are expanding the options for families.
Implants are growing in popularity in many countries.
There is a shift from short-term injectables to longer acting ones.
There is a lot of misunderstanding about emergency contraception and how it functions.
Training is needed for health workers to be able to provide and remove implants.
The faith community has a role to play in addressing misperceptions among youth about family planning.
From Learning to Action: SMART Commitments
At the end of the pre-conference, participants were asked to make a commitment to put something they learned into action to advance maternal and child survival through integrating health services. The commitments were designed to be SMART (Specific, Measurable, Attainable, Relevant and Timebound) with follow up in six months to help participants achieve their goals.
Watch the video
---