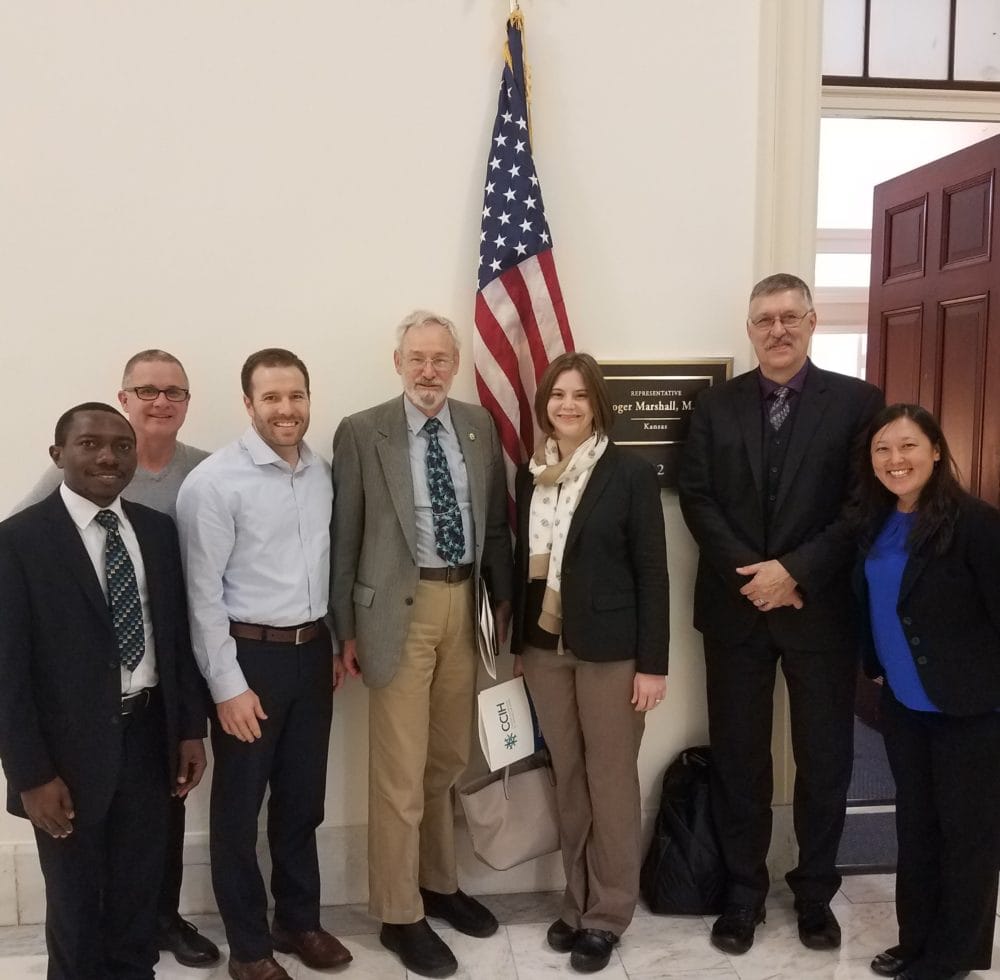 Scripture Motivates Young Advocate to Visit Congress
November 3, 2017
---
Love is not just sympathizing with the miseries of others, instead it means making every effort to alleviate their suffering. – Olushola Ogunleye, Liberty University Student and CCIH Advocate
The account in Matthew 15:32-39 is one of many places in scripture that inspired Liberty University student Olushola Ogunleye to come to Washington, DC to advocate for programs to help the hungry with CCIH on October 20. "I believe, as a Christian, I am called to show the love of God to everyone," said Olushola, a graduate student and assistant in the Department of Public and Community Health. "In John 13:33-34, Jesus said, 'A new commandment I give to you, that you love one another; as I have loved you, that you also love one another.'"
Olushola believes that love is central to the Gospel and to being a Christian. "One unique quality of love is that it guides us to have compassion for others and moves us to help them. Love is not just sympathizing with the miseries of others, instead it means making every effort to alleviate their suffering," he said.
The advocates from Liberty University came to Capitol Hill to meet with Congressional offices to talk about funding nutrition projects both globally and in the U.S. Richard Lane, MD, MPH & TM, Director of the MPH Program at Liberty University, and faculty member Bethesda O'Connell were also on the visits with Olushola, as well as Pastor Stephen Willis of Lynchburg Church of the Nazarene. The group met with the offices of Senator Joni Ernst (R-Iowa), Senator Marco Rubio (R-Florida), Senator John Thune (R-South Dakota), Congressman Bob Goodlatte (R-Virginia), and Congressman Roger Marshall, MD (R-Kansas).
Olushola goes on to cite numerous examples in the Bible of compassion that he finds particularly motivating, such as the story of the Good Samaritan (Luke 10:25-37); the account where Jesus equates feeding the hungry, taking the stranger into our homes, clothing the naked, and visiting the sick and those in prison to doing those same acts to Him (Matthew 25:31-46); and the telling of Jesus feeding five thousand on one occasion (Matthew 14:13-21), and four thousand on another (Matthew 15:32-39).
"I saw the call to visit Congressional offices and advocate for programs to help people in other countries as a call that is dear to the heart of God," said Olushola. "In addition, since I am from a developing country and I have seen firsthand the suffering that people go through in such situations, I was motivated to go share my experiences and speak on behalf of those people."
Olushola said he is grateful for the reception the group received from the staff of the Members of Congress and he was happy to hear that some of the Members of Congress are also passionate about what we are advocating for and are already involved in efforts to increase support and funding for the programs CCIH supports.
"Other CCIH members should know that we were greeted on Capitol Hill by many staffers and offices that were positive toward our views," added Liberty University faculty member Bethesda O'Connell. "Views in the news and the White House are important, but not necessarily what end up happening with policy. I was drawn to participate because I do not want my views to be misrepresented because of stereotypes of Christians, my occupation, Southerners, or other descriptors of me. I wanted to use my voice to personally advocate for things I consider important priorities."
Dr. Richard Lane explains his motivation for advocacy, which is rooted in his professional experience and personal faith. "I have worked internationally for many years and know plenty of people in need of an advocate for nutritional programming. As I see it we have the model of advocacy in the person of Jesus. He represented us before the Father. As we follow His example we should advocate for the poor."
Pastor Stephen Willis is called to advocate by the compassion he witnesses in scripture. "Throughout the New Testament we read of how Jesus had compassion on many of the people he encountered," he explains. "Each person had some type of significant need and as a result Jesus was moved with compassion to meet that specific need.  What can we learn from this?  Simply, true compassion demands a response.  It requires a willingness to engage the need and then respond. As a disciple of Jesus Christ I long to live in a country, a culture, a community and a church that makes compassion the priority that defines us. Why? It is the best way to truly experience life in the midst of our living. I have come to discover that my compassion not only changes the lives of those that I actively help but it also changes me. Whether we find ourselves in the hallowed halls of the U.S. Congress or we find ourselves in the sacred hallways of the local church this truth lived out truly will make our world a better place."
"I would encourage other students who are considering advocacy visits to get involved as soon as they can and as much as they can," Olushola said. He believes that if students can show how passionate they are about these programs, and show their commitment to helping marginalized and underprivileged people all over the world, Members of Congress would be moved to take the issues more seriously.
---