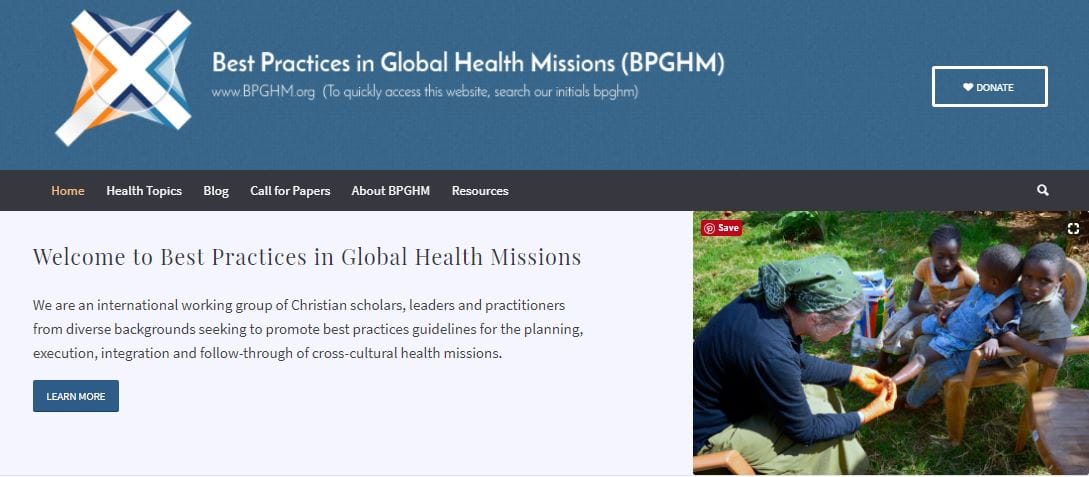 Sharing Best Practices in Global Health Missions
January 16, 2018
---
Submitted by: Arnold Gorske, Jason Paltzer, and Michael Soderling
Attending the CCIH and Global Missions Health Conference (GMHC) through the years has shown the importance of sharing best practices in our work. We all have important experiences that help shape our work, and the more we talk to others about these experiences, the more we can find common ground. If we have enough evidence on an issue, we can actually develop a best practice. The Best Practices in Global Health Missions website (shown below) was launched in 2017 to do just that: provide a centralized resource for Christians working in global health to share what we have found to be best practices in our work.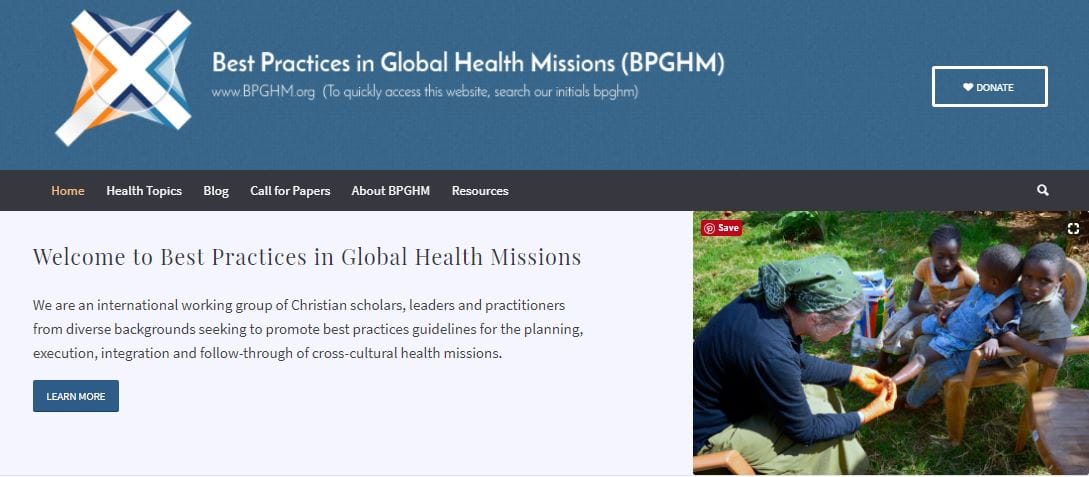 The mission of the Best Practices in Global Health Missions (BPGHM) effort is to help Christians involved in health ministries identify and disseminate God-honoring, health-promoting values, beliefs and practices for the mutual benefit and the advancement of health and wholeness among all nations. BPGHM shares a close partnership with CCIH and GMHC.
BPGHM highlights the significant Christian contributions to the International Standards and Guidelines. The work of past Christian missionaries and health practitioners provided the foundation of key international health documents including the Declaration of Alma Ata that guide global primary health, community health, and community development efforts today. It is important for the Christian health community to maintain this influence and continue to guide compassionate and participatory health promotion for all. BPGHM is a collaborative website and virtual community to facilitate this work.
The BPGHM website consolidates and categorizes these important documents to easily search and identify best practices in global health missions. Topics include "Child/Adolescent," "Community Health," "Disabilities," "Nutrition," "Oral Health," and "Short-Term Health Missions." This sharing of existing best practices is one aspect of BPGHM. A second aspect is a close collaboration with the Christian Journal for Global Health.
This collaboration is necessary to support and share emerging Christian global health best practices. Information on publication guidelines for submitting and sharing emerging practices is provided and editorial consultations are available for those new to publishing. We encourage you to connect with the BPGHM group via Facebook and Twitter. You are encouraged to share comments and questions through these forums to continue building the evidence-base for Christian health missions as we work to scale up good, better, and best practices for the glory of God and building his kingdom. We hope this community of local church leaders, health practitioners, researchers, and managers is a blessing and resource to share the great work happening throughout the world for reaching others with the good news of Jesus.
---