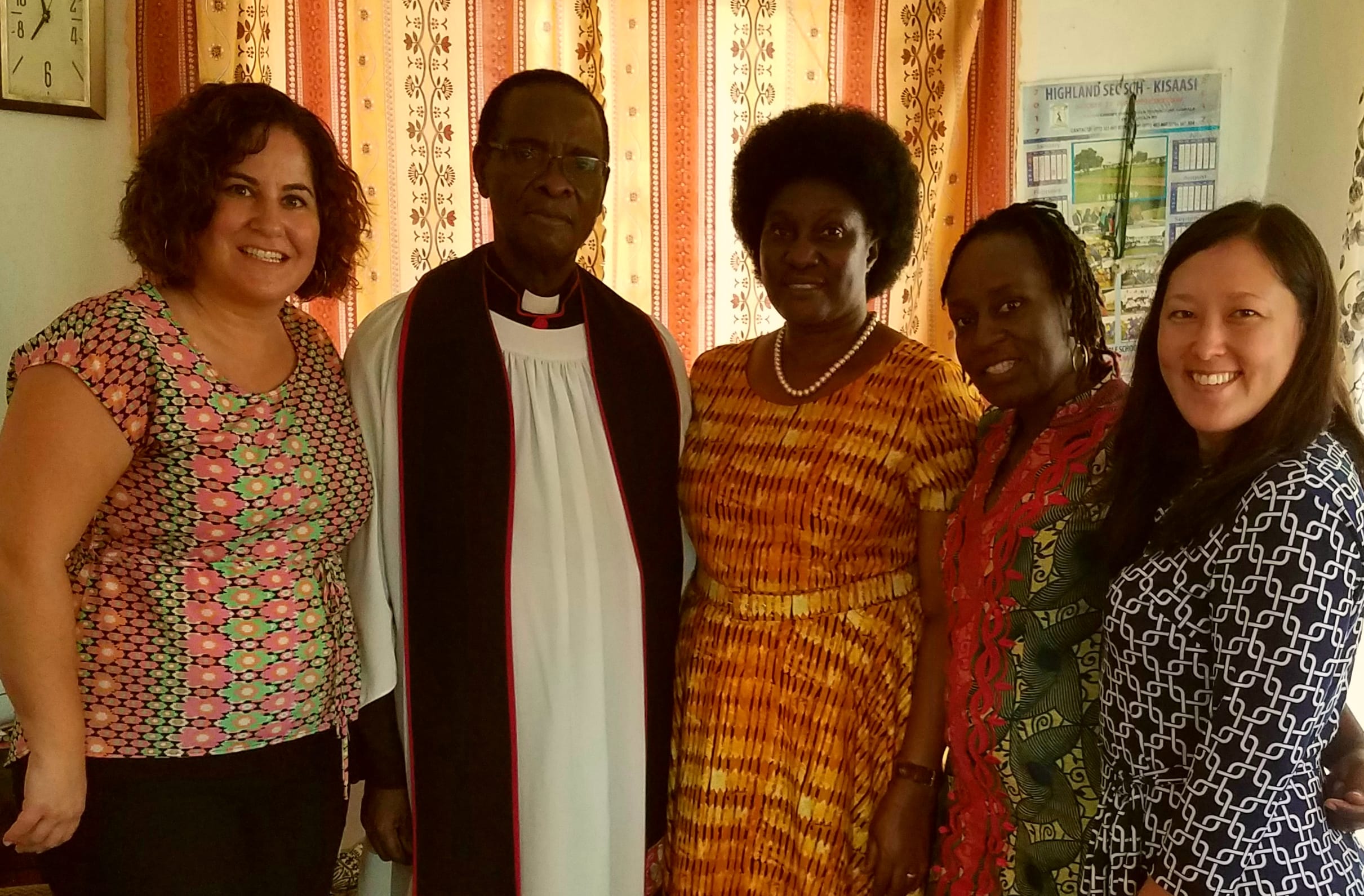 Trip Report: Connecting with Faith Leaders in Uganda
December 13, 2017
---
It was jackfruit season in Uganda. Driving down rural roads, I'm always amazed at how the huge jackfruit (up to 100 lbs) stay on the trees that can be up to 50 feet high. In September, I spent a week with CCIH member the Uganda Protestant Medical Bureau (UPMB) visiting four of their Anglican health centers, worshiping on a Sunday together, and meeting with the church leaders and their wives who are affiliated with the health center as part of CCIH's work supported by the USAID Advancing Partners and Communities (APC) project.
I was blessed to meet two wonderful couples devoting their lives to serving their church and community, and talk to them about their values, and what family planning means to them. First we met with Reverend Canon Wilberforce Kabanda of the Church of Uganda, St. Stephens Diocese in Kampala. In the photo above I'm with Marta Pirzadeh of FHI360/APC, Reverend Kabanda, Mrs. Kabanda, and Judith Kiconco of UPMB. (I'm on the far right.) I was encouraged when Reverend Kabanda said that when the bible tells us in Genesis 1:28 to multiply and fill the earth, we must also be able to support our families, to be able to feed our family, house them properly, and provide schooling for them.
Mrs. Kabanda, the Reverend's wife and head of the Mother's Union (MU) shared how both the MU and the Christian Women's Fellowship talk about family planning with the women and counsel women to make decisions with their husbands.
Next, I met with Reverend Charles Irongo (a pastor for 25 years) and his wife at Bishop Hannington Kyando Church. I learned about their four children who are in their 20s and spaced two years apart or more. I was very encouraged to hear how Reverend Irongo referred to his wife as his friend, saying he always consulted his friend in making decisions about the size of their family and when to have children.
Reverend Irongo learned about spacing children and HIV prevention in seminary, and his wife learned about spacing through a program in her Church Diocese before she had children. Reverend Irongo believes that people should know about all the different type of family planning options (natural and hormonal and barrier methods, etc) to protect their health. He believes that "Be fruitful" as stated in Genesis 1:28 means to bear children that you can support very well.
I am thankful for the work UPMB is doing with their churches and health facilities all around Uganda. I am thankful for the USAID APC project that allows us to work with UPMB to strengthen the community-based FP components of their facilities and churches by interacting with the religious leaders in their communities. And I am thankful for the opportunity to learn from the pairs of religious leaders and their wives and pray they are blessed as they serve their communities with such devotion.
---