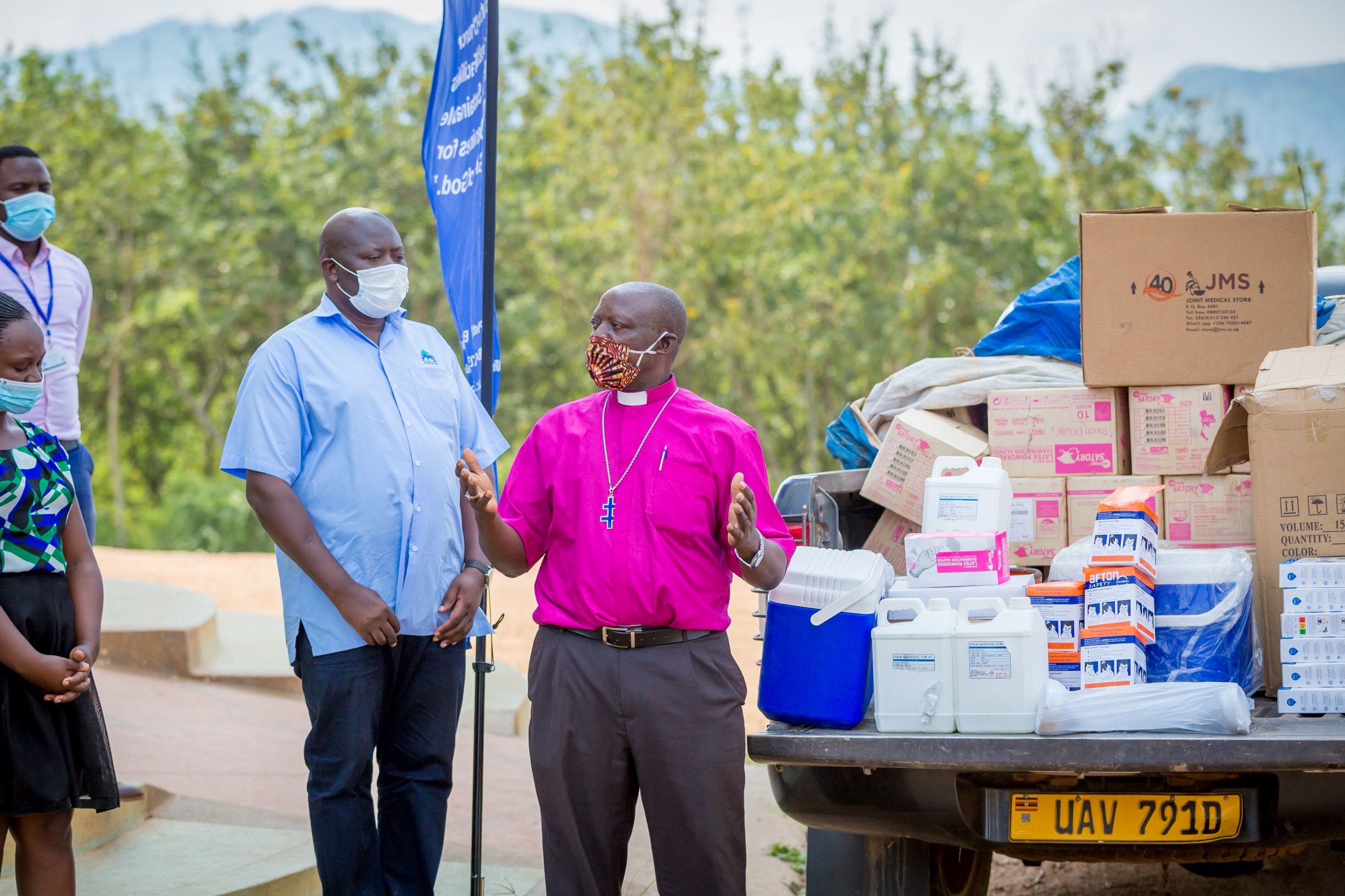 UPMB Engages Faith Leaders and Communities in WASH and COVID Education
April 13, 2021
---
Cassady Mecate, Baylor University MPH Candidate and CCIH Communications and Advocacy Intern interviewed James Mwesigwa and Irene Nakiriggya, Health Professionals from the Uganda Protestant Medical Bureau (UPMB) about how UPMB engages the community in water, hygiene and sanitation programs.
James Mwesigwa is an Advocacy Advisor at UPMB. He has a clinical background in dentistry and a Master's degree in quality healthcare and patient safety. He addresses quality improvement and patient safety across the UPMB network as well as supports non-communicable disease programs.
Irene Nakiriggya is a Reproductive Health Specialist at UPMB and supports a number of reproductive health projects. She is a public health specialist with a background in nursing. She has spent her career working with religious leaders on community-based programs to provide education about family planning.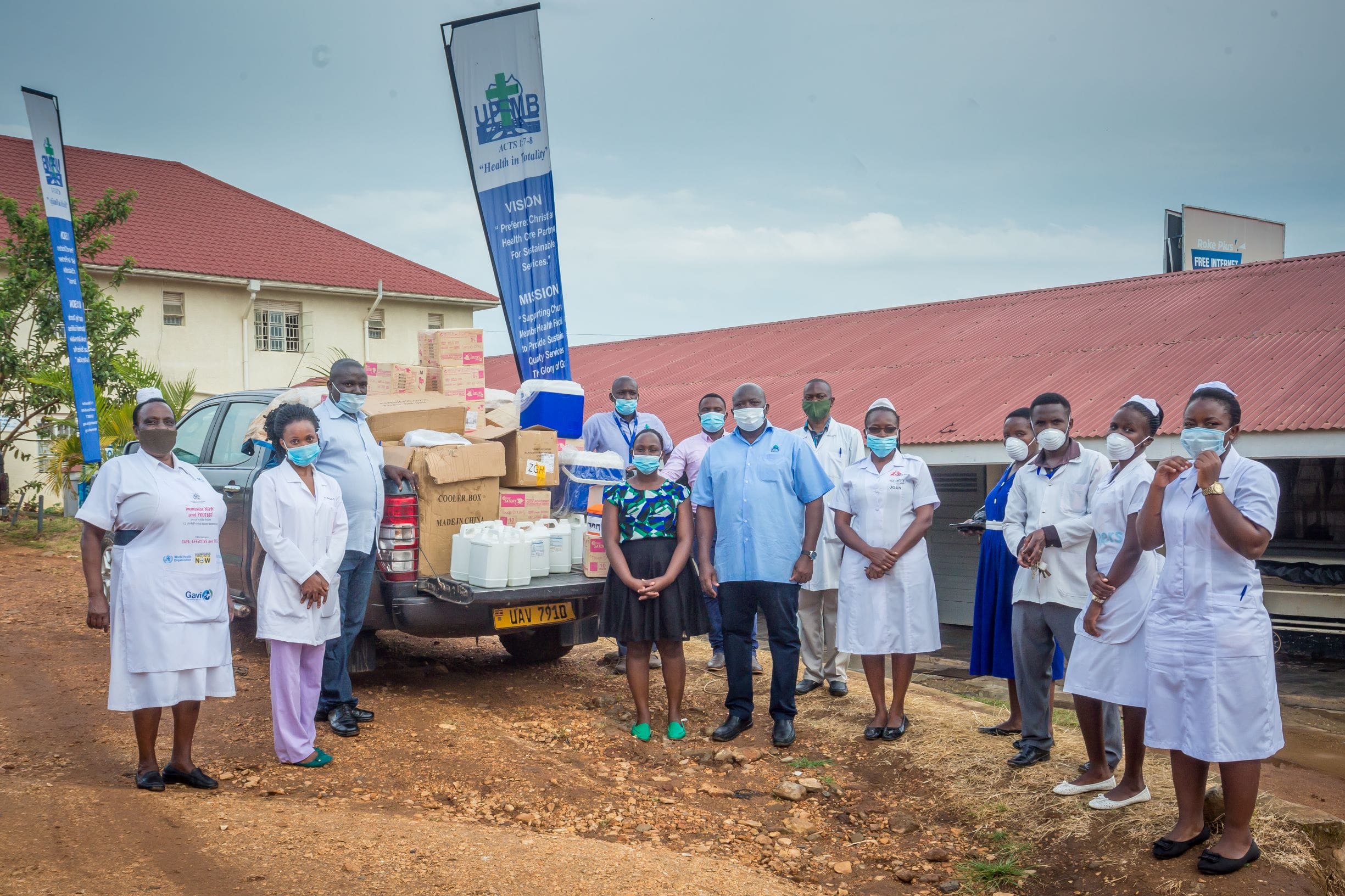 What WASH programs have you implemented within the communities you serve?
James: UPMB oversees 320 health facilities across Uganda. Part of UPMB's strategic plan focuses on quality improvement and patient safety through water, hygiene, and sanitation (WASH) and infection prevention and control (IPC) initiatives. We carry out these initiatives in areas that are prone to outbreaks and epidemics. We recently collaborated with Johns Hopkins to engage 20 health facilities, 10 of which were ours and 10 that are run by the government, in preparing the facilities to prevent the spread of COVID-19. In the health facilities, we trained the staff and strengthened their quality improvement teams, IPC teams and infrastructure.
We looked at the functionality of those teams to determine how often they should be meeting and what their agenda should look like, and we encouraged them to have a specific budget for WASH. In another initiative, we were supported by Emory University to assess the level of competencies in WASH and IPC within health facilities. After the staff performed the assessments, we left them with as many tools as possible to make sure that they used the knowledge and the skills they've gained. Our next step is developing a curriculum for WASH and IPC.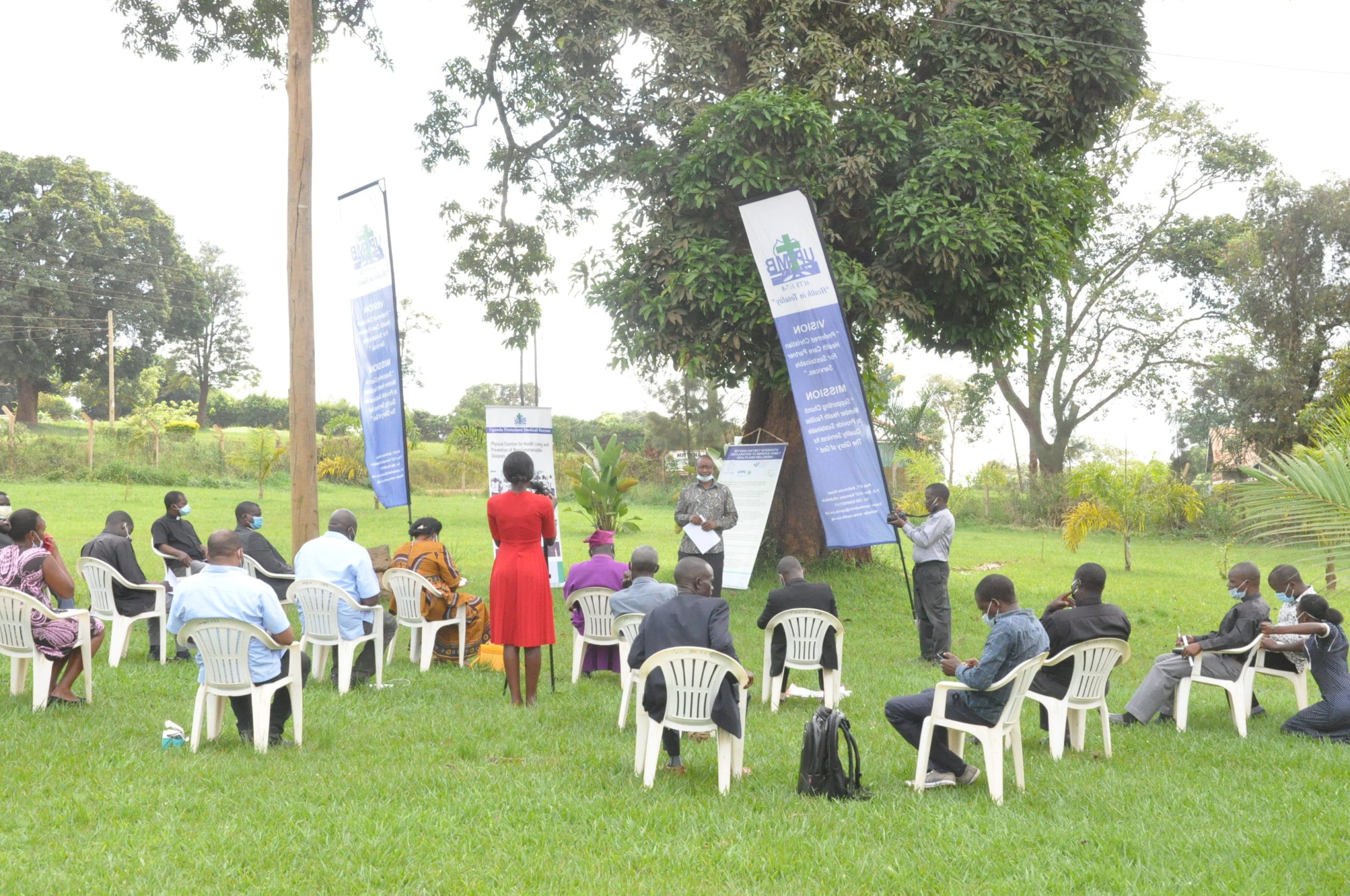 We also target the community. We shared information about hand hygiene, social distancing, and other prevention recommendations for COVID-19 in the communities. Staff also examined the sanitation and hygiene around community members' homes and assessed the quantity and quality of water they had access to. We would like to have more engagement with the partners to spread what we have learned working with the health facilities and community.
How do you engage community leaders and faith leaders within your WASH initiatives?
Irene: Faith leaders are familiar with the concepts of washing hands and washing their bodies because it is part of their teachings. There are a number of passages in the Bible that address issues of WASH, especially when you look at the Leviticus, Exodus. The Book of John has some customs for the Jewish. Taking on the component of WASH was in line with them with their day to day work. It was very easy to engage religious leaders on WASH. This is an area that is not new to them, but it gives them that opportunity to scale up and have more interest in the work that they are doing.
In addition to religious leaders, there are other community groups called the village health teams (VHTs) that form the first level of the health system in Uganda. They come into contact with our community and health facilities at the same time. VHTs conduct WASH activities day to day when they visit households in the villages. They communicate to the communities the importance of washing and hygiene, especially latrine hygiene. We ensure our VHTs are sensitized through trainings, so that in our projects they can continuously give information to the households about WASH.
When budgets allow, we have platforms on our local televisions to share information about WASH. We usually invite community leaders like the community development officers in the districts, decision makers like the district health officers, or trained VHTs together with program staff to pass on this information to a wide network through the mass media. We use this method when it is useful to massively sensitize communities about WASH activities, especially when it is linked to breastfeeding.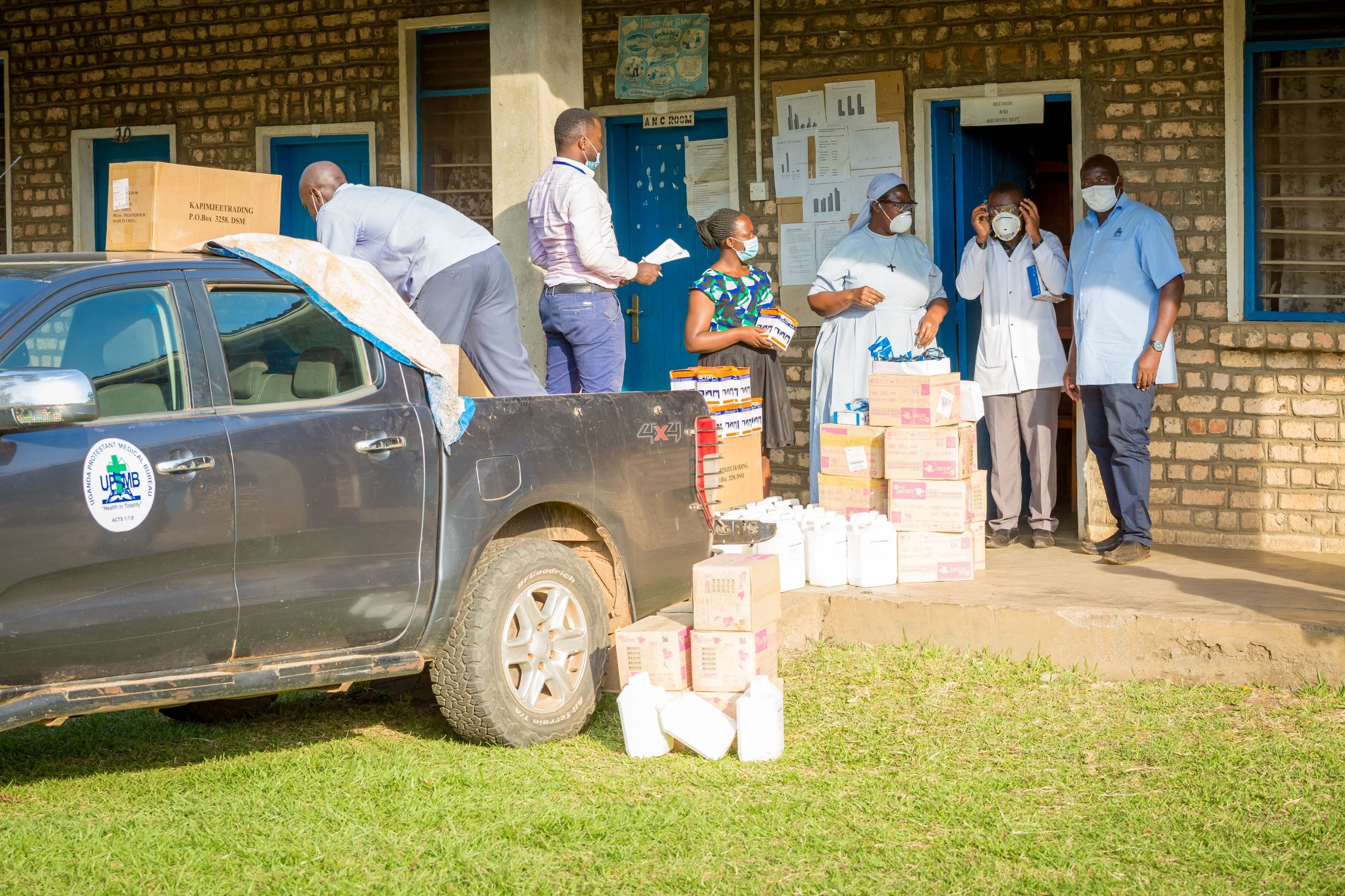 Why would you recommend engaging faith leaders in health messaging and promotion?
James: We work closely with religious leaders for a number of reasons. The first one is that they are teachable. They also see a lot of people every week, during the Sunday services. They have an opportunity to pass on new information, whether it's a funeral, a baptism, or a church service. If we give religious leaders messages, we would expect them to cascade that down in the communities.
It is easier to pass messages if you make the messages simpler, but religious leaders also have good communication skills. We find that actually they tend to amplify these messages to a larger number of people in the communities and more quickly than if we had cascaded that information. Also, when we involve religious leaders, they take ownership of the program and it becomes more sustainable.
What challenges have you faced, particularly in the times of the COVID-19 pandemic, engaging the community in WASH practices? How are you addressing these challenges?
James: Religious leaders also faced challenges. On this occasion, religious leaders had to be away from their people because they were also scared of COVID. The churches had to be closed down. There were no meetings or services because it was a government preventative measure to keep people from gathering. To prepare for the churches opening again, we gave religious leaders personal protective equipment (PPE), like the infrared thermometers.
If churches were to open, every person who comes to pray in the church would have to be checked at the entrance for whether their temperatures were in the acceptable range. As the government has loosened the gathering restrictions and opened churches, religious leaders have put preventative measures in place like hand washing, wearing masks and limiting hand shaking. However, people do not feel confident enough yet to go back to church. People are becoming aware that they will probably get COVID if it is crowded.
Irene: In addition to that, the churches have continued to live stream services to continue connecting to the community. These services are ongoing through radio stations and television stations. During this period, information on WASH gets passed to the community. UPMB has organized some faith radio stations to continuously work with religious leaders to provide information on WASH and COVID-19. We also have VHTs at the village level who reach out to each of the households and provide more interpersonal communication. The challenges they often encounter is having enough information, education, and communication (IEC) materials to continuously address WASH.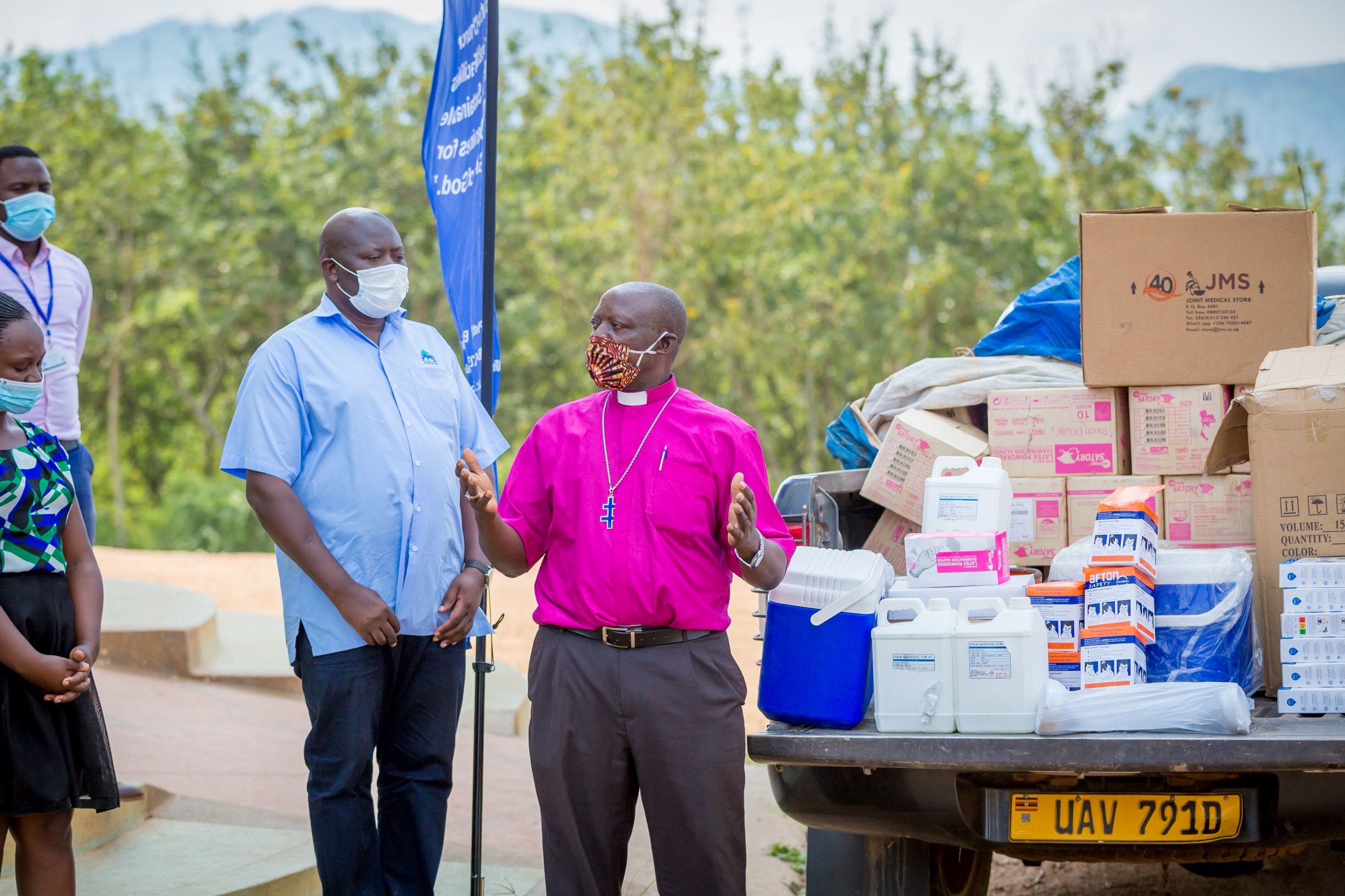 What measures have you taken to ensure your efforts in WASH are sustainable?
James: Well in the beginning, as a part of our COVID response, we designed the IEC materials such as leaflets and brochures. We created physical materials and digitalized them so that we can share them on WhatsApp and reach many people in a short amount of time. Leaving these materials with religious leaders is how we provide sustainable education to the community. We make sure that they pass on these messages in a local language. Religious leaders who understand English translate these messages into local languages so that people will read them. Irene also mentioned that we support religious leaders to talk about COVID on the radio and television.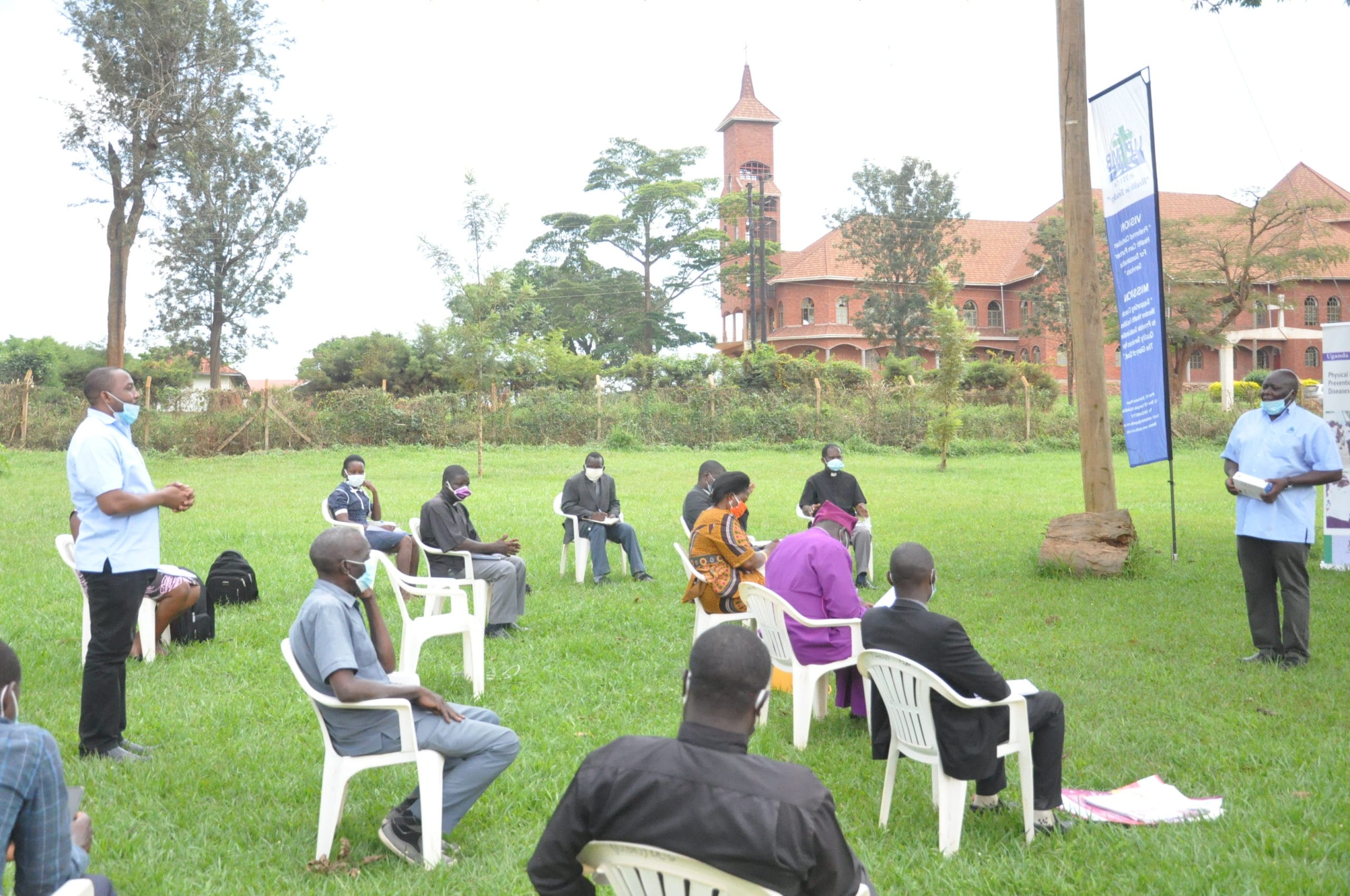 What changes have you noticed in communities' regard of WASH practices since the start of the pandemic?
James: I would say one good thing we got out of COVID is that it has made people realize that they have to wash their hands, which was never the case before. I think people were getting sick with infectious diseases, not knowing these infections were spreading through their hands. With COVID, the message has been very strong that you need to wash your hands all the time and sanitize your hands.
We have seen the churches be cautious of infectious diseases. We have seen a lot of preparation because of COVID; every entry at the church has soap and water to wash hands and sanitizer. We have seen differences in the people themselves, in their attitude toward COVID. They recognize it does exist and that everyone needs a mask.
If someone didn't have a mask, they would be reminded at the entrance by the usher that they needed to put on their mask. The culture of responding to the pandemic has been institutionalized in some areas like churches and health facilities. The culture has changed in the community too. People are wearing masks, but sometimes they do not wear them correctly. They hang them under the chin because it can be uncomfortable wearing a mask all day every day, especially in hot regions like Uganda, so it is necessary to keep educating people.
We see people asking for PPE at health facilities and churches, even though they do not have extra. Churches cannot afford PPE and sanitizers all the time. Despite the fact that it is a challenge to get PPE, you can see people approaching organizations to be supported which means they have understood that there are new ways of addressing WASH.
See more about water, sanitation and hygiene (WASH) and faith communities.
About the Author: MPH Candidate 2021, Cassady Mecate is currently studying Community Health at Baylor University. She plans on pursuing a career in advocacy and policy development to build resilient health systems that can better combat the spread of infectious disease.
---