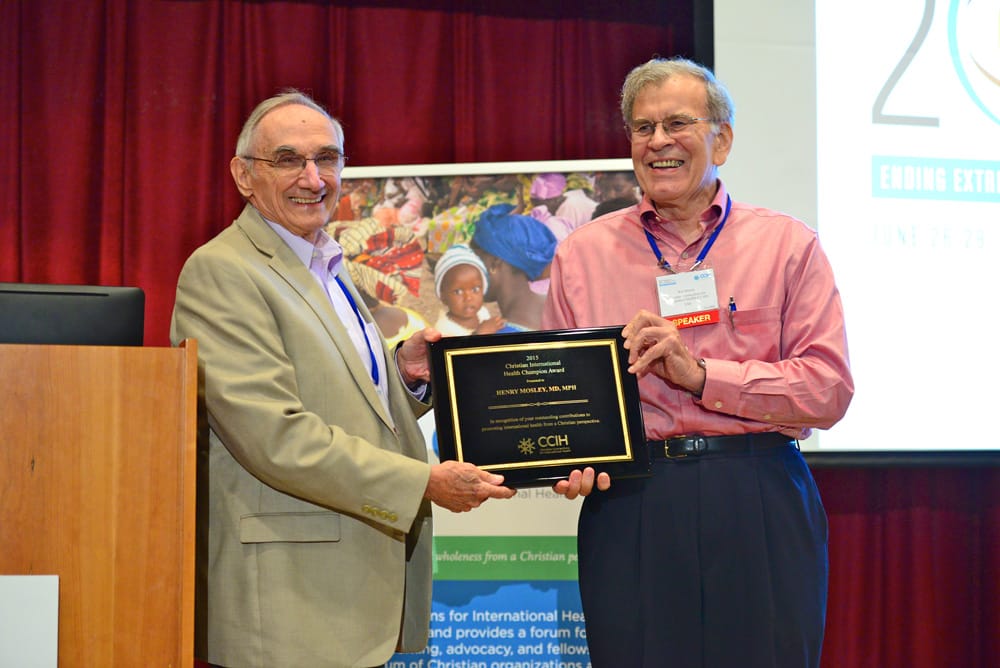 2015 CCIH Award: Henry Mosley, MD, MPH
January 6, 2017
---
The 2015 CCIH Christian International Health Champion Award was presented to Henry Mosley, MD, MPH in a plenary session at the conference. The CCIH Christian International Health Champion Award honors an individual who has dedicated his/her life to global health from a Christian perspective and has made significant contributions to the field.
In addition to his dedication and impressive achievements, Henry is known for his warmth and modesty, which he displayed in his acceptance remarks. Henry said he was able to achieve what it took to earn this award because he rode on the shoulders of lots of people in the developing world who have helped him when he didn't know the language or culture. Henry also expressed that it is difficult as a Christian to accept an award and receive praise, and quoted Hebrews 12:1-3 to highlight his belief that Jesus gave the ultimate sacrifice, which we must remember with humility.
In above photo, Ray Martin, MPH, CCIH Executive Director Emeritus (right) presents the award to Henry Mosley, MD, MPH.
Henry is a long-time CCIH member and supporter and has served on the CCIH Board of Directors. He currently serves as Professor Emeritus in the Population, Family and Reproductive Health and International Health Departments at the Johns Hopkins University Bloomberg School of Public Health. He has worked for 50 years in international public health, spending time in education and research in Pakistan, Bangladesh, Kenya and Indonesia. In 1971, He was appointed Professor and Chairman of the Department of Population Dynamics at the Johns Hopkins University School of Public Health, where he established the Johns Hopkins Institute for International programs and later co-founded the Bill and Melinda Gates Institute for Population and Reproductive Health.
Writer Barbara Pash sat down with Henry for an in-person interview about his career and remarkable life in early July. The article appeared in the Towson Times section of the Baltimore Sun.
---