Baptist Organization Integrates Family Planning Services with Cancer Screening
December 22, 2014
---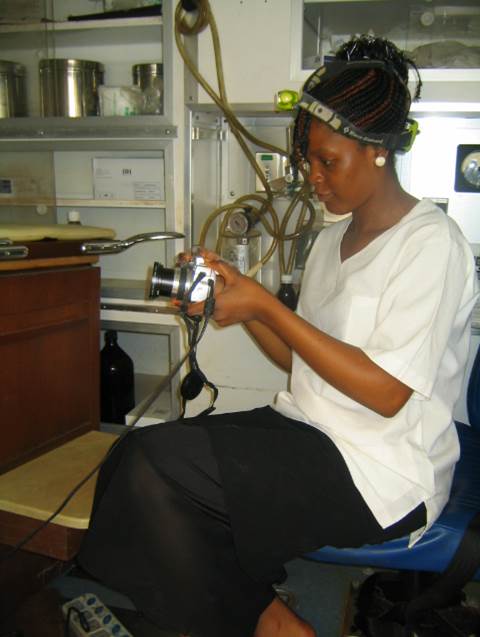 If Mardea* had not had the convenience of cancer screening and family planning services available in her rural community in Cameroon, her story is likely to be very different. Fortunately, Mardea's cancer was detected during screening at a mobile clinic operated by Cameroon Baptist Convention Health Services (CBCHS) Women's Health Program (WHP) that offers cancer screening along with family planning services, both provided by trained nurses.
The cancer screening method is called "digital cervicography" (DC), which uses a digital camera with a magnification lens to project 30X magnified images of the cervix onto a TV monitor visible to both the woman and the nurse. The cervix is first stained with acetic acid (vinegar), which causes pre-cancers to appear white. The nurse explains any abnormalities visible on the TV screen to the woman, thus empowering her to participate in making decisions on treatment.
Although Mardea was not having symptoms, health workers discovered a cervical lesion consistent with the early stages of invasive cervical cancer when she was evaluated at the clinic. A biopsy was taken and sent to the Yaoundé Gyneco-Obstetric and Pediatric Hospital. The results confirmed her cancer. The staff counseled Mardea on her treatment options and she chose radiotherapy over a hysterectomy. She was then referred to the Douala General Hospital where she received treatment and is now home with her family in northwestern Cameroon.
"If this lesion had not been diagnosed at the time for these prompt interventions to be done, her disease would have advanced steadily," said Simon Manga, WHP Supervisor. Cervical cancer is the second most common cancer in women worldwide, with 500,000 new cases and 270,000 deaths reported each year. Approximately 85 percent of cases of cervical cancer are in developing nations, where 95 percent of women have never had a pap smear." Screening with digital cervicography also identifies many early precancers that can be treated on the same day, or, if the lesions are more advanced, the woman is referred to a clinic for a surgical procedure.
Another lifesaving health intervention for women and children is family planning. Family planning helps families space pregnancies so births are timed for when they are healthiest for the mother and children. According to the World Health Organization, a child in a developing nation has a higher chance of dying if he or she has siblings very close in age and it is recommended that couples wait two years after the birth of a child to conceive the next child.
Providing lifesaving cancer screening at the same time women receive family planning services can help increase the likelihood women will take advantage of both services. Bringing these services to women through a mobile clinic makes it even easier for women to use them and for potentially fatal cancers to be detected. CBCHS mobile clinics offer family planning counseling and provide long-acting methods (IUDs and implants), but not short-acting methods, because these clinics are unlikely to be repeated in the same communities for several years. Women can sometimes access short-acting methods at other local clinics.
"We hold most of our mobile clinics in remote communities," explained Manga. "When the community is selected, a program coordinator goes there for discussions with community stakeholders, such as traditional and religious leaders, and a peer educator is sent for sensitization. A community member will be appointed to enroll interested women for the screening."
Through its mobile clinics and six stationary sites, CBCHS has provided cancer screening, family planning services and treatment for sexually transmitted infections to more than 45,000 women since 2007, including many who might otherwise have not been able to access care.
December 2014
*Name has been changed
---