CCIH is excited to host an in-person conference June 5-7, 2023 in Washington, DC. We look forward to the fellowship and networking this gathering will bring. Below are answers to some frequently asked questions (FAQ) about the conference.
Frequently Asked Questions
Map
See the image at the bottom of the page for map of Catholic University highlighting important spots on campus, such as the building for registration check in and sessions (Maloney Hall also known as the Busch School of Business, Millennium North (which is our lodging hall); Garvey Hall (our the dining hall); and the Pryzbyla Center (location of the information desk and on call assistance).
Health & Safety Protocol
What about COVID-19?
We recommend attendees take precautions such as wearing a mask when traveling. Testing and masks will be available on site (but not required). If you feel sick and need to quarantine, notify us immediately and we can assist you with the necessary tests and/or quarantine if necessary. Proof of vaccination is required for non-US Citizens traveling by air to the US. See more about this from the CDC. CCIH encourages everyone to follow best practices for COVID and disease prevention when traveling and during our conference.
What if I become ill or are injured while attending the conference?
Contact a CCIH staff member and they can assist you with seeking medical help. See more detailed health protocol on the main conference page.
What if I have an emergency while attending the conference?
If you believe your incident is an emergency and you are on campus, call Catholic University Department of Public Safety at +1 202-319-5111 instead of 911. You may call 24 hours a day. The Catholic University Police Force knows the campus well and can find you quickly. If you need a campus escort at night or anytime, you can also call this number. Public safety patrols the campus 24 hours a day. See the Emergency phone below.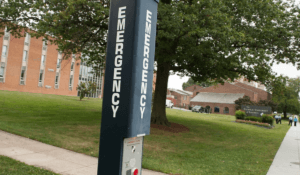 What are other important phone numbers I should know?
The Pryzbyla Information Desk +1 202-319-5200 is an important number to have in case you need routine maintenance or something is broken in your room, need extra linens, or get locked out of your room. The Pryzbyla Information Desk in the building is staffed from 7:00 am to 10:00 pm daily. Outside of those hours, you can call the number, which will be answered 24 hours a day.
Transportation to Catholic University of America (CUA)
Directions to Catholic University are available on their website. If you are planning to use public transportation in the Washington DC area, use the trip planner function on their website. The Conference will be held in Maloney Hall at the southeast corner of campus directly across from the Brookland/Catholic Metro stop.
Will there be interpretation (translation)?
There will be simultaneous interpretation into French in the plenary sessions. In order to hear the interpretation, you will need to log into the Zoom live stream and listen with a headset or earbuds from your laptop or mobile phone.
I received an email that came from an "Attendee Consultant" claiming to have the CCIH Conference Attendee list. Is this associated with CCIH? 
No, this is a phishing scam, please do not click any links or reply to the email. This is not from CCIH and is part of a wide fraudulent effort. If you would like to report it, you may report it to the US Federal Trade Commission (FTC) here.
How should I dress?
Dress for the conference is business casual. Wearing traditional clothing from your country is welcomed. Ties for men are not necessary. The weather is usually warm this time of year in the Washington, DC area, however, the sessions will be inside air conditioned spaces.
Voltage
The United States uses 110-120V (60 Hz). Bring an adapter if you need to convert the voltage to charge your devices.
Will I have access to Wi-Fi?
Yes, please select "CUA Guest" from the list of Wi-Fi networks. When your browser launches, scroll to the bottom and click accept. You will need to log back in after 10 hours.
Is there somewhere to exercise on campus?
You may use the Kane Fitness Center, which is open Monday-Friday from 1:00 pm to 10:00 pm, and on weekends from 10:00 am to 4:30 pm. Show your Conference Services Cardinal Card for access.
What if my visa request is denied or I don't receive it in time?
Please let CCIH know by emailing conference (at) ccih.org as soon as possible if you are unable to attend in person. We hope you can still participate by watching the live streamed plenary sessions.
Does CCIH offer refunds?
CCIH will offer full refunds if requests are made in writing 30 days prior to the start of the conference. After May 5, 2023 we can only credit the amount to another conference participant or transfer the credit toward future conferences. Please email conference (at) ccih.org with requests.
Note: Payments made with credit cards will be refunded to those cards; otherwise alternative payment arrangements will be made.
Does the CCIH conference offer Continuing Education credits?
CCIH is not offering Continuing Education Units or Credits for the 2023 conference but will issue Certificates of Participation for those who request one at the end of the Conference.
Registration
Can I get a receipt for my registration?
You should receive an email confirmation with your full payment, indicating the amount paid. If you choose the "pay later" option, you will not receive a receipt until you pay.
Do I need to be a CCIH Member to attend? Is my Membership current?
The conference is open to anyone, you do not need to be a member to attend. For Individual CCIH Members: Please make sure your membership is up to date. If you are not sure, you can email membership (at) ccih.org to check. If your membership has lapsed, you may renew your membership during the registration process. For staff of member organizations: If you are not sure if your organization is an active member contact us at membership (at) ccih.org.
Meals and Housing
What are my housing options?
On-campus housing is available for $110 per night per person and includes breakfast and dinner. Confirmation and deposit need to be made by Friday, May 12, 2023. You will be assigned a single room in a residence hall suite with three to five other rooms. Each suite has a shared common space and shared bathroom. If you would prefer a hotel, please see lists of hotels near Catholic University.
How many nights can I stay at Catholic University?
You may begin your stay at Catholic University on the evening of Sunday, June 4 and you may stay until Friday, June 9.
What meals are included with the cost of registration?
The following meals are included with your registration:
Monday Evening Reception with heavy hors d'oeuvres
Tuesday and Wednesday – Boxed lunch
Monday through Wednesday – Coffee or Tea, Grab & Go Snack
Pre-conference registrants will receive a boxed lunch
Vegetarian, vegan and gluten free meals are available at the conference. Please email conference (at) ccih.org if you have other dietary restrictions or allergies. For those staying in campus lodging, breakfast and dinner are cafeteria style so there will be multiple options available.
Attendee Health
Is breastfeeding/expressing space available?
There will be designated private space in the conference building for women who are breastfeeding or need to express breastmilk.