CCIH 2023 Conference Program
Recordings and Photos
See a playlist of all the plenary session recordings here.
See photos from the conference in our Flickr account.
Day 1 June 5
5:00 to 6:00 pm US EDT / 9:00 to 10 pm GMT     Welcome and Worship
Worship led by musician and worship leader Jordan Ware
Devotion led by Dr. Kris Prenger, Interserve USA, followed by a time of fellowship, discussion and prayer in small groups.
Welcome from Dick Day, CCIH Board President and Senior Vice President of Programs and Volunteers, CMMB
Highlights from CCIH: Doug Fountain, CCIH Executive Director
6:00 to 7:15 pm US EDT / 10:00 to 11:15 pm GMT     Plenary 1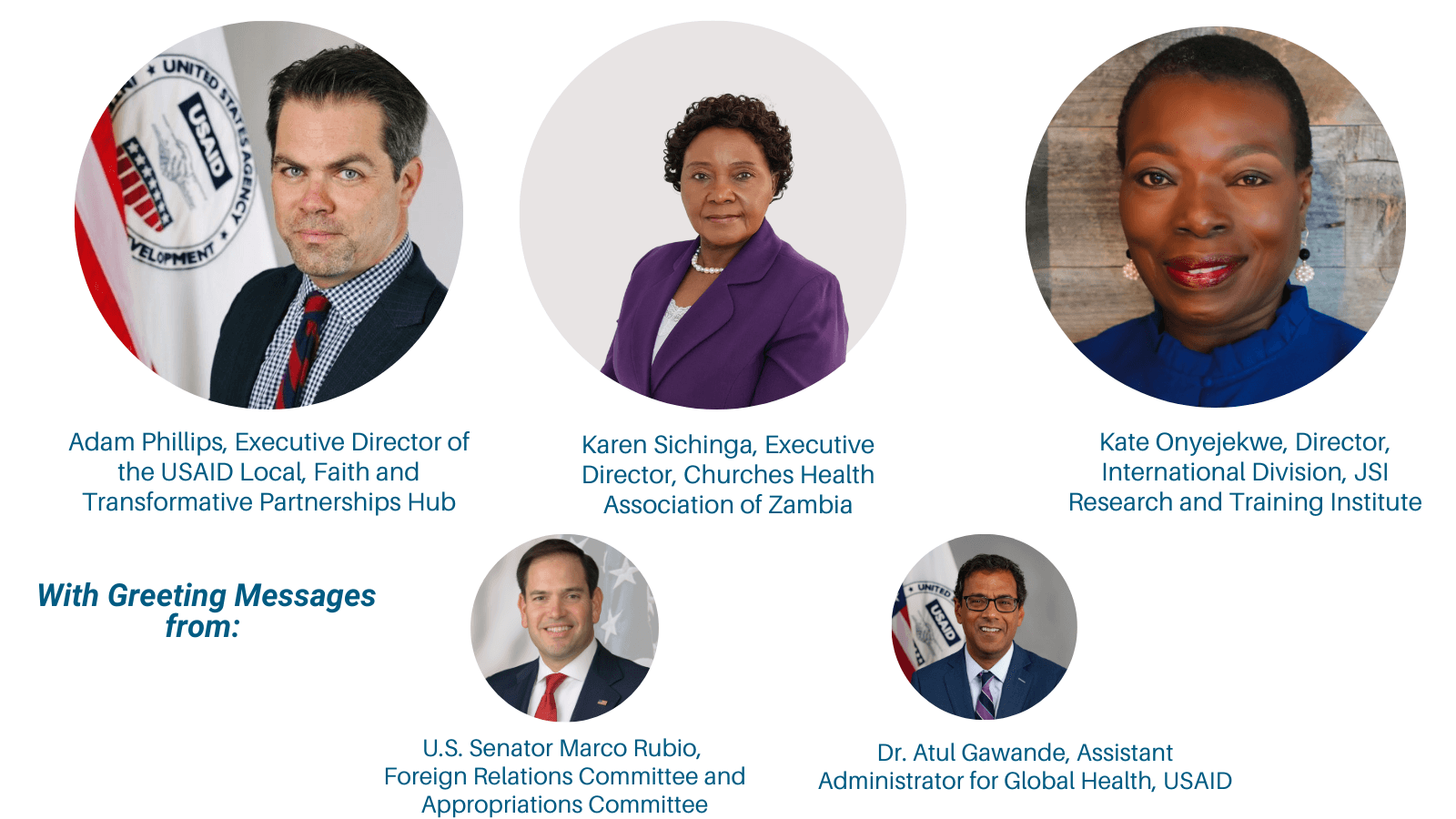 Welcome Messages:
U.S. Senator Marco Rubio, Member of the Foreign Relations Committee and the Appropriations Committee
Dr. Atul Gawande, Assistant Administrator for Global Health, United States Agency for International Development
Conference Platinum Sponsor: Dr. Koki Argawal, Director of the USAID's MOMENTUM Country and Global Leadership
Global Voices: How have U.S. policies affected local programs?
Speakers:
Adam Phillips, Executive Director of the USAID Local, Faith and Transformative Partnerships Hub. How Does USAID Engage with Faith-based Organizations? 
Karen Sichinga, Executive Director, Churches Health Association of Zambia (CHAZ). A local Perspective to Global Policies 
Moderator: Kate Onyejekwe, Director, International Division, JSI Research and Training Institute
Recordings:
Video Recording of Opening Plenary (Video includes opening welcomes and devotion and is searchable by chapters)
French Interpretation Here (Audio Only)
---
Day 2, June 6
8:00 to 9:00 am US EDT Worship and Devotion
Devotion led by Amaka Uja, Founder and Director, Isaiah 58 Care Foundation in Nigeria, followed by a time of fellowship, discussion and prayer in small groups.
9:00 to 10:30 am US EDT / 13:00 to 14:35 GMT Plenary 2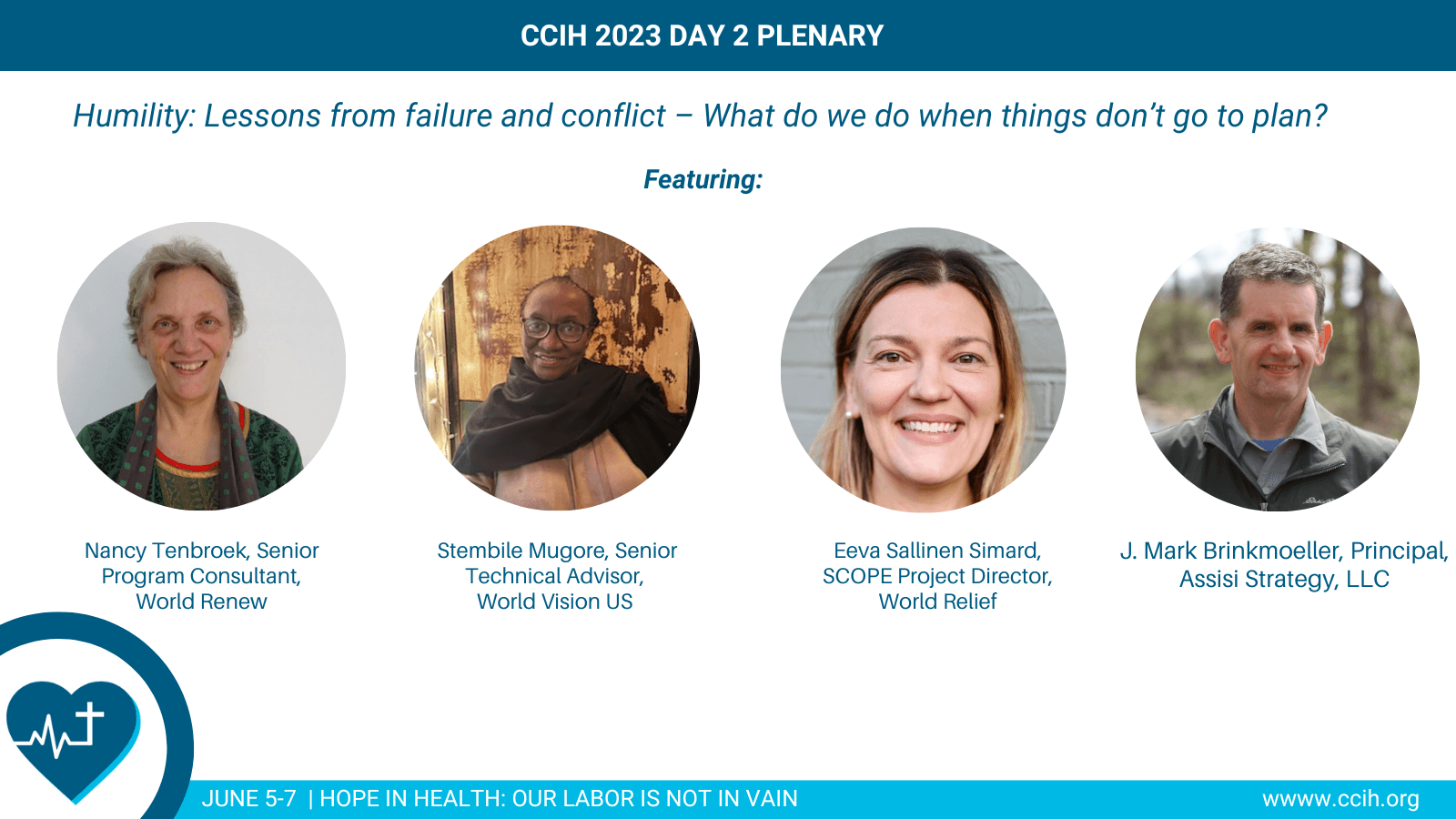 Humility: Lessons from failure and conflict – What do we do when things don't go to plan?
Ms. Nancy Tenbroek, Senior Program Consultant, World Renew
Ms. Stembile "Tembi" Mugore, Senior Technical Advisor for Reproductive Maternal Child and Adolescent Health and Family Planning, World Vision US
Ms. Eeva Sallinen Simard, SCOPE Project Director, World Relief
Moderator: J. Mark Brinkmoeller, Principal, Assisi Strategy, LLC
Recordings:
10:30 to 11:00 am US EDT Break (Visit exhibits in the Maloney Hall Pavilion)
Breakout Sessions Group 1 – 11:00 am to 12:00 pm
Breakout 1A: Standing Together in Partnership

Speakers:
Ms. Yasmine Vaughan, Technical Advisor for Global Health and Missions, Helping Children Worldwide. Radical Honesty, Radical Courage, and Radical Collaboration: How embracing these three principles can expand your impact Slides
Mrs. Nkatha Njeru, Executive Director, Africa Christian Health Associations Platform (ACHAP), and Dr. Njekadoum Ndilta, Board Chair, ACHAP. When the center must hold: The role of network organizations in partnerships Slides
Dr. Tonny Tumwesgiye, Executive Director, Uganda Protestant Medical Bureau. Managing a seamless transition from international to local USAID-implementing partners. The experience of Uganda Protestant Medical Bureau
Moderator: Dr. Perry Jansen, Vice President, African Mission Healthcare
Breakout 1B: NCDs and NTDs: Partnerships, Navigating COVID, and Improving Quality of Life

Speakers:
Ms. Evelyn Gathuru, Monitoring, Evaluation, Research and Learning Officer, Christian Health Association of Kenya. Strengthening partnerships with community, faith based health facilities and the global community for early diagnosis and access to care and treatment for NCDs in Kenya Slides
Mr. Simon Ssentongo, Biostatistician and MEL Lead, Africa Christian Health Associations Platform. Tackling hypertension in the era of COVID-19: Lessons from Healthy Heart Africa programme in Côte d'Ivoire Slides
Mr. Jim Oehrig, Vice President of Integral Mission and Partner Engagement, American Leprosy Missions, presenting on behalf of Dr. Shyamala Anand, Senior Advisor for Neglected Tropical Diseases, American Leprosy Missions, India. Addressing the quality of life of people with severe disability related to Neglected Tropical Diseases (NTD) in India Slides
Moderator: Ms. Beth Good, Assistant Professor and Program Director, Eastern Mennonite University Master of Science in Nursing Program
Breakout 1C: How to Motivate Community Volunteers and Workers: With or Without Compensation?

Speakers:
Moderator: Dr. Henry Perry, Johns Hopkins University School of Public Health, Co-chair of CCIH Community-Based Prevention and Care Working Group
12:00 to 1:30  Lunch and Visit Exhibitors
1:30 to 2:30 pm US EDT Breakout Sessions Group 2
Breakout Session 2A: Embracing people with disability with compassionate and purposeful love

Speakers:
Ms. Jodene M. Louw, Senior Office Administrator, The Methodist Church of Southern Africa, People living with disabilities in my South African Context Slides
Ms. Cynthia Bauer, Executive Director, Kupenda for the Children. Partnering with community leaders to improve the lives of vulnerable children Slides
Dr. Nathan Grills, Public Health Physician and Professor at Nossal Institute for Global Health, University of Melbourne. Disability and international health: Creating space for people with disability
Moderator: Josue Orellana Guevara, Director for Health, Nutrition and WASH, ADRA International
Breakout Session 2B: Solid foundations: Facilities, labs and systems behind excellence in care

Speakers:
Ms. Hannah Sekayi Mafunda, Health Program Coordinator, Zimbabwe United Methodist Church. A shared value approach to improving health systems: a case of strategic partnerships between faith-based and academic institutions to support health system sustainability through a biomedical engineering programme Slides
Mrs. Patricia Kamara, Executive Director, Christian Health Association of Liberia. The Establishment of CHAL Drugs Supply Unit and Mini Lab Slides
Ms. Amy Hewitt, Grants Coordinator for Grants Acquisitions, and Management, Cure International. Facilities and construction initiatives and the impact on quality of clinical care and USAID ASHA-funded projects Slides
Moderator: Laura Berry, Director of Business Development, Blessings International
Breakout Session 2C: Want a strong health program? Start with humility

Speakers:
Mr. Evans Mwananyambe, Assistant M&E Officer for CMMB CHAMPS (Children and Mothers Partnerships), Zambia. Challenges with launch of mobile data collection leads to better integration with MOH system in Zambia Slides
Mr. Micha Chaudhury, Technical Officer for WASH, General Board of Global Ministries of the United Methodist Church and Mr. Carlos Ernesto Aguilera Miranda, Director of Operations, Engineers In Action. Ex-Ante evaluation methodology based on sustainable livelihoods for WASH projects in South America
Ms. Linda Marie Mathurin, Monitoring and Evaluation Officer, Catholic Medical Mission Board (CMMB) Haiti. Why pregnant women do not deliver at Sainte Rose de Lima Health Center in Gris-Gris, Côtes-de-Fer Slides
Ms. Lanre Williams-Ayedun, Senior Vice President of International Programs, World Relief. Localization through USAID's New Partnerships Initiative
Moderator: Sarah Borger, Vice President of Programs and Operations, LifeNet International
2:30 to 2:45 pm US EDT Grab coffee, tea and a snack and visit exhibitors in the Pavilion
2:40 to 4:00 pm US EDT Visit the National Shrine of the Immaculate Conception
If you want to join us to visit the National Shrine of the Immaculate Conception, meet us at 2:40 pm in the Maloney Hall Pavillion. We'll walk to the shrine and have a seated overview tour at 3:00 pm, followed by a short self-guided tour of the lower level.
4:30 to 6:00 pm US EDT: Young Professionals Mixer
Relaxing opportunity for attendees 35 and under to meet and connect with each other. We'll meet at the Starbucks Reserve at 655 Michigan Avenue, just outside of campus. (Drinks and food are at your own expense.)
---
Day 3 June 7
8:00 to 9:15 am US EDT / 12:00 to 13:14 GMT     Worship, Devotion and Communion
Devotion led by Mr. Dick Day, CCIH Board President and Senior Vice President of Programs and Volunteers, CMMB, followed by a time of fellowship, discussion and prayer in small groups, and ecumenical communion. Communion will be led by Reverend Dan Irvine, an ordained minister in the Wesleyan Church. Reverend Irvine serves as Haiti Country Director for World Hope International.
9:15 to 10:00 am US EDT / 13:15 to 14:00 GMT CCIH Announcements and Award Presentation
Presentation of the CCIH 2023 Hope in Health Award
The CCIH Hope in Health Award recognizes a faith-based organization, team, or project that has made significant contributions to international health and to advancing Christian love in action. The award honors a team or project that has nurtured hope, adapted when things weren't working, or persevered in the face of hardship.
Recordings:
10:15 to 11:15 am US EDT Breakout Sessions Group 3
Breakout Session 3A: Partnerships with Religious Leaders: Stories and Strategies

Speakers:
Dr. Patrick Mbusa Kabagambe, Senior Clinical Technical Advisor, Uganda Episcopal Conference – Uganda Catholic Medical Bureau (UEC-UCMB). Leveraging Catholic faith structures for community engagement to reduce risk of Ebola Virus Disease: Messaging and practices in Uganda Slides
Ms. Celine Bankumuhari, Head of External Relations, Faith to Action Network. South Kivu's faith organizations form interreligious partnership to advance family health and well-being
Dr. Godfrey Kway, Project Manager, Christian Social Services Commission. Partnering and mobilizing faith leaders from the local communities to reach the unreached to end HIV in Tanzania
Mrs. Jane Kishoyian, RMNCAH/FP Programmes Coordinator, Christian Health Association of Kenya (CHAK). Improving FP uptake in marginalized communities in Turkana and Narok Counties in Kenya through community-based interventions Slides
Moderator: Dr. Allison Ruark, Assistant Professor, Applied Health Sciences, Wheaton College
Breakout Session 3B: Want to Increase Immunization Rates? Start with Involving the Faith Community
Speakers:
Ms. Ruth Gemi, Program Manager and WASH and Nutrition Officer, Africa Christian Health Associations Platform. Faith on the frontline of COVID-19 vaccination uptake: A case of faith actors' role in overcoming vaccine hesitancy and building vaccine confidence in Sierra Leone and Zimbabwe Slides
Mr. Yoram Siame, Director of Advocacy Planning and Development, Churches Health Association of Zambia. Delivering child vaccination to communities with mobile livelihoods Slides
Bishop Dinis Matsolo, Executive Director, Inter-Religious Platform for Health Communication (PIRCOM). Religious leaders are calling for action: A campaign to boost COVID-19 immunization for adolescents and youth Slides
Moderator: Ms. Carolyn O'Brien, Program Advisor, CCIH
Breakout Session 3C: Let's Get Disaster Ready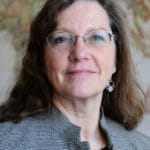 Forum discussion to help CCIH chart a way to respond and bring members together to coordinate actions after a disaster. Facilitated by Dr. E. Anne Peterson, MD, MPH, Global Health Consultant.
11:15 to 11:45 am US EDT Grab coffee or tea and visit exhibitors in the Pavilion
11:45 am to 12:45 pm US EDT Breakout Sessions Group 4
Breakout Session 4A: Strengthening Resilience through Mental Health

Speakers:
Mrs. Stacy Saha, Former Director, MIS-Research, LAMB Project, World Mission Prayer League. Adverse childhood events and mental illness among adolescents in rural Bangladesh, current status, and exploration of interventions to address an unmet need Slides
Mrs. Beth Reece, Spiritual Director/Hospital Chaplain, CMMB. Resilience and restoration in international health: Tools for post-traumatic growth Slides
Dr. Jason Paltzer, Executive Director, The Meros Center. A study of Resilient Recovery ministry on physical and spiritual outcomes Slides
Mrs. Valsa Anne Augustine, Psychologist and Project Development Officer, Schieffelin Institute of Health Research and Leprosy Center, India. Compassion fatigue and burnout in health care workers
Moderator: Dr. Paul Frank, Senior Advisor, SIL Lead
Breakout Session 4B: What Works? Lessons Learned from Disaster Response on Three Continents

Speakers:
Ms. Rachel Bernard, Haiti Country Coordinator, The Dalton Foundation – Haiti Health Network. How the Haiti Health Network united and encouraged the Haitian healthcare community to endure crisis Slides
Ms. Irma Priskila Sopamena, Program Director, Church World Service. Accessing health care for the refugee community in Jakarta, Indonesia: a decade of learning Slides  See Video of CWS Health Assistance Program for Refugees
Ms. Melissa Yakubu, Regional Safeguarding Coordinator for West Africa, World Renew Nigeria. MNCH program implementation in a Nigerian conflict zone: Community partnerships with the local church and Village Development Committees Slides
Moderator: Ms. Louise Hart, Director of Programmes, International Health Partners UK
Breakout Session 4C: How Churches and Christian Networks at the Local and Global Level Persevere to Bring Health to All

Speakers:
Dr. Christian Isichei, Founder and Consultant Pathologist, Faith Alive Foundation and Hospital, Nigeria. Community empowerment through holistic health and social services using HIV-positive mothers as mentors Slides
Joanna Kretzer Chun, Director of Program Quality, World Relief USA. Couple-focused program provides a model for partnership between church-based programs and community service providers for the uptake of family planning services in Burundi  (not pictured) Slides
Dr. Lucy Kingangi, Health Systems Strengthening Technical Officer, Global Health Unit, General Board of Global Ministries of The United Methodist Church. Collective legacy of Church and Community in restoring and sustaining hope and health in communities-in-constant crises and conflicts in sub-Saharan Africa – The Global Ministries of the United Methodist Church's Response Model in Nigeria and East Congo of the DRC 
Dr. Josephine Aidan Balati, Director of Health Services, Christian Social Services Commission. Where there is a will, there is a way: Renewing our focus and staying the course to attain justice, fair access, equitable distribution of resources to meet the changing needs of our global population
Moderator: Ms. Maddie Orange, Senior Project Manager, International Business & Technical Consultants, Inc.
12:45 to 2:00 pm US EDT Lunch and Mingle (Take your boxed lunch and sit with colleagues or make new connections in open space or classrooms with topical themes.)
2:00 to 3:15 pm US EDT / 6:00 to 7:15 pm GMT Closing Plenary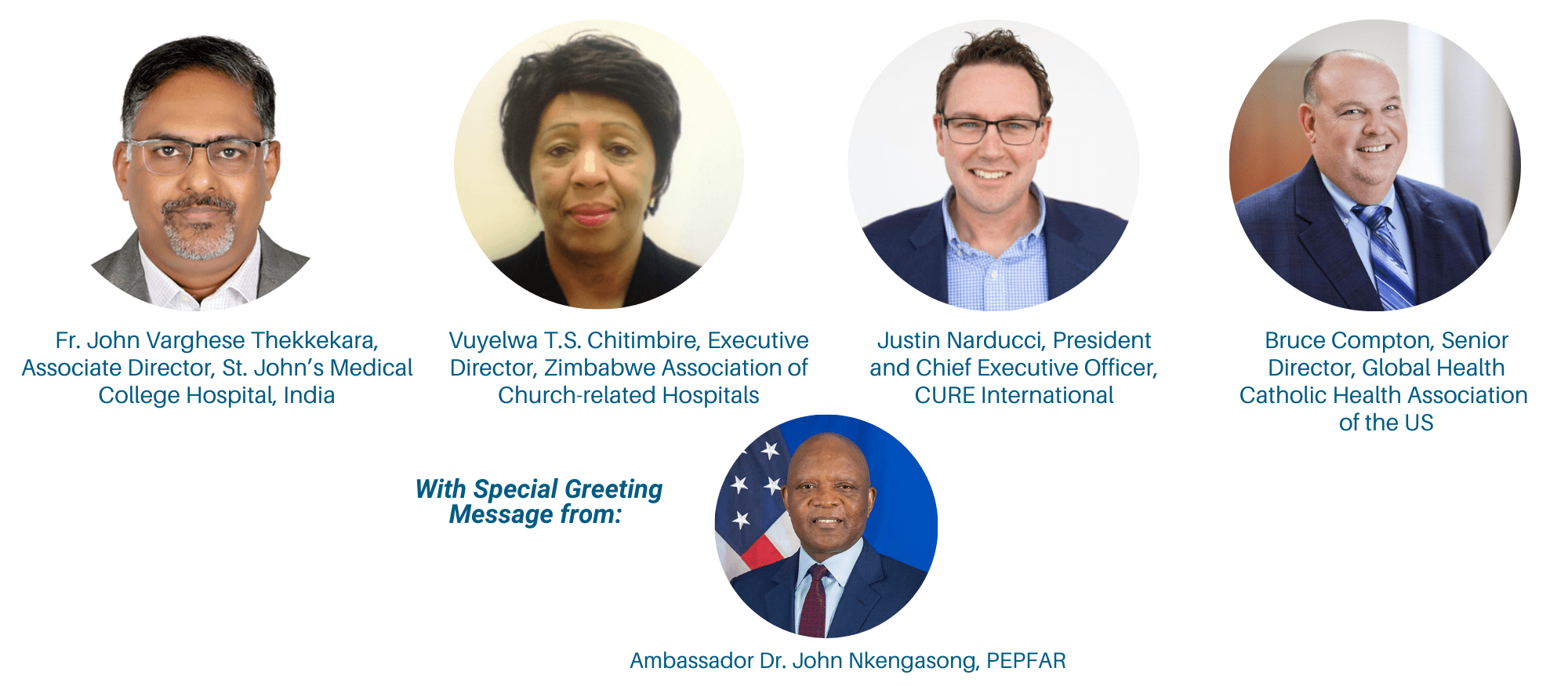 Message from Ambassador Dr. John Nkengasong, U.S. Global AIDS Coordinator and Special Representative for Health Diplomacy, the US President's Emergency Plan for AIDS Relief
Session:
Perseverance in Tough Times: How Do Leaders Cope?
Leadership always requires specific strengths, such as strong relationship building, innovation, decision-making, conflict management, and the ability to adapt quickly to changing circumstances. The past few years and the lingering COVID pandemic have tested all of us, and brought new pressures on leaders; making perseverance even more critical than before. In this session, we'll ask faith-based health leaders how they navigate those times and keep perspective and persevere during immense change and uncertainty.
Speakers:
Ms. Vuyelwa T.S. Chitimbire, Executive Director, Zimbabwe Association of Church-related Hospitals
Father John Varghese Thekkekara, PhD, Associate Director, St. John's Medical College Hospital, Bengaluru, India
Mr. Justin Narducci, President and Chief Executive Officer, CURE International
Moderator: Mr. Bruce Compton, Senior Director, Global Health, Catholic Health Association of the US
Recordings:
Video Recording of Closing Plenary Session and Panel on Perseverance in Tough Times: How Do Leaders Cope?
French Interpretation Here (Audio Only)