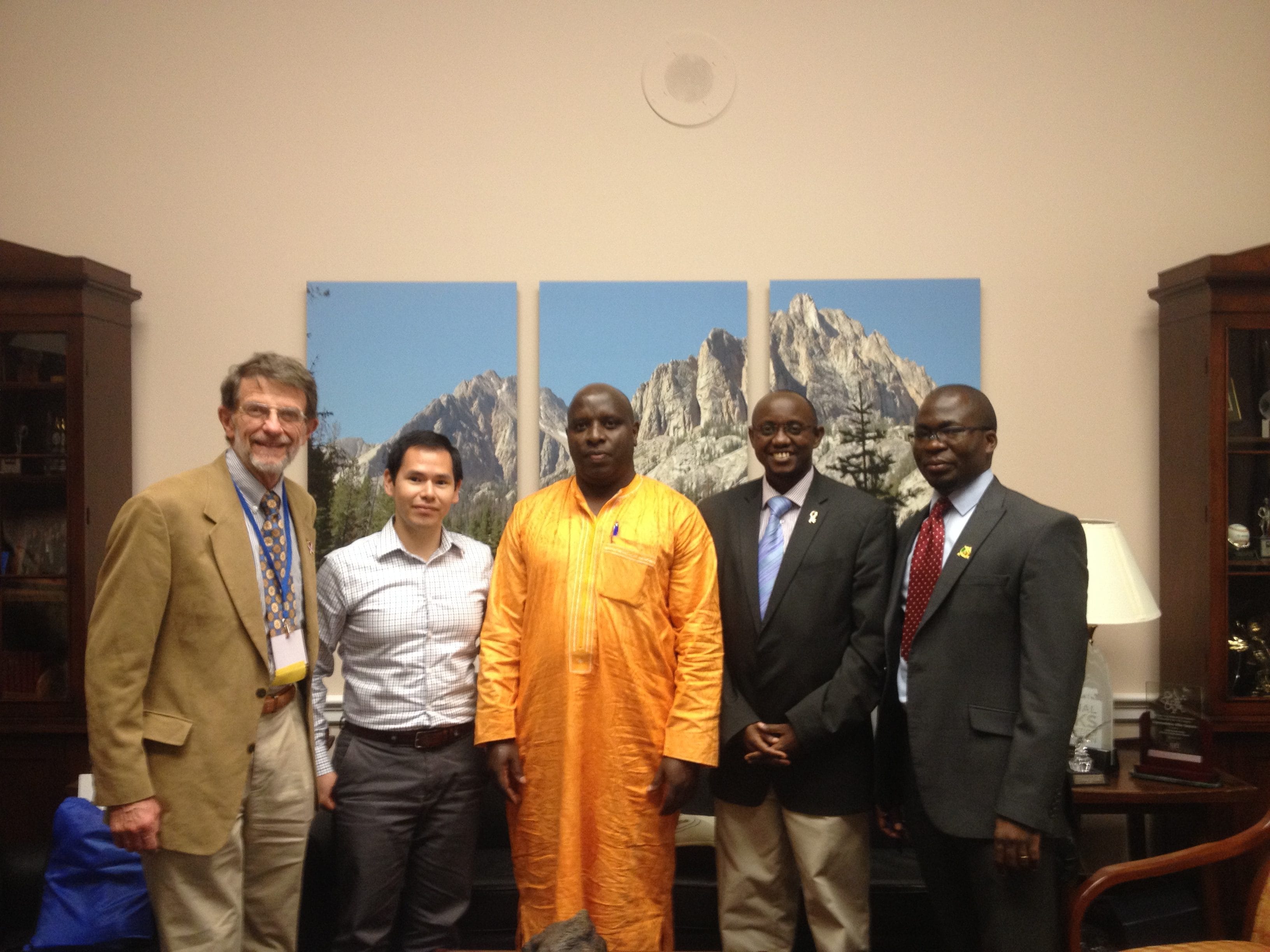 Christian Global Health Advocates Visit Capitol Hill
July 2, 2015
---
On June 29, 2015, 25 advocates from 11 different nations visited Capitol Hill to express their appreciation for U.S. support for global health programs, and share their experiences regarding the critical role faith groups play in health around the globe. Advocates came from Benin, Cameroon, Kenya, Liberia, Nepal, Nigeria, Pakistan, South Africa, Uganda, Zambia, and the U.S and visited 10 offices in the U.S. House of Representatives and Senate.
New CCIH member Wilhelm Stoker of Hope Tech Global said he enjoyed working as a team with others to engage the U.S. government. Dr. Samuel Mwenda of the Christian Health Association of Kenya, who has visited legislators on Capitol Hill a number of times, also found it rewarding. "I have come home more knowledgeable and greatly inspired to push on the vision towards universal health for all in Africa," he said.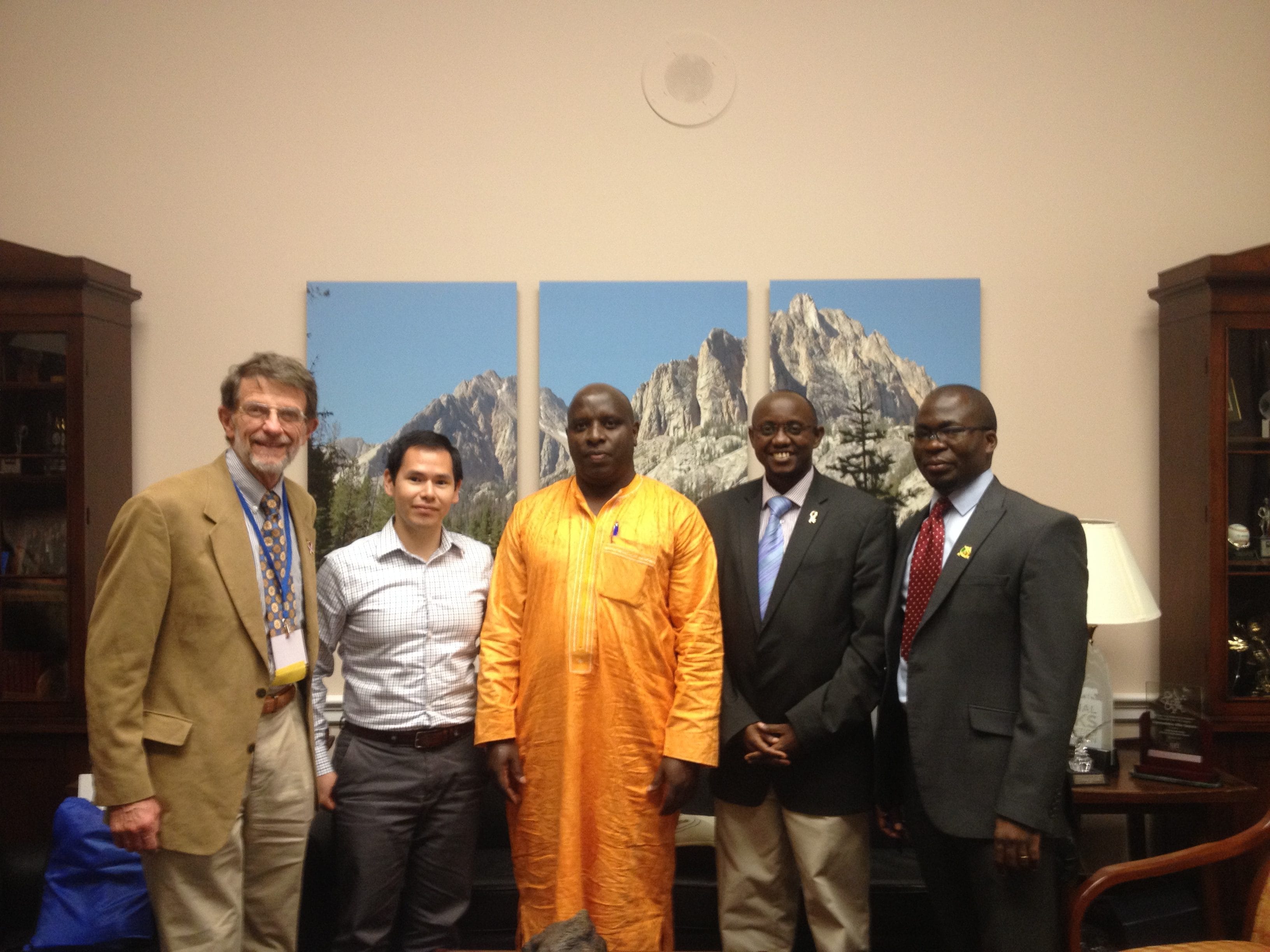 Shown above are CCIH advocates Tom Welty, MD, Peter Munene of Faith 2 Action Network, Tonny Tumwesigye, MD, MPH of Uganda Protestant Medical Bureau and Yoram Siame of the Churches Health Association of Zambia with a staff member from the office of Representative Simpson of Idaho.
Sharing the Role of Faith Communities in Global Health
CCIH coordinated a briefing with the offices of Congressman Dave Reichert and Congresswoman Betty McCollum, Co-Chairs of the Congressional Global Health Caucus that was held at lunch time on the day the advocates visited Congressional offices. The briefing was on The Role of Faith Communities in Improving Maternal and Child Health and attracted more than 100 attendees representing a variety of offices in the U.S. House and Senate, along with faith-based and other organizations. It was co-sponsored with CCIH by IMA World Health, SANRU and World Vision.
Presenting at the briefing were Dr. Larry Sthreshley, Country Director for the Democratic Republic of the Congo (DRC); Dr. Samuel Mwenda, General Secretary, Christian Health Association of Kenya; Dr. Anne Peterson, MPH, Senior Vice President of Programs, AmeriCares; and Dr. Albert Ntumba Kalonji, Technical Director and Principal Coordinator for Global Fund Projects, SANRU. The panel was moderated by Mark Brinkmoeller, Director of USAID's Center for Faith-based and Community Initiatives.
Dr. Larry Sthreshley addressed how health systems can be strengthened in developing nations and described the experience of IMA World Health in involving faith-based organizations in health in DRC. Protestant- and Catholic-run health facilities provide a significant portion of the care in DRC, and many essential medicine depots are managed by FBOs, making them critical partners in the health care system. Tapping into this already existing and wide-reaching network, IMA facilitates collaboration among faith-based organizations, the DRC government and other local stakeholders, and uses existing health systems instead of creating parallel systems to maximize efficiency.
In addition to the role played by FBOs in delivering health care, religious leaders are key partners in sharing health messages. These leaders are respected and trusted by their communities and are committed to the spiritual and physical well-being of their congregations. The Christian Health Association of Kenya (CHAK), a network of 576 Protestant church health facilities and programs across Kenya, engages religious leaders and community health volunteers to educate communities on health matters. Dr. Mwenda of CHAK explained how religious leaders can become powerful champions of family planning when they have the right information. As an example, he shared an experience in which 210 religious leaders were trained on family planning and its importance to health in an area where family planning use was low. The faith leaders shared those messages with 12,352 people, resulting in 1438 new family panning clients at the health facilities.
When an Ebola outbreak hit West Africa in 2014, faith-based organizations were on the front lines of the response. Dr. Anne Peterson described her experience assessing the faith-based response during a trip to Sierra Leone and Liberia on behalf of World Vision in September and October of 2014. Based on her assessment, the response was mixed but was mostly positive, with faith-based organization providing care, critical messages, counseling, food and other services. Another critical area where the involvement of faith-based organizations and faith leaders was critical was in safe burials. Many traditional burial practices increased the risk of transmission of the virus, and faith communities were able to help families have safe and dignified burials of loved ones who had died from Ebola.
Dr. Albert Ntumba Kalonji described the successful partnership among the government of DRC, the U.S. government and faith-based partners the Église du Christ au Congo (Church of Christ of Congo) and IMA World Health to address malaria in DRC. The burden of malaria is high in DRC, with the nation experiencing 11 percent of all malaria cases in Sub-Saharan Africa. Malaria is especially dangerous for pregnant women and young children. Through funding from the Global Fund to Fight AIDS, Tuberculosis and Malaria, SANRU is able to provide support for malaria prevention and care to thousands of health centers and community care sites, reaching 44 million people. The results have been impressive, with 70 percent of households owning at least one mosquito net in 2014, a dramatic increase from just 9 percent in 2007; and 96 percent of all malaria cases receiving treatment in 2014, an increase from 61 percent in 2012.
The four perspectives provided examples of how faith-based organizations have been deeply involved in providing health care, how religious leaders can be powerful partners in health when given the right training and tools, and why partnerships among faith-based actors, governments and other stakeholders are critical to improving health across the globe.
---