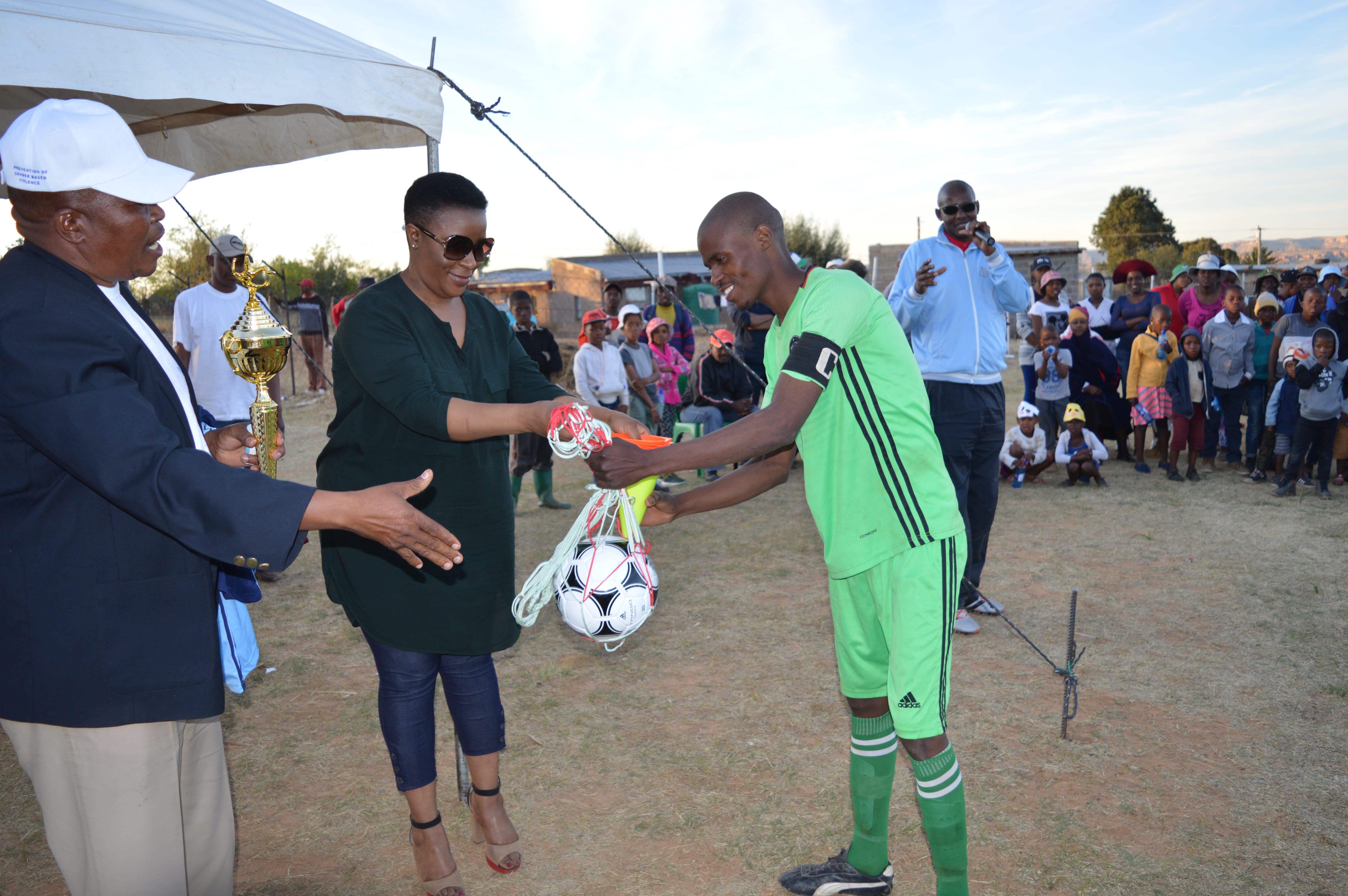 Close Up: Lebo Mothae, Christian Health Association of Lesotho
February 12, 2019
---
The new CCIH Close Up series connects you to CCIH members. This month we talked to Lebo Mothae, MPub, Executive Director of the Christian Health Association of Lesotho (CHAL) about how she integrates her faith with her work, a personal experience that changed her career path and what she would like to see more of from Christians working in health.
In the photo above, Lebo (center) presents an award to a district football association member at a tournament that raises awareness about Gender-Based Violence.
Please tell us about what you do?
I am the Executive Director of CHAL with the authority and responsibility for the day-to-day running of the Secretariat and the organization at large. CHAL is a network of church-owned health facilities that constitute about 40 percent of the country's health system. My key roles include providing strategic leadership and guidance, promoting good governance and management practices, mobilizing resources and advocating and networking with the purpose of ensuring organizational effectiveness and quality healthcare service delivery.
What is the most satisfying part of your job?
Nelson Mandela, one of my heroes, once said, "A leader should be a human being who can make an ordinary individual feel 'I am a human being, I have a future and can go to bed feeling strong and full of hope.' It gives me great pleasure when patients, their relatives, communities and the leadership of this country publicly say thanks to CHAL for the our service and saving lives of Basotho [the people of Lesotho]. I get the most satisfaction when a health facility strives, against all odds, to become a center of excellence and a reference point on good management and service delivery practices. CHAL continues to be a preferred healthcare provider and a beacon of hope in the country and relentlessly pursues the mandate to serve, teach and heal. That makes me happy.
How do you integrate your faith with your work?
With a mammoth task of leading a national network, in this case CHAL, faith is all that one has and needs to go on daily. One cannot tell with certainty what will happen tomorrow. We struggle with political and economic challenges and all I have at my disposal is to believe that the one who has power over the universe, makes the impossible possible and knows what tomorrow holds will indeed provide if and when I make a request.
Therefore, I put myself and the people I work with before Him with everything that we do. As I drive to work in the morning, I praise and worship Him with music in the car and that gives me strength, courage and inspiration to start work. As we pray together and have our morning devotions, there is a feeling of God's Spirit among us and that fills us with a sense of oneness, keeps us grounded and harnesses patience and understanding that we are all called to serve. The public nature of our work requires us to selflessly serve in the best interest of the people.
Was there a turning point in your career or life that shaped your direction leading to where you are now?
While my passion to serve has always been an inspiration to me, it was an experience I had when my mother was deathly ill that inspired me to want to make the greatest impact where I am most needed. My mother was weak, battling illness and in piercing pain, yet she was quietly fighting with everything she had to live. Her only wish and prayer was for God to spare her life just that one time and give her the chance to help her children out of their struggles and care for her elderly mother. When I finally discovered her wish, I realized that there are many like her who are vulnerable, feel helpless, physically, emotionally and psychologically distraught, and yet they are desperate to carry on and be a helping hand to others.
My mother inspired me to put other people first and serve for the good of those who cannot help themselves. Though I felt that I was making a positive change in the lives of youth through teaching and learning, I believed that there was more that I could do. After about four years, there was an opening at CHAL and then I saw the prospect of being part of a helping hand and giving hope to those in despair. Being in a position of leadership and at the helm of decision making processes, CHAL became a platform for me to be a servant of the people of Lesotho and contribute towards change where it is most needed, and touching lives similar to that of my mother when there was little she could do for herself.
What should we strengthen in Christian global health right now?
I feel like we should improve humility as an ingredient for being great servants. It goes without saying that Christians have contributed a lot in health and healing with little resources at their disposal. We need to improve our capacity to govern and manage and to hold ourselves accountable. Therefore, we need to do more and better and we can't do that alone. As the need for partnerships increases and the shift towards augmenting the contribution of Christians and other FBOs in global health picks up momentum, it is important that there is humility to accept our shortcomings, weaknesses and mistakes and as such have the ability to accept support to improve our systems and a willingness to take responsibility and accountability.
You serve as the Vice Chair of the Africa Christian Health Associations Platform. Why is it important for Christian health organizations in Africa to have a platform and to meet regularly through ACHAP?
It's important for information and knowledge sharing, joint advocacy and networking with counterparts and partners. The platform provides the opportunity to advance regional and global health issues, establish priorities and enhance care throughout Africa and beyond.
ACHAP's biennial meeting is at the end of February (February 25-March 1) in Cameroon. How was this year's theme "Re-Igniting Primary Healthcare" developed?
The faith-based health systems, spearheaded by CHAs, are noted for innovation, resource and cost efficiency with assets that can potentially be leveraged to optimize primary health care services, deliver public value, complement national health systems and ultimately work towards Universal Health Care. Therefore, as the world celebrated 40 years of primary health care (PHC) in 2018, ACHAP found it befitting to review its engagement in PHC, identify successes and failures, codify collective learning, and develop innovative models that can be scaled up for improved investments for achieving Universal Health Coverage.
Can you name a book, workshop or training that inspired you and that you recommend to colleagues?
I recommend the book Leading like Madiba: Leadership lessons from Nelson Mandela by Martin Kalungu-Banda. From the first paragraph in the introduction, the author highlights the importance of being a servant, thus the need for leaders to serve. I would like to encourage leaders in health and healing to selflessly endeavor at all times and at all costs to be servants and quote the following sentence from the introductory paragraph of this book: "The whole human race, we could say, desperately needs these outstanding people who really attend to others and are beacons of hope in our search for a world society where justice, fairness, care for the weaker members of our communities and love flourish." The book unleashes some of the key qualities of great leadership needed in our line of work.
---