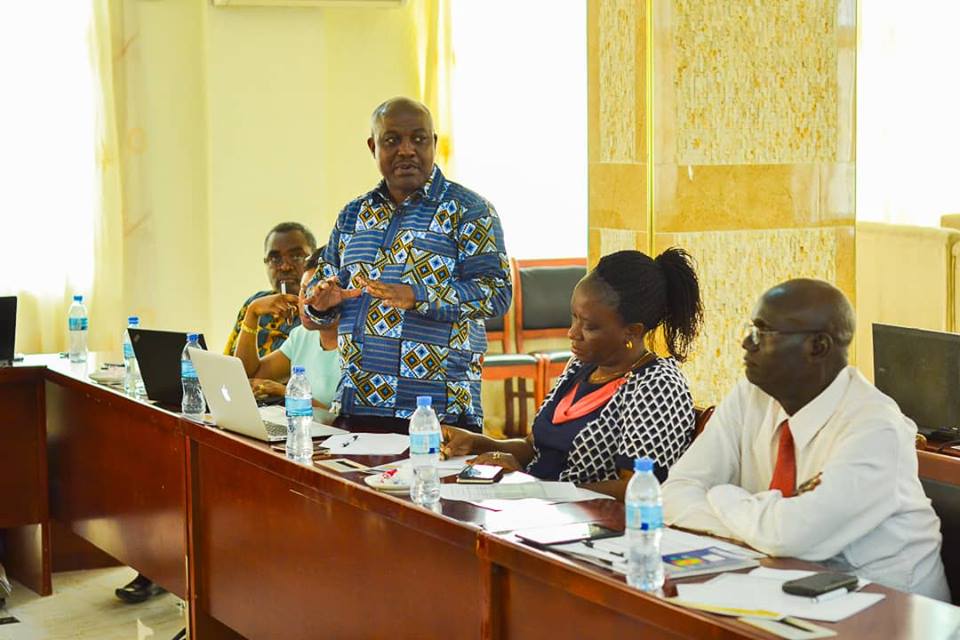 Close Up: Reverend James Mlali, Abundant Life Communications and Broadcasting Network
March 11, 2019
---
This month Reverend James Mlali of the Abundant Life Communications and Broadcasting Network in Tanzania shares his thoughts on Christians in advocacy, the Bible verses that inspire his work in health, and the calling that led to a surprising career change.
Photo: Reverend James Mlali, Abundant Life Communications and Broadcasting Network (standing) at an advocacy meeting ALCBN held with the Regional Health Management Team of Dar es Salaam Region in Tanzania. ALCBN has supported the region in developing its Family Planning Costed Implementation Plan (CIP), which inspired other regions in Tanzania to develop their own CIPs.
Please tell us about what you and your organization do.
Abundant Life Communication and Broadcasting Network (ALCBN) is a Christian organization in Dar es Salaam, Tanzania dedicated to promoting a life of dignity for all. Drawing its name from the words of Jesus Christ in John 10:10b in which He declares: "… came that they may have and enjoy life, and have it in abundance [to the full, till it overflows]." (Amplified Bible), ALCBN works with communities and their leaders in addressing development issues affecting them. We focus on a broad range of areas including health, education, economic development, water and sanitation, and interventions on natural disasters using various approaches including the media.
An example of one of the areas we advocate for is family planning to protect the health of mothers and children. We have champions or advocates that we have trained who go on radio, TV, and who conduct orientation workshops targeting other religious leaders. We have reached audiences of religious leaders from Muslim and Christian faiths in face to face meetings.
In 2016 we trained a group of religious leaders to meet with government officials to advocate for the development of a Costed Implementation Plan (CIP) for family planning for the Dar es Salaam region. We knew that the population in Dar es Salaam region was increasing at twice the rate of the rest of the country, and the rate of family planning use was only half of the national average. Government leaders were surprised and grateful to see religious leaders advocating for family planning but the faith leaders were successful and a draft CIP is in place for the five councils of Dar es Salaam, which has inspired other regions in Tanzania to do the same.
You are a pastor and Bible teacher. What does it mean to you to integrate faith with health?
As a pastor and Bible teacher, integrating faith and health means many things to me: first and foremost, it means applying the Word of God in practical ways in daily life beyond the pulpit and counseling sessions. Secondly, it means approaching life and ministry in a holistic manner whereby I don't make unnecessary distinctions or separations between body and spirit. This is in recognition that while on earth, the two are what makes a living person and that their separation means the end of human existence on earth and the beginning of eternity. For that reason a sick, ailing, malnourished, or unwell body directly affects the spirit within it and such conditions may lead to bodily malfunctions that cause a person to not worship God properly or enjoy life.
Furthermore, preventable ill-health can lead to preventable long term suffering and premature death against the will of God. It is well known that ill-health is a root cause of poverty: healthy people are capable to productively work and build their families, communities, churches, and nations. Ill-health is costly: it can rob people of their hard-earned wealth in efforts to treat illnesses and diseases while limiting their work. Poor health such as malnutrition and stunting impairs brains and bodies, rendering people weak and less productive in their lifetimes. Promotion of good health and the prevention of ill-health are services to God and humanity.
The Bible teaches clearly and plainly that it is God's will that human beings live "… in good health [physically], just as [I know] your soul prospers [spiritually]." (3 John 1:2); that "The Lord will take away from you all sickness; and He will not subject you to any of the harmful diseases …" (Deuteronomy 7:15). In restoring His people spiritually, God promises to give "… health and healing, and … heal them; and … reveal to them an abundance of peace (prosperity, security, stability) and truth." (Jeremiah 33:6). (all quotations from the Amplified Version of the Bible) Therefore, integrating faith with health is an act of faith in itself as well as a step of obedience to God and His Word.
Your faith is obviously connected to your work as a pastor, but how does your Christian faith drive your work as Executive Secretary of ALCBN?
ALCBN is a network that provides a broad platform for me to work and interact with more people. As a pastor, I would be limited to reaching the congregation, and in a limited way, beyond it through evangelism and community engagement. As an Executive Secretary of ALCBN, I am able to work with many more people such as leaders of other FBOs from other denominations and faiths, civil society organizations (CSOs), members of parliament, and government officials on issues that are not fundamentally categorized as faith or religious matters, and donor organizations.
For these reasons as ALCBN works with Christians of other persuasions such as Mainline Protestants, Orthodox and Catholics; Muslims, Jews, Hindus, Buddhists, Secularists, and Ancestral Worshipers and on areas of common interest like health, education, and community development. As Executive Secretary of ALCBN, I interact with leaders of those communities and get the opportunities to learn from each other. My Christian faith drives my work because it teaches me about love, compassion, servant leadership and peaceful co-existence. My Christian faith is the driving force behind all that I plan and do.
Was there a turning point in your career that shaped your direction leading you to where you are now? 
Yes, my initial training and career path was in construction. I was trained in civil (construction) engineering until I graduated from college. However, during my training I felt the call to ministry and went on to study the Bible and Theology at Pan Africa Christian University in Nairobi and became a pastor. As I was serving as a pastor I learned that many people were living in poverty, ill-health, and lacked education and skills. I perceived that the church needed to address those issues through interventions that would reduce those difficulties, in addition to prayer and counseling. I therefore, took a step by joining graduate studies where I learned leadership and management and development studies focusing on social and public policies. Later on I teamed up with other pastors to form ALCBN through which we expanded our scope to include working in social and public spheres.
What is the most satisfying part of your job?
Any change in a policy, program, or budget for a particular service in favor of addressing issues affecting people gives me a lot of joy. As such, advocacy on maternal and child health with specific focus on policies and budgets on family planning on which I have worked for several years, seeing changes in policy issues and budget increases for the services have made me feel fulfilled. I know that these changes will enable women's health and well-being to improve, lives of mothers and children to be saved, girls and women to be empowered, and our nation to accelerate attainment of its development targets. I look forward to seeing poverty declining, health improving, and quality of life for our people getting better. I continue to work in this area with expectations to see more and greater changes.
What is one of your focus areas moving forward?
ALCBN is determined to sustain advocacy for maternal and child health in support of national efforts such as the Maternal Mortality Reduction Campaign named Jiongeze Tuwavushe Salama launched in November 2018; and the National Campaign to Address Teenage Pregnancies launched two years ago during the International Day of the Girl Child on October 11, 2017. Our team is equipped to utilize face to face meetings or workshops, media channels including radio, TVs, and social media. We target various groups such as leaders, men and women, adolescents and young people.
What is one of your biggest challenges?
One of my biggest challenges is mobilizing resources for ALCBN's work. As a young FBO, ALCBN is in need of capacity strengthening for organizational development and program implementation. Efforts to overcome this challenge will enable us to speed up the fulfillment of our vision.
Can you name a book that inspired you and that you recommend to colleagues?
There are several books that have inspired me and that I can recommend to colleagues. However, the one I will choose is Bruchko: The Astonishing true story of a 19-year-old American – his capture by the Motilone Indians and his adventures in Christianizing the Stone Age tribe, an autobiography by Bruce Olson. It is the book that has extraordinarily inspired me and I highly recommend it to anyone.
Where do you think Christians working in global health should be focusing right now?
In my opinion, Christians working in global health should be focusing on social justice in the provision of health services. In particular, it is time to reflect on what has been achieved in the past and who has benefited, and get a clear and fair analysis of those who have been left behind. As Christians driven by compassion to serve the least, we need to bring to the decision makers the fact that the rural and urban poor are systematically and continually being left behind particularly in accessing quality services. They are not left behind solely because they are poor and can not afford services, but because they are not well represented and their needs are not well taken account of. Many of them pay taxes, levies, and various contributions required by governments, community groups, and churches but they do not get back a fare share of the fruits of such dues. Christians need to take a stand for them and lead in realizing the changes needed for them such as improvements in access and quality of services.
---