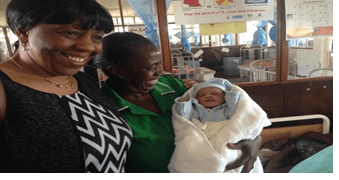 Close Up: Vuyelwa Chitimbire of ZACH
May 16, 2019
---
Mrs. Vuyelwa "Vee" Chitimbire, Executive Director of the Zimbabwe Association of Church-related Hospitals shares her thoughts on how the international community can leverage the strength of the growing church in Africa in health, her journey from the Ministry of Health to leading a Christian Health Association, and why Micah 6:8 guides her leadership style.
Please tell us about ZACH and how the organization fits into Zimbabwe's health care landscape.
ZACH is the Medical Arm of the Church in Zimbabwe. The organization has 135 members, most of whom are found in rural and hard-to-reach areas in all 10 provinces and 63 districts of Zimbabwe. ZACH provides 68% of health care delivery in rural and hard-to-reach areas and 45% nationally based on Bed Capacity. The ZACH membership consist of 78 hospitals, 22 designated District Hospitals and Nurses Training Schools and 35 rural health clinics. In terms of service delivery, ZACH promotes Primary Health Care, using the holistic approach to health and healing, encompassing the principles of equity, quality and accessibility. In terms of leadership and governance, ZACH works under the Zimbabwe Heads of Christian Denominations (ZHOCD) who are the owners of the church health facilities. Our work in ecumenical, observing the principles and doctrines of each denomination while sharing one common vision in Christian health service delivery, which is to serve the poor, vulnerable and marginalized populations in Zimbabwe.
Please explain the structure you work under.
ZHOCD has four General Secretariats representing the Zimbabwe Catholic Bishops Conference (ZCBC), the Zimbabwe Council of Churches (ZCC), the Evangelical Fellowship of Zimbabwe (EFZ) and the Unions for the Development of Apostolic Churches in Zimbabwe Africa (UDACIZA). ZACH also has a constituted Management Board and Board of Trustees.
Our core activities are in the areas of Resource Mobilization, Health Service Delivery, Health Systems Strengthening, Leadership and Governance, Advocacy, Communication, and Gender. ZACH's funding sources are from PEPFAR, the Global Fund, Zimbabwe Ministry of Health and Childcare as well as other partners, supporters and from member dues.
What is ZACH's role? 
As the medical arm of churches in Zimbabwe, ZACH's role is to facilitate the smooth running of all church health facilities in terms of policy guidance, fundraising, recruitment of local and international health professionals, infrastructure development, institutional capacity building, staff development and mentorship as well as to maintain communication with the government. Furthermore, ZACH's role is to advocate for improved conditions at mission hospitals in line with those of government health employees through budgetary, capital investment and salary negotiations. ZACH is a major link between the Church and the Ministry of Health and Child Care, government departments, and other stakeholders in health. ZACH also has seats on a number of Boards, both nationally and regionally, including participating in technical working groups and at task force meetings in the health sector, other relevant stakeholder and NGOs forums.
This is done under the leadership of the Executive Director, whose primary responsibilities include managing the overall operations and resources of the organization, communication between Zimbabwe Heads of Denominations, ZACH boards (Management and Trustee) and being the public face of the organization in dealing in high-level strategic decisions and those that directly affect the organization, including setting the tone, vision, and the culture of the organizations. The key is to make sure that in executing these roles, ZACH's Christian values and principles in health delivery are strictly observed and that the organization remains visible and sustainable.
Did you envision you would be in this role years ago? How did your career path lead you to where you are?
My passion has been mainly in Health Management. However, I also had a keen interest in humanitarian and development work. My journey started as a university student at Aldephi University in New York. After my internship at Free Port Hospital in Long Island, NY, I worked at Church Women United in New York and as a volunteer at the Brooklyn Hospital Center. This is where I was exposed to a lot of health and psycho-social issues of individuals who presented with various health conditions and challenges. This set the tone for my professional career. When I returned to Zimbabwe at the end of 1983, I realized that there was even a greater need to improve and address health issues of Zimbabweans as well as the development of supporting systems. This led me to work with the Ministry of Health as a Senior Health Services Administrator and later to the position of Under Secretary for Planning, Monitoring and Evaluation.
After a number of years in the Ministry of Health, I realized there were major gaps in rural health service delivery which affected poor rural communities. In 2000, I decided to take a job which would bring me closer to these communities in order to appreciate their challenges and to address their needs directly, which was more fulfilling and allowed me to see the final impact on the ground. ZACH was the optimum opportunity for me and through various funding partnerships, ZACH has realized positive results in alleviating suffering and putting smiles on people's faces. ZACH's vision and mission of a healthy society where all have access to sustainable, high quality, holistic health care using an approach encompassing principles of equity, quality and access through the promotion of high standards of care among ZACH member institutions for the benefit of all Zimbabweans keeps me inspired.
How does your faith inspire your work?
Having been raised in a Christian family and environment and being a strong believer in faith and prayer, my greatest inspiration is that faith is from God and everything done in faith gives life, hope and the truth. This helped me to realize that giving a hand to those in need as well as living a righteous life through faith is more gratifying as it bring us closer to godliness. This has grounded me as an individual and brought me to where I am today. Faith has enhanced my leadership skills as the Executive Director, as it has made me value integrity in working with the ZACH Management Board, Heads of Christian Denominations, government, international partners and staff on the ground. It has further helped me to build strong and dedicated teams as well as gave me the ability to interact at global, regional and international levels. Faith is my pillar in Christian health.
Do you have a favorite verse or Bible story that helps you during challenging times as a leader?
Micah 6:8: " Act justly, love mercy and walk humbly." I think this shows what gives us fruitful outcomes and helps us emulate Jesus. As long as one is factual and honest it reduces confrontation and by the end of the day one gains respect among colleagues and in the community. It also helps us to listen and understand the context of the subject matter for good decision making at the same time gaining trust from those around you.
What are the most satisfying and the most challenging parts of your job?
My job keeps me on my toes and super active, which is what I like most. Although we are a small office of 55 people at the head office, we serve a large portion of the national population which is mostly rural, working through ZACH member institutions. The most satisfying part of my job is that, as a Christian organization, we work within communities and this builds trust when implementing programs on the ground. We have gained the trust of local religious communities who are core in our developmental work. I have interacted with people on all levels in my travels and at home who have been my mentors and have had a positive impact in both my working and personal life.
The most challenging part of my job is keeping abreast of economic, political and dynamic health trends. Health is a very unpredictable sector, as health challenges never cease. The other challenge is to manage the big business network of institutions an d partnerships. I have always told people that that CEOs or Executive Directors are like sitting ducks: when there is chaos one needs to appear to be calm. My experiences in the health industry over the years working in both the private sector and government has shown me the ropes of dealing with diverse environments.
How have partnerships you have developed through the CCIH network helped you and ZACH?
Partnerships developed through CCIH and other platforms have helped me to meet people from all parts of the world and also made me a country and global ambassador in promoting health, humanity and development under the name of the Church, including building stronger relationships with CHAs and individuals in sharing our common cause. Through partnerships, some issues of the ZACH strategic framework are also being addressed, especially issues of technical assistance, financial systems, advocacy, stakeholder management and client and patient management.
What do you see on the horizon for Christians working in global health? Especially in Africa?
Africa is known for being a "home" to a myriad of diseases and epidemics, due to poor economies and high levels of poverty. In times of hardship and suffering people tend to turn to the church for solace and support. Hence, in Africa and even the greater part of the world, there is phenomenal growth of churches with people coming in, seeking various interventions to alleviate their suffering and woes. The role of Christian work in global health thus becomes paramount in addressing the SDGs particularly in rural settings.
Historically churches have had a strong voice and influence with governments. There is a need for high level dialogue in the Church structures to clearly define the role of the church in the health sector. Most CHAs provide on the average about 45% of health care, complementing Ministries of Health. This calls for stronger dialogue and planning for health among partners, the Church and Ministries of Health. The Ministries of Health should create platforms for interaction with churches, and on a global level, churches should work together with WHO, UN Agencies and PEPFAR. It is important therefore that before this dialogue takes place, Church Health Associations have the capacity to strengthen their systems and to be able to play an advisory role to the church leadership in their respective countries.
In above photo: Mrs. Vee Chitibire of ZACH (left) shown at the Makonde Hospital welcoming a baby born at the hospital that day.
---