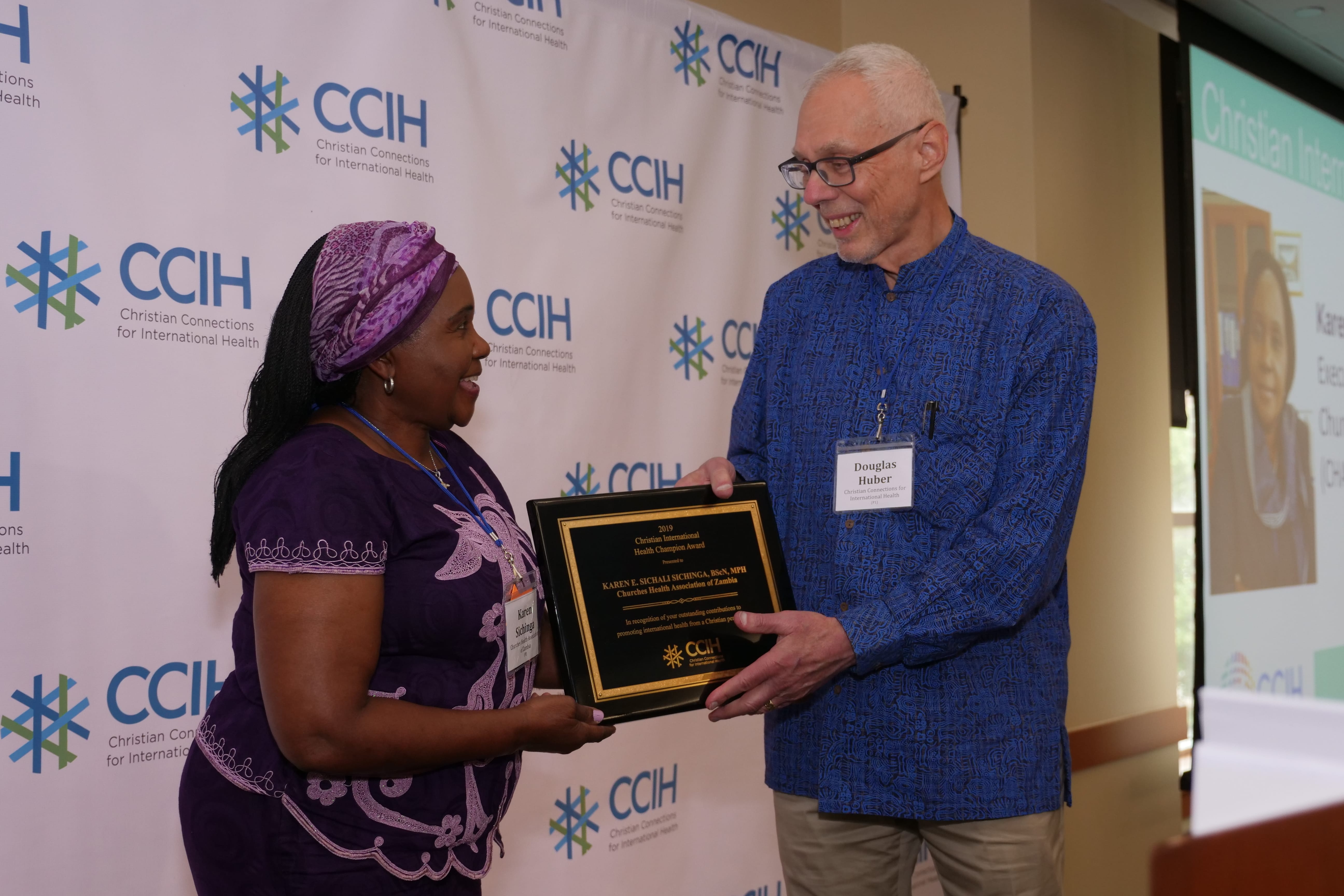 Karen Sichinga Receives 2019 CCIH Christian International Health Champion Award
July 5, 2019
---
Mrs. Karen Sichali Sichinga, MSN, MPH received the 2019 CCIH Christian International Health Champion award on June 7, 2019. The award honors an individual who has dedicated his/her life to global health from a Christian perspective and has made significant contributions to the field and to CCIH.
Mrs. Sichinga is Executive Director of the Churches Health Association of Zambia (CHAZ), a position she has held for ten years. CHAZ's network of church-run hospitals and rural health centers are responsible for 30 percent of health care in Zambia and over 50 percent in the rural areas. During Mrs. Sichinga's tenure, CHAZ has had an unbroken record of Global Fund Principal Recipient status in Zambia and gained the reputation as a leading health NGO in Zambia, securing government and donor confidence.
Mrs. Sichinga's leadership style includes mentoring and building teams while ensuring efficient use of resources and accountability. She is a graduate of both the University of Alberta (Canada) and the University of Leeds (England). She holds a Master's degree in Public Health and has spent the last 27 years in that field. Mrs. Sichinga has contributed to a number of studies and publications on public health over the years. She is a member of Zambia's Medical Stores Limited's Board of Directors, the General Nursing Council of Zambia's Board of Directors, the National Health Insurance Authority Board and is a Council Member of the Levy Mwanawasa Medical University. She also serves on the Ecumenical HIV and AIDS Strategy Group of the World Council of Churches based in Geneva and has served as the Board Chairperson of the Africa Christian Health Associations Platform (ACHAP).
Dr. Douglas Huber, who was awarded as the first Christian International Health Champion in 2014, presented the award to Mrs. Sichinga at the conference.  (Above photo. Credit Javier Pierrend.)
---