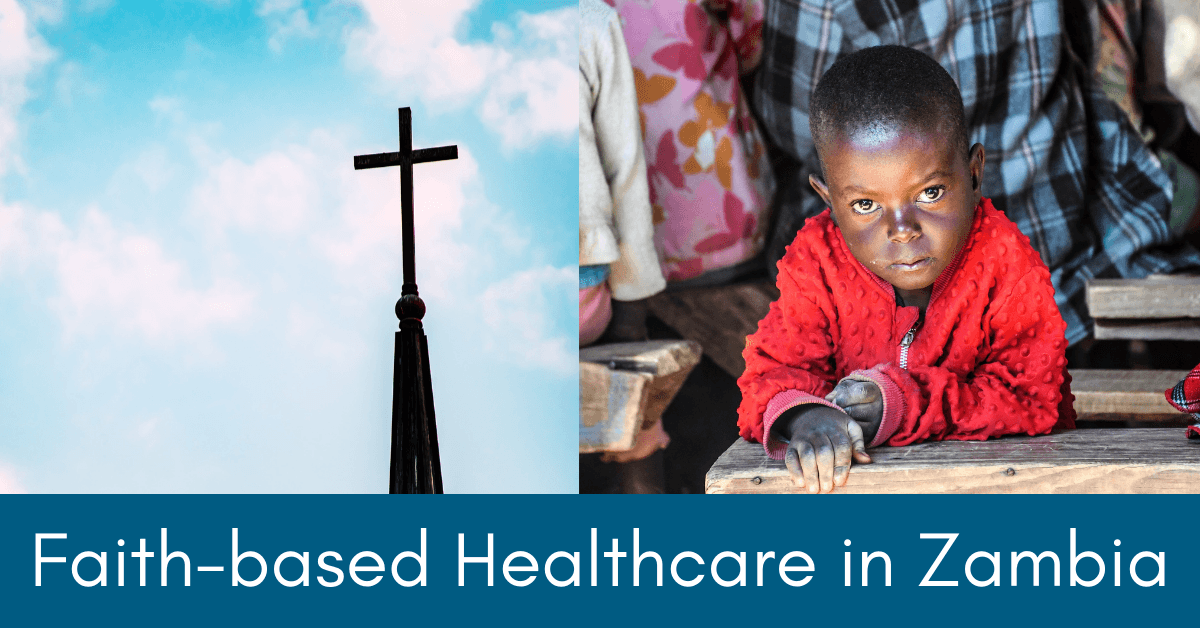 Country Spotlight Series, Featured, Health Systems Strengthening
Faith-Based Organizations Providing Health Care in Zambia
July 29, 2021
---
Faith-based organizations (FBO) play a significant role in providing healthcare in Zambia. This spotlight features a few FBOs, including the Churches Health Association of Zambia, Catholic Medical Mission Board (CMMB Zambia), and World Renew Zambia, and their work in family planning, immunization, nutrition, WASH, and overall health systems strengthening.
ZAMBIA COUNTRY PROFILE
Country Population: 17,861,030 in 2019 Source: World Bank
Life Expectancy: 64 in 2019 Source: World Bank
Gross Domestic Product Per Capita: $1,305 in 2019 Source: World Bank
Maternal Mortality Ratio
213 deaths per 100,000 live births in 2017. Source: World Bank
Under 5 Child Survival
61.7 children out of 1000 live births die before their 5th birthday as of 2019. Source: World Bank
Skilled Attendance at Birth
80% of births were attended by a skilled provider. Source: 2018 Zambia Demographic Health Survey
Child Nutrition
Featured Faith-based Organizations: CHAZ, CMMB and World Renew
**
The Churches Health Association of Zambia (CHAZ) was formed in 1970 by Catholic and Protestant Christian missionary health workers from 16 church mother bodies. The main purpose of establishing CHAZ was to improve the overall organizational effectiveness of Church Health Institutions (CHIs) and faith-based community-based organizations (CBOs) involved in health service delivery in Zambia.
CHAZ has 157 CHIs: 36 Hospitals (11 of which have training schools), 89 Rural Health Centers (RHCs) and 32 CBOs. All these health facilities account for 40% of the total national health care and more than 50% of rural health care services. Most of these health institutions are in rural and hard-to-reach areas and are in all the 10 administrative provinces of Zambia serving the poor and the underserved.
Since 1965, Catholic Medical Mission Board (CMMB) has worked with provincial and district health offices of the Ministry of Health in all 10 Zambian provinces and enjoys a close relationship with the Zambian Episcopal Conference and CHAZ. CMBB has been working to deliver the best possible health solutions to women and children in need with dignity, respect, and love, in Zambia.
World Renew has been operating in Zambia since 1990. Its outreach programs focus on the long-term chronic needs of the most impoverished Zambian people. A large focus of the work is improving the agricultural and health skills of those that struggle to grow enough food to feed themselves and find basic access to health care.
Contributions in Health Systems Strengthening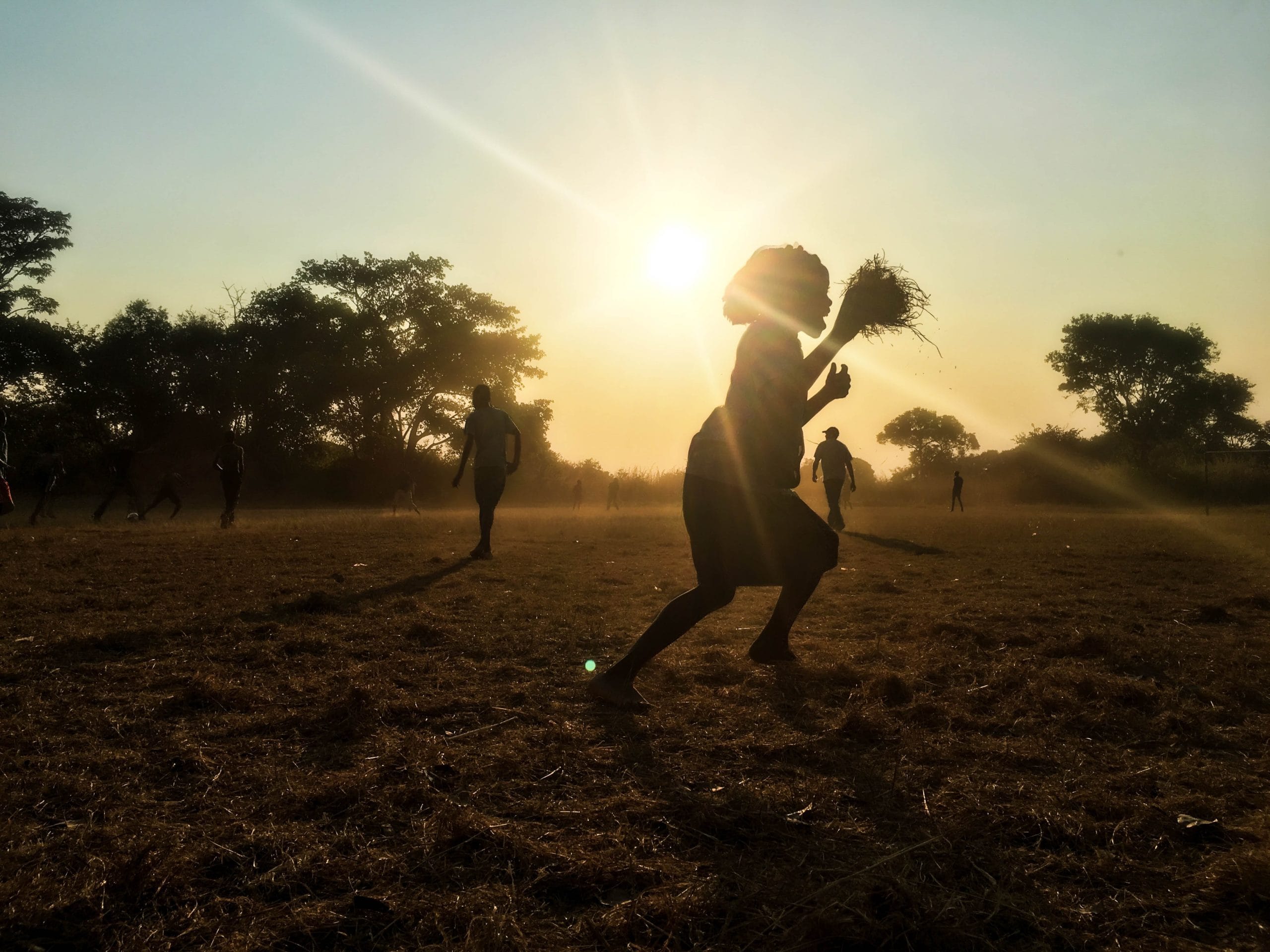 Bringing Care to Remote Communities
Many people in rural areas travel long distances to access health care, which can deter them from accessing health services. To address this challenge, World Renew Zambia, together with the Ministry of Health, established a system called "Drug Box," that is primarily operated by trained community health volunteers.
Each selected community has a health volunteer who manages the Drug Box, which has essential medicines to treat basic health conditions, which helps community members avoid traveling long distances for health care. If the health case is serious, patients are referred to a health facility for further treatment. In addition, the Drug Box program helps to regulate the flow of people at health facilities that are mostly understaffed, allowing clinic staff to focus on patients with more severe health cases.
Supporting and Expanding Clinic Staff
Similarly, Catholic Medical Mission Board (CMMB) is addressing clinic staff shortage by providing selected health facilities with paid Health Assistants who assist with daily clinical tasks such as data collection and auditing, screening children for malnutrition, and antenatal clinic support. Community Health Assistants are also trained to manage and treat basic health conditions like malaria and diarrhea. According to Mr. Songiso Hamusonde, Associate Director of CMMB, this approach of providing Health Assistants to health facilities that are understaffed has worked so well, it has attracted the attention of the Ministry of Health, which hopes to pilot the program in other districts.
In Zambia's Mwandi District, CMMB trains neighborhood health committees on social accountability at the facility level, and in maternal, newborn, and child health, nutrition, and sanitation. CMMB also provided selected health facilities with computer tablets for clinical data collection and storage. These tablets are a step towards digitizing clinical data instead of using notebooks.
In addition, CMMB provides health facilities with transportation, which enables them to pick up health commodities from the Ministry of Health. CMMB operates a medical donation program that provides medical supplies to health facilities. The organization conducted an assessment and noticed gaps in equipment and commodities at health facilities; as a result of these findings CMMB purchased medical equipment and other medical supplies for health facilities in the Mwandi district.
Family Planning Contributions
In 2018, CHAZ conducted a Religious Leaders Family Planning Training in Lusaka. This training oriented Religious Leaders on advocacy for Scaling Up Family Planning. During the training, CHAZ made a call for churches to reaffirm their commitments to talk about family planning through the church structures and engage congregants to discuss family planning in all settings. In addition, religious leaders were encouraged to discuss family planning with a focus on adolescents in their various settings as this will help reduce the number of teens having early pregnancies.
Improving Immunization Coverage
CMMB mobilizes health workers and volunteers to provide vaccine education and door-to-door services in various communities. During mass immunizations and child health weeks, CMMB supports health facilities with logistical planning and provides fuel, bicycles, and motorcycles so that community health volunteers can provide vaccine services in hard-to-reach areas.
Engaging Men in Vaccine Activities
CMMB set up a "Men Approach" program at health facilities to encourage men to participate in maternal, newborn and child health activities, including immunization of children. According to Mr. Songiso Hamusonde of CMMB, "We want men to bring their children to the clinic for vaccination, not just women. "
CMMB has also succeeded in engaging the Barotse royal leaders (leaders of a regional cultural and ethnic group) as partners in its effort to promote vaccination of children in some communities. According to Mr. Songiso Hamusonde, "Since these leaders are influential, it is important to leverage their support to ensure that more children are vaccinated, and communities are reached with vaccine health messages." CMMB also trains neighborhood health committees at health centers to promote vaccination of children in communities.
Challenges in Vaccine Coverage
CMMB has faced a challenge with children who are not receiving enough doses of vaccines. CMMB identified the cause as long distance to the clinic, which discourages parents from bringing their children to the clinic. To address this challenge, CMMB conducts a mobile immunization clinic in areas that are far from health facilities to promote universal child immunization.
The second issue is shortage of vaccine cards for children. According to Mr. Songiso Hamusonde, "At times we have mothers with vaccinated children but have no records due to lack of vaccine cards." As a result, some women do not vaccinate their children, because they do not have cards.
Nutrition
Women and children are disproportionately affected by poverty and many times, do not have the means of supporting themselves. CMMB is currently managing a Children and Mothers Partnerships program (CHAMPS) program aimed at promoting good health and wellbeing of mothers and children. The CHAMPS project addresses nutrition issues among mothers and children.
CMMB also manages a nutrition project funded by the Spoon-Feeding Foundation and the Zambia Community Development and Social Services division, aimed at addressing the nutritional needs and issues of disabled and vulnerable children. Health caretakers are trained on proper feeding practices for the malnourished children.
The second program is a Persons Scheme project that involves the rearing of livestock such as goats, to empower communities financially so that they can fulfill their nutritional needs at the household level. CMMB also supplies Districts with Vitamin A through its partnership with Vitamin Angels organization. In addition, it conducts PD Heart trainings in communities to help community health volunteers and workers identify malnourished children and rehabilitate them using locally available foods.
World Renew is scaling up nutrition through education, particularly focusing on the first 1000 days of a child's life. The organization works with partner organizations in integrated food and nutrition security projects aimed at diversifying the foods that farmers grow. The integrated food and nutrition security projects also include gender education, economic empowerment through village savings groups, increased access to financial loans, and mainstreaming of biblical truths. The integrated projects are being implemented in Eastern Province with Reformed Church of Zambia in Vubwi and Chadiza District working with 800 households, and Church of Central Africa Presbyterian (CCAP) Zambia Synod in Lundazi, Lumezi and Chasefu District working with about 3,000 households.
Through Canadian Food Grains Bank (CFGB), the United Church of Canada helps support World Renew's drought response project in Zambia. Working with the United Church of Zambia, a World Renew and UCC partner, this project is addressing local challenges of undernutrition and poverty for the people of the west Zambia province of Mwandi. In May 2019, World Renew, partnering with the United Church of Zambia and the Canadian Food Grains Bank, initiated a five-month food assistance project for 2,000 households in 10 communities in the western Mwandi District. The intervention brought 81% of the 2,000 families to an acceptable food consumption level. Moving into the recovery period, World Renew and UCZ are developing a five-year grant on an integrated five-year project, likely to start in the second half of 2021.
Water, Sanitation, Hygiene (WASH)
CMMB and its working partners have drilled boreholes and wells for communities to increase access to water. CMBB has also conducted school-led sanitation activities to prevent diarrhea in schools. In partnership with Proctor and Gamble, CMMB distributed chlorine to communities without access to safe drinking water. In addition, CMMB has health workers and volunteers who provide health education on water and sanitation in various communities and help communities to construct handwashing stations.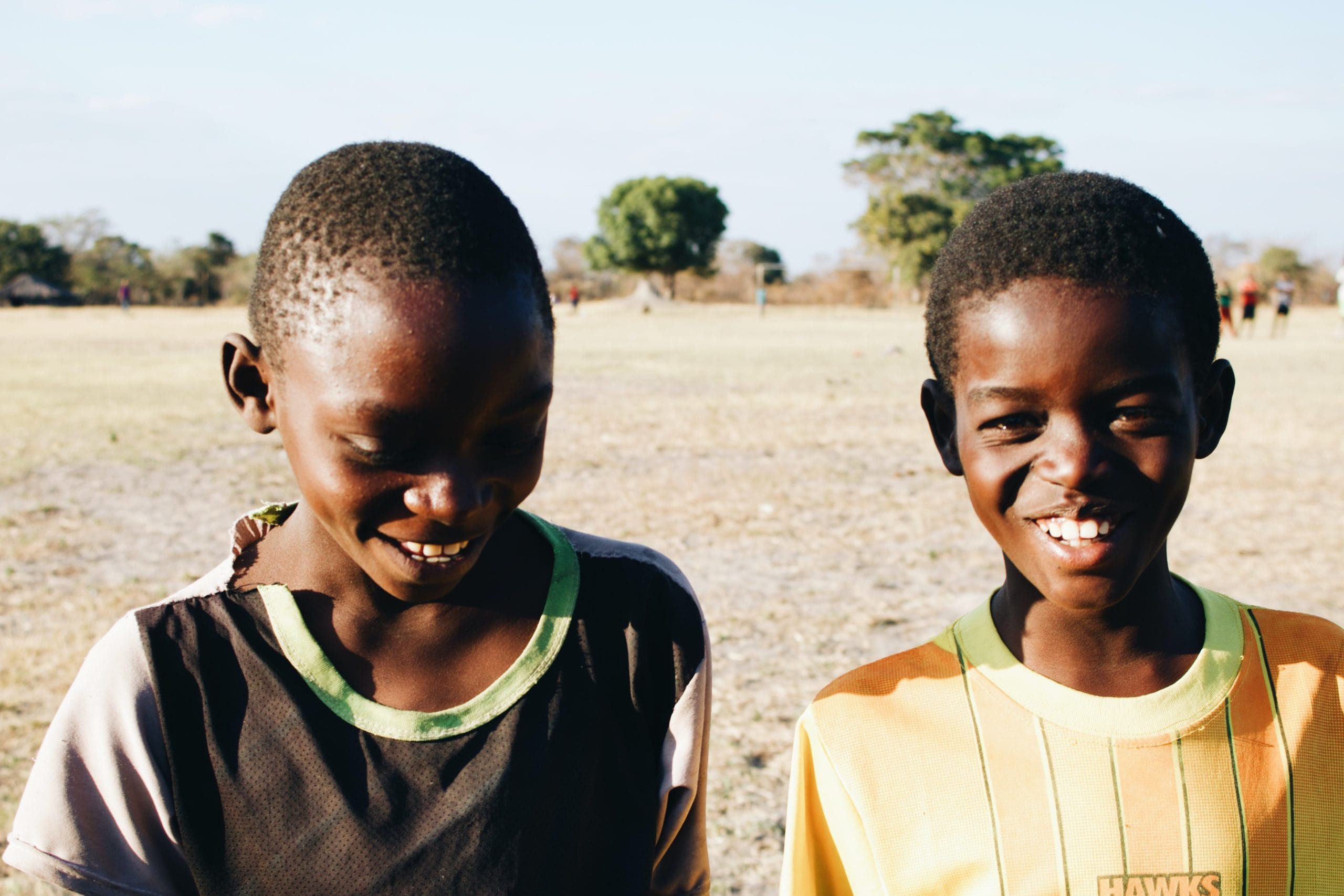 Advocacy and Policy Work
CMMB partnered with World Vision to address gender-based violence and advocate for women rights in the northern part of Zambia. CMMB also partnered with UNICEF and Zambia's Community Development Division to promote child protection and safeguarding. In partnership with the Zambia Ministry of Health, CMMB led efforts in the development of a manual on child protection.
CMMB presented nutrition issues affecting the rural population to the Zambia Parliament, advocating for more support for the population's nutritional needs.
Malaria Elimination
In 2018, CHAZ purchased and handed over 3,797 bicycles to the National Malaria Elimination Centre (NMEC) through the Zambia Ministry of Health for distribution to Community Health Workers (CHWs) trained in Integrated Community Case Management (ICCM). These bicycles will help community health workers who cover long distances to reach the rural population with health care services. More importantly, the bicycles would aid in efforts to eliminate Malaria. Since 2015, CHAZ has trained over 10,000 CHW in ICCM at country level with the support from the Global Fund.
COVID-19 Response
World Renew is working in collaboration with the United Church of Zambia, which operates three hospitals and several other health centers, to equip frontline healthcare workers with personal protective equipment, and steps are being taken to prevent the spread of this pandemic.
Sustainability of FBOs in Communities
As faith-based organizations continue to reach many people with health services, one thing that is always at the center of their work is sustainability. Implementing sustainable and impactful projects is not an easy task, and it often requires the expertise and involvement of various stakeholders, including community members.
According to Mr. Songiso Hamusonde of CMMB, "Every work project that we do starts with the community and we involve our local partners, including the Ministry of Health." He further says that by involving the government in projects, it is the realization that "our work should not overtake the responsibility of the government to address the needs of its citizens. We don't work alone but as partners."
The CCIH Country Spotlight Series features Christian health services in a number of countries, including those provided through facilities, communities and churches. The aim is to help identify Christian health organizations and highlight key partnerships and initiatives that improve health for those in need. These publications are illustrative and will not represent or reflect the entirety of important Christian contributions to the design and delivery of health services.
CCIH Intern Patience Mhlanga, MPH conducted research and writing for this report.
---