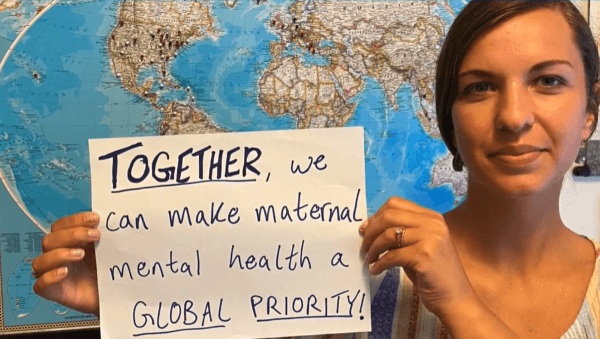 Maternal and Child Health, Mental Heath
Giving Voice to the Silent Burden: Maternal Mental Health Technical Consultation
October 8, 2021
---
by Karen Hoehn, MPM, Director, Bonstar SRL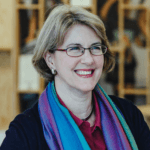 As Julian Eaton so eloquently described on this blog site in July, we all have experienced or witnessed mental suffering in ourselves, our families, our congregations and wider communities at one time or another. Sadly, mental health falls far behind physical health in attention, funding, and action. When it comes to mental health, the health system treatment gap is estimated at nearly 90 percent, according to the World Health Organization MhGAP Operations Manual.
Research shows that women are particularly vulnerable to mental disorders either during or shortly after pregnancy. Common perinatal mental disorders (CPMDs), such as depression and anxiety, cause great suffering and have lasting consequences for the women themselves, their children and their families.
Mental illness increases risk of preterm birth and preeclampsia, and it may be responsible for 20 percent of post-natal maternal death (by suicide) as revealed in the USAID MOMENTUM Country and Global Leadership Landscape Analysis Brief. This brief provides an excellent overview of the research on this topic. Perinatal mental health conditions also are associated with adverse physical, emotional, and neurological development in newborns and children.
Unsurprisingly, the study found that the COVID-19 pandemic has made things worse, with up to 58 percent higher rates of depression and up to 72 percent higher rates of anxiety among pregnant women than before the pandemic.
What Affects Maternal Mental Health?
This year, USAID's MOMENTUM Country and Global Leadership conducted a global landscape analysis focused on maternal mental health. Overall, the landscape analysis found many factors adversely affecting maternal mental health, including gender inequality; poor socioeconomic, political, and policy contexts; pregnancy in adolescence; poverty; food insecurity; disrespect and abuse at the hands of health care providers; obstetric trauma; poor social support from family and friends and social isolation; and spousal discord and intimate partner violence.
Factors that help protect maternal mental health look much like the absence or opposite of those listed above. Such factors are difficult, but not impossible to address! Fortunately, positive, supportive faith-based interventions, including culturally appropriate, holistic approaches to healthcare, can play an important role in protecting maternal mental health. People of faith and faith communities can provide significant social support to help protect the mental health of those in their communities.
CCIH supported the MOMENTUM Country and Global Leadership landscape study by conducting a literature review and key informant interviews (KII) to better understand the nature and extent of faith-based engagement in maternal mental health. Literature review included 40+ formal and informal documents found to meet search criteria. KIIs included multi-national (5), India (3), Kenya (3), Malawi (2), Ghana (1), Liberia (1) and Nigeria (1). Of those, 12 were Christian, 2 Muslim and 2 non-affiliated. Results from all evidence collected was synthesized into this PowerPoint, available in English and French/Français.
Faith Leaders As Influencers
This study found that faith leaders and FBOs are well-positioned to make a meaningful difference in maternal mental health outcomes. They have the trust and respect of their communities. They have extensive community outreach with structures which can facilitate training and dissemination. They provide a notable share of healthcare information, services and supplies. They attend to the spiritual wellness of their people, which places their values and language within the sphere of emotional well-being. Faith leaders and communities, often in partnership with other groups and health facilities, can provide the social and community support which is essential to mental health and well-being.
While harmful practices sometimes masquerade as faith-related and/or are perpetuated by religious leaders, having a supportive faith community provides valuable protection for women experiencing maternal mental health challenges. Study participants (interviewees) indicated that by providing a nurturing and supportive community, including peer support, faith communities can reduce the likelihood of women having a mental health issue and increase the likelihood that those affected will recover. To do this effectively, interviewees reported that faith communities need training on, and funding for, their work on maternal mental health. With sufficient resources to properly address women's clinical, spiritual and emotional well-being in a culturally relatable way, faith communities can have an even greater impact on the well-being of women and families than they currently do.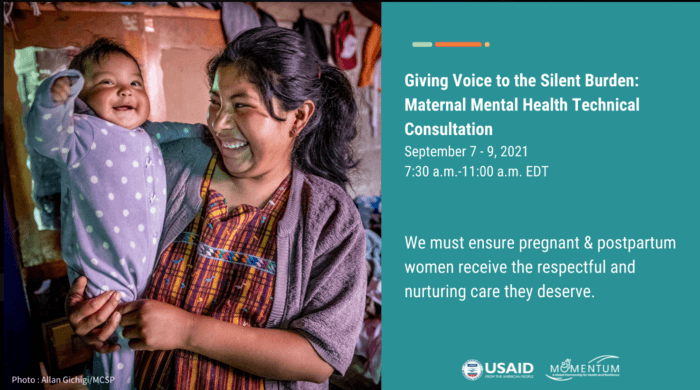 Technical Consultation Highlights Key Learnings from Across the Globe
Following the landscape analysis, MOMENTUM Country and Global Leadership organized a global technical consultation to collaborate, suggest and inform a pathway to assist pregnant and postpartum women in receiving the respectful and nurturing care they need and deserve. It was hosted by USAID's MOMENTUM Country and Global Leadership, in collaboration with World Health Organization and United Nations Population Fund, and facilitated by global and country level MNH experts.
The three-day consultation, called "Giving Voice to the Silent Burden," brought together 900 colleagues from 98 countries and more than 90 speakers from across the globe to discuss evidence relating to maternal mental health; analyze effective implementation and scale-up approaches; foster inter-sectoral collaboration for better gender-transformative, person-centered care; identify opportunities to integrate maternal mental health across the continuum of care; and identify next steps for global stakeholders to advance maternal mental health efforts.
The Consultation showcased a great deal of global knowledge about how to improve maternal mental health. Speakers came from every continent and showed how maternal mental health leadership ranges from global guidance, through the World Health Organization's Mental Health Action Plan, to local, civil-society actors, including faith-based organizations, to women who have lived with mental health conditions.
Some themes emerged as common threads throughout the conference:
Mental health conditions are complex and significantly influenced by the broader context in which women live during pregnancy and after childbirth.
Appropriate, supportive services around the world are very often underfunded, insufficient, unavailable, and sometimes actively harmful for women experiencing emotional and mental distress during the perinatal period.
Stigma against mental health is highly prevalent worldwide, and this includes among government officials, decision makers, and healthcare providers working in formal health facilities and health systems.
Mental health interventions cannot be copied and pasted from high-income countries to low- and middle-income countries. They require careful contextualization, because symptoms do not present the same way in all contexts, and it is far too easy to cause harm in a highly stigmatized environment if interventions are not local and relatable.
CCIH, World Vision and Catholic Relief Services (CRS) were present and active in the consultation. Mona Bormet, CCIH Program Director, is part of the Faith-based Engagement Team for MOMENTUM Country and Global Leadership. Ms. Bormet facilitated an excellent session on The Role of Community and Civil Society Organizations in MMH Care that aimed to increase awareness of implementation strategies targeting care for common perinatal mental disorders through the lens of community and faith-based partners. The session provided insight into:
how teaching mood regulation skills to women, integrated with parenting and childhood development, can reduce the onset of major depressive episodes;
how to promote maternal mental health using peers in low-resource settings;
using mobile phones to create peer support networks to address exacerbating factors in the social context that may lead to depression and anxiety.
CRS Integrated Mothers and Babies Course
Tobias Opiyo of Catholic Relief Services (CRS), presented the CRS model to integrate maternal mental health in health programs. The CRS Integrated Mothers and Babies Course is a postpartum depression prevention model that uses group sessions with pregnant and postnatal women based on the principles of cognitive behavioral therapy and attachment theory. Implemented in Kenya, Tanzania, Ghana and Zimbabwe, it aims to increase women's knowledge and skills to identify and manage daily stressors effectively and to decrease the risk of depression. While studies of the model have shown limited effects overall, the studies do reveal a promising reduction in depressive symptoms among some women (primarily among those who participated in the program at higher levels of attendance), who had a lower education status, who had four or more children and who had not experienced intimate partner violence. Scale-up plans in Malawi, Rwanda and Zambia will find ways to address the challenges associated with literacy among participants.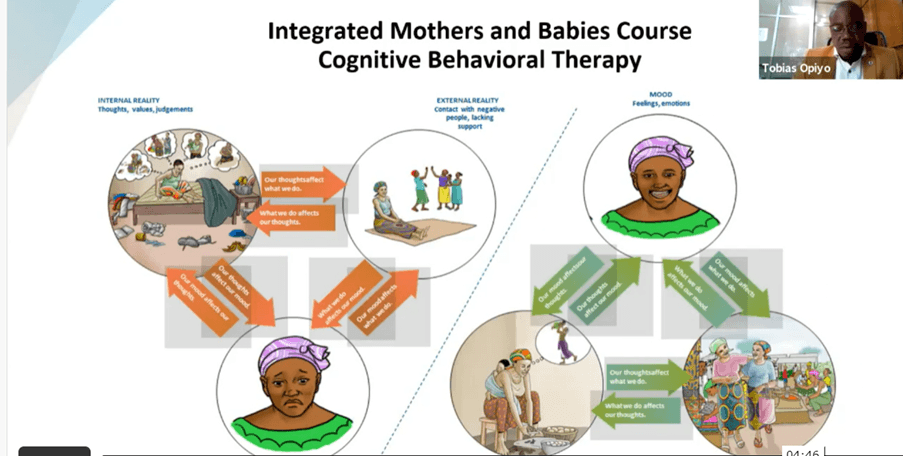 "Go Baby Go" Enhances Postnatal Stage
The WHO Thinking Healthy program has proven, through large clinical trials, to reduce perinatal depression at a very low cost. Phiona Koyiet, Senior Technical Advisor in Mental Health and Psychosocial Support, World Vision spoke highly of the WHO's Thinking Healthy program. She reminded participants that mental health approaches in low-resource settings need to respond not only to the "clinical" presentation of maternal mental health, but also to the broader conditions that contribute to it, such as poverty and violence.
World Vision has a program called "Go Baby Go" that supports mothers within the first 1000 days after childbirth by identifying practical points of intervention that go a long way in enhancing the lives of mothers and their children. Ms. Koyiet reminded us that while clinical interventions are good, the common unpaid burdens of women, including household maintenance and family care, do not stop when a woman gets pregnant. She cautioned "first, do no harm" to those who would like to expand access to maternal mental health care by piling additional work on already overburdened and underpaid community health workers. Many of these community health workers (CHWs) are themselves mothers and vulnerable to the same social and psychological stressors that are the focus of maternal mental health interventions.
Making Maternal Mental Health a Global Priority
Increased efforts to improve maternal mental health around the world are sorely needed. More investment is needed – in research, personnel, training and systems development as well as increased funding for maternal mental health services themselves. CCIH's work as part of MOMENTUM Country and Global Leadership can help boost the visibility of what faith communities and churches are already doing to support maternal mental health, and may strengthen global commitment to further investment so faith communities can make an even greater impact.
CCIH members who are interested in getting involved in highlighting the role of faith actors and encouraging their involvement in maternal mental health, can consider joining CCIH's Working Group on the Health of Women & Children. Learn more here. If you are not a CCIH member, learn more about membership.
Helpful Resources:
To watch the USAID MOMENTUM consultation recordings, visit here. Registration may be required.
AlignMNH Knowledge Hub has curated resources on MMH
For more information about the work of faith-based organizations in mental health, visit CCIH's Mental Health resources
CBM Global Good Practice Guides: The guides focus on Peer-Support, Community Mental Health Forums, Stigma and Awareness Raising, Mental Health System Strengthening, and Neglected Tropical Diseases and Mental Wellbeing.
About the Author: Based in Brussels, Belgium, Karen Hoehn is the author of the CCIH study of faith actor engagement in maternal mental health. Karen is a consultant who helps non-profits (NGOs), foundations and multilaterals improve health and reduce poverty around the world. With lifelong roots in faith, mental health and reproductive health, she is Director of the consulting firm Bonstar, SRL, and a founder of the Faith to Action Network, which CCIH helped establish in 2010.
---