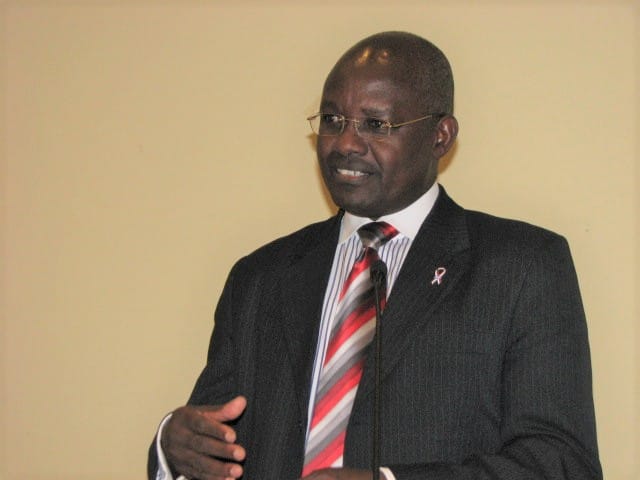 Honoring Dr. Peter Okaalet: A Faith-Inspired Global Health Hero
February 17, 2022
---
"Most of the mission-based hospitals are in the rural areas where governments cannot reach. Where the road for the four-wheel-drive stops, the pastor gets on his bicycle. Where the bike path stops, the pastor lays it aside and goes on foot." – Dr. Peter Okaalet

Dr. Peter Okaalet passed away in Kenya on February 5, 2022. He was diagnosed with cancer in 2017, responded well to treatment, and the cancer went into remission until it returned in 2021. Many in the CCIH community will remember him as an expert and guiding voice in faith-based global health, especially on effective leadership and governance for faith actors.
He was honored outside of faith communities as well. TIME magazine named Dr. Okaalet a "Global Health Hero" in 2005, referring to him as a Bridge Builder for the way he worked to "bridge the gap" between clergy and physicians on health topics, particularly HIV/AIDS. Dr. Okaalet was already a physician in the late 1980s when he decided to go to seminary, and work to redefine the response of faith leaders and congregations to AIDS. At that time he had lost three brothers to AIDS.
"People forget that churches also have hospitals in Africa," Dr. Okaalet told TIME in 2005, explaining why he thought the role of churches in HIV was so crucial. "Most of the mission-based hospitals are in the rural areas where governments cannot reach. Where the road for the four-wheel-drive stops, the pastor gets on his bicycle. Where the bike path stops, the pastor lays it aside and goes on foot." Dr. Okaalet told TIME that educating pastors on HIV so they can provide accurate information was so important because "the messenger is as important as the message."
Inspired by the need to bridge the gap between the medical and religious communities, Dr. Okaalet published a book in 2009 titled "Bridge Builder: Uniting Faith and Science Towards an AIDS-Free Generation." In the book he drew on his experience caring for HIV/AIDS patients and the problems he saw caused by society's response and stigmatization of those infected.
Dr. Okaalet shared his passion for advocacy with CCIH and spoke about Christian work in HIV/AIDS – including the integration of HIV services and family planning – in a congressional briefing co-sponsored by CCIH in commemoration of World AIDS Day on December 1, 2011. (Above photo is from the 2011 briefing.)
After the briefing, he shared his thoughts on advocacy, saying: "Advocacy is a two-pronged affair. First, it is "in-reach" to our own communities and constituencies, be they congregations, churches, and institutions. Secondly, advocacy is "out-reach" to the powers that be, policy makers and opinion influencers. It is also "out-reach" to other communities, religions, nations and institutions. Ultimately, advocacy is about "speaking up and out" together with and on behalf of the groups that we usually describe as voiceless. In my view, we all have voices. It is just that some people's voices tend to be ignored, irrespective of how much and how loud they shout."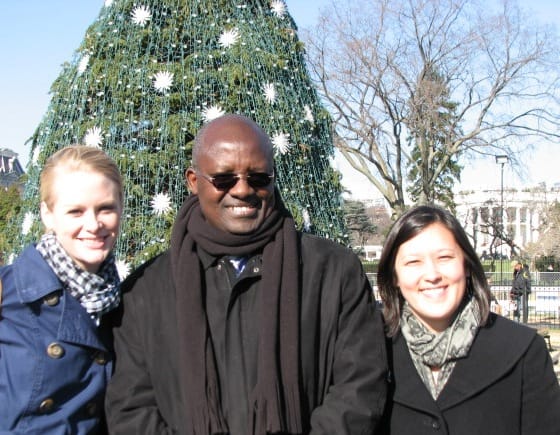 Mona Bormet, CCIH Program Director worked with Dr. Okaalet on the Capitol Hill briefing and CCIH advocacy. "Dr. Okaalet was a kind, compassionate, passionate advocate and mentor," she said. "I am grateful to have learned from him many times and I am thankful his legacy will live on through the many lives he impacted."
In more recent times, Dr. Okaalet served with SIM International, as Kenya Country Director, beginning in 2019. As recently as November 2021, he communicated with supporters about his work and his ongoing cancer treatment, expressing the joy he found in service as well as sharing his hope.
Dr. Okaalet was involved in launching SIM International's "COVID Equip" in 2020 in Kenya as the pilot site. The program was designed to train pastors, chaplains and Christian community leaders on COVID-19 and how to lead a gospel-shaped church response at the community level. "With his passion for church-community engagement around significant health issues, he [Peter] personally oversaw the work of the COVID Equip implementation team as it trained 225 clergy and lay leaders from 33 of Kenya's 47 counties, plus 18 others from three countries outside of Kenya," said Dr. Bob Carter, a missionary doctor and SIM colleague. "The lessons learned in Kenya are now being applied as the program is being reproduced in other SIM country fields in Africa and in Southeast Asia."
Before going to work for SIM Kenya, Dr. Okaalet ran his own consulting firm, Okaalet & Associates, based in Nairobi for nearly 10 years. The firm focused on leadership development, premarital and marital counseling, and HIV prevention.
Dr. Okaalet served at MAP International from 1996 to 2011 in various roles, including five years as Senior Director for Health, HIV and AIDS Policy. As part of his effort to redefine the church's response to HIV/AIDS, he conducted seminars in Kenya and other countries and helped establish master's degree programs in pastoral care and HIV/AIDS at seminaries and Bible colleges in eastern and southern Africa.
"Hope and I had known Peter for close to 35 years, ever since he was serving as a medical officer in Tororo, Uganda – which was before he began to pursue his theological degrees," said Dr. Carter. "He was a humble and compassionate man who was wholeheartedly committed to Jesus Christ. He was passionate about people, about his family, about the church, and about the redemptive and healing power of the Kingdom of God. He poured himself 100 percent into all that he felt God calling him to, and exemplified excellence in all things. SIM is mourning the loss of a leader; but Hope and I are mourning the loss of a friend."
Watch a recording of a memorial service for Dr. Okaalet held February 11, 2022 in Nairobi, Kenya.
---