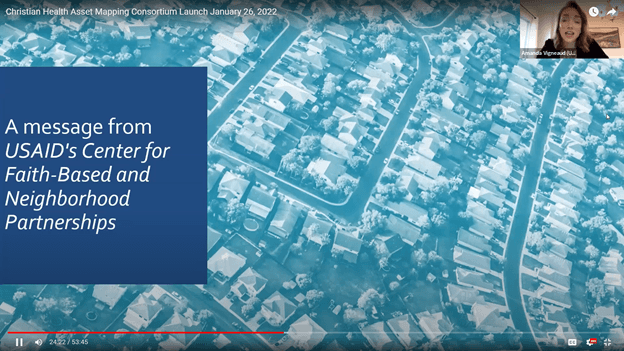 CCIH and Fellow Members Launch Christian Health Asset Mapping Consortium
February 9, 2022
---
Christian Connections for International Health (CCIH) and fellow members launched the Christian Health Asset Mapping Consortium on Wednesday, January 26. Watch a recording of the launch.
The Christian Health Asset Mapping Consortium is a voluntary association of organizations that will work to address urgent needs for information on—and help improve quality of data about—the Christian health asset landscape.
Founding members of the Christian Health Asset Consortium include:
Africa Christian Health Associations Platform (ACHAP)
Catholic Health Association (US) International Outreach (CHA-US)
Christian Connections for International Health (CCIH)
International Christian Medical and Dental Association (ICMDA)
The Dalton Foundation
World Council of Churches (WCC)
CCIH will also serve as the secretariat for the Consortium.
The members collectively see that Christian organizations provide a substantial share of health services in health facilities, community-based programs, and churches. They reflect the health ministry of the global church. As such, they are valuable partners and essential elements of local and international health strategies. There is a pressing need for more information about Christian health services' scope, location, and nature, and ways to efficiently contact local and global Christian health organizations for partnerships.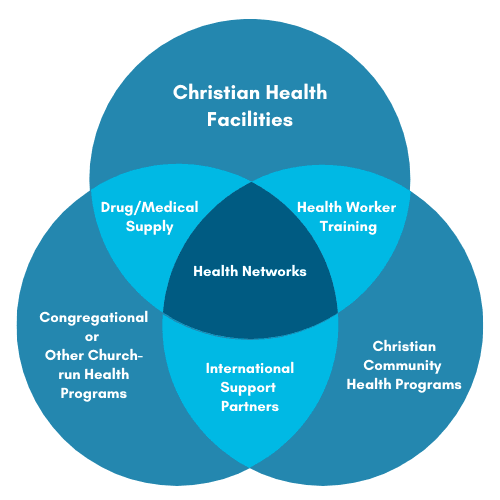 Unfortunately, a lack of data about these facilities, community programs, training institutions and drug distribution networks leads to undercounting of Christian health assets and exclusion from planning, partnerships, and research.
"Lack of descriptive data impedes our ability to advocate for resources and partnerships. To make this worse, it is difficult to know who has the data or how to contact the service providers that do exist," CCIH Executive Director, Doug Fountain, explained. "The urgency of this was felt before COVID, but the onset of COVID led to renewed questions aimed at leaders of Christian health services: how many facilities and community programs do you have, what are their capacities, where are they and how do we contact them? This Consortium was created to address this; it will be a unique resource."
This Consortium provides a data and mapping strategy to accurately reflect the breadth and complexity of Christian health assets including health facilities, community-based programs and church run health services; as well as networks, institutions, medical volunteer and supply organizations that train or support direct service providers.
As the consortium moves forward, this data can fuel advocacy, research and learning, and innovative partnerships.
Amanda Vigneaud, Deputy Director for USAID's Center for Faith-based and Neighborhood Partnerships office (CFBNP) (shown above) expressed USAID's enthusiasm about the Consortium's future efforts for USAID.
"The data quality, transparency, inclusive mapping…help to illuminate not just the greatest areas of need in the communities where we work but really the key assets that the faith-based communities bring to the table; (they) help us inform our development decisions and to prioritize…our partnerships," Vigneaud said.
Improved data and mapping on Christian health assets will be useful to the following audiences: policymakers who seek to plan for health systems; donors who seek to support Christian health services; church structures that need to understand their own role in health services; partners who seek to understand collaboration opportunities; and researchers who wish to study and evaluate health services and innovations.
Previous efforts to assemble data and map Christian health services struggled as they sought to create single warehouses of data and dealt with inconsistent definitions and quality. Rather than repeat those efforts, this Consortium will:
Create a "database of databases" that can be used by organizations and individuals to learn about registered data.
Support and inform stakeholders, policy, and other audiences by sharing information about Christian health services, through sponsoring analyses of data and referrals to data "owners".
Assess resources available to strengthen data on Christian health assets and develop plans to improve how members can access those resources.
A template for a "database of databases" already exists and a resource platform will be launched later this year for data owners to use and share resources.
Learn more about the Consortium and its full vision, objectives, and goals here.
---