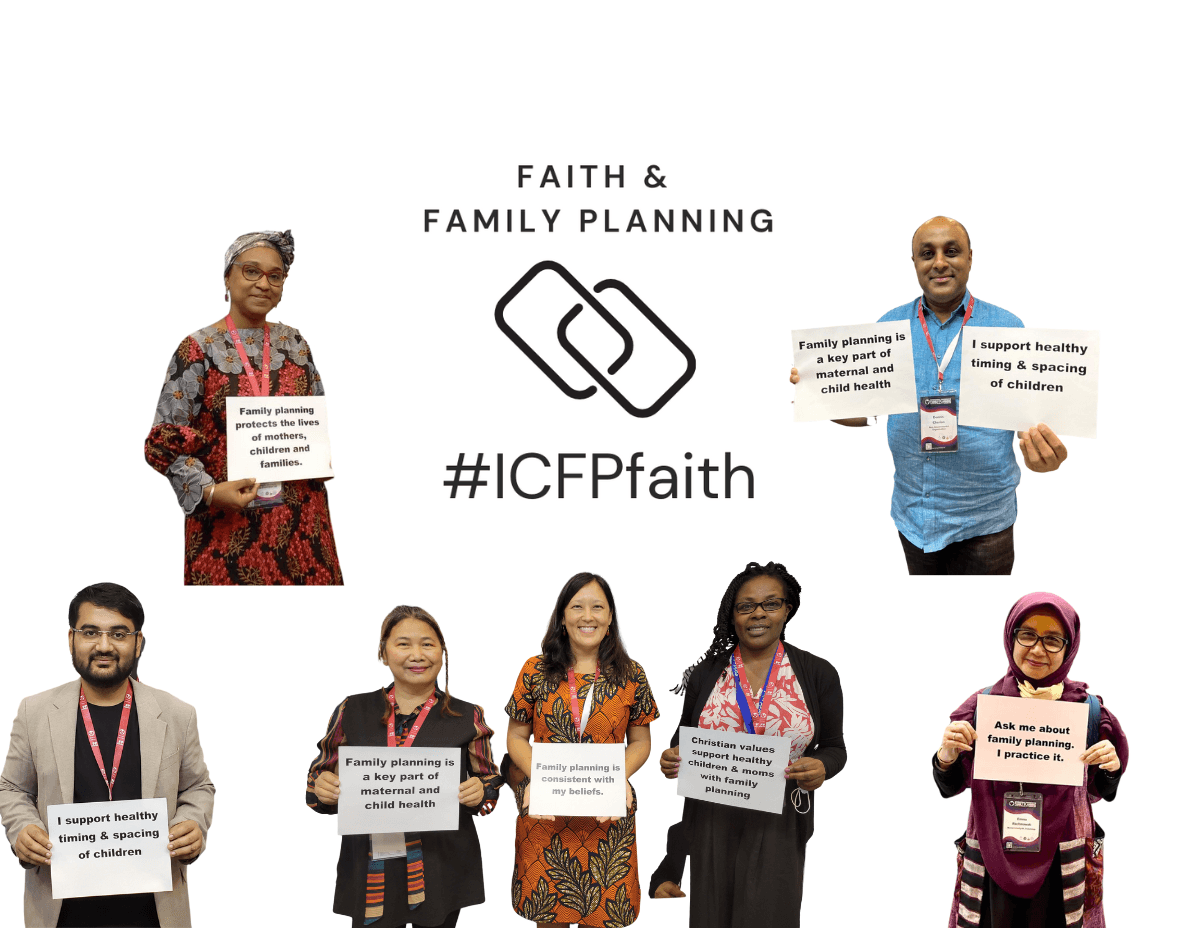 Report from ICFP 2022: Faith Community Speaks Up to Support Family Planning
January 4, 2023
---
The faith community joined together at the International Conference on Family Planning, finding common ground to protect women and families.
Faith-based organizations and people of faith had a strong presence at the most recent International Conference on Family Planning (ICFP), held November 14-17, 2022 in Thailand. Faith community activities were coordinated by a Faith Subcommittee led by CCIH, the Faith to Action Network and Catholics for Reproductive Health.
The ICFP Faith Subcommittee held a pre-conference, networking event, booth in the exhibit hall, side event, and an interfaith prayer session at ICFP. There were more than 20 presentations and posters about faith and family planning or the work of faith actors in FP presented at the conference.
The Interfaith Pre-conference and Networking Event were sponsored by ACT Church of Sweden, CCIH, Faith to Action Network, USAID MOMENTUM Country and Global Leadership, World Faiths Development Dialogue, and World Relief. Faith Subcommittee members also reviewed a large number of ICFP conference abstracts.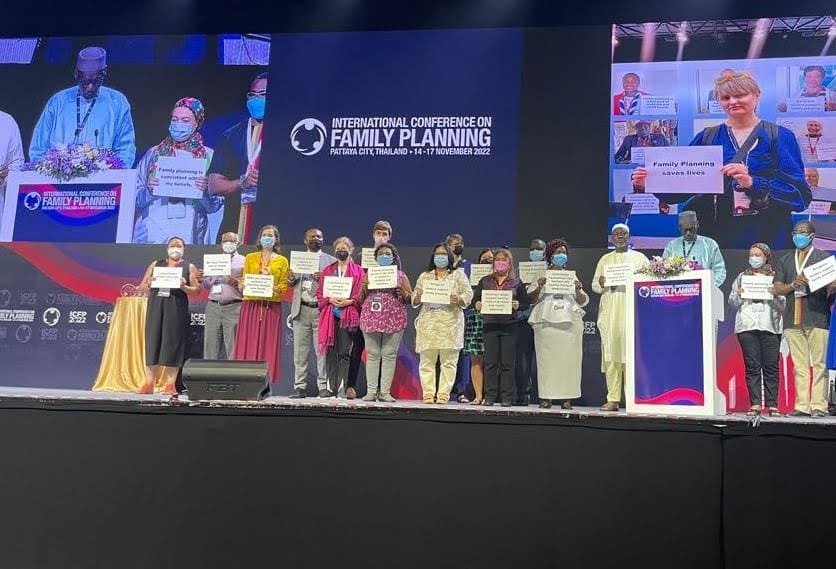 The subcommittee also worked collaboratively to develop a faith community commitment statement presented at the closing plenary. (Also available in French) The faith community expressed commitment to family planning in the statement, read by Sheikh Saliou Mbacke of Cadre des Religieux pour la Santé et le Développement in Senegal (above photo). Faith actors committed to work across religions and to collaborate with the global health and family planning community to increase understanding and build bridges despite differences to lead to healthier mothers, babies, and families.
"Life is sacred, and we believe in the role of family planning in protecting the lives and health of mothers, fathers, and children, reducing their mortality, and creating well-being. We are committed to striving for women's and girls' access to decision-making while ensuring male engagement is part of the processes. … We acknowledge the compassionate nature of religion and do not accept and will not promote practices and selective interpretation of sacred texts that cause harm in the name of religion." -Excerpt from the statement
Faith Actor Calls for Mutual Understanding during ICFP Live
A new feature at the 2022 conference was ICFP Live, a live talk show moderated each day by two journalists from Uganda and Kenya. Yoram Siame, Director of Advocacy Planning and Development at the Churches Health Association of Zambia (shown below) was interviewed November 15 about the role and impact of faith-based organizations in family planning.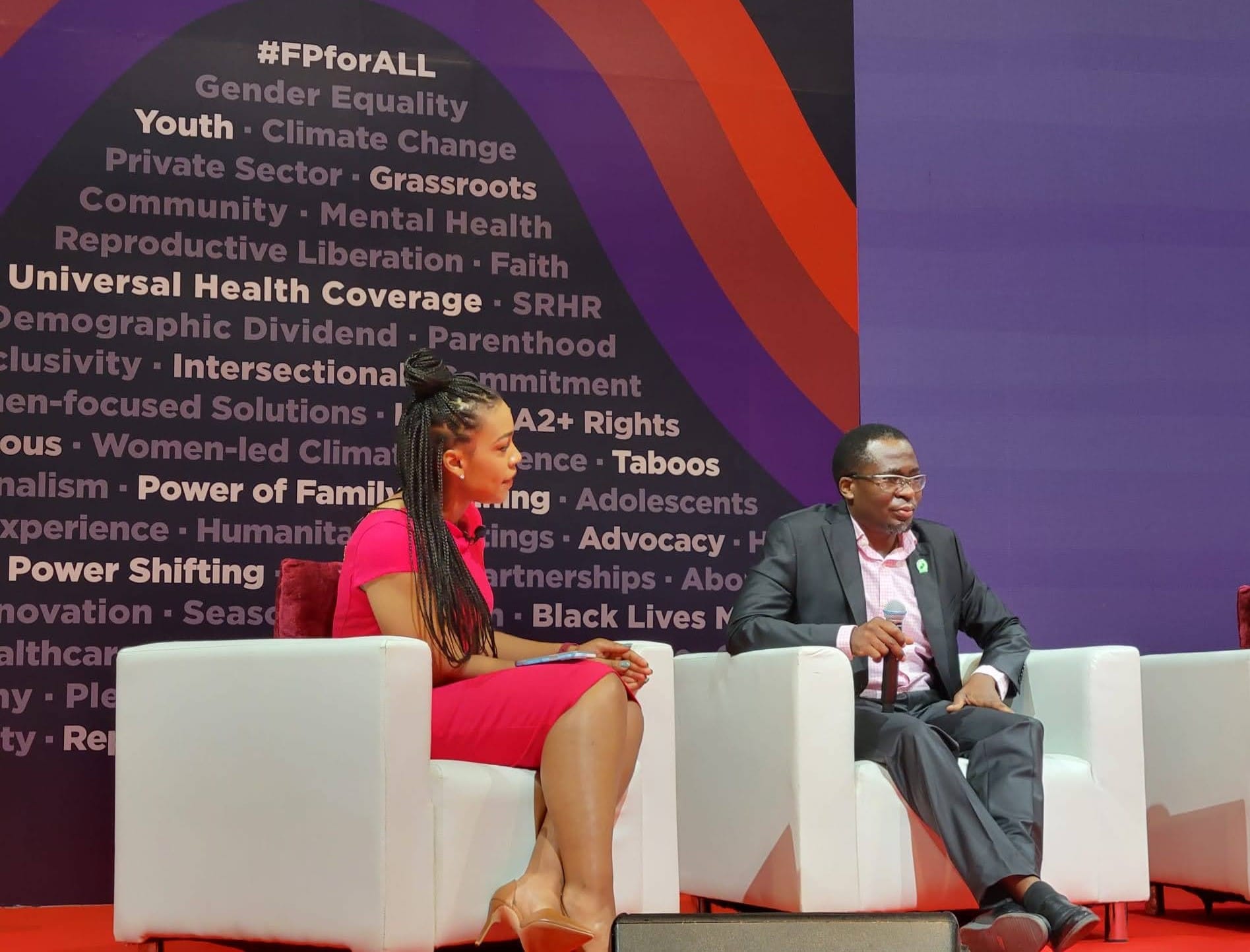 "You can't criticize an engineer for not knowing how to perform a heart transplant…if you want to work with faith organizations in family planning, you must understand them and work with them," said Mr. Siame during the ICFP Live session.
Watch the full interview
Pastor Speaks on Family Planning in CCIH's Faith and Global Health Podcast
CCIH launched a new podcast, Faith and Global Health with the inaugural episode including an interview with Pastor James Mlali of Tanzania conducted during ICFP. Pastor James (photo below) explained why Christians and other people of faith support family planning, why faith actors were at ICFP and most importantly, why we should all be paying attention to the intersection of faith and family planning.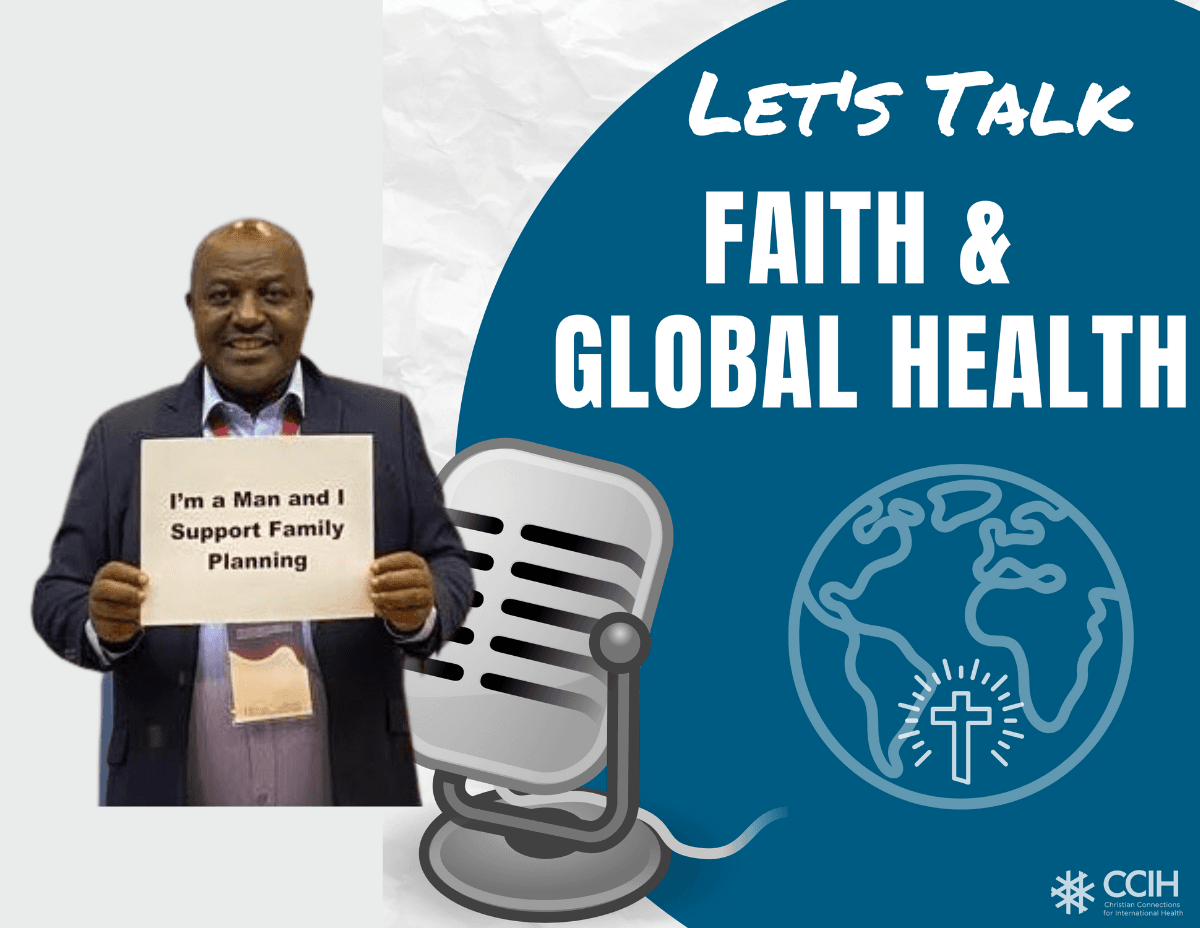 "Christians and people of faith support family planning because we are people who care," explains Pastor James in the interview. "We care about health and well being; we care about justice and human rights for all – men, women and children; we care about sustainable social development; we care about the climate and environment; we care about everything and everyone. For that reason, we support family planning."
Subscribe to CCIH: Faith and Global Health on Spotify or Google Podcast. 
Diverse Perspectives from Faith Actors
Religious beliefs on family planning emerge from different backgrounds and perspectives. Here, we share thoughts from two ICFP Faith Subcommittee members on family planning. First is an excerpt from an interview with Sheikh Saliou Mbacke of Cadre des Religieux pour la Santé et le Développement (CRSD) in Senegal (shown below) on the relationship between faith and family planning.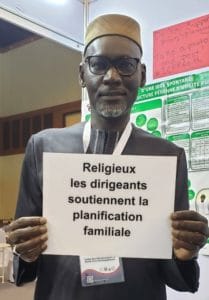 What is the nexus between religion and health, particularly family planning?
Sheikh Mbacke: Religion is an essential element for the well-being of the individual and society. It is the responsibility of religious leaders to promote family planning from a faith perspective. Life is sacred and family planning can play a key role in protecting the lives and health of mothers and children and reducing their mortality.
We learned during the 2022 ICFP that the world's population has reached 8 billion. Concern about the world's resources is one reason some people promote family planning, which can lead to concerns it is used to control populations. What do you say to that?
Sheikh Mbacke: By promoting family planning, religion's focus is on saving lives (through birth spacing). This is the spirit of the teaching. It is not a matter of giving birth to a number of children you can't care for.
In your work, what religious beliefs and practices have you seen that impede family planning and what are some of the interventions that can be used to counteract them?
Sheikh Mbacke: Most of the beliefs and practices that impede family planning (understood as birth spacing among married couples) do not have a religious basis. Practices that are harmful to women and girls have a cultural basis rather than religious basis.
How do you see the future of family planning?
Sheikh Mbacke: There is hope that the barriers and misunderstandings surrounding family planning will be overcome especially if religious leaders are better informed and involved in the discussions.
What role can faith-inspired and (secular) actors play in shaping perceptions about family planning?
Sheikh Mbacke: By working hand in hand. Religious actors should be involved in the shaping of family planning programs, not just be asked to help implement them.
Emilie Weiderud, SRHR (Sexual and Reproductive Health and Rights) Advisor at ACT Church of Sweden (shown below) shares her perspectives on why people of faith must engage in SRHR.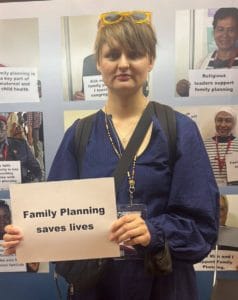 Why is it important to address sexual and reproductive health and rights for people of faith? 
Emilie Weiderud: I believe that essential sexual and reproductive health services should be accessible to people without exposing them to financial hardship as part of universal social protection. The situations where individuals lack sexual and reproductive health and rights is an issue of justice and a moral and ethical issue. Therefore, for people of faith, engaging in access to SRHR can very much be a moral imperative. Lack of justice, especially for those people most marginalized and for the issues most rendered taboo or silenced, the places where things might be hard, is precisely where faith belongs and should be.
How can we find common ground despite differences? 
Emilie Weiderud: When it comes to engagement on SRHR, faith actors exist in their diversity on these topics, on possibility and potential to engage. I think it is important to remember that when it comes to SRHR and religion, no one has the one true answer nor does all within a religion think alike.
It is important for others to realize that 84% of the world's population considers themselves to belong to a faith or religious group and religious actors are often trusted voices within communities and need to be engaged on these matters. When we approach SRH, we need to reference evidence and facts, but we can also render better skills of dialogue and mediation, possibly from other fields than SRHR, to ensure we have the right tools for creating best possibilities for engagement. This means awareness that it sometimes takes time to build trust and how we can relationship and trust on the things you do agree on.
More from Faith Actor Voices
Leading up to the ICFP, Faith Subcommittee members published the following blogs on faith and family planning:
Follow the conversation on social media at #ICFPFaith and #ICFP2022
---