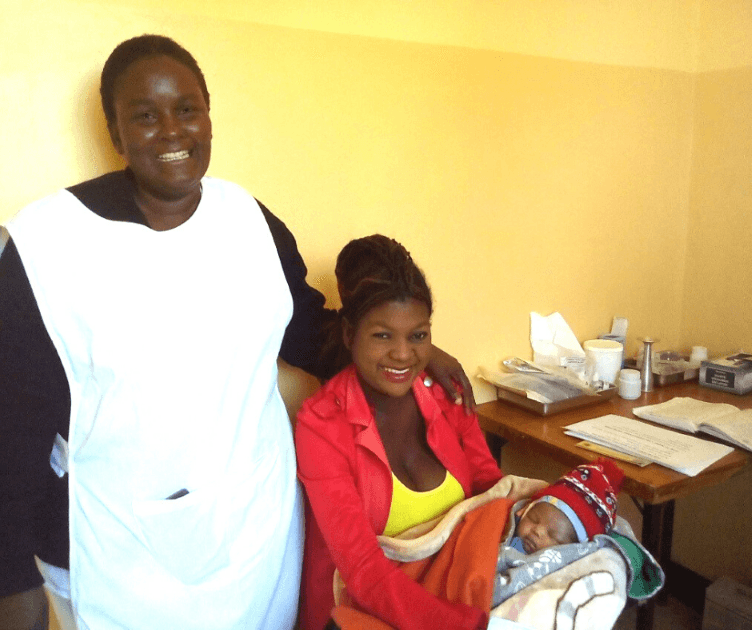 Connector Articles, Maternal and Child Health
U.S. Foreign Assistance Equips Zambian Community to Save Mothers and Babies
February 24, 2020
---
Gwenny was in her final month of pregnancy when she began having convulsions in her home in rural Zambia. Fortunately, a family member reacted quickly, turning to a neighbor trained in safe motherhood through a USAID-funded project known as SM360+. Gwenny's family member and the neighbor brought her to the Kawama Clinic, where nurse Handema Grieveness was on duty. Grieveness had learned emergency obstetrics techniques in a mentoring program through SM360+ and was able to act quickly to save Gwenny's life. Nurse Handema Grieveness is shown in the photo above with Gwenny and her new baby.
"She convulsed again before we could do anything," explains Grieveness. "Fortunately we had been mentored in treatment of eclampsia (seizures caused by high blood pressure during pregnancy) by mentors from SM 360+. We could not remember everything, but thankfully they gave us protocols to follow. Using the knowledge from the mentorship and the protocols we got the Magnesium Sulphate, diluted it, gave the appropriate dose, and called for an ambulance."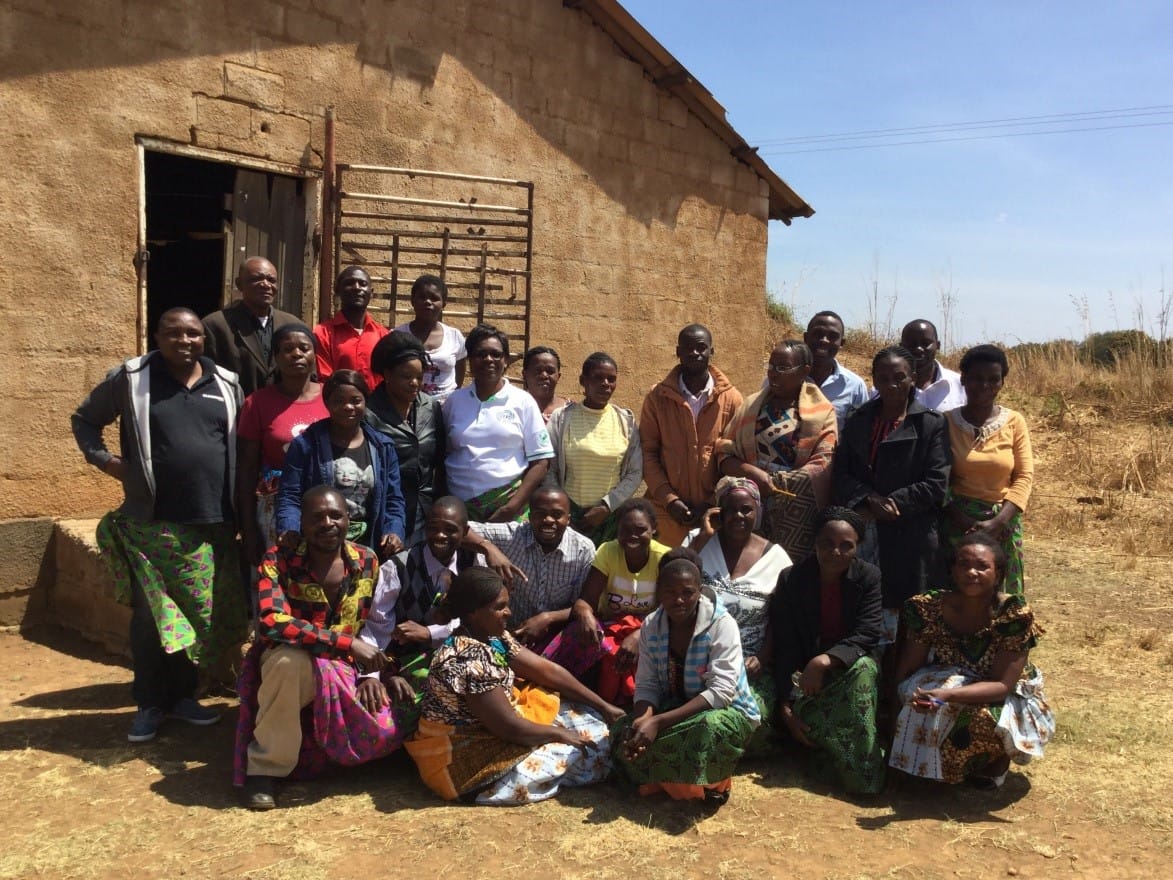 The ambulance took Gwenny to Kabwe General Hospital, run by the Zambian government, where an obstetrician determined she was stable enough to undergo a cesarean section. "We were very happy to see that she did not convulse again while we waited for the ambulance," said Grieveness. Gwenny and her baby recovered well and the new mother came to Kawama clinic for her six-day postnatal visit, where she was able to meet Grieveness.
"We give credit to the SM360+ staff who taught us what to do in such a situation," said Grieveness. "Mentorship is good because you learn right in your environment. Even before you go for formal training you can still learn something and save a life." Through the mentoring program, health workers learn to deal with complicated cases and then matched with other health workers who they shared this knowledge with at the facility.
Project Goals and Strategy
The Safe Motherhood 360+ (SM360+) project is a USAID-supported project aimed at introducing and supporting high-impact health interventions with the ultimate goal of ending preventable maternal and child deaths within a generation. SM360+ supports programming in maternal, newborn and child health activities in Zambia within 16 districts.
The Churches Health Association of Zambia (CHAZ) is the prime implementer of SM360+ with Jhpiego as sub-implementer. SM360+ mobilizes the community to encourage deliveries in facilities and to promote uptake of maternal, newborn and child health (MNCH) services, as well as family planning services with a focus on long-acting reversible contraceptives to help women time and space pregnancies to optimize health. (See more about family planning from a Christian perspective.) Community members are trained to be members of Safe Motherhood Action Groups (SMAG), with some members trained as community based distributors (CBDs).
Decreasing Maternal Deaths
In 2016, the year before the project started, the maternal mortality rate (MMR) for the 16 districts where SM360+ operates was 398 maternal deaths per 100,000 live births. Thanks to this program supported with U.S. foreign assistance, MMR dropped dramatically in the first year of the project to 174 deaths per 100,000 live births and continues to decline as shown in the figure below.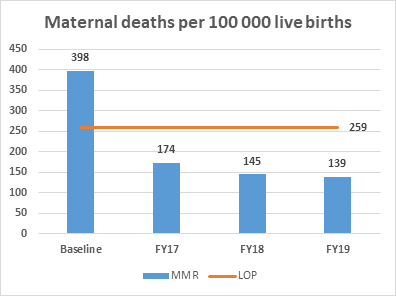 Community Sees Positive Change
Before the SM360+ project came to the area served by the rural government-run Kasavasa Health Center, many women did not get the recommended antenatal visits during pregnancy, or have postnatal health visits with their newborns. Few men accompanied their partners to antenatal appointments. Pregnant women often delayed coming to the health facility to deliver their babies because they believed women should spend only a short time in a maternity ward. In their community, people may view a woman who spent a long time in a maternity ward as lazy. The SM360+ project educated community volunteers on the importance of antenatal visits, delivering in a facility and how they could help change attitudes in their community that discouraged women from seeking care. The community volunteers also learned about the "Remind Mi" program, an SMS program to remind new mothers to go for their child's six-day, six-week and six-month postnatal health visits.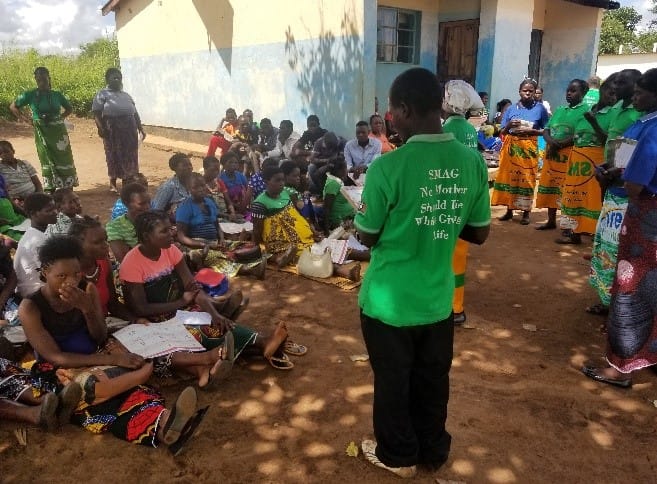 "We Say Thank You to the Project"
After the training, the community volunteers planned community meetings to reach as many people as possible with sensitization messages. An onsite mentorship program is also helping the Kasavasa Health Center maternity ward improve quality of care. The number of women booking antenatal appointments at the Kasavasa Health Center maternity ward has increased. More men are accompanying women to their appointments, making them aware of healthy practices and how they can contribute to their partner's health.
People in the village are grateful for the program and U.S. foreign assistance. "Mothers have changed their behavior towards their health," said Mr. Makungu, a village leader from Kasavasa. "We are reaching everyone through meetings, just the way we learned from the training. The response is good, especially when they see me involved," he explains. Community members learned about Village Banking and the community developed banking groups, as well as a fund to help women get to a hospital or clinic. According to Mr. Makungu, the project not only improves the lives of volunteers, but also of the entire community. "People have changed here," he said. "We say thank you to the project."
See more global health stories about how U.S. foreign assistance protects the lives of families around the globe.
---