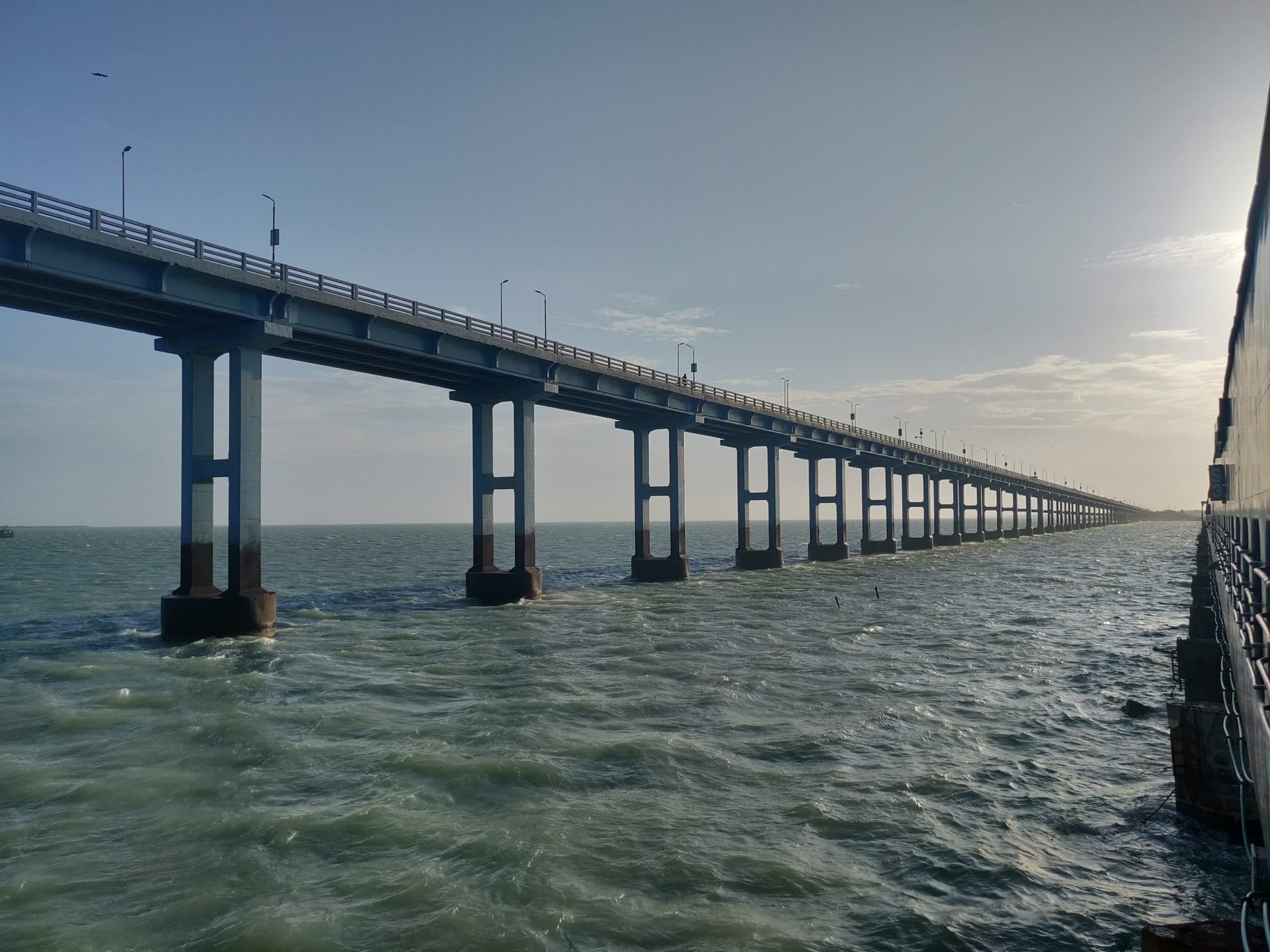 Will Global Health Become More, or Less, Global?
March 10, 2023
---
by Doug Fountain, CCIH Executive Director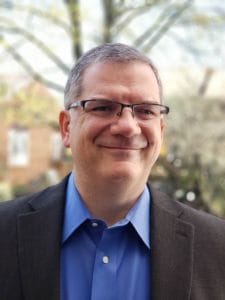 At the recent Rising Tides conference put on by Helping Children Worldwide, I had the privilege to give a talk about what's changing in global health. I titled the talk, "Will Global Health Become More, or Less, Global?" Two-thirds of the way through, I realized I was crossing a bridge that I hadn't built – and brought the audience with me and left them nowhere to go. Here, I'll frame out the remainder of the bridge.
Before the talk, Dr. Henry Mosely, one of my true Public Health heroes and an International Health Champion of CCIH, asked me why I picked that title. I said, I think we're pushing hard for localization in international health, and we're all for that, but we haven't really considered the potential downsides and planned accordingly.
I shared with him about a meeting several years ago with a senior global health authority who said, "If we're serious about the Sustainable Development Goals, we should centralize all authority and planning, not decentralize to countries." I was shocked at that statement's implicit colonial attitude. But it did get me thinking – what are we ready to sacrifice, and what measures should we put in place for localization to work?
I believe that localization ought to align authority for funding with those who have the direct responsibility for improving health. By definition, that means countries. Even the WHO exists to serve the interests of its member states, as my good friend and WHO consultant Sally Smith helps remind me.
So back to Rising Tides. My key points in the talk were:
The next 30 years will differ from the last 30. International assistance will decline generally and, out of necessity, focus on people affected by conflict, climate, and catastrophe.
Localization is rising as funding becomes more local, universal health coverage grows, and development assistance wanes.
We, therefore, need to recalibrate global efforts to consider: how we are learning; the holistic needs of people; readiness to meet emerging challenges; and achieving impact at scale.
Why I'm a Fan of Localization
My orientation to localization grew over 20 years ago when I worked with an astonishingly successful community afforestation program (tist.org) in which the founders believed in the capability of local farmers to plant trees at scale rather than count on experts and NGOs.
Our model was having small groups of 10-12 farmers plant trees around farms, homes, schools, and churches. Those small groups that did well were supported to share their ideas with groups that weren't doing so well. It's working, and today there are 25,446 small groups with 25 million living trees to show for it.
My orientation to localization was cemented when I worked for over eight years with Uganda Christian University, a locally owned and led university system with 11,000 students and five campuses, serving students from 14 countries.
During my early days at UCU, I helped establish nursing degree programs. I loved to walk into meetings saying, "I'm not a nurse; you are; I don't know how to set up nursing programs, but you do. What do you think we should focus on first?" Today, UCU's nursing program has graduated hundreds of nurses, was the first master's program in the country, and now has Ugandan PhDs running it. Its graduates serve in leadership roles throughout the country and are directly strengthening health services.
We learn from each other, sometimes better than we learn from experts. Additionally, strong local institutions like UCU are well-positioned for genuinely sustainable development and to guide local efforts to adapt to global changes.
We Need to Expect More, not Less, Need for Emergency Funding
I suspect we're in the midst of some big changes. Here are some examples.
First, we see the results of fragility from conflict and protracted emergencies. Many government systems are not stable, undermining the health and welfare of vast numbers of people. Today, there are 103 million displaced people globally – either internally displaced or internationally as refugees. That's more than ever before.
Along with that, the world faces unprecedented risks from natural disasters and earthquakes. Countries like the Philippines, India, Indonesia, Colombia, Mexico, Myanmar, Mozambique, Bangladesh, and Pakistan are at the top of the World Risk Index.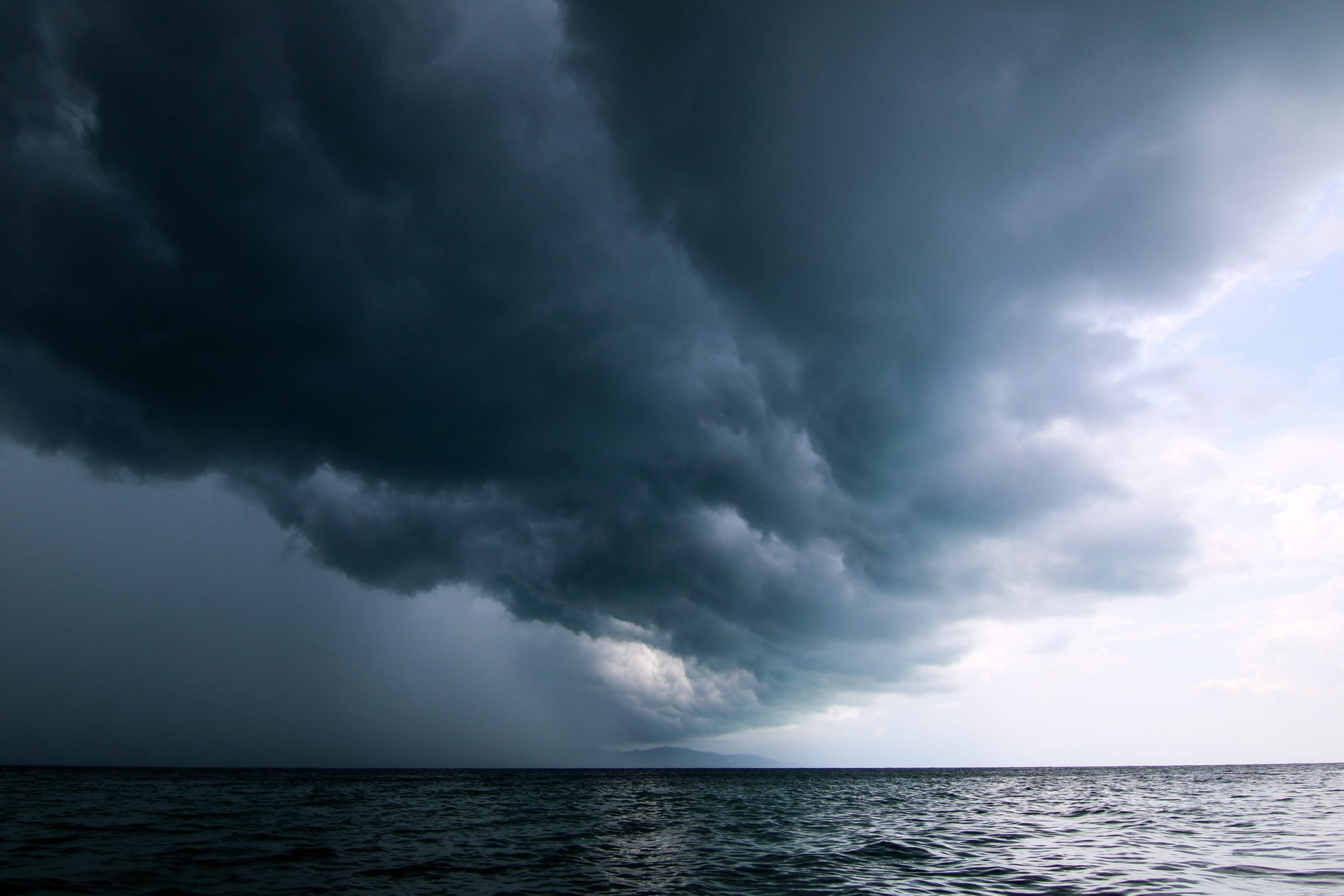 Funding for development will be at risk as these conditions continue. I spoke with leaders in Germany recently about the trends in German and other European funding for global development. It was no surprise that they expect significant decreases in global development assistance as they are forced to pay the price of Russia's incursion in Ukraine.
Sudden onset emergencies like earthquakes burden already-beleaguered crisis areas, like Syria. As the climate changes, expect more impactful storms that consume resources: clean up of hurricanes and storms in the US will continue to grow.
One of the most difficult but essential questions we have to ask ourselves is: what can we accomplish if there is no international assistance available for our priorities? How do we make the best use of the funds that are available?
Health Systems and Funding Are Changing
The University of Washington's Institute for Health Metrics and Evaluation (IHME) has user-friendly visualization tools to help us understand how disease and financing change. Here are two things I've learned.
First, the nature of the disease burden is changing. The following graphics show the percentage of disease burden in low- and middle-income countries (LMICs) from 1990 to 2019.
The blue areas are non-communicable diseases like cardiovascular disease, cancers, diabetes, and mental illness. The orange areas are communicable diseases of all types. The green areas are accidents and injuries.
A casual look reveals that from 1990 to 2019, NCDs grew substantially as a proportion of the total disease burden. Leading up to COVID, NCDs actually exceeded all communicable diseases, and we'll return to that state now as the impact of COVID wanes.
Disease Burden in 1990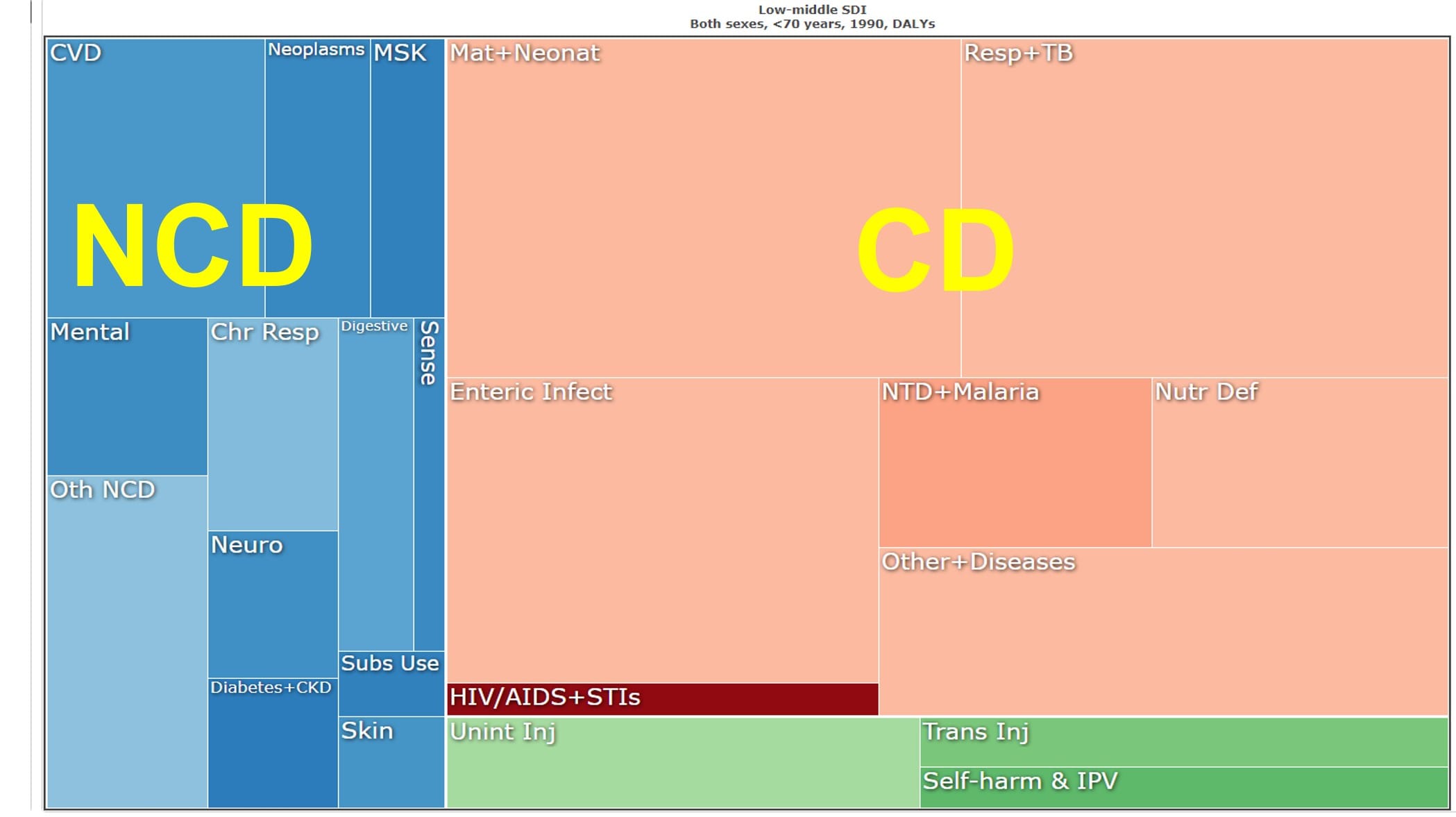 Disease Burden in 2019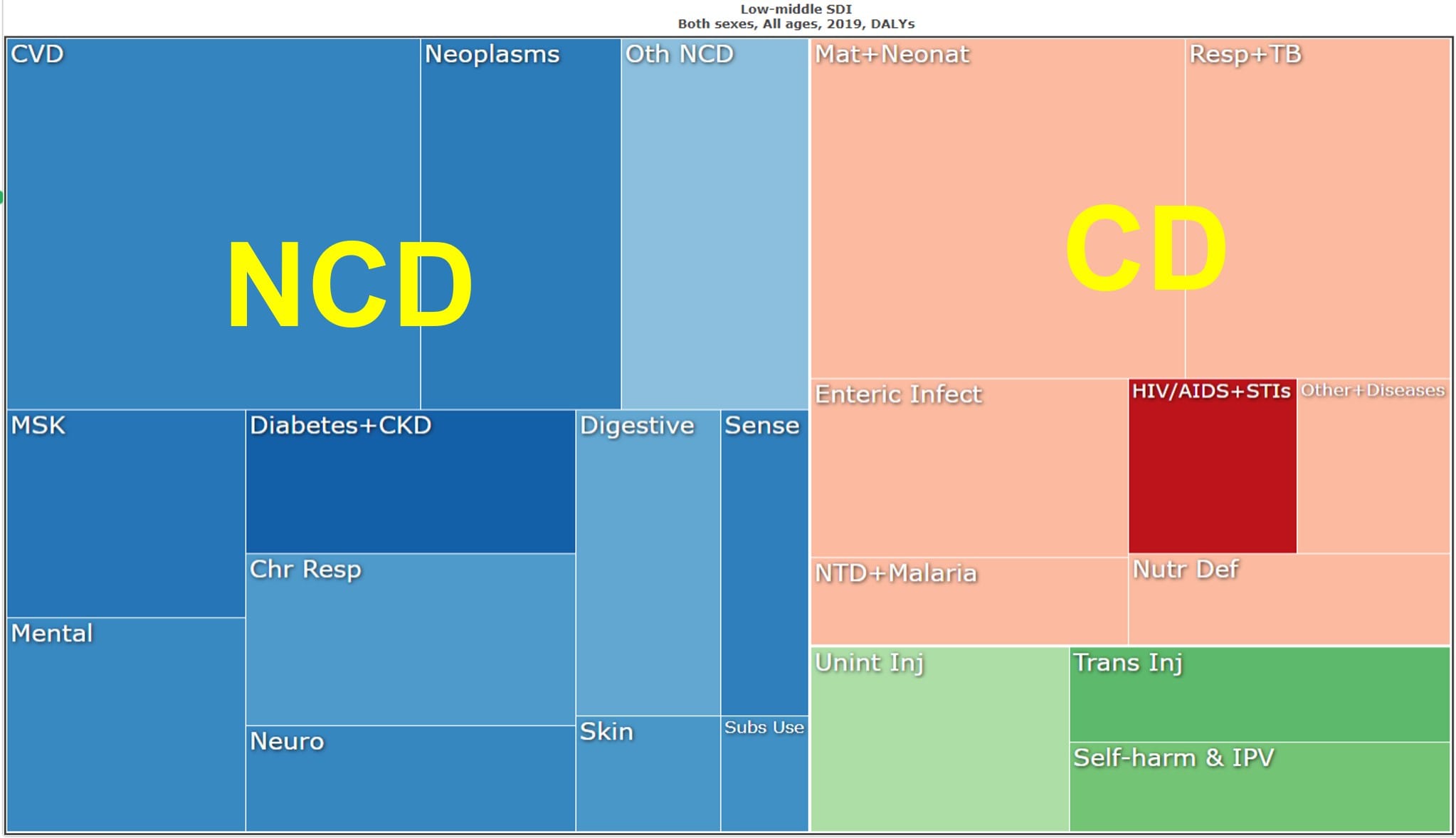 Source: CCIH Analysis of Data at https://www.healthdata.org/data-visualization/gbd-compare
Second, development assistance for health will decline as a proportion of total health spending in low-income countries. Projections using IHME data indicate that government sources will return to close to 30 percent, out-of-pocket spending will stay steady, but health insurance payments will increase. Development assistance decreases to 20 percent of total health funding – back to where it was almost 20 years ago.
Percent of Total Health Spending by Source, in Low Income Countries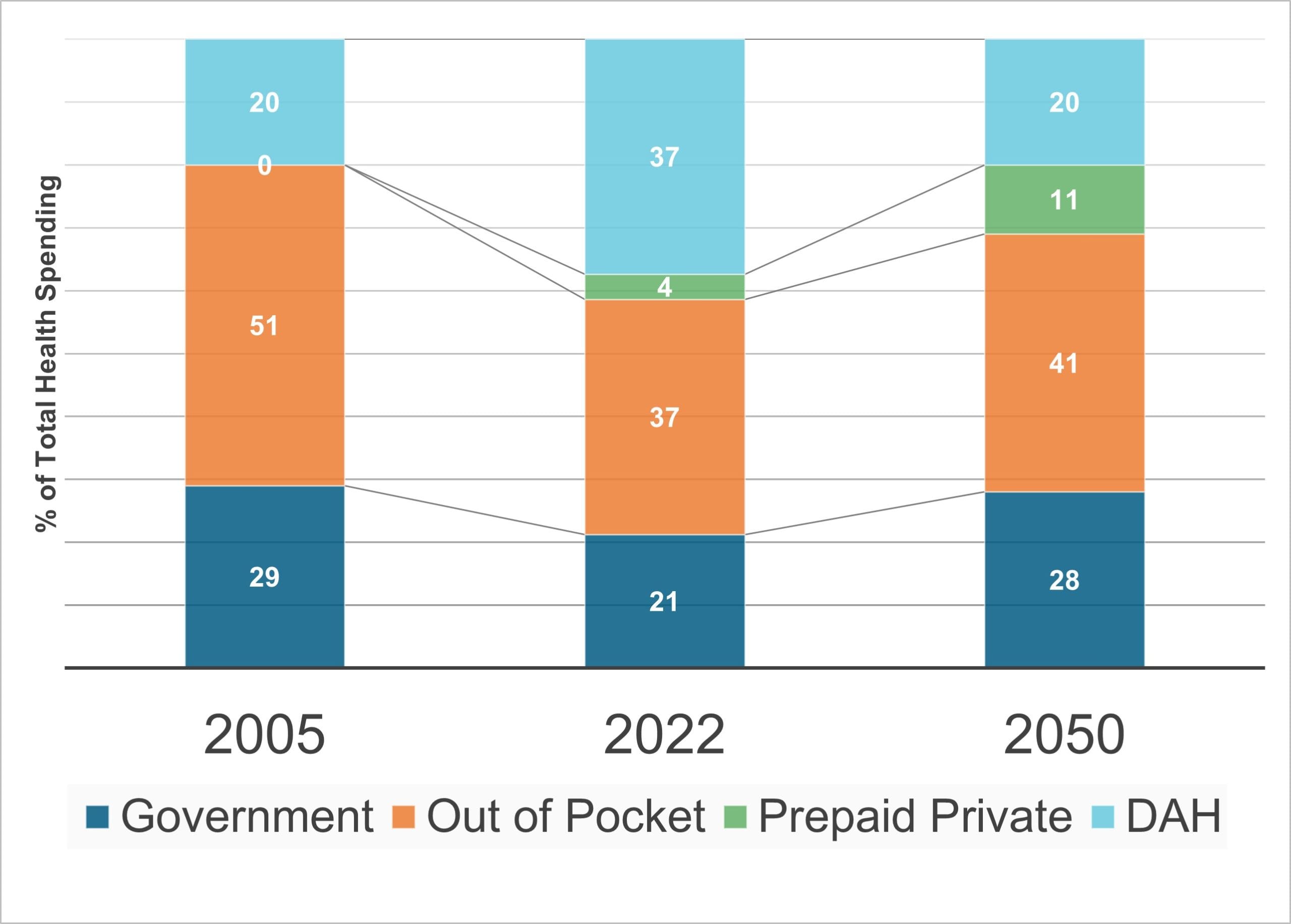 Source: CCIH Analysis of Data at https://www.healthdata.org/data-visualization/financing-global-health
These changes will be most starkly felt in sub-Saharan Africa. While development assistance remains heaviest in sub-Saharan Africa, the declining share of development assistance will be most significantly felt there, compared to other regions.
Development Assistance for Health by Region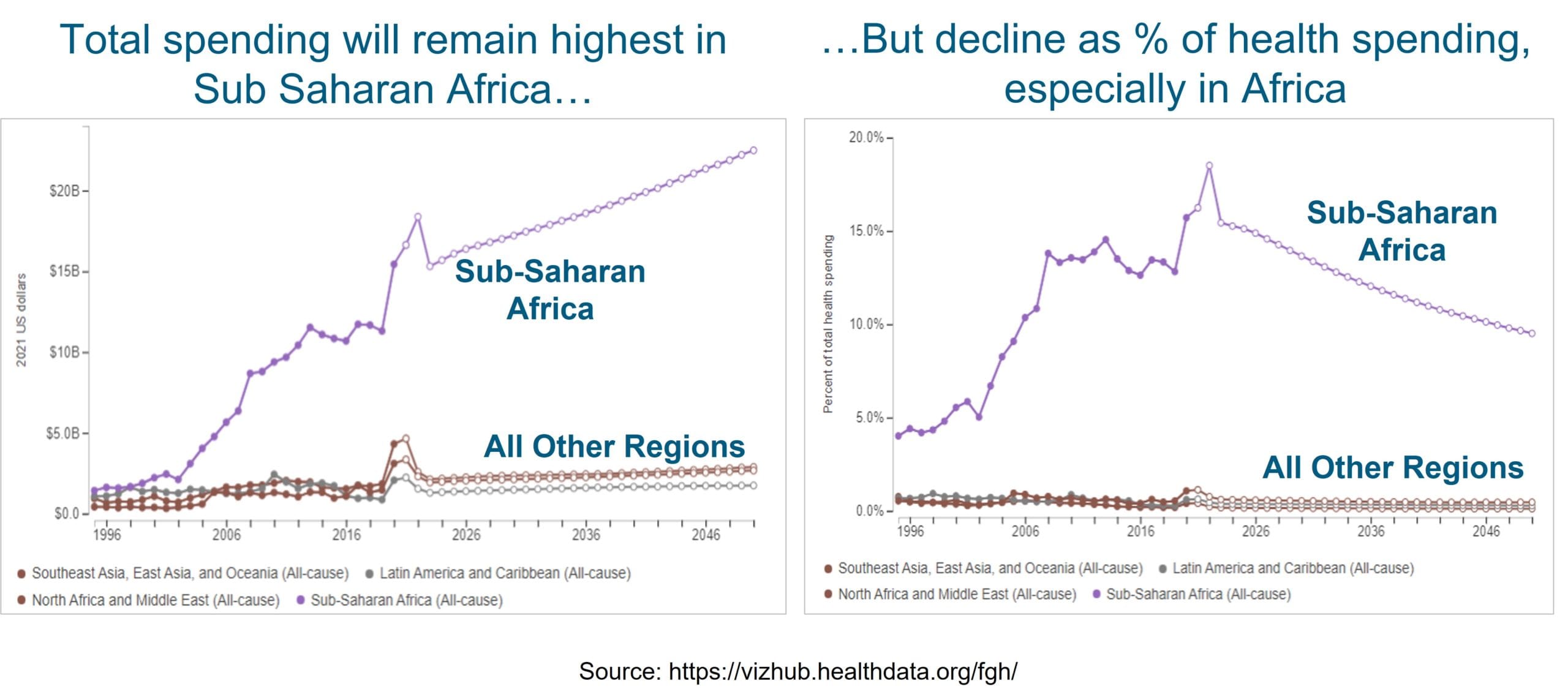 Source: CCIH Analysis of Data at https://www.healthdata.org/data-visualization/financing-global-health
Shifts in funding to local sources and local authority can have an unintended consequence: loss of global learning and economies of scale. Right now, many excellent global actors (businesses, networks, and international NGOs) implement large-scale programs. One of the things we could lose in the push to localize is the opportunity to harness the global experience and best practices. That's not a reason to back off of localization, it just has implications for how we invest. Here are four implications of what I've shared above.
Localization. We need to calibrate around supporting universal health coverage and look for gaps in system planning to foster global "learning systems."
Holism. We need to consider the holistic needs of populations to address trauma and mental ill health and lifestyle programs to manage non-communicable diseases.
Resilience. We need to anticipate emergencies, both international and local, and put in place strong Disaster Risk Reduction mechanisms.
Scale. We can reframe the question "how will a project be sustained when funding is over?" to "how will this grow to scale in the country?" This is arguably the most significant benefit of localization and alignment of authority with responsibility – we get over our love of pilot projects and focus only on good ideas that can be taken to scale with local resources. Then, the purpose of our international investments shifts to supporting strong local systems and catalyzing action.
Faith Communities Help Build the Bridge
It was at this point in my talk with the Rising Tides audience that we reached the end of the bridge I had built, but there was no clear way off. I was speaking to international partners, friends, and supporters of worthwhile programs. These are people who work tirelessly and give sacrificially to help people in need around the world. For many, this work is not their day job. Many will keep giving sacrificially even if significant development dries up.
I did try to step back and share an angle on this that I also fully believe in: faith actors. Here I'll be specific about Christian communities and partners, which are extremely effective parts of global strategies. Consider each of the points above:
Localization: Local faith actors are embedded in the community and reflect the attitudes and values of the people. How could anybody develop health programs without acknowledging that 84 percent of the world belongs to a major religion? We counted recently in 15 countries in sub-Saharan Africa over 8000 Christian health assets – hospitals, health centers, training institutions, and medical supply organizations.
The faith sector effectively leverages global health partners who donate time and resources, and it mobilizes local action. We can celebrate that and support that, and leverage their global presence to support learning.
Holism: This is the bread and butter (or in Uganda, they'd say matooke and ground nut sauce) of the faith community. Seeing people as more than simply a walking specimen of physical symptoms, we see the whole person – body, mind, and spirit – and mobilize our response accordingly.
Resilience: Faith groups pre-date all international assistance and are usually the first on the scene during a crisis. They think about the needs of individuals and communities. I love what EFICOR does in Northern India: they know that floods will kill many people, so they work through churches to teach people to swim. That's resilient thinking.
Scale: The Country Director of an NGO I met in Rwanda last year said half his job is working on donor-funded programs; the other half is pushing the local church to say, "These funds will end; how will you pick up what we started and carry it nationwide?" It is a natural inclination of faith actors to think of reaching everybody in need.
The changes we're facing require us to focus on reaching scale locally while continuing to plan globally, and to strengthen resilience and integrate holism. International assistance for the next decade should support local initiatives that can reach scale, shore up the foundations for when storms and other emergencies come, strengthen the capacity of local actors who can execute that vision, and support catalytic efforts and global learning systems. Faith communities have an obvious role in all of this.
The time I spent with the Rising Tides audience reminded me that we all have a role to play, a calling, and a cause. We are emotionally committed to this, not just intellectually. And with that, we all need a cheerleader as well as a champion, an evangelist as well as an educator. What's your part going to be in building the rest of the bridge?
Photo at top: Pamban Bridge in Tamil Nadu, India by Nitesh Jain/Unsplash; Photo of storm clouds in Provincia de Surat Thani, Thailand by Daniel Lerman/Unsplash

---