World Vision Helps Families Space Pregnancies for Child Survival
October 12, 2015
---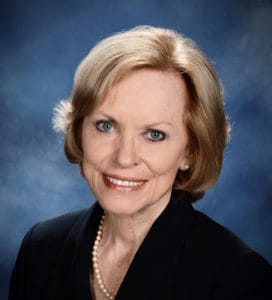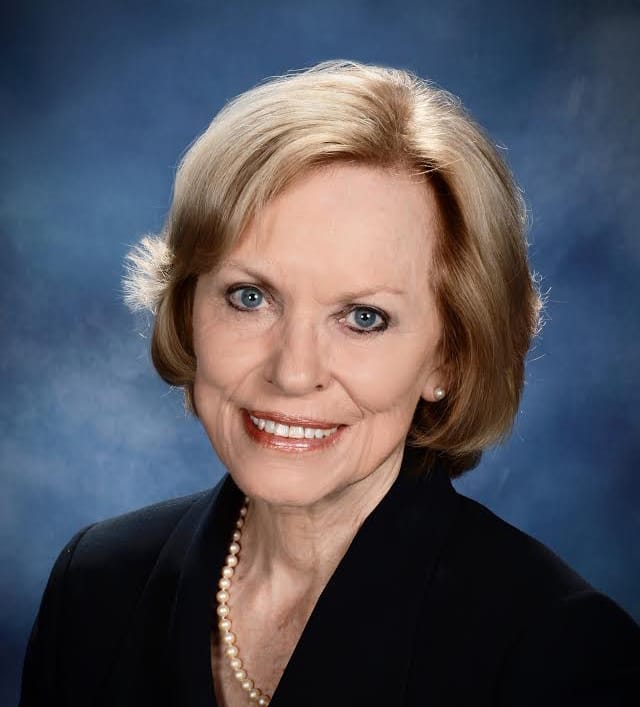 The Christian humanitarian organization World Vision began integrating healthy timing and spacing of pregnancies (family planning) into its maternal and child health programs after analyzing evidence showing the link between pregnancy spacing and child survival. Here, Adrienne Allison, MPA, Senior Technical Advisor for Family Planning and Reproductive Health at World Vision explains what integration means and the compelling evidence that led the organization to make that change.
Can you explain your role at World Vision? 
Currently I provide direct technical support for grants funded by the Bill & Melinda Gates Foundation, The John Templeton Foundation and USAID. I also work with World Vision International in developing maternal and child health (MCH) guidelines that include Healthy Timing and Spacing of Pregnancy and Family Planning (HTSP/FP). To date, World Vision MCH programs in at least 21 countries include HTSP/FP.
What is World Vision's main goal with respect to children? 
World Vision's main goal is to improve the well-being of children and families so they can enjoy the fullness of life.
World Vision has been helping families space the births of their children through what you call "healthy timing and spacing of pregnancies." Why would a Christian organization focused on helping children work with women on timing their pregnancies? 
Several analyses of Demographic and Health Surveys (DHS) have measured the impact timing (when) and spacing (how often) pregnancies have on infant, child and maternal mortality, and on child stunting. The data consistently indicate that spacing pregnancies by two to four years reduces mortality and improves child health. Studies have found that when a child is born less than two years after the previous birth, that child is 60 percent more likely to die as an infant than a child who is born three to five years later. Therefore, helping families time and space their pregnancies directly supports World Vision's goal – to improve the lives of children and their families.
Was there a moment, or one piece of information or statistic that hit you the hardest and confirmed that this had to be done?
The strongest evidence we had initially was the publication in 2008 of the DHS Working Paper No. 41 by Dr. Shea Rutstein "Further Evidence of the Effects of Preceding Birth Intervals on Neonatal, Infant and Under-Five-Year Mortality and Nutritional Status in Developing Countries: Evidence from Demographic and Health Surveys." This paper was updated in 2014 and continues to be a great source of information as we plan our HTSP/FP programs.
What does World Vision mean by healthy timing and spacing of pregnancies?
When we are working with our in-country health teams, we have found that the easiest way for them to understand Healthy Timing and Spacing of Pregnancies is to define it as "Too Soon, Too Often, Too Many, Too Late." Several health teams have used this phrase to develop their own HTSP/FP messaging and programming.
There are four key messages that we use that may be adapted to the local context. These are:
• Delay a first pregnancy until at least 18 years of age.
• Wait at least two years after a birth before trying for another pregnancy.
• After a miscarriage or abortion, wait at least six months before trying for another pregnancy.
• Limit pregnancies to a mother's healthiest years for childbearing, ages 18 to 34.
What do you say to people who have concerns that HTSP/FP is linked to abortion? 
A strong HTSP/FP program reduces the risk of unplanned pregnancies that may result in abortions.  Because World Vision does not support abortion, we do support good HTSP/FP programs that protect mothers from the risk of an unplanned pregnancy.
Were there challenges along the way or was it a smooth process to introduce HTSP into World Vision programs? 
World Vision adopted a far-sighted Reproductive Health Policy in 2006 that has been foundational to our family planning programs. The policy guides the work of World Vision globally. When we began the USAID-supported "Integrated Birth Spacing Project" in 2007, we found that very few people were aware of the policy. We re-introduced the RH Policy to the World Vision partnership by making presentations that showed the most recent evidence on the impact of timing births on maternal and child mortality. Graphs based on analyses by Rutstein, Ross, Stover and others clearly showed that while the relative risk of mortality doubled or tripled for pregnant girls age 19 and younger, the relative risk was even higher for mothers over age 34, and mothers with at least four or more children.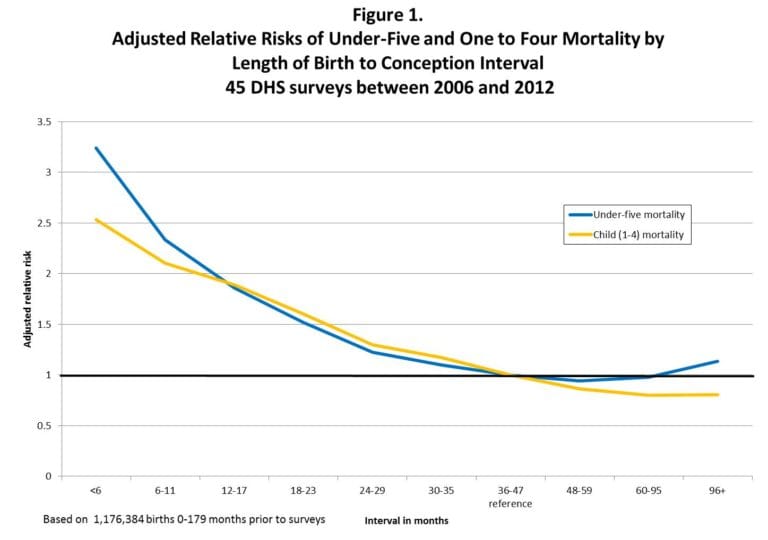 The data measured the relative risk of death for infants conceived within six to 18 months of a previous birth and a similar risk of stunting due to malnutrition. By simply explaining the data, as illustrated by the graphs in the analysis by Rutsein and Winter, World Vision Health teams quickly understood the health benefits of timing and spacing pregnancies. (See Figures 1 and 5)
We were also fortunate that a small team of HTSP/FP champions around the globe used the same data to advocate for HTSP/FP programming within World Vision programs. WV Canada used HTSP/FP messaging when they contributed to drafting the Muskoka Agreement in 2008. A few years later, WV Australia used the data to advocate with its government to increase aid funding for family planning through AUSAid because the World Health Organization and others agree that timing and spacing pregnancies is one of the most cost-effective way to reduce infant and child mortality.
Can you explain "integration" of HTSP into a maternal and child health program? What does it mean?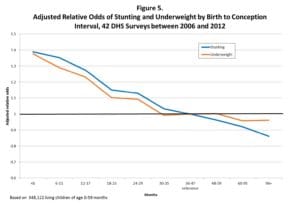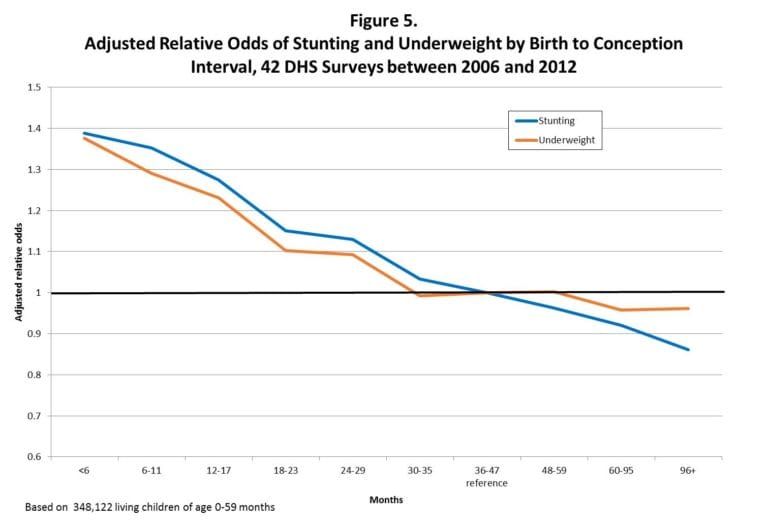 This means that HTSP/FP counseling and services are not stand-alone projects, but rather one component of a comprehensive healthcare strategy.  World Vision frequently works in partnership with national Ministries of Health, helping them to integrate HTSP/FP with maternal and child health programs, including child nutrition and immunizations. In 2009, World Vision added HTSP/FP into its basic package of maternal and child health interventions that cover the interval from conception to the time when a child is two years old.
This means that during prenatal care visits, mothers are encouraged to immediately and exclusively breast feed their infants until the infant reaches six months of age. During these prenatal visits, we also encourage mothers and fathers to decide what method of FP they will use once a mother is no longer protected from pregnancy through the Lactational Amenorrhea Method (LAM).  World Vision trains Community Health Workers to track contraceptive stock-outs at local facilities. Using this information, World Vision and community leaders advocate with their local, regional and national governments for improved services and dependable contraceptive supplies. World Vision staff participate in national level Technical Working Groups, working to ensure that services and commodities reach the last mile – the community end-user.
What results has World Vision seen from integrating HTSP into its maternal and child health programs?
In programs where contraception use is low, usage increases rapidly when HTSP/FP messages and services are integrated with on-going maternal and child health programs.
Has World Vision involved religious leaders in helping Christians overcome misperceptions about HTSP and specifically contraceptives? And if so, how?
In some communities, we have found that Muslim and Christian faith leaders become strong advocates for HTSP when they understand its health benefits and also understand how their faiths support healthy timing and spacing.  World Vision released a report this year with stories about religious leaders in Ethiopia. One story is about a young man named Aberra, a Christian who assumed family planning was against his faith. He and his wife already had three children when he decided he wanted to finish high school and become a pastor. He was afraid he would not be able to go to school and operate a farm if his wife continued to have frequent pregnancies. He began studying scripture looking for anything that discouraged family planning and found nothing.
Aberra also noticed that the people around him who used family planning could afford to feed their children and give them what they needed. He and his wife began using family planning, and Aberra was able to finish high school and bible school. His wife was able to manage the household, take care of the children and help with their farm without the debilitation of another pregnancy. Now he is an Evangelical minister and a role model for others who began to use family planning themselves.
In another project in northeastern Kenya, World Vision trained community health volunteers on the benefits of healthy timing and spacing of pregnancies. Only 10 percent of the people in this primarily Muslim area were using contraception at the beginning of the project. We trained twice as many male volunteers as female volunteers and those male volunteers have made great strides in teaching imams about healthy timing and spacing of pregnancies. Now, the religious leaders are becoming strong advocates for family planning to protect the health of their communities. In the first nine months of the two-year project we surpassed our goal of 400 new contraceptive users by 25 percent with 494 new users.
Do you have a story you can share where you witnessed the transformation of someone who was originally against contraception because of religious or cultural beliefs who witnessed the life-saving power of HTSP and became a supporter?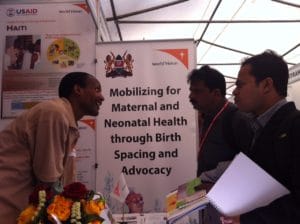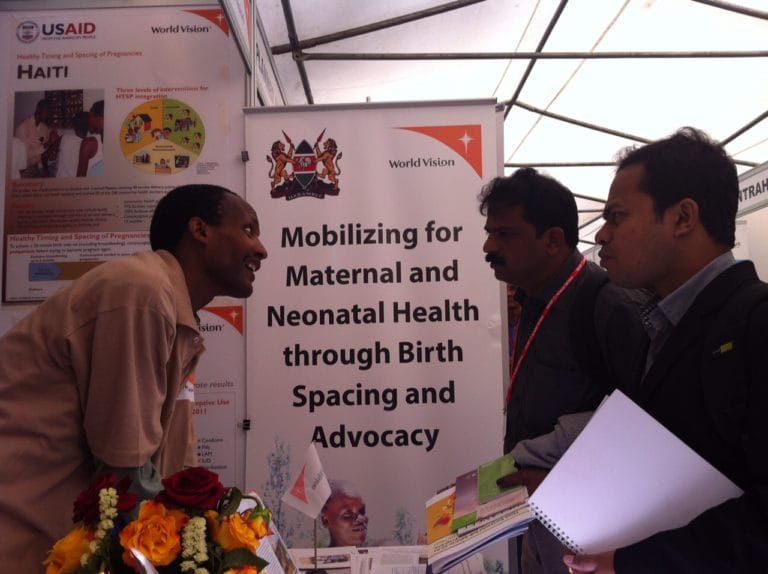 We see examples of this everywhere. Recently in Kenya, with funding from the Bill & Melinda Gates Foundation for the MOMENT Project, we held a workshop to introduce community leaders to HTSP/FP. Eight of the 30 participants were Christian male and female faith leaders who lead main stream and traditional congregations. One of the eight was an extremely thin pastor, the father of nine young children, who only came because another faith leader drove him to the workshop. He did not believe in medicine and none of his children were immunized.
The first day, he only listened to what his peers were testifying about the benefits of timing and spacing for mothers and their children. The second day, he managed to write one benefit on a flip chart, following the examples of the others who testified that  God wanted man to be fruitful first, and only after that did He want them to multiply. They discussed how being fruitful meant feeding and educating the children they already have, rather than simply having more.
The second night he took home "Facts for Family Planning" as did the others. On the final day he began to talk about his own children that he could not afford to feed or educate properly. He said he may have  misunderstood scripture, believing that God determined everything rather than believing that God gave him the strength and wisdom to determine how best to care for his children.
What do you see as your biggest challenge in reaching even more families to improve the health of children?
Currently, the main focus of FP programs is on increasing supplies of services. We find that increasing informed demand is equally important. The question is "If you build it, will they come?" They will not come unless they understand the benefits to themselves: how they and their families will benefit from improved health and a better chance of education.
Do you have ideas or thoughts to overcome this challenge, not just for World Vision, but for all Christians who care about children? 
Sadly, stigma around family planning persists here and globally. Most of this is based on misunderstandings or an unwillingness to look at the data about the health benefits of HTSP and family planning. Many do not understand that a strong family planning program reduces the number of abortions by protecting women from unwanted pregnancy.  In a letter he wrote last year to U.S. Senators, World Vision US President Richard Stearns wrote, "In its holistic program of services abroad, World Vision promotes maternal health and non-abortive family planning as one of the essential pieces in the puzzle of defeating poverty. World Vision takes maternal healthcare seriously."
For more information about World Vision's work in Healthy Timing and Spacing of Pregnancies, contact Adrienne Allison at aallison [at] worldvision.org Visit the World Vision website to learn more about the organization and its work.
Figures 1 and 5: Rutstein, Shea, and Rebecca Winter. 2014. The Effects of Fertility Behavior on Child Survival and Child Nutritional Status: Evidence from the Demographic and Health Surveys, 2006 to 2012. DHS Analytical Studies No. 37. Rockville, Maryland, USA: ICF International.
---