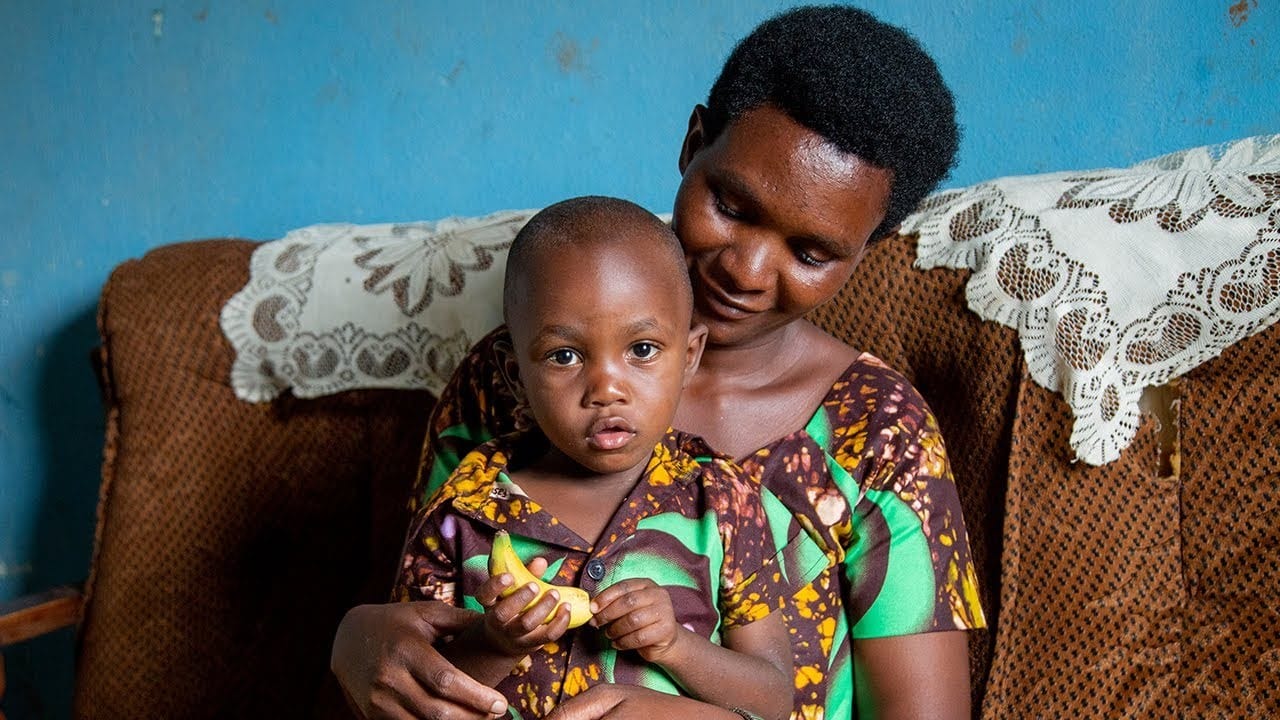 Health Systems Strengthening, Sponsor
Abbott: Bringing Quality Care Closer to Home
May 27, 2021
---
Three hours. That's how long Eugenie walked toward a distant health center while in labor. But despite her best efforts, she didn't make it – she delivered her son on the side of the road, without medical assistance. She then mustered the strength to continue her painful journey with her healthy newborn baby to reach healthcare.
Fortunately, delivery for her next child would be much easier and safer. She had access to a second-generation health post that offers quality antenatal care and maternity services – all a short walk from her home in Mbuganzeri village area in Rwanda. Eugenie gave birth to a healthy baby girl in March of this year. Watch Eugenie's story

The health post was available to Eugenie because of a collaboration launched last year between the Rwandan Ministry of Health, the non-profit organization the Society for Family Health Rwanda (SFH Rwanda) and Abbott to expand access to primary care and testing in rural areas of Rwanda. This reimagined healthcare delivery model is an important step toward meeting Rwanda's mission of providing access to care within a 30-minute walk for all citizens.
Expanding Access to Quality Care
The second-generation health posts were piloted in 2019 with eight locations in Bugesera district. The new health posts build on progress seen with earlier first-generation health posts designed to provide essential health services in mostly rural communities.
What makes them "second generation" is a smart design aimed at optimizing effective care for patients and efficient operations for health providers, as well as additional health and diagnostic services beyond what was available at first-generation health posts. In addition to much-needed maternity wards and antenatal care, the new health posts offer HIV testing, treatment for infectious diseases (malaria, respiratory infections and intestinal parasites), pharmacy services and health education. They are also quickly becoming a destination for the management of common noncommunicable diseases such as diabetes and hypertension. In addition, Abbott is actively working with the Rwandan Ministry of Health and SFH Rwanda to evaluate the expansion of services to include addressing nutritional deficiencies.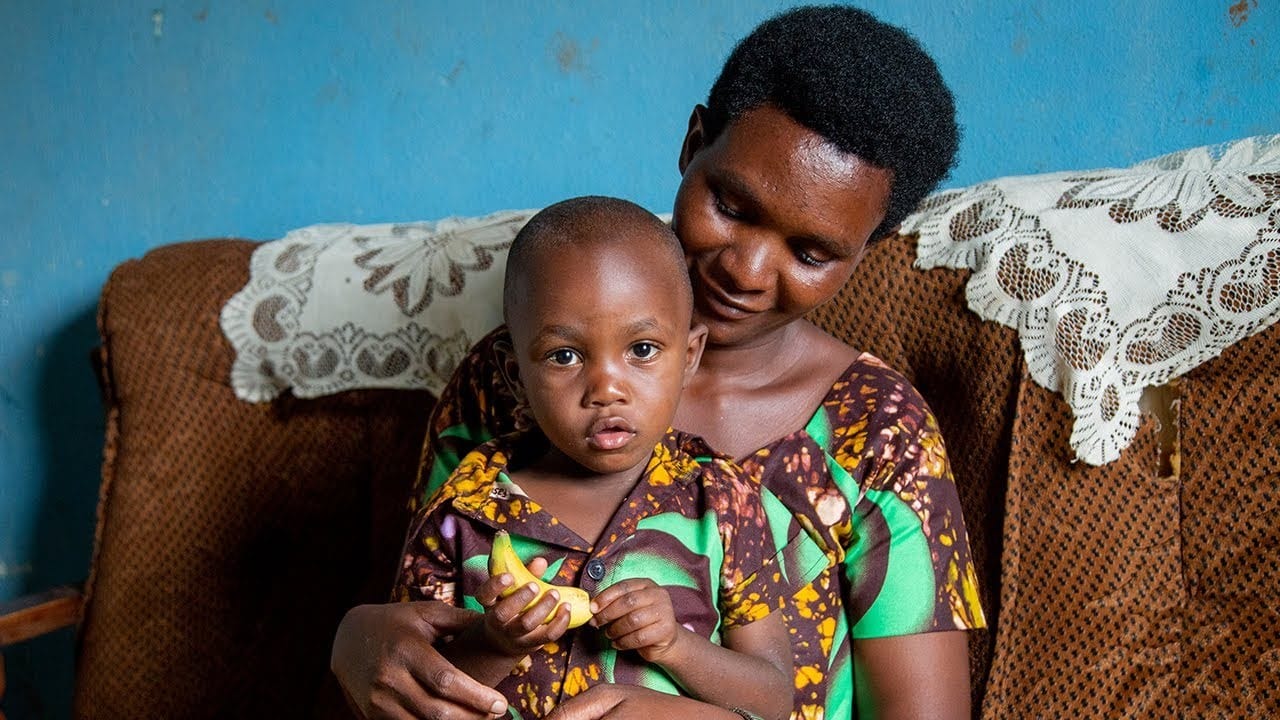 "Second-generation health posts are so important because they provide more comprehensive services," says Manasseh Wandera, executive director of SFH Rwanda. "We have everything from malaria testing and treatment, HIV testing, family planning services and antenatal care. The health posts are reducing financial hardships and increasing service delivery for people who need testing and care."
Abbott experts worked side-by-side with SFH Rwanda and the Rwandan Ministry of Health to not only design and construct the eight health posts, but also to establish the clinics as effective businesses. Abbott developed and delivered clinical training materials and helped health post operators strengthen business skills like how to establish a budget, promote services, order and manage inventory, track income and profits, and measure return on investment.
Localized Innovation Advances Antenatal Care
With the addition of antenatal and maternity care, the second-generation health posts make it easier for mothers like Eugenie to get the care they need before and after birth, making mother and baby healthier. In rural Rwanda, women average significantly fewer antenatal visits compared to the eight checkups recommended by the World Health Organization. That's why the pilot program focused on finding ways to maximize the number of crucial services that can be delivered in a single antenatal visit, including testing for infectious diseases that have a potentially serious and even fatal impact on the mother and child – HIV, syphilis, malaria and hepatitis B.
To provide health providers with better tools to optimize antenatal visits, Abbott bundled diagnostic tests for syphilis, malaria, HIV and hepatitis B into one panel that requires a single fingerstick of blood for diagnosis. Abbott designed the Antenatal Care Panel for use in decentralized settings where larger, automated instrumentation was not well-suited – a clear example of how businesses can deliver shared value by developing targeted innovations to solve local health challenges.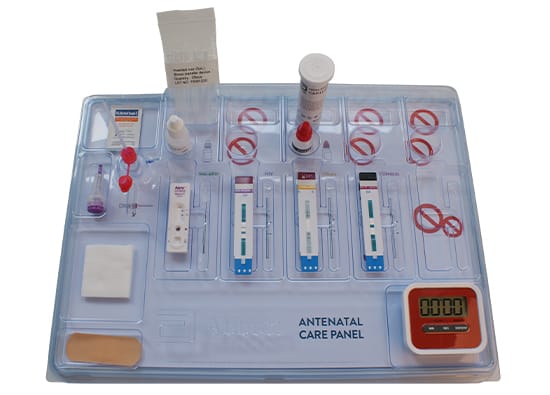 Today, more women are receiving maternity care, creating better outcomes for mothers and babies. More than 560 Antenatal Care Panels have been completed and, most importantly, over 240 babies have been safely delivered.
"The Antenatal Care Panel makes critical disease screenings simpler for patients while empowering women and their caregivers to better monitor the health of mother and child during pregnancy," said Damian Halloran, vice president, Infectious Disease, Emerging Markets, Rapid Diagnostics, Abbott.
Early Results Show Broader Access to Care, Sustainable Operations
Though the first eight health posts have been operational for just six months, early results are promising. The data shows that when there is better access to care, there is an increase of healthcare-seeking behavior and people receive needed testing and treatment.
The second-generation health posts are attracting more patients and resolving more cases than first-generation health posts, with the following results:
Patient volume increasing by 32%.
So far, about 1,000 patients are being seen per month at the new health posts – totaling more than 54,000 patients from October-April.
The new health posts detected three times the number of malaria cases on a monthly basis, with over 3,800 people receiving treatment.
The number of diagnosed respiratory infections was 11% higher, with a total of 15,900 people treated during the six-month pilot.
9,800 cases of intestinal parasites were resolved – double the number achieved at first generation posts.
Early operational results also validate that the health posts can be self-sustaining for the long term, with profitable operations observed across all eight sites in 2020. As visitor traffic increases at the health posts, higher revenues are generated, and expenses are more efficiently spread over a larger business base.
Taking the Program to Scale
Building on the strong results, the partners are working together to further demonstrate the success of the model to drive broader expansion of second-generation health posts. To meet their national goals, the Rwandan Ministry of Health estimates that 2,000 more second-generation health posts will be needed to bring basic primary care within a 30-minute walk of all 10 million people living in rural homes.
To guide the ramp up, the partners are developing a comprehensive plan that includes standardizing the design and service offerings of all health posts; establishing accreditation standards that help health post operators to safeguard consistency in quality of healthcare delivery and create an environment for continuous improvement; developing training modules to enhance capabilities of every health post operator and community health worker; and identifying funding requirements and a standard financial model.
Measurement is also a critical component of developing an effective model that can scale. To this end, Abbott is sponsoring health economics and outcomes research (HEOR) to measure the impact of expanded health services on quality of life and patient outcomes, as well as the potential long-term cost savings for Rwanda's overall healthcare system.
With further expansion, this shared value collaboration can bring more health services closer to home for more people, which holds great potential for saving lives and reducing costs, while creating new markets for Abbott's high-quality diagnostics and other medical products. The health post model also aims to continue to increase business opportunities in healthcare, help retain human resources, and stimulate local and national economies – all important elements of accelerating broader progress toward Universal Health Coverage and the Sustainable Development Goals.
As the President of the Republic of Rwanda Paul Kagame shared last year at the High-Level Meeting on Universal Health Coverage ahead of the 74th United Nations General Assembly, "Good health affords people dignity and enables them to use their talents to the full."
For more information, videos and photos of our work in Rwanda, please visit our Expanding Health Access in Rwanda feature page.
---