Health Systems Strengthening, Sponsor
Sickle Cell Disease: New Solutions for Diagnosis and Management
May 21, 2021
---
by Patti White, CEO, Hemex Health
Sickle cell disease (SCD) is one of the most common and severe of all inherited hematological disorders, causing substantial morbidity and mortality on par with diseases like Malaria and HIV.
According to the Sickle Cell Disease Foundation:
1,000 children are born with SCD every day in Sub-Saharan Africa (SSA)
Most are never diagnosed since there are no affordable tests
Up to 90 percent of these children die before age 5
SCD causes 5 to 16 percent of all infant deaths in sub-Saharan Africa
However, as grim as these statistics seem, there is hope. With early diagnosis, children with SCD can be given affordable interventions such as prophylactic penicillin and a pneumonia vaccine, drugs like hydroxyurea and supportive nutrition and hydration to reduce the disease's impact. Studies have shown that 70% of children with SCD in SSA would survive with these simple measures. That's 300,000 children saved each year.
Unfortunately, SCD testing is limited for the 71 million children born each year into regions with prevalent SCD. Although some small screening programs are now in place in low-resource countries, they utilize expensive laboratory equipment. Useful tests that provide doctors with the right information to start treatment cost as much as US$40 each, and are only available in national level hospitals. Many test results don't make it back to the families so the kids remain undiagnosed. Simple, reliable, affordable and accurate point of care tests are direly needed.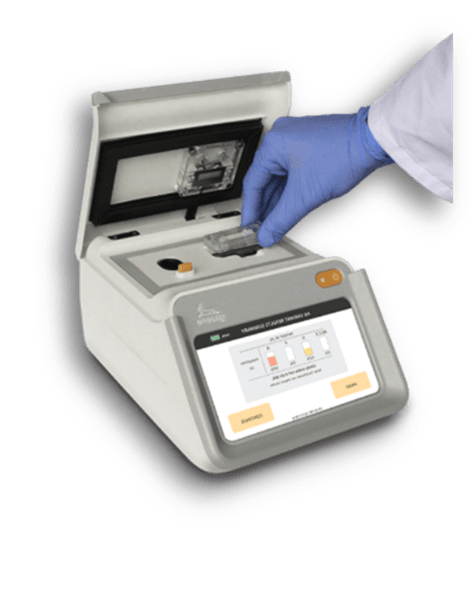 Hemex Health just launched the Gazelle Hb Variant Test for screening, diagnosis and management of sickle cell disease and related hemoglobinopathies at the point of care. The test can be operated by anyone anywhere and provides actionable quantitative hemoglobin information from a finger stick blood sample during the patient visit in less than 10 minutes. The Test can diagnose sickle cell disease at any age including newborns, and will diagnose the hereditary trait in marriage counseling settings. The instrument is designed for rough environments, has been shown to operate in hot (45C) and humid (95 percent RH) conditions. The total operating cost for the test including the consumable cartridge, sampling supplies and labor is the low single digit US$ range, depending on local conditions.
Gazelle enables field screening events where up to 50 kids can be tested in a day's work with one Gazelle – pictured at the Ruaraka Neema hospital (sponsored by World Vision) in Nairobi, Kenya. The test is registered and available in India, Ghana, Nigeria, Kenya, Tanzania, Uganda and Cameroon, with more countries coming online soon.
Inexpensive treatment that can improve quality of life is becoming more available. Hydroxyurea, which has become the standard of care for children and adults with SCD in high-income countries, is a cost-effective treatment that can reduce the number of painful episodes experienced by those with SCD. In an exciting new development, Novartis has started hydroxyurea supply in Ghana and Uganda and plans to expand distribution of the drug into several other African countries.
Greater access to testing can also help combat the lack of understanding and misinformation about the disease by patients and healthcare workers. In extensive interviews conducted by PATH in 2015 in Ghana and Uganda, interviewers noted that most people in the community did not know their carrier status and did not understand how the disease occurred or how it could be managed.
However, just knowing one's status can make a big difference in overcoming the effects of these disease. For example, marriage-age adults can learn the potential risks of bearing a child with the disease if they carry the trait. And in crisis situations, knowing the patient's diagnosis can help rule out other causes for pain and fever and drive optimal clinical interventions.
Expanding test menu. The Gazelle sickle cell test is currently being used in 9 countries, and we plan to rollout additional tests in 2021 including ones for malaria, beta thalassemia, and anemia. These tests can be added to the Gazelle platform through an easy software update.
Join us to demonstrate that Gazelle can reduce the disease burden caused by sickle cell disease. We are looking for partners to run pilot programs to show governments, international and faith-based donors that effective screening and management of sickle cell disease can save many lives. We are honored to be a sponsor of CCIH and look forward to hearing more about the work of the affiliated organizations. Your feedback will help us design products that make your work more successful.
---