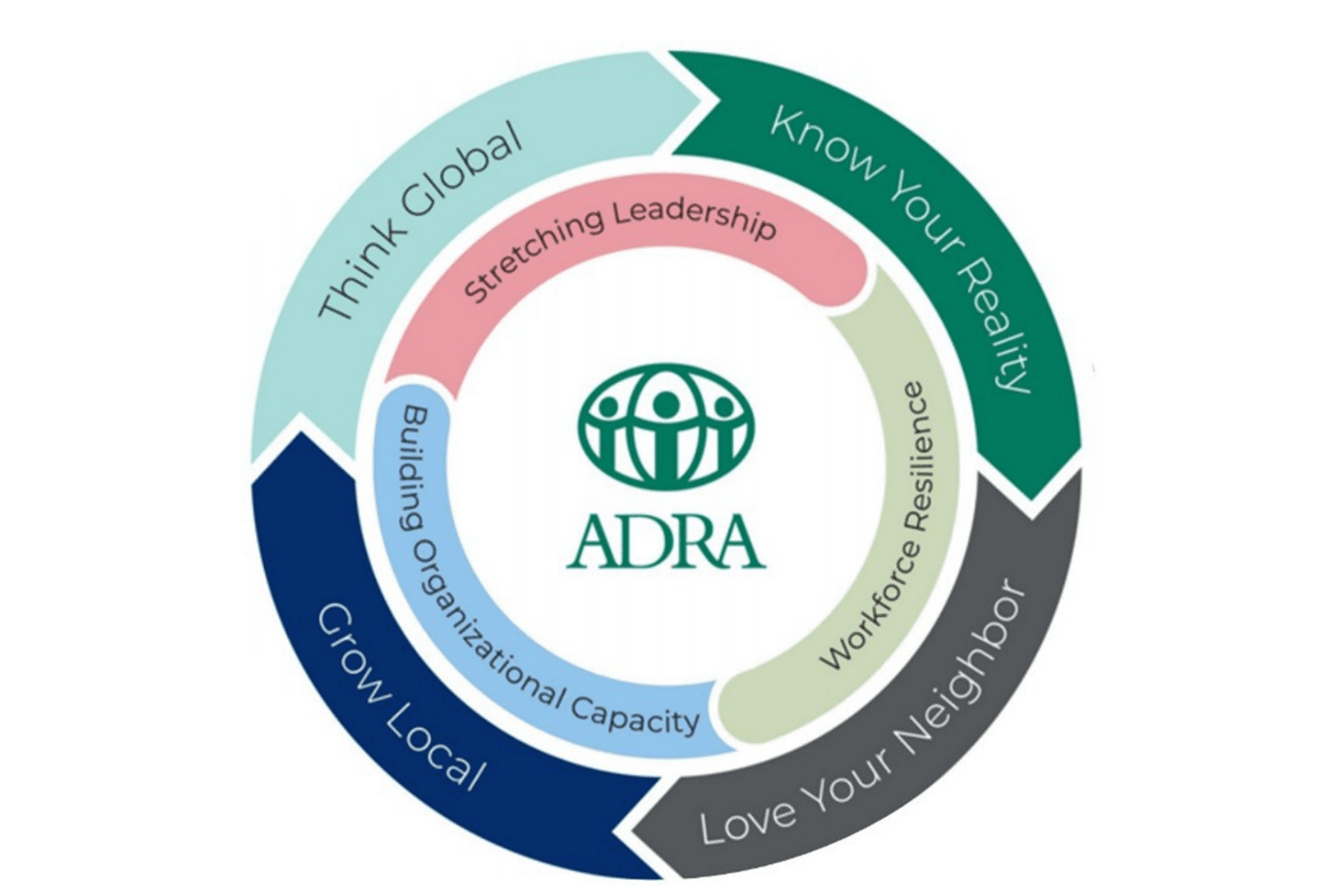 ADRA Global Response to the COVID-19 Pandemic
June 3, 2022
---
by Rhonda Holloway, Senior Health Innovation Specialist, Health, Nutrition and WASH Department, ADRA International
Justice, compassion, and love are cornerstone values at the Adventist Development and Relief Agency (ADRA). As stated in Micah 6:8, "He has told you, O man, what is good; and what does the Lord require of you but to do justice, and to love kindness, and to walk humbly with your God?" ADRA has strived to put this text into action since its inception in 1956, and March 2020 was no exception.
At the onset of the COVID-19 outbreak, ADRA's network of locally registered offices in over 118 countries banded together to support millions of pandemic- affected people across the globe with special emphasis on quickly delivering life-saving interventions to the most vulnerable communities.
"Stronger Together" COVID-19 Framework and Response Strategy
Given ADRA's presence in a wide variety of contexts, rather than a one-size-fits-all approach, ADRA created a flexible strategy (See Photo Above) based on a framework of four simple pillars developed specifically for the COVID-19 crisis, which could be applied in any local office:
1. Know Your Reality: ADRA realized the agency's impact could only be effective if its staff, volunteers, and partners understood their own risks and took the appropriate measures to mitigate and address them. At an organizational level, ADRA offices also needed to understand the disruptions the pandemic would bring to their current operations and pivot existing projects where necessary to address COVID-19.
2. Love Your Neighbor: While adhering to social responsibility, valuing and providing protection, and in consideration of pandemic restrictions, ADRA was intentional in strengthening connections with the church and other entities to provide effective risk communication and community engagement (RCCE) via trainings on how to prevent the spread of COVID-19 and other initiatives at the local level.
3. Grow Local: ADRA enabled local networks and leadership, as well as fostered economic recovery and resilience. Offices were advised to "think outside the box" of external funding, highlighting the focus on providing local solutions to local problems. This meant being intentional about mapping assets and understanding how to leverage existing resources through local partnerships.
4. Think Global: Understanding that ADRA's global network of offices would be "stronger together," weekly calls were held with offices throughout the network to share lessons learned, challenges and successes and adaptive management strategies were ultimately adopted in projects.
Results
By March 2021, ADRA had implemented 422 projects nearly all of which included health; water, sanitation, and hygiene; and RCCE components in 96 countries as a global response to the COVID-19 pandemic across ADRA's nine global regions, impacting nearly 20 million beneficiaries (See Table 1).
Table 1: Number of COVID-19 Responses and Beneficiaries by Region
| Region | Number of Projects | Number of Beneficiaries |
| --- | --- | --- |
| Africa | 47 | 16,015,531 |
| Asia | 75 | 1,900,000 |
| Central America/Caribbean | 10 | 54,178 |
| Eastern Europe/Central Asia | 12 | 94,613 |
| Europe | 32 | 42,000 |
| Middle East and North Africa | 27 | 260,375 |
| North America | 69 | 713,826 |
| South America | 101 | 763,659 |
| South Pacific | 49 | 124,938 |
| TOTAL | 422 | 19,969,120 |
Compared with programming from the previous five years leading up to the pandemic, ADRA's COVID 19 global response reached a greater number of beneficiaries despite fewer numbers of projects and smaller budget size (Table 2).
Table 2: Comparison of Number of Responses, Beneficiaries, and Budget Size with Previous Years
| Program Period | Number of Projects | Number of Beneficiaries | Programming Budget (USD) |
| --- | --- | --- | --- |
| 2015 | 1306 | 18,503,456 | $190 million |
| 2016 | 1197 | 15,700,923 | $186 million |
| 2017 | 721 | 11,028,011 | $219 million |
| 2018 | 1043 | 16,255,597 | $270 million |
| 2019 | 1181 | 13,940,984 | $324 million |
| 2020* | 1372 | 20,789,281 | $329 million |
| Global COVID-19 Response** | 422 | 19,969,120 | $26 million |
Conclusion
ADRA's experience during COVID-19 showcases how keeping a local presence in-country and fostering partnerships with affiliated faith institutions and constituents can result in a wide reach of programming, even with few funds. ADRA's success can also be attributed to being seen as trusted partner via our close association with the Seventh Day Adventist Church in target countries; even in communities where ADRA had not worked.
By providing dedicated personnel and small seed-funding, developing a flexible global strategy involving strong business continuity plans and emphasis on its faith base, and supporting the sharing of information and lessons learned among local offices, faith-based NGOs are capable of quickly delivering life-saving interventions to vulnerable communities that may otherwise not be reached.
*Based on unofficial preliminary data only; 2020 figures are currently under analysis and have not yet been published through an annual report.
**Global COVID-19 Response figures include all COVID-19 programming data in 2020 through March 2021.
ADRA International is a Silver Sponsor of the 2022 CCIH Conference. Learn more about ADRA International's work and see their 2020 Annual Report.
---