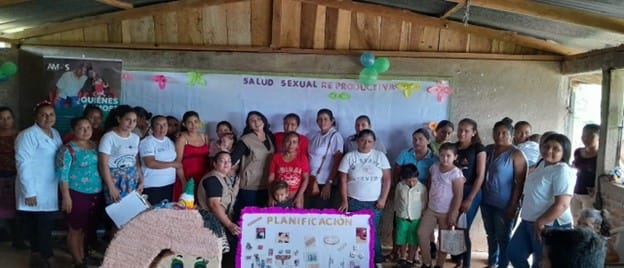 Connector Articles, Family Planning
CCIH Small Grant Helps AMOS Promote Family Planning in Nicaragua
November 17, 2023
---
by Irene Choi, Pepperdine University Undergraduate and CCIH Communications and Advocacy Intern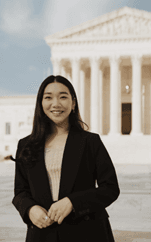 AMOS Salud y Esperanza (Health & Hope) received a CCIH small grant to promote family planning methods in six communities of Matagalpa, Nicaragua. The communities involved in the project include Tapasle, El Socorro, Fila Grande, Apantillo, Sabalete, and San José de las Mulas. After developing a baseline of care available to these communities, AMOS recruited, equipped, and trained Community Counselors on family planning methods to avoid unwanted pregnancies, and reduce high risks from complications during pregnancy or childbirth.
"We are focused on helping the poorest regions in the country; to support families and empower the communities to understand and use family planning for their own reproductive health," expressed Dr. Pedro Leon Perez, Health Program Manager at AMOS Health & Hope.
Activities and Clubs to Drive Engagement
Driven by their mission, to protect health and save lives, AMOS advocates and educates rural communities on modern family planning methods. The AMOS technical team arranged mass educational activities, such as forming six adolescent clubs to address preventable pregnancy risks and 12 Community Sexual and Reproductive Health awareness fairs within the communities. AMOS also chose 112 volunteer local community leaders (counselors).
"The community leaders with whom we work includes religious leaders because we affirm our responsibility to continue advancing family planning from the faith perspective. Life is sacred, and we believe in the role of family planning in protecting the lives and health of mothers, fathers, and children, reducing their mortality, and creating well-being," said Dr. Perez. "We are committed to striving for women's and girls' access to decision-making while ensuring male engagement is part of the processes."
The volunteer counselors used educational resources provided by AMOS to address taboos and gender stereotypes that hinder family planning with 441 community member participants. (Photo at top shows a Community Sexual and Reproductive Health Awareness Fair in Apantillo, Matagalpa. Courtesy of AMOS)
Dr. Perez explained, "Even in rural communities, everyone has the right to have access to good sexual and reproductive education and resources. In Nicaragua, there is gender-based violence, which is related to the large number of teenage pregnancies, so it is important that we continue to empower women through these projects. As well as bringing the families to these mass educational activities as a whole, both men and women, to further reduce this problem." (Photo below shows Sexual and Reproductive Health Community Counselors in El Socorro Matagalpa. Courtesy of AMOS)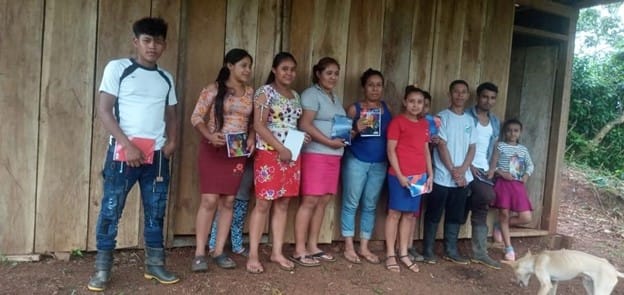 With this project, AMOS continues to highlight the importance of implementing and bringing awareness to family planning services. Aiming to reduce the risks of maternal deaths and slow the cycle of poverty-derived sexual violence and lack of planning and spacing of pregnancies. They identified the common issues linked to sexual and reproductive health within these vulnerable communities, including the lack of awareness and resources for safe pregnancy and delivery. "Often sexual and reproductive health efforts focus on a certain group of the population (generally 19- to 35-year-olds), and does not reach high-risk groups such as adolescent women, people of Afro-descendant groups or other ethnic groups, or people in areas with high poverty rates," Dr. Perez explained.
Actions Bring Results
Successfully reducing the gap in access to family planning methods, the technical team provided guaranteed permanent and free access to contraceptive injections. Fifty-seven  percent of users chose three-month injectables; 36 percent of users chose one-month injectables; 6 percent of users chose oral contraceptive pills. Eighty-eight percent of community members expressed satisfaction with the counseling they received before selecting a family planning method. (Photo below shows the presentation of baseline results to members of community health networks in Apantillo, Matagalpa. Courtesy of AMOS)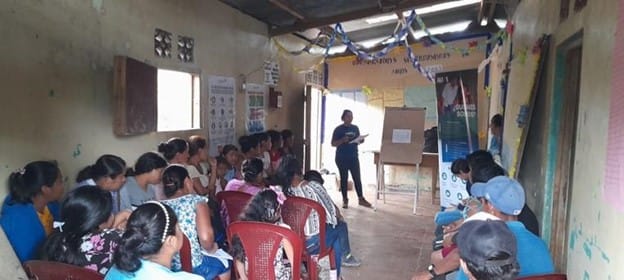 AMOS calls attention to the importance for rural communities to have access and better understanding of family planning methods to promote safe sexual and reproductive health. Motivated by their Christian faith, AMOS, "envisions a world with health for all people, where no child dies from a preventable disease, with effective and empowering health care."
"In the long term, we hope to reduce the gap of access to family planning methods, increase the number of women using these methods, and reduce the number of teenage pregnancies within these communities," expressed by Dr. Perez. "We also hope to see more participation of men in these types of projects. Since there are some women who require permission from the men of the household to use these methods. By educating them on the importance of these methods, we aim to change that."
---