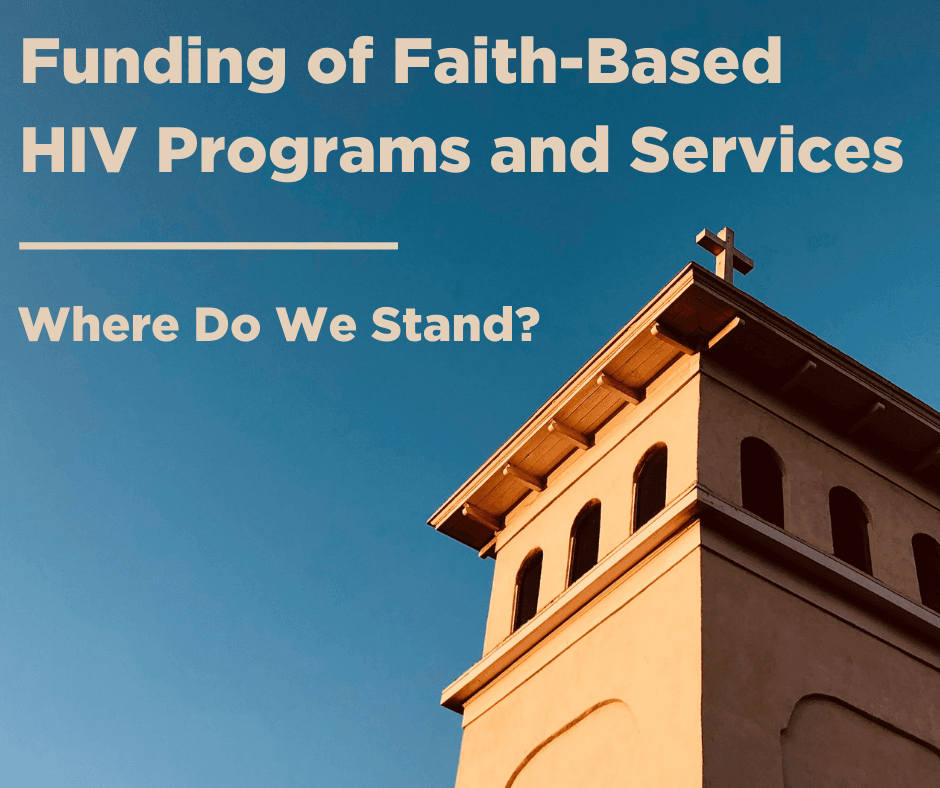 Funding of Faith-Based HIV Programs and Services
October 22, 2020
---
Where do we Stand?
An analysis by Doug Fountain, CCIH Executive Director
Faith-based organizations (FBOs) and religious leaders are effective partners in the global goal to control HIV/AIDS. Inconsistent or declining funding to FBOs may hamper our ability to accomplish this goal. Are FBOs losing or gaining ground in global funding for HIV? Should we be concerned about their funding level?
CCIH analyzed data on expenditures through the President's Emergency Plan for AIDS Relief (PEPFAR) to understand the extent and nature of funding through faith-based organizations. CCIH found that funding is less now in both absolute dollars and proportion of expenditures than in previous years. Note, our analysis does not include local spending on HIV/AIDS programs and indirect economic impacts in communities and families.
HIV/AIDS programs received an estimated USD $9.5 billion in 2019, $6 billion of which came from the United States Government. PEPFAR accounted for just over $4 billion of that funding. Of that, 4 percent of PEPFAR funds (about $160.7 million)  went to FBOs, an increase from the 2.47 percent ($96 million) directed to FBOs in 2018. It is still less than the first decade of PEPFAR during which time 5.6 percent of total funds (average $173 million annually) were directed through FBOs.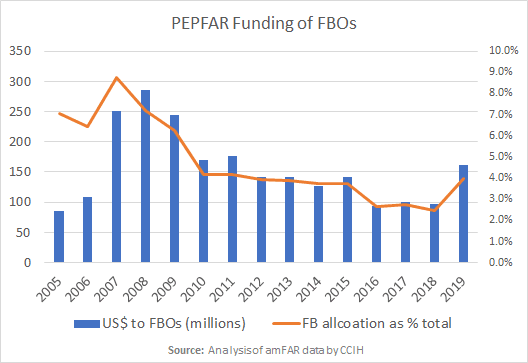 How Was Funding Allocated?
FBO funding went mostly to care, treatment, and prevention in 2019, with allocations to prevention increasing from 14 to 19 percent from 2018 to 2019. Care and treatment receives the majority of the funding, with 72 percent of FBO funding going to care and treatment in 2019.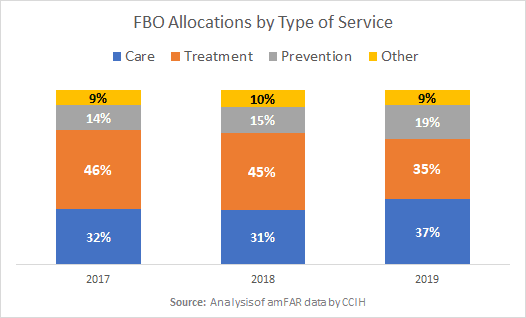 Funding recipients have changed over time. Catholic Relief Services (CRS) alone received nearly $52 million in 2019, a 64 percent increase over 2018. Other international NGOs received about $10 million combined. Christian Health Associations and local networks in four countries received 45.1 million, a 39 percent increase over 2018 (not shown).
FBO Strengths
We know that FBOs offer a unique value proposition for communities, countries and global partners.
● They reach scale. According to a number of reports, FBOs represent 20 to 50 percent of health services in sub-Saharan Africa; ACHAP estimates there are 5000 Christian health facilities in 32 sub-Saharan Africa countries. Christian health associations in several countries operate technical programs, handle large grants, and operate vibrant supply chain organizations.
● They reach the last mile, literally and figuratively. In many low- and middle-income countries, Christian organizations are regarded for serving in very rural and remote communities. In addition to the "physical" last mile, Christian organizations are committed to improving health for those most in need by assuring access and overcoming obstacles. This could be for disadvantaged populations generally, people who live in other underserved areas such as urban slums.
● They reach deep within communities. According to the Pew Research Center, 84 percent of the world's population belongs to a major religious group. We know that religious leaders and FBOs are not only effective advocates, but help shape the attitudes and beliefs within their communities.
Why Is There A Disconnect and What Comes Next?
So, why are FBOs not more highly integrated in global funding for HIV/AIDS programs? There are a number of possible reasons. First, FBOs may lag secular organizations in data and evidence collection. Second, they may not have the extensive internal support systems to manage large scale grants and compete with larger NGOs. Third, there may be opposition or general unease about involving churches that were previously associated with stigma. If these challenges are truly obstacles, they need to be mitigated so that FBOs can be appropriately funded.
Fortunately, the issue of funding FBO work in HIV is getting some visibility. We were glad to talk to Devex recently for a piece exploring PEPFAR's faith-based initiative and what has happened in the last two years. We look forward to continuing the conversation and helping to ensure that FBOs who know and care for communities are recognized as vital partners in the effort to control HIV/AIDS.
See resources on the work of faith-based organizations and HIV/AIDS.
---