International Health Partner's Pro-active Partnering Meets Cancer and Heart Needs in Gaza
December 2, 2019
---
In Al Shifa hospital, Gaza, outpatient pharmacist Susan Sarhan sees about 200 patients with cancer pass through each day to pick up essential medicines. Often, the medicines they need are not available. "Our list of medicines in short supply has grown dramatically," says Susan. "Shortages are a serious danger for patients. If treatment is disrupted, it inevitably worsens prognosis." Gaza's few health facilities face acute shortages of medicines, staff and equipment to address conditions such as cancer and heart disease.
UK-based CCIH member International Health Partners (IHP) is helping address these needs and ameliorate the situation. It's partnering with Anera, an established aid and relief agency that works to support facilities including Al Shifa, Gaza's only hospital with an oncology (cancer) unit. IHP also partners with UK and European healthcare and logistics companies: first to attract donations of medicines and supplies, and then to ship these out to where they're needed.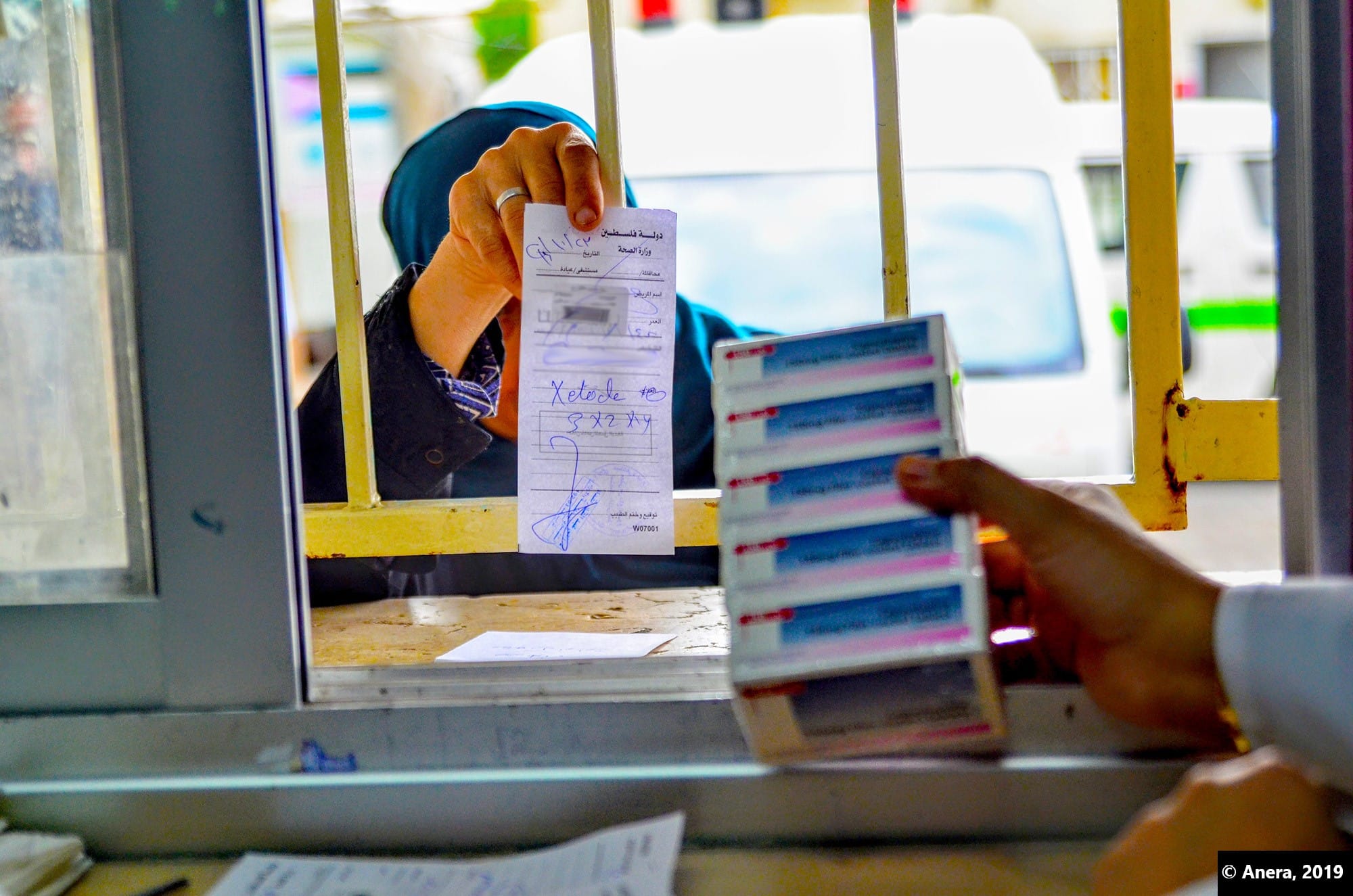 Mother of Five Gets Life-Saving Chemotherapy
In early 2019, Al Shifa ran out of medicines including capecitabine, an oral chemotherapy treatment. IHP made an urgent appeal and two companies responded: Morningside Pharmaceuticals donated 3,000 packs of capecitabine tablets, which can treat a range of cancers, and Janssen gave bortezomib tablets, which addresses progressive multiple myeloma. IHP was able to send medicines worth around £287,500 ($372,169 U.S.) to Gaza, filling 30 percent of the unit's needs.
Patients receive these medicines free of charge. The donations enable about 150 people with cancer to complete a full course of treatment. One patient is Aysha*, 42, a mother of five. She developed breast cancer eight years ago, and it spread to her spinal cord. Despite needing chemotherapy, she's doing her best to remain active and healthy, and keep her family going.
Last year, IHP managed to secure a supply of heparin sodium, an anticoagulant medication used in heart bypass machines to enable lifesaving surgeries. When Al Shifa and Al Qud hospitals in Gaza ran out of heparin, Anera asked IHP to help. Healthcare partner Leo Pharma agreed to donate 32,000 vials that have since saved lives.
Drug Donation Enables A Father's Heart Surgery
International Health Partners program director Louise Hart met Omar*, 70, who was diagnosed with a heart problem in a routine exam and referred for immediate open-heart surgery to replace a damaged valve. Left untreated, his illness would have been terminal. Instead, the heparin donation meant Omar had surgery and left ICU the next day. His daughter, an obstetrics specialist, told Louise, "We are so grateful for the heparin that meant my father could have his surgery." Omar is shown above after his lifesaving heart surgery, made possible by heparin sodium, donated by IHP.
Adele Paterson, IHP's CEO, says: "These are wonderful examples of how we're partnering in a needs-led, proactive way, working with healthcare companies and cheap used cubicles in San Diego, Ca to coordinate delivery of high-quality medicines to vulnerable people."
Donations given to IHP during the Big Give campaign (3-10 December) will be automatically doubled. A £10 ($12.95 U.S.) donation secures about £200 ($258.90 U.S.) of donated medicines, equivalent to 45 vials of heparin sodium, which can facilitate about nine surgeries. Learn more and donate
*name changed to protect privacy 
More about faith-based organizations working in non-communicable diseases.
---