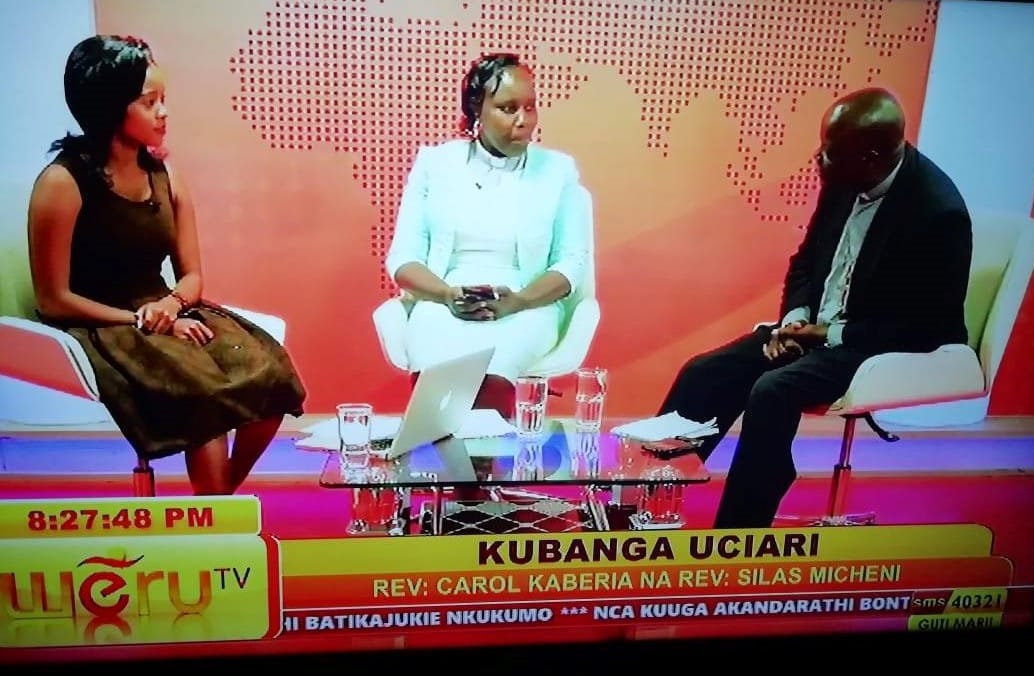 Advocacy, Connector Articles, Family Planning
Advocacy Project Tapped Into the Power of Faith Leaders as Health Influencers
March 21, 2022
---
The Christian Advocacy for Family Planning in Africa (CAFPA) project came to a close in December 2021 after seven years. The project, which was funded by the Bill & Melinda Gates Foundation, leveraged the talent, commitment, influence and connections of faith leaders to drive change and build support for family planning (FP) and HIV prevention in their communities and among policymakers in Kenya, Zambia and Nigeria.
"CCIH was delighted to convene partners, develop advocacy capacity and engage religious leaders in three countries," said Doug Fountain, CCIH Executive Director. "This is where we are at our best as a global network. We cannot overstate the importance of access to FP for protecting health and promoting fullness of life among countless families, and we are grateful to the Bill & Melinda Gates Foundation for their commitment to engaging faith communities to this end."
Key Takeaways from the Project
We gained some important learnings from the experience that we summarize here and explore in more depth below.
Internal advocacy within denominations and church organizations is necessary before external advocacy begins. Religious leaders need the support of their churches and denominations to conduct the advocacy work.
It is important to have clear definitions of terms and mutual understanding.
Major shifts in thinking and cultural norms take time.
Training should include scriptural support for the health intervention.
CCIH led CAFPA and partnered with the Christian Health Association of Kenya (CHAK)  and the Churches Health Association of Zambia (CHAZ)  to train and encourage local religious leaders as advocates in Kenya and Zambia. The first three years of the project (2014 to 2017) included Nigeria, and the Ecumenical Pharmaceutical Network (EPN) was a partner for the Nigerian portion of the project.
The project trained religious leaders to educate their communities and advocate to their governments to include FBOs in supply chains and allocate funds for commodities and health worker training. While the first six years of the grant focused on healthy timing and spacing of pregnancies, the final year (2021) included HIV and sexual and gender-based violence and ran exclusively in Kenya. The project included Muslim leaders, but the majority of faith leaders in the project were Christian.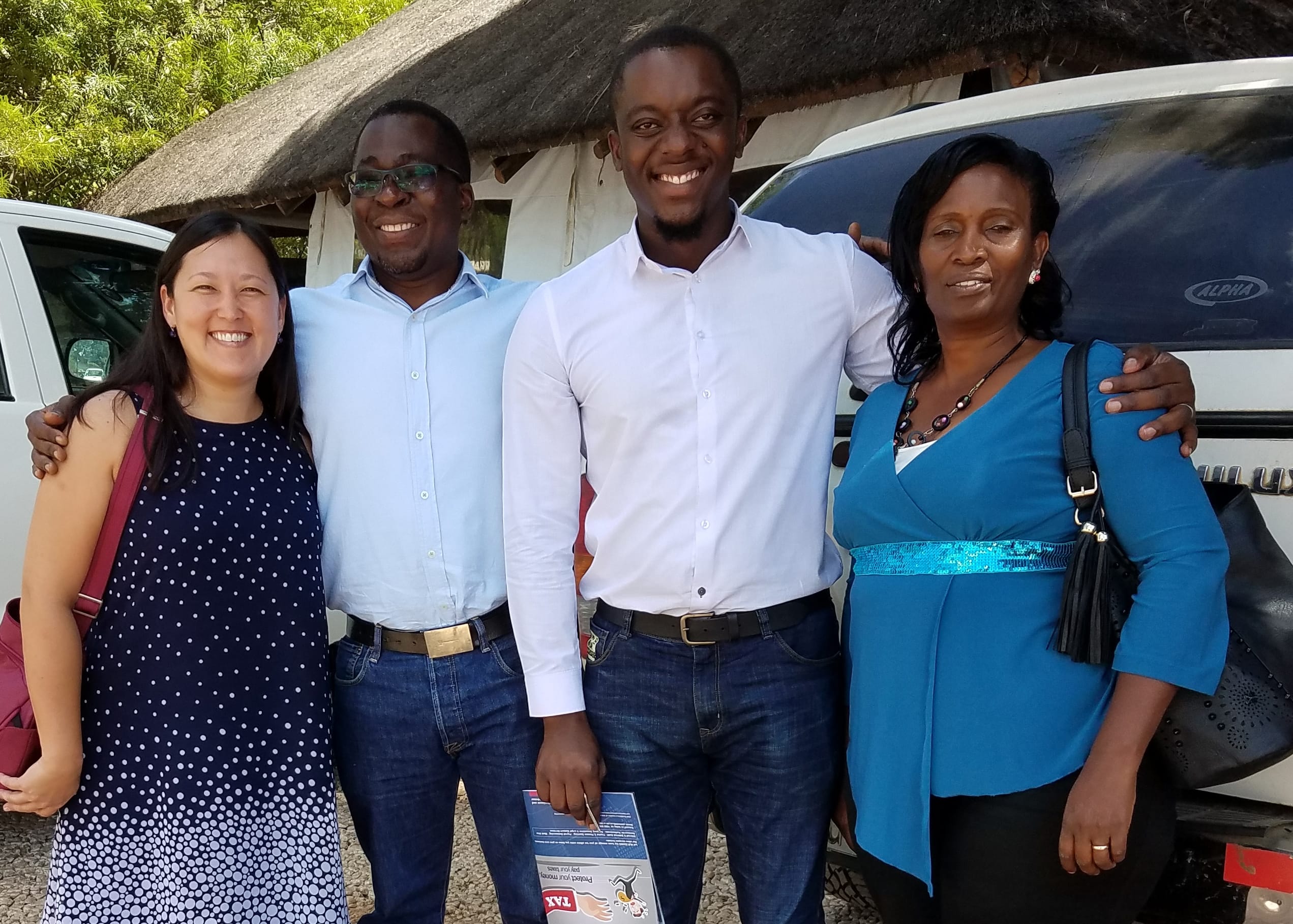 To empower religious leaders to speak up and use evidence-based arguments in support of FP, CHAK and CHAZ trained religious leaders in advocacy and technical information about FP, and led them in discussions on scriptural support for FP. CHAK trained 14 religious leaders in Kenya in three counties – Kiambu, Meru, and Murang'a – in the first six years of the project, and added three more counties – Kilifi, Machakos, and Narok for the final year, bringing the total of religious leaders trained to 54. While the focus was on individual counties in Kenya, the project was national in scope in Zambia and CHAZ trained 18 religious leaders in the project to advocate to the Zambian MOH.
CHAK and CHAZ equipped religious leaders to reach out both internally to their church denominations and congregations and externally to communities through a range of media, and holding meetings with public officials to advocate for FP support and funding.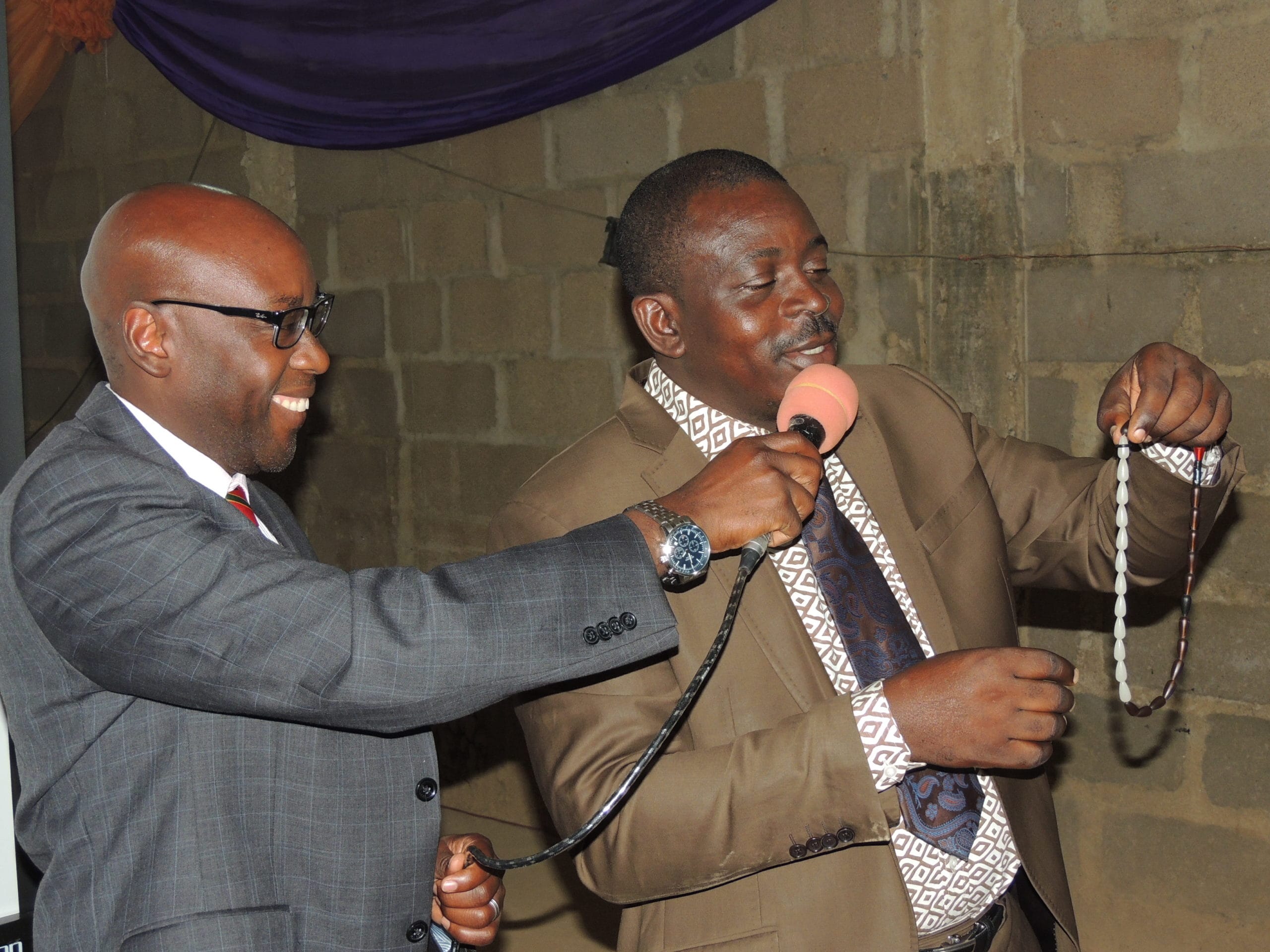 Why Engage Faith Leaders?
The reasons for involving faith leaders in health issues are clear. Religious leaders are engaged community members and understand their communities' culture, beliefs, and other factors that may influence health. They care about the well-being of their congregations, and they are well connected in their communities and have influence with their governments. By nature of their profession, faith leaders are also experienced public speakers with access to large numbers of people through their houses of worship and other community forums.
Ray Martin was the Executive Director of CCIH when the project began. He worked with Dr. Douglas Huber, a long-time CCIH volunteer and consultant who currently serves as Senior Technical Advisor for Reproductive Health for CCIH, and CCIH staff to develop and submit the initial application to the Foundation in 2013.
"An invitation from the Bill & Melinda Gates Foundation to submit a proposal for strengthening family planning advocacy through religious leaders in three African countries in 2013 was pretty exciting for me," he said. "It represented a significant success in our CCIH effort to demonstrate to the wider, secular, international development and donor community the important impact and potential of faith-based organizations as major players in the development world. In the 1980s, you didn't see the phrase 'faith-based organization' in the development literature. Despite the major role of FBOs in the health sector in Africa, that reality was not widely understood or appreciated. So when CCIH convinced the foundation that we could contribute significantly to the promotion of family planning by working with religious leaders and churches, it was a major milestone in our effort as FBOs to be taken seriously by the big players, and to earn a place at the table."
Reaching Communities Near and Far
Faith leaders trained by the project shared messages on the health benefits of healthy timing and spacing of pregnancies (HTSP) regularly to their congregations in sermons, and at weddings and other community events, emphasizing that family planning is consistent with their religious values.
Faith leaders reached communities far beyond their local congregations through mass media, mainly TV and radio, but also using opinion pieces in newspapers. Examples of this include an appearance by Reverend Carol Mberia of the Methodist Church and Venerable Reverend Silas Micheni, Archdeacon, Anglican Church of Kenya in Meru County on WERU TV on July 25, 2019 (see above photo).
The appearances by religious leaders reached community members and raised their awareness of HTSP. Couples approached Reverend Jamlick Murimi of the Anglican Church of Kenya to ask about family planning after hearing him speak in a regular program on the role of the Church in society on MERU TV. In September 2021, Reverend Geoffrey Njihia of the African Inland Church and Father David Kallinikos Kinuthia of the Orthodox Church in Kiambu County appeared on Family Radio 316 and TV talking about family planning and HIV prevention. Watch the video:
Zambian religious leaders also appeared on radio and television, including a Pentecostal pastor with a regular show on ZNBC, as well as a religious leader with the Salvation Army who spoke in the local language about the need for Christians to embrace FP as a responsible way of practicing stewardship of the gift of procreation on the radio.
Published opinion pieces written by the faith leaders in the project include "Family Planning: A Matter of Life and Death for Kenya's Women" by Reverend Carol Mberia in the Kenya Star
and "Church Leaders Helping to Boost Family Planning" by Reverend Samuel Njung'e and Reverend Samuel Wainaina from Murang'a County in the Kenya Standard.
Learn more about religious leaders using mass media in the CAFPA project in this supplement to Global Health: Science and Practice Journal.
Impact and Advocacy Wins
Religious leader advocacy in the project increased public and community support for FP, political commitments for FP in Kenya and Zambia, developed FP costed implementation plans (CIP) – a multi-year actionable roadmap designed to help governments achieve their family planning goals – to increase stable financing for FP, and commitments to expand access to contraceptives through task shifting. For example, Meru, Murang'a and Kiambu Counties in Kenya now have CIPs for family planning.
Speaking during the launch of the Murang'a County FP CIP on December 14, 2020, Reverend Samuel Mukirai Njung'e of the African Inland Church said, "I note with concern that scripture is often misquoted to convince couples to have many children, but the Bible in Genesis 1:26-28 urges man to subdue the earth, which only a healthy family can achieve. Having healthy families is the first step towards subduing the earth." He added that religious leaders were able to reach large sections of the population, and thanked CHAK for involving them in family planning advocacy through the CAFPA project.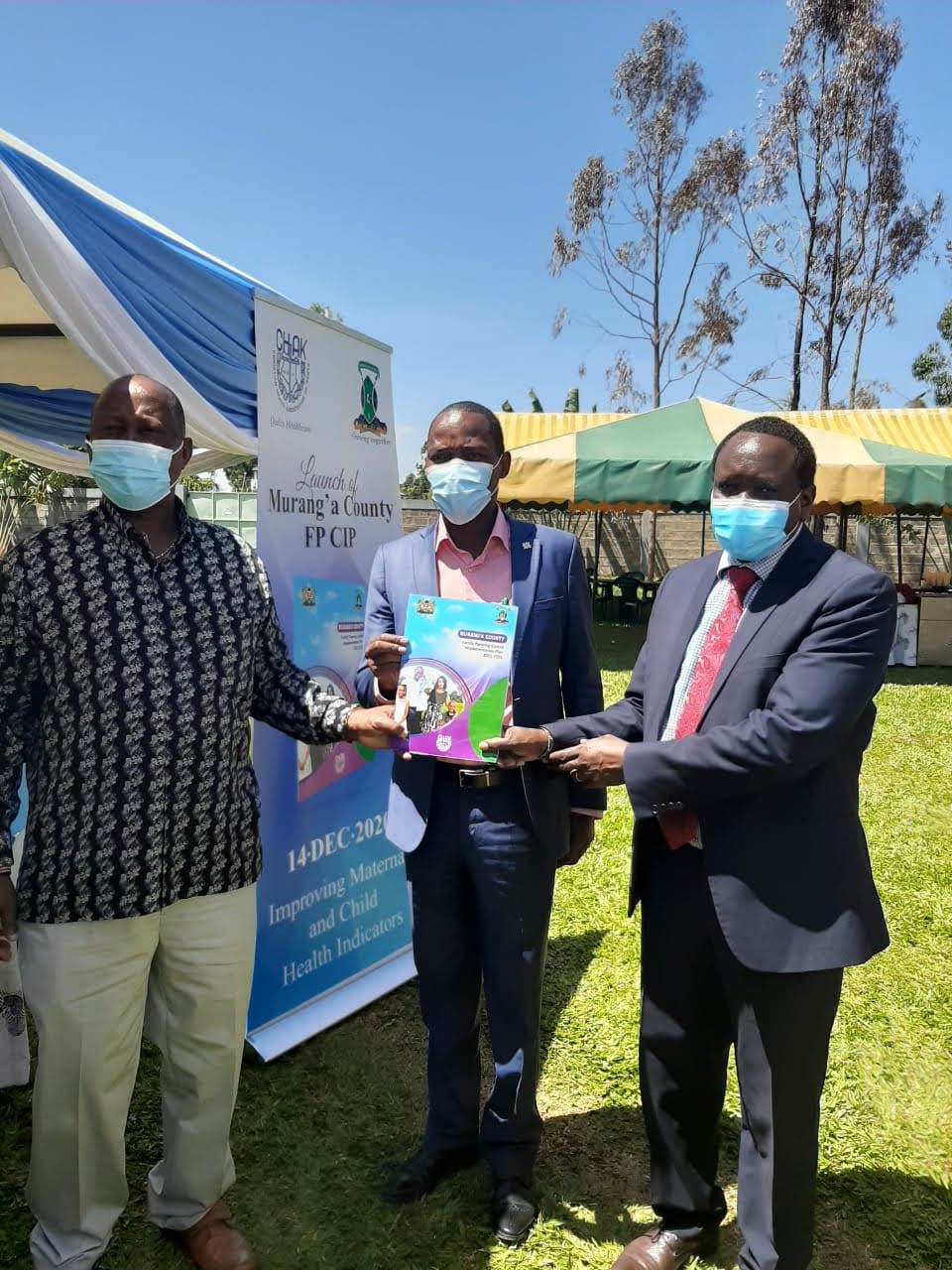 Thanks to its leadership in advocacy, CHAZ was named as the Lead CSO (civil society organization) for the Family Planning Technical Working Group Advocacy Subcommittee. Dr. Kennedy Malama, Permanent Secretary, Technical Services, Zambian Ministry of Health publicly recognized CHAZ's leadership and stated, "The family planning technical working group is one of the most effective TWGs we have right now."
The relationship between religious leaders and government officials is also closer thanks to the project. For example, church leaders are called on to speak about the church and FP by the Zambian MOH. Below is Major Angela Hachitapika, Salvation Army Zambia speaking at an MOH breakfast event.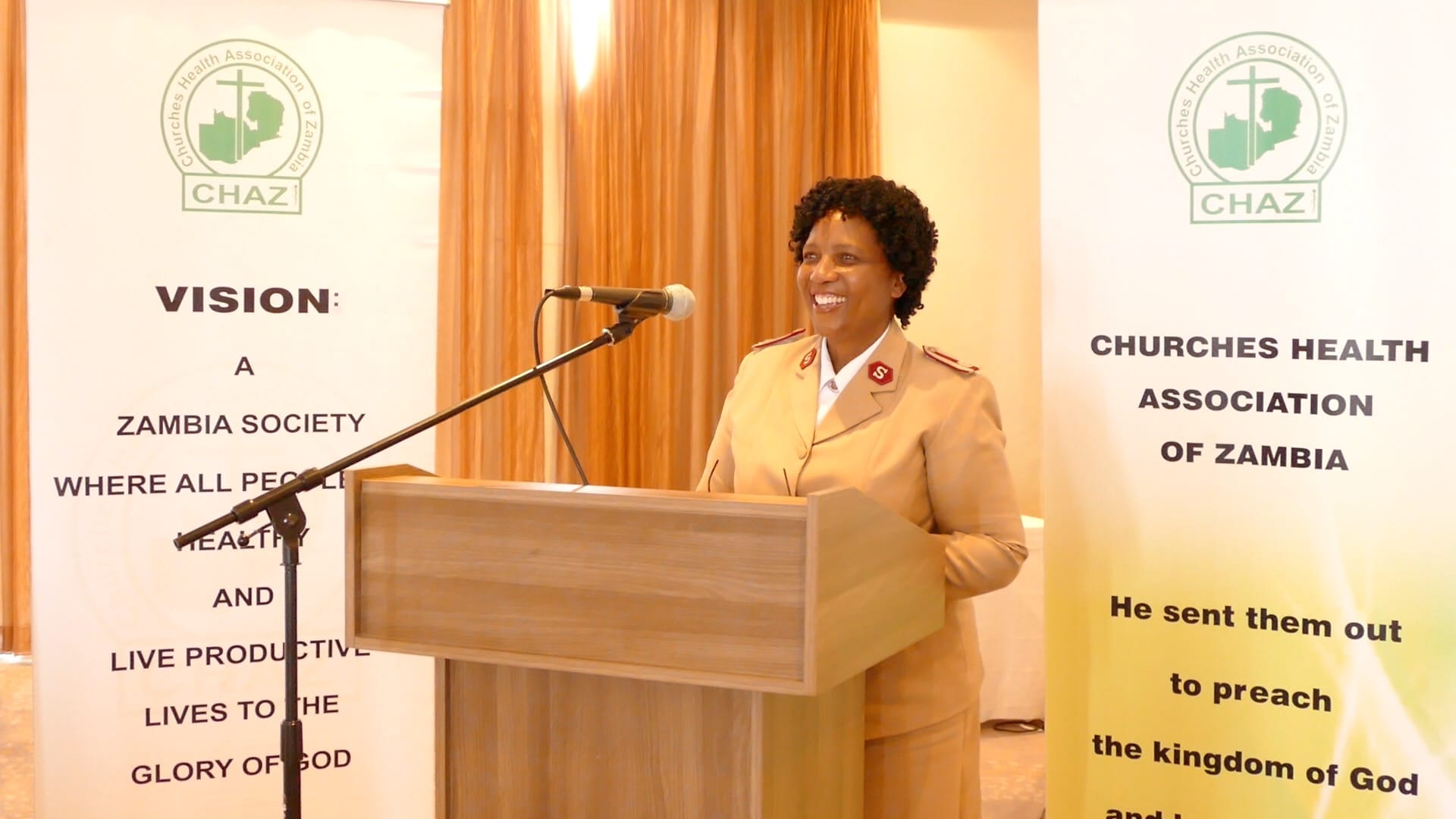 Thanks to the engagement with the religious leaders, the Zambian government signed a policy on task-shifting to enable community-based distributors to provide injectable contraceptives, making them much more accessible to women.
It is very fulfilling to know that I can now talk to my government about financing family planning. I thought my calling was only to preach the word of God, but I am doing more to help my community. -Venerable Reverend Silas Micheni, Family Planning Advocate, Archdeacon, Anglican Church of Kenya, Meru Diocese
What We Learned
When equipped with training, education and tools, religious leaders are effective and enthusiastic advocates for family planning. Achieving that level of comfort and skill takes time, and we list some key takeaways from the project below and explore them briefly.
Internal Advocacy
Faith leaders need the support of their denomination, and especially denominational superiors, to optimize their participation in advocacy efforts. Their superiors should understand the link between healthy timing and spacing of pregnancies and the health of mothers and children in the congregation. This internal advocacy will take time and needs to be considered in project planning.
Clear Definitions and Understanding
Faith leaders and communities need a clear understanding of family planning, including what the term means and a definition they are comfortable with. The CAFPA project started with the CCIH definition of family planning in the recruitment of religious leaders:
"Enabling couples to determine the number and timing of pregnancies, including the voluntary use of methods for preventing pregnancy–not including abortion–that are harmonious with their values and beliefs."
However, once the project started, CHAK and CHAZ project coordinators realized that churches had unique interpretations of family planning, and it was important to recognize those differences. They encouraged each religious leader to talk to their denomination leaders and develop a definition of family planning if the church did not already have one. Once the denominational leaders understood the importance of HTSP, denominations in Kenya and Zambia developed official definitions.
Major Shifts Take Time
Major shifts in thinking and changes in cultural norms take time. It also took more time and resources than expected to equip the religious leaders to be able to advocate effectively for family planning within their own church denomination and leadership structures, and for these changes to occur. This was valuable time spent to ensure leadership was in support before any public statements were made.
Training Should Include Scriptural Foundation
CHAK and CHAZ trained religious leaders on technical aspects of family planning, including various methods and the health benefits of spacing pregnancies; and on effective advocacy and communications tools, such as social media and opinion piece writing. The CHAK and CHAZ advocacy training included scriptural support for the health intervention, which was very important to the faith leaders.
"… the Salvation Army advocates for responsible parenting. As Christians, let us reduce the death of children and mothers either in childbearing conditions or due to poor nutrition by scaling up family planning in Zambia…" -Major Angela Hachitapika Salvation Army Zambia
Looking Ahead and Building on the Foundation
The possibilities are immense. A large number of religious leaders, who are equipped with evidence-based messages consistent with their religious beliefs, have support from their denominational leadership, and have the resources they need could have an enormous and sustainable influence on health policy.
CCIH is developing advocacy tools and other materials to improve the capacity of local faith-based organizations and faith leaders to effectively increase timely access to quality health services among those most in need. CCIH is translating this project into a lasting series of initiatives that will expand FP advocacy and extend well beyond this to other aspects of health systems strengthening and social and behavior change initiatives.
More about the Project and Experiences of Faith Leaders
For more on the project, see this article by Mona Bormet of CCIH, Jane Kishoyian of CHAK, Yoram Siame and Ngalande Ngalande, Jr. of CHAZ and others in Global Health: Science and Practice Journal.
See a playlist of videos featuring faith leaders involved in CAFPA and other family planning projects, including a video with leaders from Kenya, Nigeria and Zambia and a video featuring Reverend Felicia Sakala, Country Director, Zambia Anglican Council Outreach Program on why religious leaders are important influencers in family planning advocacy.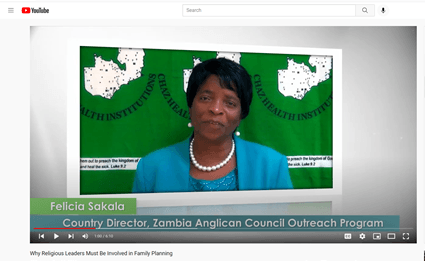 ---