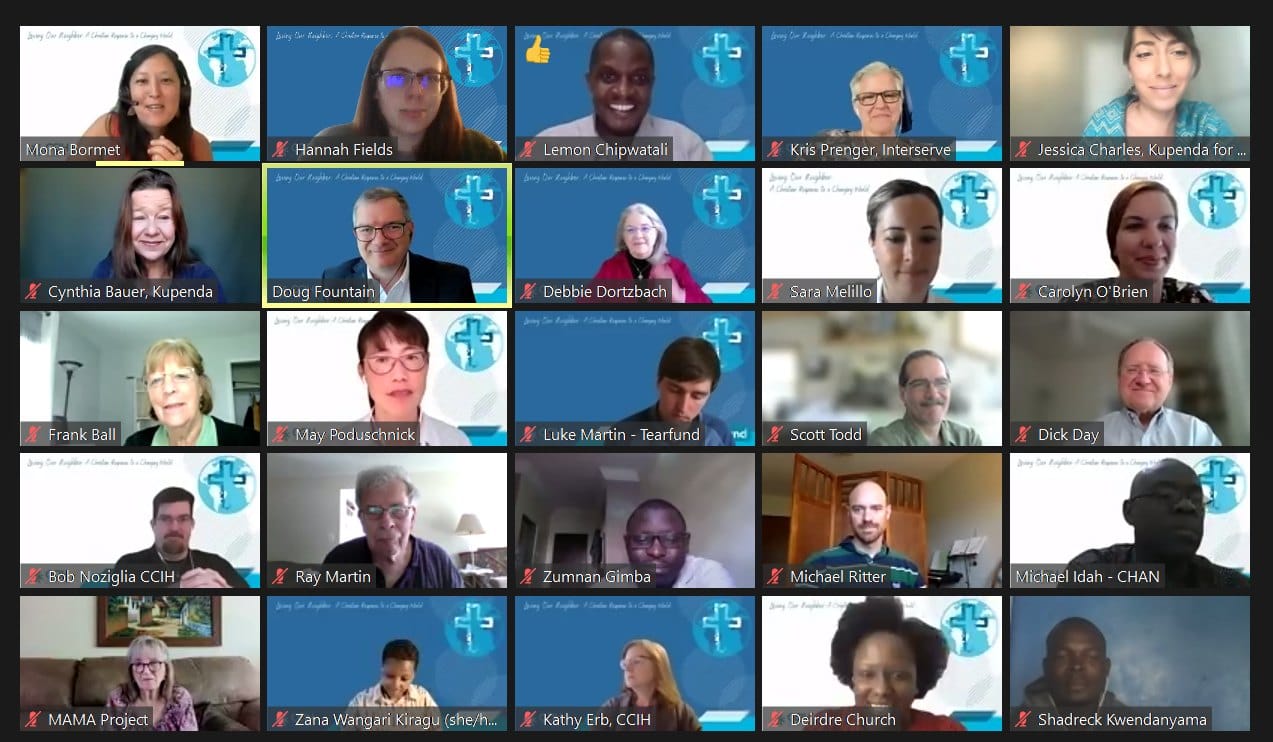 CCIH 2022 Begins with Call to Love Our Neighbor
June 16, 2022
---
by Skylar Yan, CCIH Intern
Loving our Neighbor: A Christian Response to a Changing World
"Thou shalt love thy neighbor as thyself. There is none other commandment greater than these." So says the second commandment, a pinnacle part of Christian doctrine. For hundreds of years, the Christian faith has represented kindness, compassion, and salvation. However, these times have changed. With new conflicts emerging around the globe, international unity has never been more at stake. COVID-19 has also turned neighbors to adversaries, with political division happening at a domestic record around the world.
How do I love our neighbors? How do conflicts affect our neighbors? Who are our neighbors now? These were some of the questions going into the first session of the 2022 CCIH conference on June 7.
Leadership through Action
CCIH Executive Director Doug Fountain kicked off the conference with an interview with Pastor Rick Warren, known for being the founding pastor of Saddleback Church and the author of Christian best seller The Purpose Driven Life. Together, they discussed ethical and theological challenges in today's society. When discussing the barriers to compassion, Pastor Warren really struck a chord with me when he likened the modern day church to a football game:  "(There's) 22 players on the field desperately in need of rest and 60,000 people on the stands desperately in need of exercise."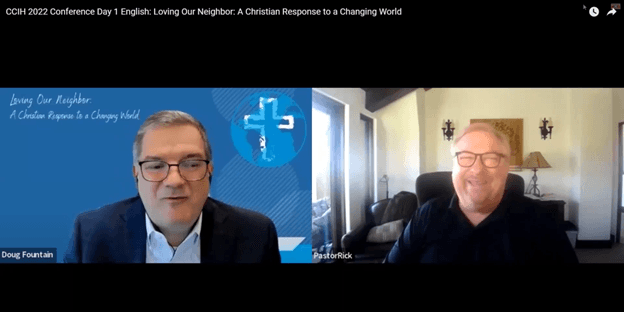 While the Christian faith is known for its kindness, compassion and its scripture, Pastor Warren pointed out that many Christians do nothing beyond their own personal needs. This leads to a group of individuals that aren't compassion driven, or service driven. When listening to him approach this topic, I would have to grudgingly admit that he's right. Although we do support our communities and churches that we belong to, most Christians including myself do just that: support ONLY our communities and churches.
We must do more to serve the outside communities, not just our own, as they are our neighbors as well. Pastor Warren also tackled the negative reputation that Christians developed over the Covid-19 pandemic as dividers and encouraged a service-oriented mindset, saying,
"If they like what they see, they will listen to what we have to say."
As Christians we need to lead with our actions in addition to our words and messages.
Who Is Our Neighbor?
This simple question was approached by a panel of CCIH's very own International Health Champions. Moderated by Jerilyn Hoover, Health Workforce Development Advisor, Office of HIV/AIDS, USAID and CCIH Individual Member. The panel consisted of  CCIH members Mrs. Karen Sichinga, Executive Director, Churches Health Association of Zambia (2019 CCIH Champion); Dr. Samuel Mwenda, General Secretary, Christian Health Association of Kenya (2016 CCIH Champion); and Deborah Dortzbach, International Health Consultant (2021 CCIH Champion).
One of Dr. Mwenda's answers really stood out to me; when he simply stated, "A neighbor is not just somebody close to me, my neighbor is anyone in need, near or far."
Director Sichinga immediately followed up his statement, saying, "My Neighbor is anyone that needs help regardless of color, race or social status. Diligence, mercy and compassion should be my standard to help my neighbor."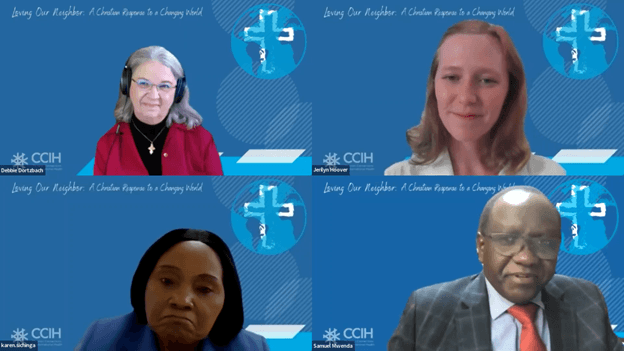 With the world divided in these polarized times, it's hard to discern who is or is not our neighbor. In reality our neighbor is anyone that we can help. As Christians we are called to serve all of God's people, whether they be Christian or not, whether they be our literal neighbor or someone overseas. However, loving everyone can be tiring, and to continuously love your neighbor day after day can be overwhelming. When the panel was asked on their motivations, Mrs. Dortzbach shared an inspiring quote from a fallen friend and coworker: "Do not fear Debbie, God is with us."
This short, yet bold statement reminds us of something that is often overlooked. As we fulfill our duties to serve, we often forget that the Lord watches over us and he placed us there for a reason.
Social Justice and Those in Need
While much of this day of the conference focused on supporting our neighbors and local faith actors, the session also spotlighted the practical application of these topics. One of these projects was the Masculinities, Faith and Peace project, which focused on providing opportunities for local religious communities to shift harmful social norms affecting young Christian and Muslims couples in Nigeria. Presented by Luke Martin, SGBV Progamme Officer and Andrew Saman, Project Manager of TearFund, their nine-week education program resulted in reductions in intimate partner violence, positive masculinities and improvement in gender roles, and improvement of child spacing.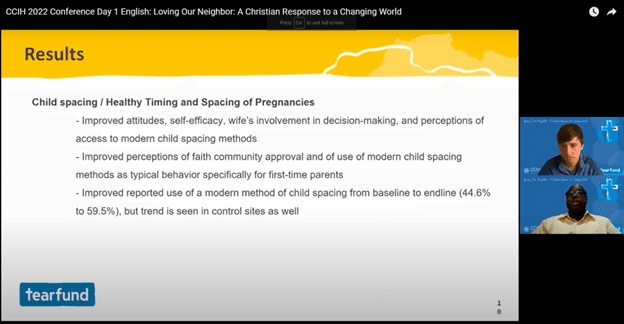 Marie Harouna, Regional Gender Justice Coordinator, World Renew shared a heartbreaking story of a widowed mother. By describing the poor conditions and the struggles of gender inequality in a refugee camp based in West Africa, she called for increasing the knowledge of gender roles, increasing the sensitivity of women and other marginalized individuals, and the increasing need for psychological professionals in these types of settings.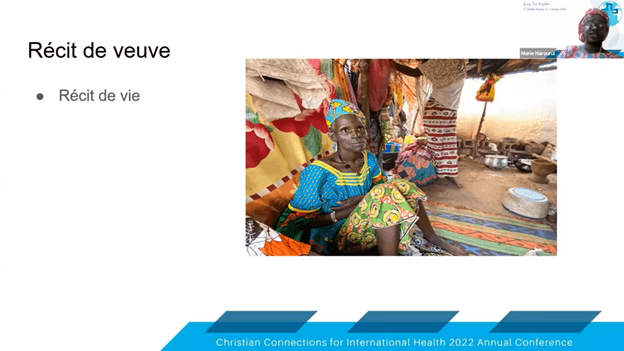 Joe DiCarlo, Global Ambassador, Medical Teams International (MTI) shifted our attention across the globe, focusing on the Ukrainian crisis and MTI's response. The moderator for the day, Reverend Judith Johnson-Grant of the Jamaica Baptist Union, interviewed Mr. DiCarlo about MTI's current experience in Ukraine. Originally helping with refugee crises in Syria and Myanmar, MTI had also been working in Moldova. When the Ukrainian conflict broke out, they saw the overwhelming amount of displaced refugees and immediately went into action. Through partnership with Emmanuel Health Care and local Moldovan Churches, MTI is helping with medical care in churches and other refugee camps in Moldova, while looking out for new refugees every day.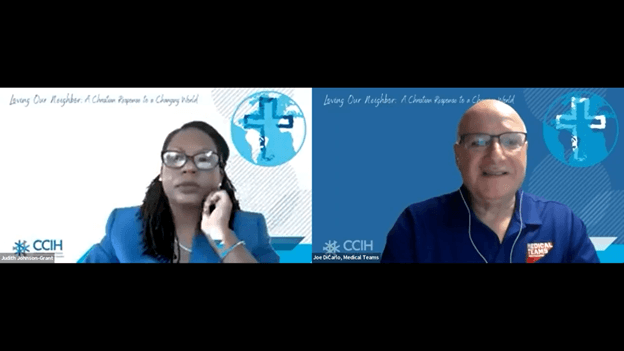 Alongside medical treatment of refugees, MTI has also been assisting with psychological therapy, psychological training, and strengthening the Moldovan Border Patrol. When asked how faith motivates him in his work, DiCarlo responded with MTI's motivational verse: "'Love the Lord your God with all your heart and with all your soul and with all your strength and with all your mind and, Love your neighbor as yourself.'" – Luke 10:27
Engaging Faith actors and Misinformation in the Christian World
As COVID-19 vaccinations were met with surprising resistance across the globe, the Christian community was one of the most vocal protestors. In her presentation, Sara Mellio, MPH tackled why and how the COVID-19 vaccination rate was being suboptimally managed in the Christian community.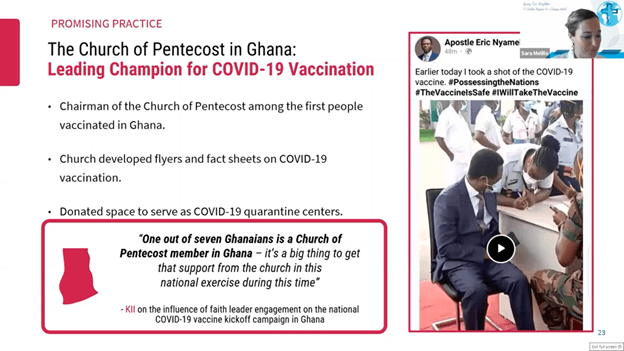 Through her findings, it was shown that two of the main causes for this resistance was the amount of social media disinformation and that local faith actors (LFA) are being suboptimally engaged and supported for COVID-19 vaccination and delivery. Another interesting point she made was that there was a higher acceptance of vaccinations in low-income countries compared to Russia and the United States. This was accredited to religious leaders being vaccinated on live television, showing that trust in religious leaders is a key factor in the vaccination rate of the Christian community. The project suggested strengthening collaboration among LFAs and the state while also providing additional technical support and to increase the effectiveness of their COVID-19 vaccine mobilization and delivery.
What are some ways to engage faith actors in health and how do we avoid fake information and stigmas?
This was also one of the questions asked in the panel mentioned earlier. When approaching these issues one of these answers really stood out to me, and it came from Director Sichinga's unique perspective. She stated that many of us suffer from the mindset that we mark people that agree with us as open minded while we view people that disagree with us as "barriers." Faith actors are not tools for us to advance our agenda, they're people that are entitled to their own opinions. She also pointed out that change doesn't happen overnight, and theological positions change through theological processes. However, if the faith actors do take the risk of supporting our cause, it's important to support them and provide them with the proper resources.
See more about the conference and see recordings of sessions here.
About the Author: Skylar Yan is a CCIH Intern and a third year Economics major at Pepperdine University. As an aspiring young researcher, he hopes to one day combine his passions for economics and healthcare to create an impact in the world.
---